Frequent and proper hand hygiene is one of the most important measures that can be used to prevent infection with the Covid-19 virus.
To limit the secondary contact between humans, some students of the College of Engineering at the Kwame Nkrumah University of Science and Technology (KNUST) have developed a solar-powered automated hand washing station.
Powered by a battery which stores up energy for use, the two washing stands allow individuals to wash their hands at a time.
A drain is connected to the sinks to allow the drainage of used water.
"The handwashing station was designed to eliminate the problem associated with ordinary hand washing, that is, the secondary contact between humans when opening and closing taps.
"The station has two washing stands implemented as one to allow for more individuals to wash their hands at a time," Elizabeth Oduro-Koranteng an Electrical and Electronic Engineering undergraduate student and team member explained.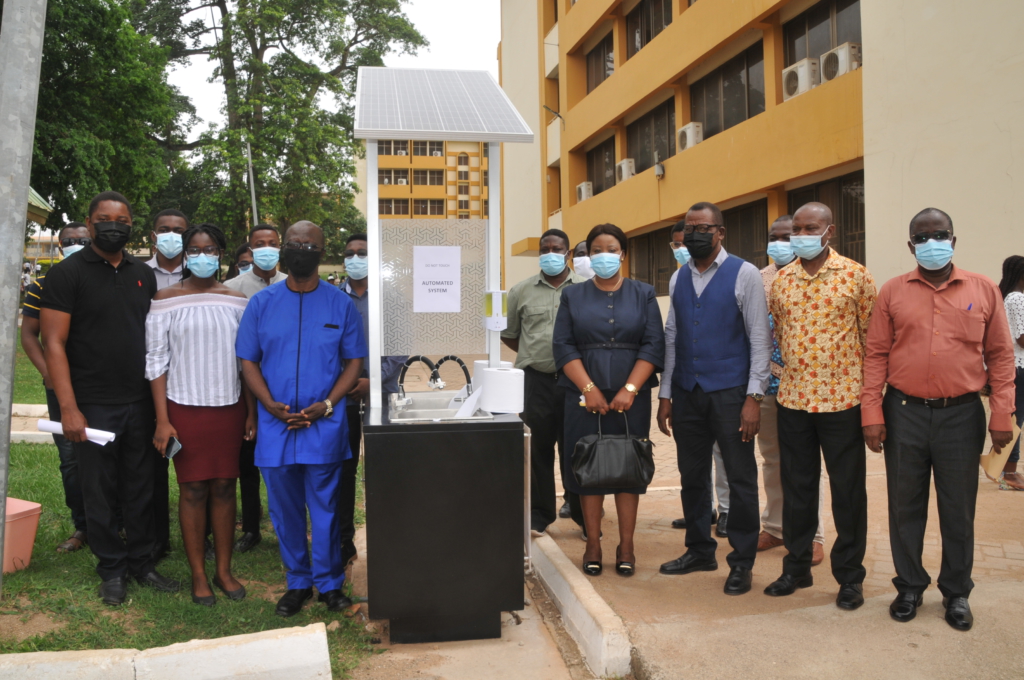 Other project team members include: Max Otuteye, a Computer Engineering student, and a Computer Engineering postgraduate student; Obeng Okofo Dartey.
The hand washing station was the first prototype innovation by the team.
"We are planning to build a second one which would be placed at the administration block," said Dr. Selorm Klogo, supervisor for the project team and member of the Steering Committee for the College's Innovation Centre.
The project began in 2020 after obtaining funding from Strengthening Engineering Ecosystem in Sub-Saharan Africa (SEESA) which is aimed at turning funded projects into business ventures.
Prof. Kwaku Adjei, a member of faculty and a representative from SEESA urged students with innovated ideas to apply for support.
"Aside this project, there were other ongoing projects being funded by the IDRC. I am encouraging students with business-oriented projects to apply for funding," he said.
The Provost, Prof. Mark Adom-Asamoah congratulated the team for the innovation.