Former Presidents John Agyekum Kufuor and John Dramani Mahama have thrown their weight behind the "Eat Ghana Rice" campaign. They have urged all Ghanaians to purchase and consume produced-in-Ghana rice for the benefit of smallholder farmers.
The former presidents were speaking during separate visits to their offices by officials of the Ghana Rice Interprofessional Body (GRIB), John A. Kufuor Foundation and other players in the rice sector.
"In me, you have an advocate. And I will continue to advocate for you… And I will encourage you not to give up. I know there are difficulties, but we will overcome them," former President Mahama said.
Mr. Mahama urged all Ghanaians to buy Ghana rice.
"I will appeal to all Ghanaians that we have good quality rice available… If you try it, you wouldn't try any other foreign rice. One, it is patriotic to do so, two it's of the same quality. And three, it's cheaper than the imported ones. I have eaten a lot of local rice and I don't see the difference with the rice from Vietnam and Thailand," he said.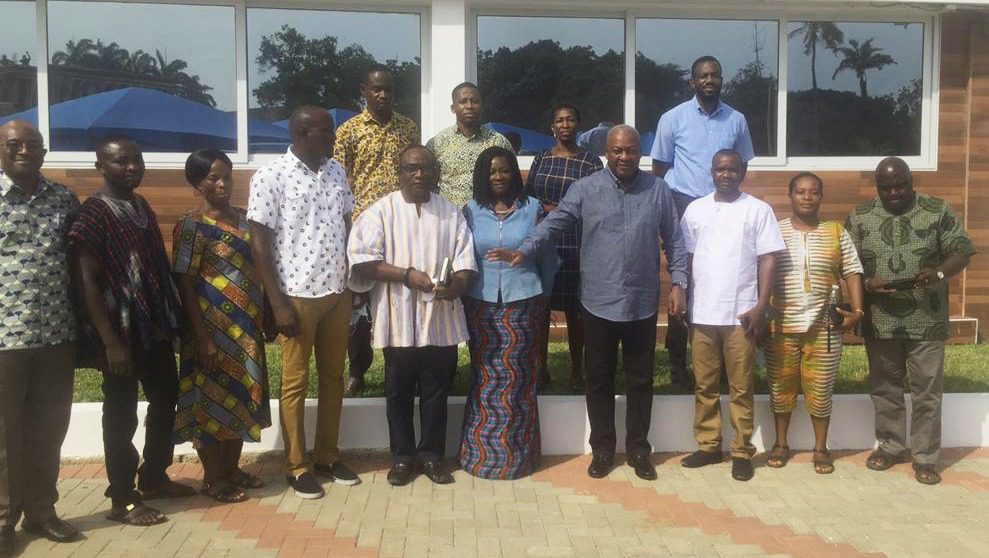 Former President Kufuor who is also chairman of the John A. Kufuor Foundation urged all Ghanaians to patronize Ghana rice in the interest of Ghanaian farmers and the Ghanaian economy.
Chief Executive Officer of the John A. Kufuor Foundation Prof. Baffour Agyeman – Duah said increased consumption of Ghana rice will help improve the Ghanaian economy.
"We want to promote Ghana rice. And as the president said, it doesn't make sense for a country that has the capacity to produce and export rice to continue to import it. Let us all continue to promote Ghana rice. If we succeed in that, we can save Ghana more than a billion Dollars which we use to import rice," he noted.
"So, with the support and encouragement of the chairman, it's one of the key missions of the Foundation. And we hope to continue to work with GRIB to make sure the vision of the former president is achieved. So, all I can say is that let us all continue to promote Ghana rice," Prof. Agyeman – Duah added.
President of GRIB, Nana Adjei Ayeh expressed gratitude to the former presidents for their support, noting it was crucial to help continually grow the Ghana rice sector.
"The Ghana Rice Interprofessional Body or the rice industry, currently, we have made progress. I have seen a lot of fields being developed from the south, all the way to the north. We want people like you to talk of Ghana rice more for us," he said.
"So, we came to let you know anytime you are doing anything, if you are going to donate rice, just call us. And we will sell some to you. That is what the industry is looking for. So, we will appeal to you to speak more about the Ghana rice so the industry can create jobs," the rice farmer added.
The "Eat Ghana Rice" campaign is part of a series of initiatives that have been rolled out under an Alliance for a Green Revolution in Africa (AGRA) funded project to improve rice production in Ghana.
The project is dubbed the "Public-Private Partnership for Competitive and Inclusive Rice Value Chain Development: Planting for Food and Jobs (PFJ) – Rice Chapter."
Among others, the project seeks to increase rice productivity for smallholder farmers, strengthen and expand access to output markets, and value chain financing.
Five current consortium partners are implementing the project. They are; Hopeline Institute, John A. Kufuor Foundation, Sparkx Farms, Volta City Farms and the Directorate of Crop Services (DCS) of the Ministry of Food and Agriculture.
DISCLAIMER: The Views, Comments, Opinions, Contributions and Statements made by Readers and Contributors on this platform do not necessarily represent the views or policy of Multimedia Group Limited.