A man who arrived at Windsor Castle armed with a crossbow and told a protection officer "I am here to kill the Queen" has pleaded guilty to a charge under the Treason Act.
Jaswant Singh Chail, from Hampshire, was arrested on Christmas Day 2021 when the late monarch was living at Windsor due to the Covid pandemic.
At the Old Bailey earlier, Chail, 21, pleaded guilty to three charges.
He is the first person in the UK to be convicted of treason since 1981.
Chail, from North Baddesley, near Southampton, also admitted making threats to kill and possessing the loaded weapon in the castle. He is due to be sentenced at the same court on 31 March.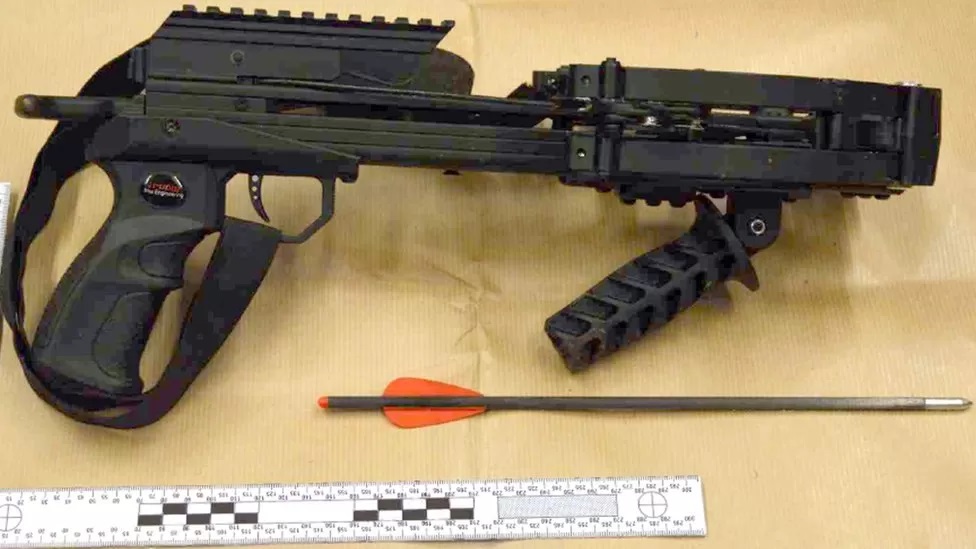 He was spotted by a royal protection officer in a private section of the castle grounds just after 08:10 GMT on 25 December 2021.
The officer was at a gate, leading to the monarch's private apartments.
Chail had climbed into the grounds using a nylon rope ladder and had already been there for about two hours.
He was wearing a hood and a mask, and was described as "like something out of a vigilante movie".
The officer took out his Taser, and asked him: "Morning, can I help, mate?" Chail replied: "I am here to kill the Queen."
The protection officer immediately told Chail to drop the crossbow, get on his knees and put his hands on his head. Chail complied and then said again: "I am here to kill the Queen."
The crossbow was found to be loaded with a bolt and the safety catch was off.
Chail was also carrying a handwritten note, which read: "Please don't remove my clothes, shoes and gloves, masks etc, don't want post-mortem, don't want embalming, thank you and I'm sorry."
In a video posted on Snapchat minutes before he entered the castle, Chail said: "I'm sorry, I'm sorry for what I've done and what I will do. I will attempt to assassinate Elizabeth, Queen of the Royal Family.
"This is revenge for those who have died in the 1919 Jallianwala Bagh massacre. It is also revenge for those who have been killed, humiliated and discriminated on because of their race."
The Jallianwala Bagh massacre took place when British troops opened fire on thousands of people who had gathered in the city of Amritsar in India.
The death toll is disputed – but hundreds of people were killed and Indian sources put it nearer to 1,000.
Also in the video and apparently referencing the Star Wars films, Chail said: "I'm an Indian Sikh, a Sith. My name was Jaswant Singh Chail, my name is Darth Jones."
Commander Richard Smith, who leads the Met Police's counter terrorism unit, said: "This was an extremely serious incident, but one which the patrolling officers who apprehended Chail managed with great composure and professionalism.
"They showed tremendous bravery to confront a masked man who was armed with a loaded crossbow, and then detain him without anyone coming to harm."
Chail is currently in Broadmoor Hospital, where he appeared in court via a remote video link.
DISCLAIMER: The Views, Comments, Opinions, Contributions and Statements made by Readers and Contributors on this platform do not necessarily represent the views or policy of Multimedia Group Limited.