Twenty-seven-year-old Bianca Saunders may only have graduated from the Royal College Of Art in 2017, and she may only have made her London Fashion Week Men's debut in June 2018, but she has already made her mark as one of the most exciting names in British fashion.
Saunders is paving the way for a whole new generation of menswear designers.
What's more, Saunders' collections are boundary breaking in and of themselves.
With a gender-bending aesthetic not dissimilar to that of Harris Reed or JW Anderson (the latter she sites as one of her biggest inspirations) for Autumn/Winter 2020, the young designer placed male models in ultra-feminine yet totally wearable 'fits – think sheer, figure-hugging T-shirts, side-split trousers, sexy, clingy silk shirts and ruched, ruffled and cropped tops.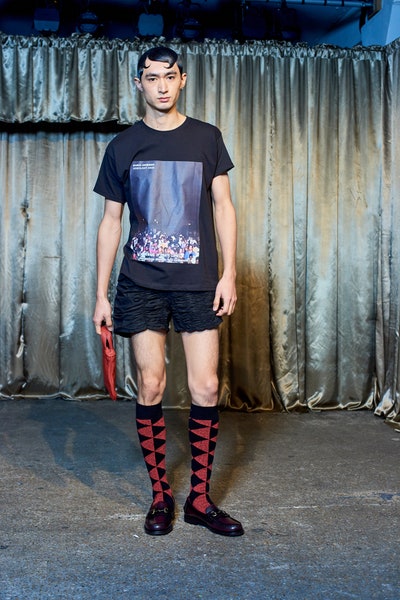 The Catford-born designer also uses her label to celebrate black culture and to promote equality.
Saunders has collaborated with a number of black creatives, from NYC-based photographer Joshua Woods and Jess Cole (they just launched a zine focused on Saunders' collections with complementary poetry) to filmmaker Akinola Davies, with whom she curated a Brixton-based exhibition to celebrate Black History Month last October.
Saunders' clothes also celebrate her West Indian heritage (she has extended family in Jamaica).
Inspired by the black men in her life, from her grandad to her dad, her draped shirting and floaty trousers are used to create a sense of movement and fluidity, paying homage to her personal collection of VHS recordings of Caribbean dancehall parties in London and beyond.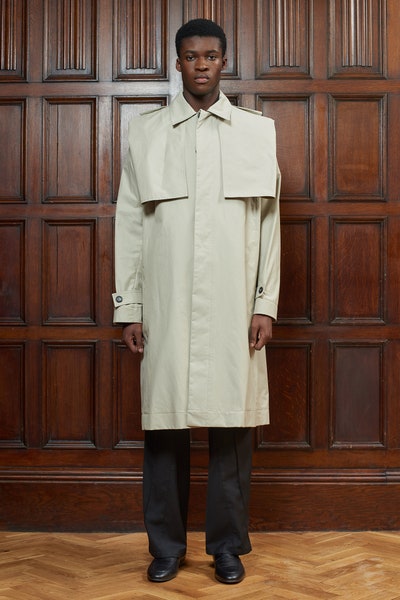 Elsewhere, Saunders' collections have been picked up by the likes of sense, matchesfashion.com and Machine-A, to name but a few, and she's also scooped up a sought-after spot on Forbes' "30 Under 30" 2020 list.
In addition to being a darling of all the biggest fashion retailers going, Saunders has made a lasting impression on the press too.
Luke Day, GQ's Fashion Director and Editor of GQ Style, says, "I love Bianca's unique approach, her vision of modern masculinity.
I love that she draws inspiration from the men in her life and her Jamaican heritage.
I find her work so fresh, especially because she challenges the idea of gender norms from a design perspective."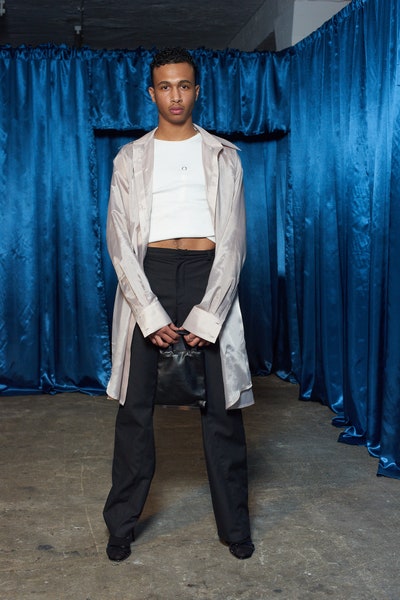 For her Spring/Summer 2021 collection, which has just been shown digitally as part of London Fashion Week, Saunders put out a collection titled "The Ideal Man".
Inspired by those who find their own space from the presumed archetypes of gender, the collection is heavy on detailing, and shoulder pads, draping and cuts were all a focal point.
Meanwhile, a collaboration with Wrangler, through which Saunders up-cycled pieces, took Saunders' sustainability pledge further (her bags are vegan and she has a zero-waste approach for everything she does).
Below Saunders reveals her inspirations, goals and the challenges she faces as a young black designer.
GQ: What was life like growing up?
Bianca Saunders: It was well-balanced.
I grew up in South London, in a suburban area.
I had a lot of freedom and it never felt like it was London, because trips to Central were few and far between.
Most people in the area never go into town and instead they go to Bromley or the local shopping centre.
The majority of my family live in the area.
We have some of my mum's cousins in Jamaica and America, but my grandparents live here, so we'd visit when I was younger, which sparked my want to travel more.
What made you first want to become a designer?
My parents always encouraged my interest in arts and crafts.
They also always told me to do what I wanted to do and not listen to what was deemed to be socially normal.
With that encouragement, I always wanted to be the best at what I did, whether it was art or fashion.
I first realized I wanted to be a designer around 14. I initially wanted to be an artist, but then one day my uncle, who is a creative graphic designer, told me that artists only make money when they die, so I scrapped that idea.
But, with me, there's always been a question of do I want to do fashion or do I actually prefer graphic design?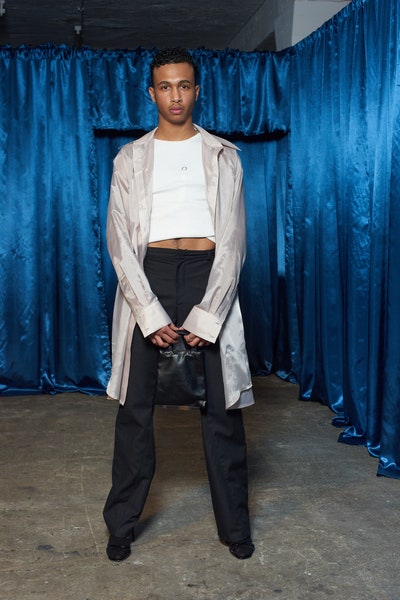 Why did you choose to go into menswear?
I always thought about it but didn't think it would happen.
I had a conversation with a tutor who suggested it and I was hesitant, but then I tried it – I designed one of my BA collections around menswear, based on the men in my family who were part of a funk band – and I went with it.
It didn't make sense to then flip the narrative and make womenswear.
I was able to find my own aesthetic in menswear, as there was less to see and more space to change at the time.
Which of your collections are you are most happy with?
Autumn/Winter 2020. I really got to express what I want the brand to be about.
People got to see the person behind the brand, too, and there was a stronger connection to my background and heritage.
I was able to change things a bit when it comes to presentations – I got the models to dance and it encouraged people to actually stick around and wait for the next looks.
Previously it had frustrated me that presentations were so static and people sort of passed them by after seeing one look.
Gaining in confidence has improved my work.
I'm looking forward for people to see how I get to the next level.
Has the journey to become a globally recognised designer been difficult, especially as a young black designer?
I learnt as a black person that if I wanted to make a name for myself, I couldn't rely on other people.
I would have to work a little harder than others to get noticed. At both Kingston and RCA I was the only black person or person of colour in my year.
A lot of people in my class weren't familiar with people like myself and this made me take notice of my own identity and I realised the difference.
RCA is very elitist.
Mine was one of the most expensive master's to do and most people of colour aren't from wealthy backgrounds – I'm from a working-class background.
I set up a funding page to be able to afford tuition and got so much support from my community.
Otherwise it would have been a cancelled thought in my head. In that respect, I had to work a little harder to get an in.
Since then, though, I wouldn't say my race has made it a struggle.
Luckily people of my age that I know have been striving to be big in fashion, so we help each other out. For instance, the one black person who works at a magazine will try to give me coverage.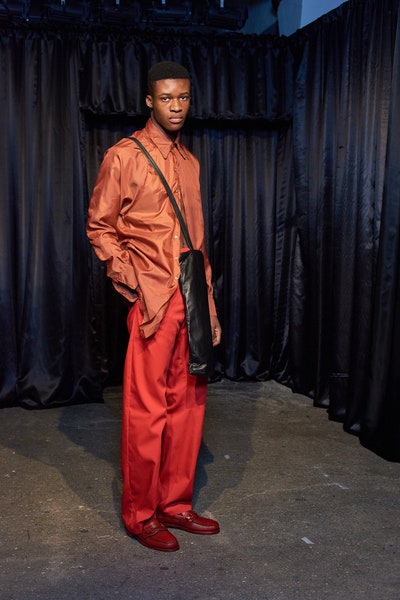 Has the Covid-19 pandemic had an effect on your work?
The pandemic has actually had a silver lining for me: I've managed to slow down a bit and change the scheduling of my year.
Producing a collection in January and having to show again in June is difficult and it's hard to do things creatively outside the traditional fashion week schedule.
I'm not sure what the future holds with regards to showing collections. That said, during lockdown I've achieved quite a lot: I was part of the Emergency Designer Fund through which I made trousers for the NHS; I finished the zine; I got a collection into stores; I've finished all my research for Spring/Summer 2021; and I've even got a new accountant.
What other brands inspire you?
Craig Green, for sure.
When I was at school in 2015, seeing what Craig did for menswear was special.
He has been so influential, starting his own brand and becoming a household name.
JW Anderson too, who has moved from his own brand to become a creative director at Loewe.
Both brands are equally as important now and equally as recognized. Anderson has always pushed and blurred boundaries and crush masculinity norms, which I aim to do.
If you could be a creative director for another brand, would you?
Yes, and I'd definitely want to go to Hermès.
It's craft-heavy and is based on product, which is what I want my own brand to be known for.
Of course, I'm only one person doing all pattern cutting and making at the moment, but that's how brands such as Hermès started, before someone invests in it.
What is your five-year plan?
I want the brand to become a household name and I want to expand into accessories.
I really want to consult on other brands and fashion houses and I want to expand the team.
I'm the only full-time person. I have a stylist, a PR agency and one part-time person in the lead up to shows, but aside from that I do everything.
I definitely struggle, but I have friends who are doing the same thing as me, so it makes the struggle feel like the norm.
I speak to Saul Nash almost every day, which helps when sorting out business problems.
It's difficult, but because I want to do it and I love it, it makes me continue. The only issue is – and this is why I want to expand – I don't get a huge amount of time to be totally creative.
Is there a piece of advice you live by?
When I was at the RCA, we all went away one summer and we didn't create any work over the holiday.
Head of fashion Zowie Broach told us that we should design outside and away from people seeing it.
From that, I have always created away from the viewpoint of others.
DISCLAIMER: The Views, Comments, Opinions, Contributions and Statements made by Readers and Contributors on this platform do not necessarily represent the views or policy of Multimedia Group Limited.