Its home to the nation's capital and has 16 districts. The Greater Accra region has hundreds of people across the country who keep migrating to eke out a living.
According to the Ghana Poverty Mapping report, the region has the lowest poverty rate.
But, it's not a land flowing with milk and honey as the statistics would have you believe; poverty is endemic.
Ningo-Prampram and Shai Osudoku districts are barely an hour's drive from Accra but are some of the poorest places to live in.
Head of the Economics Department of the University of Ghana, Prof. Peter Quartey, explains how it is possible to be situated in a resource-rich region yet be poor.
And the poorest here in Accra are doing the unthinkable. Humans are priceless. They're not a commodity to be sold on the open market. But not everyone thinks so.
In this part of Ghana, Ayetepa, a tiny fishing village in one of the poor districts – Ningo-Prampram in the Greater Accra region, a fishing net costs more than a child.
Christiana Kweike Teye is a mother of six. She has given two of her children aged four and 10 years away to a slave master to fish on the Volta Lake. She was given ¢700 or just about $150.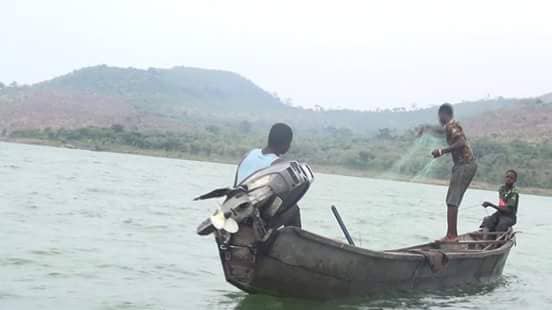 It's the wish of every mother, that her children get the best for their future. But, meeting the basic needs of six children is not an easy task for Christiana.
This means sacrificing the desire of her two children to be in school for a burning need to survive. She will, however, not receive any annual or monthly compensation for the labour of her children on the Volta Lake.
Back in the village, Christiana is not the only mother brooding over the loss of her child to fishers who find the use of children for their trade attractive.
Sarah Bakite is grieved by the work her 10-year-old boy does on the Volta. She makes very little from her petty trading and does not have a supportive husband.
She claims that she was saddled with debt, the only remedy to her economic woes was to give away her son.
This is but a small victory in an ongoing struggle for survival by Sarah. A child who was once a joy at birth has become a burden.
She tells me the clarion call of her son wanting to return home breaks her heart, but there's little she can do.
The U.S. Department of State acknowledges that human trafficking is a global problem affecting millions of people all over the world.
In Ghana, children are trafficked from or within the country. Children between the ages of seven and seventeen are also trafficked to neighbouring countries such as Cote d'Ivoire, Togo, Gambia, and Nigeria to work.
When it comes to trafficking, there is no reliable data on the number of internal or external victims, although the figure is thought to be in the thousands. The International Justice Mission seems to have an answer.
In its recent baseline study on Volta Lake, they estimate 2,000 children are engaged in forced labour there.
Because these children are bought cheaply from their parents, they are often abused and molested. Their slave masters have little or no respect for their dignity.
Former President of Challenging Heights, James Kofi Annan, who has been pioneering the rescue of children trafficked on the Volta Lake, shares the chilling story of a 13-year-old boy who works 15 hours a day and is sexually abused by other male colleagues after the close of day.
Sex is what the recruiters use to trap the children from escaping from servitude.
Sampson Kojo Ajaklu is an assembly member of Ayetepa. Once trafficked and forced to work as a child slave on the Volta Lake, Sampson says he fought his way to freedom, albeit without weapons.
He was eight years when he was given away by his mother. Like most of the children trafficked, he did not receive any education at all. Instead, he spent 20 years of his life fishing for his master.
No child deserves enslavement, but that's what people Sampson considered a family put him through. He mainly was given mashed fish as a meal and was beaten with the paddle of a canoe if he dared complain. It was a life of misery. He had no voice, he recalled.
The plight of these slaves of the Volta is terrifying. Often the children are forced to dive deep to untangle nets stuck around tree stumps.
Some of them get stuck and die. The body is left to rot. The decomposed body attracts a lot of fish which the slavemaster would return to after days to harvest.
This is a horror the Ayetepa assemblyman has not been able to shake off is the death of his best friend when a storm arose on the lake. His life was snatched from him, never to be seen again.
According to the International Justice Mission baseline study, there isn't a single child working on the Volta Lake who hasn't witnessed another child losing his life while untangling a net.
But for Sampson, the pain of the loss of his friend on the lake is worsened by the fact that he had no opportunity to go to school while he worked as a slave. It's a blight on his dreams.
Sampson sought to change this situation. He went to class 2 when he was 27 years. He recounts the days of heckling by his young mates – the little men and women of Primary School 2 who considered him a giant.
Many Ghanaian children are trafficked to work in the fishing industry carrying out hazardous tasks. Child labour and child trafficking are very common in Ghana's fishing industry.
Each year the International Organisation for Migration, I.O.M., reports numerous deaths of children who have been trafficked to perform hazardous labour in Volta Lake.
Former P.T.A. chairman of Ayetepa J.H.S., John Obodai, was also trafficked to work on the lake when he was eight years old. He is still haunted by his days on the lake, especially his close shave with death.
John tells me it's still difficult to accept his experience. The best of his years were wasted on the lake. Then, finally, he realized how much he had lost after spending 27 years of his life on the lake.
According to statistics from UNICEF, human trafficking is rated as the world's third most profitable illegal business, apart from the trade in drugs and illegal weapons.
Ghana cannot be entirely ascribed to a lack of formal legal provisions. However, trafficking is prevalent, and one primary reason is that laws are not adequately enforced.
It's clear the problem is not about only the institutions' lack of enforcement of the law. It's also about the poor distribution of resources Prof. Peter Quartey believes that's the way to deal with the situation.
Sampson, who spent 27 years as a diver on the lake and John, who also spent the best part of his year in the same area, say parents in such communities must be wise and not sell off their children.
DISCLAIMER: The Views, Comments, Opinions, Contributions and Statements made by Readers and Contributors on this platform do not necessarily represent the views or policy of Multimedia Group Limited.