The body of Zimbabwe's former president Robert Mugabe is being kept in his birthplace, after a sparsely-attended state funeral in the capital Harare.
African leaders hailed Mr Mugabe as a liberation hero, while current Zimbabwean president Emmerson Mnangagwa said: "our motherland is in tears".
But most seats in the 60,000-capacity stadium were empty.
Many Zimbabweans said they would shun the ceremony because of the repression that marked Mr Mugabe's later rule.
The country's economy is in crisis, with soaring inflation and unemployment, and some blame this on the former leader.
"We are happier now that he is gone. Why should I go to his funeral? I don't have fuel," a Harare resident told AFP. "We don't want to hear anything about him anymore. He is the cause of our problems."
Mr Mugabe's body will be viewed by the public in his rural hometown, Kutama, on Sunday, local media report.
More than a dozen current and former African leaders attended the funeral, hailing Mr Mugabe as a pan-Africanist who had dedicated his life to the people of Zimbabwe.
Mr Kenyatta said he was unwavering in his insistence that Africa's problems demanded African solutions.
Later the crowds booed and jeered at South African President Cyril Ramaphosa – which appeared to be a reaction to the xenophobic violence across South Africa in the last month.
He acknowledged the boos by saying "in the past two weeks, we as South Africans have been going through a challenging period. We have had acts of violence erupting in some parts of our country… This has led, as I can hear you're responding to, to the deaths and injuries of a number of people".
But he insisted: "We as South Africans are not xenophobic".
When and where will Mugabe be buried?
The funeral follows a row between the Mugabe family and the government over his burial.
It has now been agreed that he will be buried in the National Heroes' Acre monument in Harare, his family says.
Family spokesman and nephew Leo Mugabe says this should be in about a month, when the new shrine to Mugabe will be built at the existing Heroes' Acre.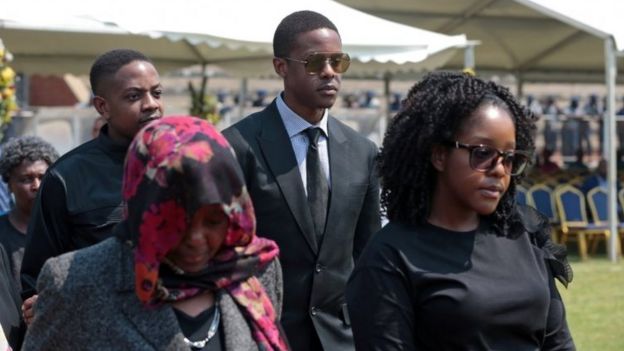 Image caption: Members of the Mugabe family prepare to view the body
Earlier plans to have a burial on Sunday appear to have been cancelled.
Mugabe, who was 95, died last week while being treated in Singapore.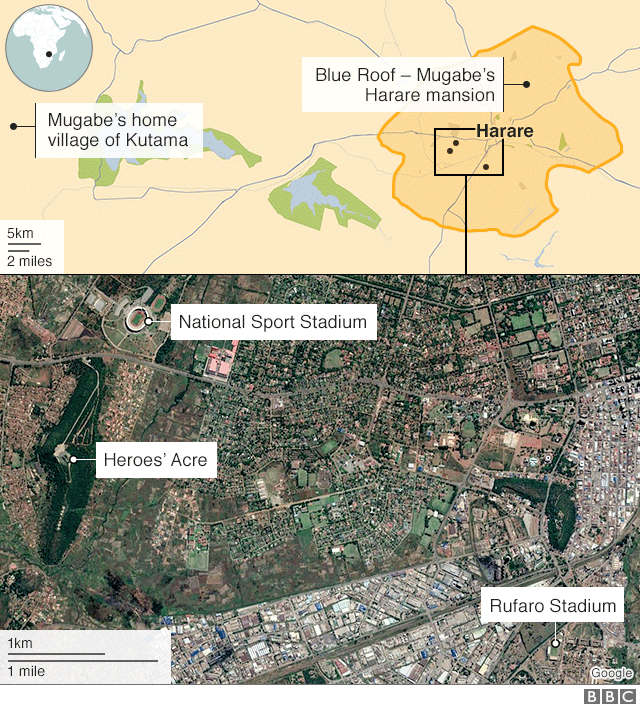 Who was Robert Mugabe?
Mugabe was Zimbabwe's first leader after the country became independent in 1980. He held on to power for almost four decades before being ousted in the 2017 coup.
During his early years, he was praised for broadening access to health and education for the black majority.
However his later years were marked by violent repression of his political opponents and Zimbabwe's economic ruin. An increasing number of critics labelled him a dictator.
He seized land from white owners in 2000.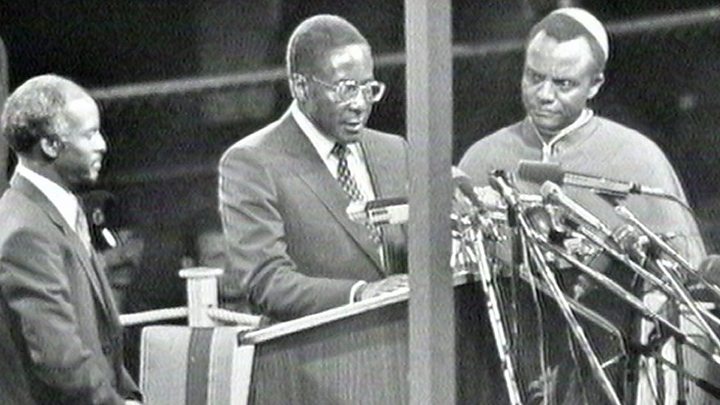 Mugabe famously declared that only God could remove him from office.
In 2017 he was placed under house arrest and, four days later, replaced as the leader of his party Zanu-PF by his former vice president, Emmerson Mnangagwa.
Mugabe initially refused to resign. But, on 21 November, as a motion to impeach him was being debated in the Zimbabwean parliament, the speaker of the House of Assembly announced that he had finally left office.
Mugabe negotiated a deal which protected him and his family from the risk of future prosecution and enabled him to retain his various business interests. He was also granted a house, servants, vehicles and full diplomatic status.