Nigerian President-elect Bola Tinubu would most likely have lost the election had it been held last year – before the main opposition Peoples Democratic Party (PDP) split three ways.
The combined votes of his three closest rivals – one member and two former members of PDP – would have been enough for a comfortable return to power for the party, as together they received 60% of the vote.
The PDP's Atiku Abubakar got 29% of ballots cast, the Labour Party's Peter Obi got 25% and Rabiu Kwankwaso of the NNPP got 6%, while Nigeria's next president was elected with 37%.
It would have been easy for a united PDP to capitalise on an electorate tired of the economic hardship, widespread insecurity and record inflation experienced under outgoing President Muhammadu Buhari and the governing All Progressives Congress (APC).
The APC is the fruit of Mr Tinubu's hard work and he is known as a "political godfather" – helping put Mr Buhari in office eight years ago.
Yet the old adage that 12 months is a long time in politics proved true – and the 70-year-old former Lagos governor, aided by his party machinery, eased to victory.
Reinvention goes wrong
It was billed as the most competitive presidential election in Nigeria since the end of military rule in 1999.
This was because a third candidate came to the fore. For the last two decades, Nigeria has largely been a two-party state at the national level.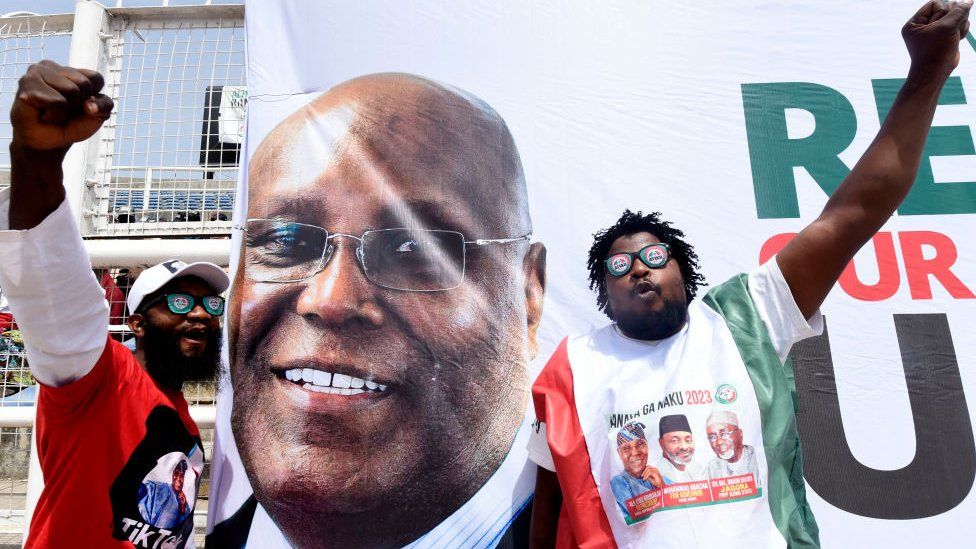 Though there has been a plethora of third-party candidates seeking the presidency in that time, no-one has been able to truly to make waves like Mr Obi, who excited young voters.
He was vice-presidential candidate for the PDP in 2019 – and his old party had ruled Nigeria for the first 16 years after the return to democracy.
At the time it was a truly national party that connected with millions countrywide, though its strongholds were in the south, where it was assured of votes in every election cycle.
After the PDP experienced its second loss at national polls, in 2019 under Mr Abubakar, it was clear it needed to reinvent itself to attract the millions of young Nigerians who felt frozen out of the political system and frustrated by a political class they saw as responsible for the country's lack of progress.
Religious and ethnic sensitivities also play a role in a country split between a largely Muslim north and mainly Christian south with hundreds of different ethnic groups
Many southerners felt that the PDP had taken their loyalty for granted after it opted to throw open its presidential ticket to candidates from all areas of Nigeria, instead of confining it to applicants from the south-east – the one area of the country yet to produce an executive leader.
This allowed Mr Abubakar, its major financier and a Muslim former vice-president from the north-east, to run once more.
Mr Obi, a Christian who hails from the south-east and had served two terms as governor of the Anambra state, left the PDP with days to the party primary.
Five powerful southern governors also refused to back Mr Abubakar in the election – it is thought that some of them worked for his opponents. While Mr Kwankwaso, a northern politician popular in Kano, Nigeria's second-largest city, broke ranks and went to the NNPP to get a shot at the presidency.
Though the PDP has now reclaimed some northern states it lost to the APC in 2019, it has bled heavily in its traditional southern strongholds, where Mr Obi did extremely well.
Voters disenfranchised
This worked in the APC's favour, which stuck to a strategy that has served it well in the past – securing the votes in its bases in the north and west.
It was helped by voting day problems in opposition strongholds, where election officials often arrived late – in some places three-and-a-half hours after polls should have closed. This left many voters effectively disenfranchised.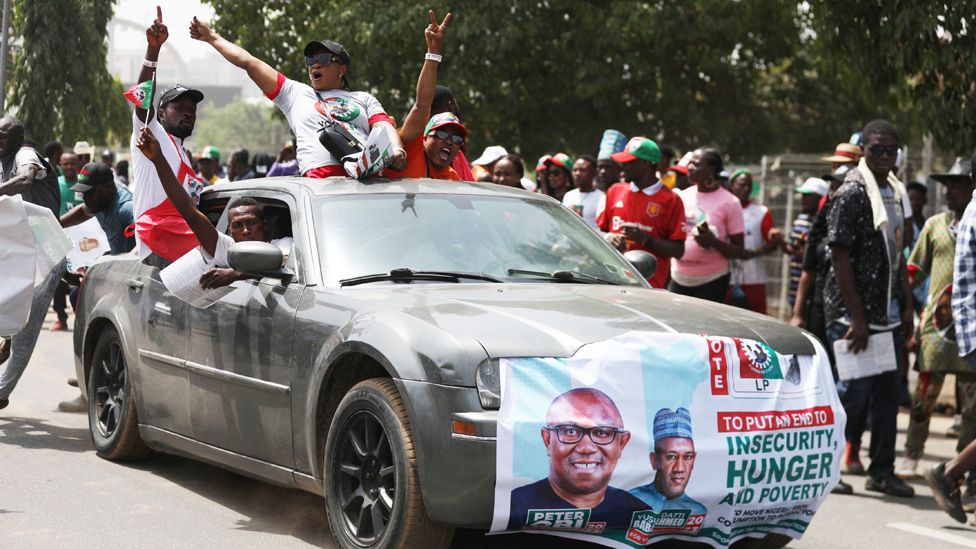 Many excited first-time voters who had arrived hours before dawn were unable to cast their votes because of the late arrival of election materials.
"I arrived at my polling unit at 8:00 but until 11:00 I did not see anyone," a first-time voter at a polling unit along the Airport Road in the capital, Abuja, told the BBC after eventually managing to vote.
In the southern city of Lagos, where many young, educated residents were backing Mr Obi, BBC reporters met many people who arrived early but left after waiting hours for polling officers who never showed up.
In some polling units with thousands of registered voters, voting did not start until 13:00 – one-and-a-half hours before polls were due to close, and despite the extension of voting in such places, many did not vote as darkness fell and security officials had to leave. It is impossible to know many potential votes were lost as a result.
At some voting centres in opposition strongholds, voting did not take place at all and there were also cases of ballot-box snatching, violence and voter intimidation in known opposition states in the south such as Rivers, Lagos and Delta.
Election monitoring group Yiaga, said only 10% of polling units in the south-east and 29% in the south had started accreditation and voting by 09:30 local time on Saturday – an hour after polls opened.
Some 63% of polling units in the south-west and 42% of polling units in the north-west, known APC strongholds, had started voting at that time.
International observer missions from the NDI-IRI and the EU have described the process as lacking transparency.
In the end, turnout was just 27% and Mr Tinubu received 8.8 million ballots – less than 10% of the 93 million registered voters.
Voter apathy is not thought to have been as much of a factor as problems on voting day, given that 87 million people had gone to the trouble of physically going to collect their voter cards.
In his acceptance speech, Mr Tinubu acknowledged there had been lapses in the election but said they "were relatively few in number and were immaterial to affect the outcome of this election".
Such sentiments were echoed by the Independent National Electoral Commission (Inec).
Risk pays off
Many regard Mr Tinubu as a master political strategist and given he campaigned for the presidency under the slogan: "Emi lo kan", which means "It's my turn" in Yoruba, it is possible he has been planning his ascendency for a while.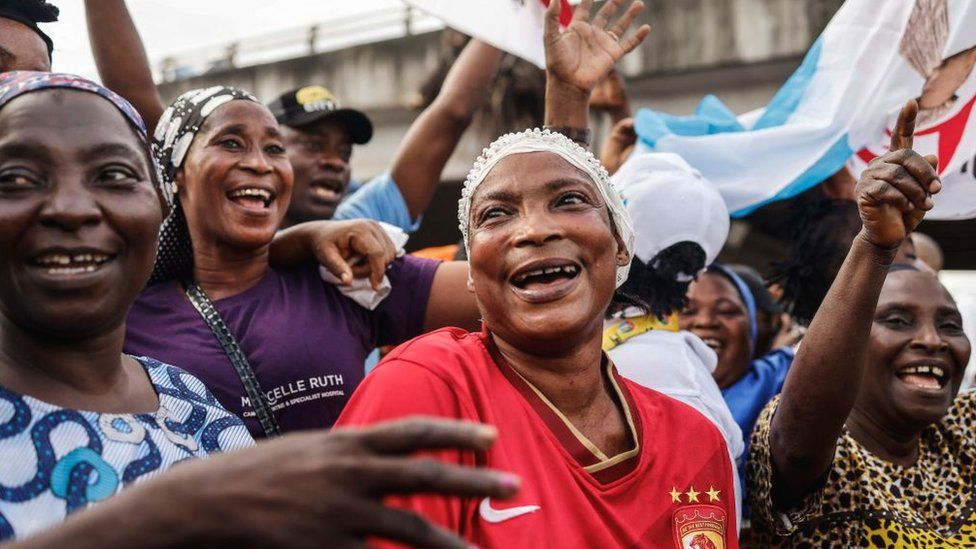 His APC grew out of the Alliance for Democracy (AD), which was nearly squashed 20 years ago by Olusegun Obasanjo when he was president and led the PDP.
Yet Mr Tinubu refused to join the PDP as other states and governors at the time did. Instead he used the vast resources of Lagos, the country's economic hub where he served as governor from 1999 until 2007, to build a following in the south-west.
He constantly reinvented his small party until a 2013 merger with other political parties in the north created the APC and its successful 2015 campaign brought Mr Buhari to power.
It was the first time that an opposition party had defeated an incumbent but it showed Mr Tinubu how to tread the complex path to the presidency.
Yet Mr Tinubu, a southern Muslim, took a risk in his own bid. Instead of choosing a running mate from one of the Christian minorities in the north that would have ticked the boxes in the deft balancing act usually needed in Nigeria, he picked a northern Muslim.
He did not want to alienate the huge Muslim voting bloc in the north – though he did draw the ire of most Christians by having a Muslim-Muslim ticket.
Mr Tinubu's main opponents have vowed to challenge his victory, alleging that the inability of Inec officials to upload results from polling units was evidence of their bias.
The PDP and Labour Party have now banded together, first jointly walking out of the venue where the results were being announced and then holding two press conferences together.
Their supporters may be wishing they had taken that approach before the election.
DISCLAIMER: The Views, Comments, Opinions, Contributions and Statements made by Readers and Contributors on this platform do not necessarily represent the views or policy of Multimedia Group Limited.