Nigeria's election body says it expects to announce the first results of Saturday's keenly contested presidential poll on Tuesday.
Incumbent Goodluck Jonathan is facing a strong challenge from former military ruler Muhammadu Buhari.
The US and UK in a joint statement expressed concern over possible "political interference" in the count.
Voting over the weekend was marred by technical hitches, protests and violence linked to Boko Haram.
"So far, we have seen no evidence of systemic manipulation of the process," the statement from UK Foreign Secretary Philip Hammond and US Secretary of State John Kerry said.
"But there are disturbing indications that the collation process, where the votes are finally counted, may be subject to deliberate political interference."
Follow live updates here as the results are announced.
Voting spilled into a second day in some parts of Nigeria after problems with new electronic card readers.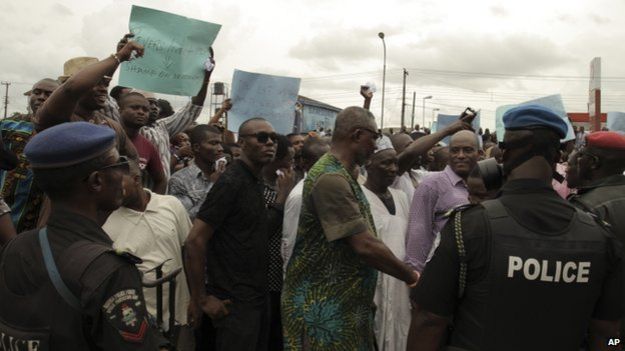 Opposition protesters in Rivers State took to the streets, demanding a recount
President Jonathan was among those whose registration to vote was delayed by the technology, which was introduced to prevent fraud.
His Peoples Democratic Party (PDP), which had opposed the card readers, called it a "huge national embarrassment".
Election commission chief Attahiru Jega said only a fraction of the 150,000 card readers being used nationwide had failed.
The presidential and parliamentary elections had been delayed by six weeks because of the insurgency by Boko Haram militants.