The Ghana Education Service (GES) in commemorating Menstrual Hygiene Day, May 28, is entreating all to embrace and create a world where menstruation is just a fact of life and not regarded as sacrilege or an unheard-of phenomenon.
According to the GES, women and girls should be empowered to manage their periods safely, hygienically, with confidence and without embarrassment.
"The time to break the silence has started as well as awareness-raising and change of negative social norms surrounding menstrual hygiene around the world including Ghana. We should live in a world where no woman or girl is limited by something as natural and normal as menstruation," the May 27 communiqué read.
Being a stakeholder in the country's educational sector, the GES noted that the provision of menstrual hygiene education, reliable handwashing facilities, clean and accessible toilets and appropriate changing rooms will help elevate girl child enrolment and education.
The aforementioned suggestions it says would enable Ghana meet its target of Sustainable Development Goal 4 – ensuring inclusive and equitable quality education, and Sustainable Development Goal 6 – ensuring availability and sustainable management of water and sanitation.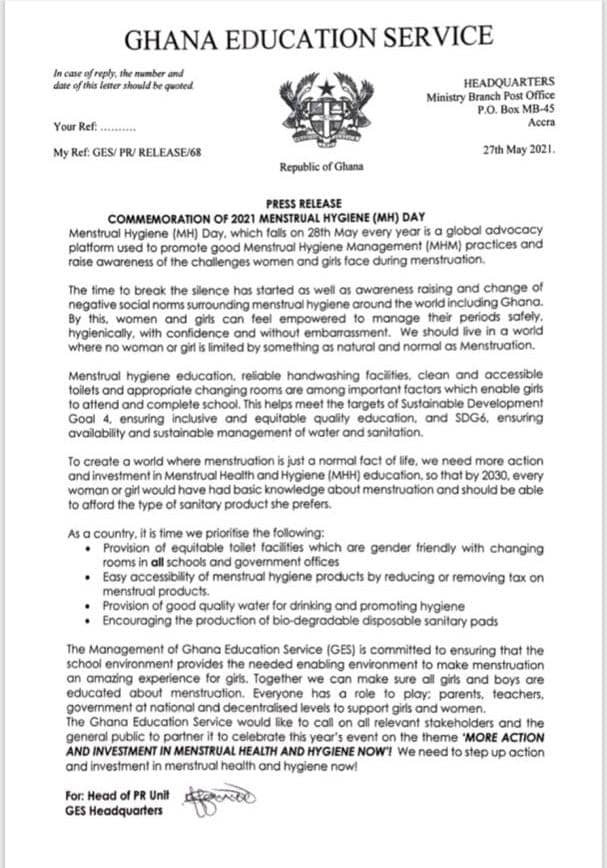 GES is also of the view that the education on menstruation must not be limited to just girls but other parties including boys, parents and teachers.
"Everyone has a role to play: parents, teachers, government at the national and decentralised levels to support girls and women."
To create an atmosphere where women and girls can afford any type of sanitary product, the Ghana Education Service has, therefore, entreated government to reduce or remove taxes on menstrual products as well as encourage the production of bio-degradable disposable sanitary pads.
"We must prioritise the provision of equitable toilet facilities which are gender friendly with changing rooms in all schools and government offices," it added.
Meanwhile, the GES has given the assurance that it is committed to ensuring that the school environment "provides the needed enabling environment to make menstruation an amazing experience for girls."
DISCLAIMER: The Views, Comments, Opinions, Contributions and Statements made by Readers and Contributors on this platform do not necessarily represent the views or policy of Multimedia Group Limited.