As traders jostled to arrange their wares in any available space in an effort to generate sales, the capital of the Northern region, Tamale, experienced a burst of the characteristic busy-struggle on a typical Monday.
Sharifatu Yakubu, an MPhil in Community Health and Development graduate, acknowledged that rather than through social enterprise and in-person visits to institutions, she would be selling her products online for the second year in a row.
"I started selling using the SE market place by Africa Skills Hub, and social media and institutional visits, and referrals," Sherifatu said.
38-year-old Sherifatu founded Sheridan Foods in 2020 amid the Covid-19 pandemic.
When the company she was working for, Discovery Learning Alliance, shut down as a result of the pandemic, she started the food supply business.
A company that began on a tiny scale, as a joke and an experiment, is now the buzz of the town.
Her internet customers place pre-orders for 70% of her products. Along with her actual business, the remainder will be offered from a temporary booth located in the city.
In order to advertise her goods, she also attended trade exhibitions in Tamale and other cities.
"I could produce and sell 10 paint buckets of groundnut paste, 100 PCs of 400g dawadawa beverage and 40 PCs of 500g dawadawa condiments."
That number has now doubled because of Jowato, which prompted them to apply for an FDA license.
Customers are typically drawn to festive Days anxious to purchase the best dawadawa and groundnut paste to cook scrumptious soup and cuisine for family and friends. And this year is no exception. What's perhaps more amazing is how much easier Sherifatu's life has become thanks to the online market.
There were 100 PCs of 50g packaging and 20 PCs of the remaining sizes, which varied with the beverage from 50g to 500g. Sherifatu used to be able to produce once a month, but she could now produce three times.
Jonathan Adawen developed the 'Jowato.com' online market platform, which leverages tech-enabled solutions to reduce supply chain inefficiencies and revolutionize access to necessities in Northern Ghana and beyond.
Through the Jowato online marketplace, 145 local businesses are able to host their products online by creating online stores that displays their brand, products ,and services for consumers and other businesses to purchase online.
With other outstanding businesses yet to be verified, most businesses know the importance of taking advantage of the digital space to increase their market share, but the cost and expertise needed to do this profitably can be a turnoff.
"Our platform makes it possible to set up an online store in just 5 minutes for free," Jonathan said.
The Jowato system is fully automated and a customer can literarily visit the platform, order any product from any store, indicate the the quantity they want, provide delivery address and additional information and either checkout/pay online via mobile money/Visa cards and debit cards or opt for cash on delivery without necessarily speaking with anyone.
Store owners receives order invoices and package products for delivery to the respective addresses. Jowato's role ensures both buyers and sellers are protected through its seller and consumer protection policies.
Back to Sherifatu who is a victim of the Covid-19 pandemic lay offs, but she is now considering hiring more people to enhance production as demand from Jowato continues to soar.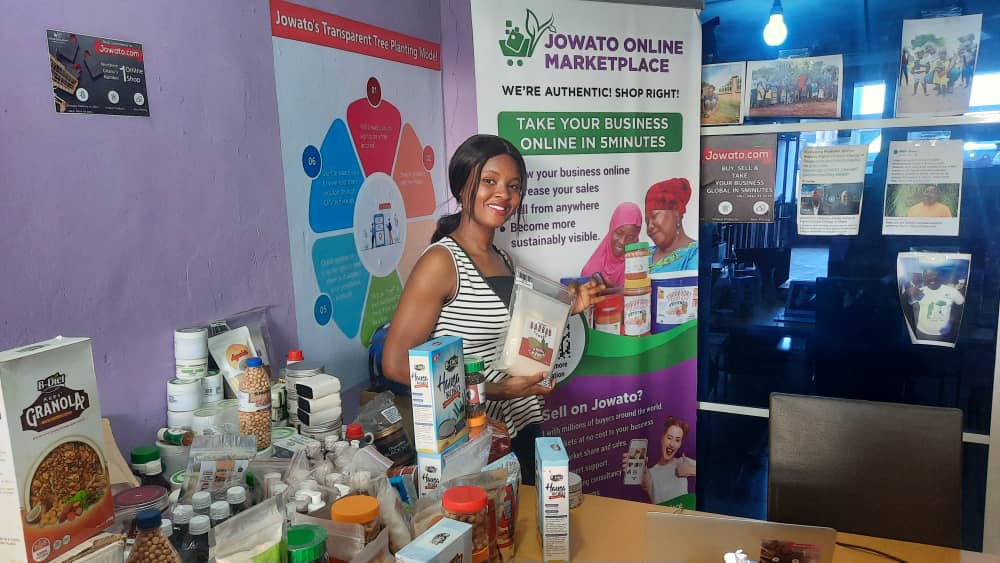 With 500 cedis from her savings — tenacious spirit, and the drive to become an entrepreneur, she created her business.
"Creating something on my own and promoting regional agricultural products, especially dawadawa, were the driving forces behind my endeavor. That has not received as much publicity or projection as it ought to have," she said.
All four of Sherifatu's staff are female. A 38-year-old graduate from both Tamale Technical University and College for community and organisational Development who was buying and selling bags. A qualified nurse without a job makes up the second employee. The rest have graduated from their senior high schools.
They have divided responsibilities among themselves, including marketing, production, logistics organization, which involves acquiring raw materials and other logistics, as well as supervision.
Working with Sherifatu has "served as a learning tool and source of revenue as well," according to Tolha Anisatu.
The mother of one says that the groundnut paste and dawadawa give her comfort so she can care for her family.
During the Covid-19 pandemic, "Sheridan Foods was a source of revenue for us."
Until Sherifatu came up with the concept of the items and delivery services to the door step of our clients, according to her, they were all perplexed and afraid to leave their homes.
"She is composed and eager to contribute, whether in kind or money, to our success. You may put your trust in her."
It is Tolha's responsibility to plan the essential logistics for the product and "I have grown to trust several of my suppliers."
Ghana's e-commerce is expanding and evolving. Its use is increasing in the country as well, even though its growth is still exponential worldwide.
The degree to which online enterprises are successful in a country is influenced by a number of factors; internet penetration rates and speeds, payment platforms and services, e-commerce software, shipping and logistics management, addressing systems, hospitable regulatory frameworks, and a ton more are among them. Making wise selections is made easier if there's more information to choose from.
According to social media research company Kepois, Ghana has one of the highest rates of internet access in the West African area. With a population of 32.06 million, 16.99 million (or 53.0 percent) of Ghanaians use the internet regularly, making the country's internet user population well over half.
This is a big potential, and many users have seized it to launch new enterprises or grow existing ones to include internet channels.
Similar to this, Sub-Saharan Africa's e-commerce growth increased by 42% between 2019 and 2020. As the globe becomes more computerized, the growth is expected to increase much more.
This new way of conducting business has several advantages. Many Ghanaians' entrepreneurial instincts have been awakened by digitization and e-commerce, which has made it a significant source of employment and a means of income generation for them. Utilizing the advantages of the internet to open up new chances to connect the supply and demand sides of the economy through e-commerce, many of Ghana's young people have found secure employment.
For instance, ZLB, established by Nadia Ali in the Northern region, connects farm produce directly to direct markets worldwide through Jowato. Her local rice, dawadawa, sheabutter among others have increased in sales by 30%, which has had a significant impact on her business income.
"Jowato is not just the ideal location, but also a lifesaver for my business. It has provided us a lot of exposure and clients, and the fact that they are an eco-friendly company makes it even more trustworthy," She said.
Nadia earned a BSC in Mechanical Engineering from KNUST in 2013 and is currently enrolled in the university's MSc program in Agribusiness Management.
"I switched from Mechanical Engineering to agriculture because there were no jobs available for women in the Northern part of the country."
Five years after graduating, in 2018, she made the choice to launch ZLB in order to produce and market local rice, shea butter, dawadawa, natural oils, and soap.
"When these middlemen arrived with their weighing scale to purchase sheabutter, I was already on the field. I could see the women's faces were uncomfortable due to the price that was discussed, " She made mention.
I started with 10 customers at first, all of whom were close relatives and family. Today owing to Jowato, there are around 1 million direct buyers from throughout the globe.
"ZLB used to have daily sales of 100 cedis or less. But as of right now, we average 200 to 1000 cedis in daily sales."
Nadia recalls how selling shea butter to a customer in Italy required certification, but because of Jowato's partnership with DHL, the procedure was simpler and the cost was lower.
Nadia employs two males and two females who manage production, promote the products and support packaging. While two have degrees from universities, the remaining two are basic school dropouts.
The founder and CEO of B-Diet Cereals, in Tamale, Charlse Atia, is not far from Nadia's narrative. Mr. Atia, holds an MA in Global Leadership from Azusa Pacific University in the United States, a Bachelor of Commerce and a Diploma in Education from the University of Cape Coast.
Prior to founding B-Diet Cereals, a business that contributes to the agribusiness value chain through, processing and adding value to indigenous farm produce like Millet, Sorghum,Rice maize and portatos , he spent 15 years working on projects in food security, health, and education with NGOs.
The inspiration to B-Diet came from his deep knowledge and understanding about the challenges faced by farmers and the need to add value to indigenous foods, creating more value for farmers, creating employment and making the consumption of indigenous foods more healthy to consumers.
The company currently has about 7 products in the market. The Millet, Maize, Rice and Sorghum Cereals, Granola, Hausa Koko and the B-Diet Cookies. The capital Accra accounts for about 45% of the market, and relied on supermarkets and other distribution partners across the country.
Kofi Laabi, a volunteer who was providing us with with digital media support, introduced me to Jowato. The company signed up with Jowato at the end of 2020 and hasn't looked back since.
Mr. Atia can now connect directly with every one of his customers through the Jowato online marketplace, and also makes Ghc1,000 more sales per week through the Jowato marketplace.
"There have been inquiries about our products from Burkina Faso, Liberia, and Rwanda, and our brand is growing in popularity. We have also established alliances and entered new markets in other regions of Ghana, including Cape Coast, Takoradi, and Kumasi through Jowato"
Mr. Atiah says that the brand has gained recognition on a global scale. He predicts that by the end of the year, even though Jowato only contributes about 5% of total sales at the moment, it could increase from 5 to 15% by the end of the year.
Because of Jowato's business approach, it is incredibly convenient and reasonably priced for businesses.
"In contrast to traditional brick and mortar stores, we are able to communicate directly with our customers and keep track of their transactions and personal information should we need to. Jowato assists us in enforcing our suggested wholesale and retail prices, preventing overcharging and taking advantage of clients with our goods."
Among Mr. Atiah's 18 employees, 10 are females and 8 are males.
25-year-old Roger Atia Lazarus has diploma in nursing from Bolgatanga Nursing Training in 2020, 26-year-old Yussif Imoro who studied Carpenters and Joint from National vocational institute and graduated in 2021, 19-year-old Roger Atia Edward completed Tamale Senior High School in 2020, while 27-year-old Alidu Kawsada had Diploma in catering in 2020 from Tamale Technical University.
Others include: 22-year-old Kwesi Ibrahim completed Tamale Senior High school in 2020, 20-year-old Abukari Khadija also completed Tamale Senior High school in 2021, 25-year-old Bello Jamimu studying Degree in nursing at University for Development Studies and 24-year-old Sulemana Fatimata also graduated from University for Development Studies in 2021 with diploma in early childhood care and education.
The rest are: 20-year-old Mashood Mohammed is BSC family and consumer science at University for Development Studies, 32-year-old Mohammed Saani graduate from University for Development Studies in 2014 with degree computer accounting, 25-year-old Salifu Usama has certificate in nursing from kpembi, salaga She graduated in 2020.
All of them have been in employment between 2015 and 2021.
Meeting consumer needs and expectations is essential for online business success. There are several ways to improve a client's online experience, from data management systems to routinely disseminating useful information.
By employing the right e-commerce strategies, an online business may win over clients and retain their support for years to come.
Just as technology has changed how we view the world and conduct our daily lives, e-commerce has had a tremendous impact on societies all over the world.
The e-commerce sector is enormous. Therefore, it is understandable why so many people are interested in the future of e-commerce.
Nearly 3.5 trillion dollars were spent on global e-commerce in 2019, demonstrating the growing profitability of this business model.
That's a big deal, but the good news is that it's not exactly a recent development.
In reality, from 2014 to 2017, the average annual growth rate for internet sales was 25.6%.
If you ever needed evidence that e-commerce is successful and has been for some time, that should suffice.
Additionally, it is a dynamic sector of the economy. In an effort to influence how people throughout the world buy items, trends are always changing.
This, to put it mildly, makes the future of e-commerce fascinating.
Over the upcoming years, e-commerce is anticipated to undergo a number of significant changes. We're here to explain how e-commerce will develop in the future.
By 2022, it's predicted that 3 billion prospective consumers from developing nations would have internet access. That is a large number of potential clients.
It's also anticipated that in 2022, buyers who currently live in developing nations like South Africa, Brazil, Russia, China, and India will account for 20% of all retail sales. Lots of potential sales there.
The most interesting aspect of this is that many of these industries are now mostly untouched by established e-commerce companies.
Jonathan stated, "This trend is fantastic because it frees up staff' time and resources for more crucial work.
According to Jonathan, the question of which store can offer the best prices is no longer relevant. Customers now days are concerned about the entire process and a product's potential environmental impact. Plastic is not an option for a sizeable segment of clients. Glass is very popular when it comes to purchasing containers.
"With the growth of environmental campaigners, sustainable products are no longer merely a fad. It only makes sense for businesses to follow suit and make sure their goods don't harm the environment."