Over two thousand people joined the breast cancer awareness health walk organized by the Oncology Directorate of Komfo Anokye Teaching Hospital in Kumasi.
The 2022 annual walk from the Kumasi Central Police to Kumasi City mall was followed by free breast screening and diagnosis for participants.
Breast cancer is a growing global disease that occurs when breast cells mutate (change) and grow out of control, creating a mass of tissue or tumor.
This year's parade aimed at educating the populace, particularly women on the need to embark on self-breast examination.
The occasion was themed: "Early detection saves life".
The occasion emphasized the importance of early detection, diagnosis, and treatment of breast cancer.
They were encouraged to report to appropriate health facilities for the right professional advice.
Paramount Queen Mother of Asante Mampong, Nana Agyakoma Difie II disclosed that 1,206 breast cancer cases have been reported at KATH since 2017.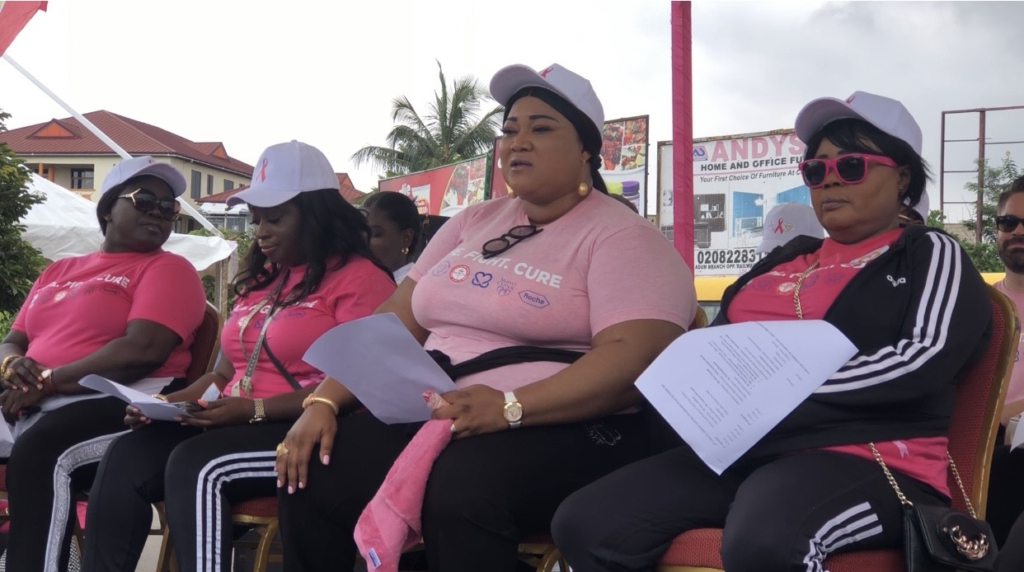 "By the end of 2020, about 7.8 million were diagnosed with breast cancer in the last 5 years, making it the world's most prevalent cancer. It is interesting to know that the oncology directorate of Komfo Anokye Teaching Hospital has recorded 1,206 cases of breast cancer over the past 5 years.
"Indeed this is a worrying trend that needs concrete efforts from all sundry to help fight the menace. It is therefore not out of place that, as traditional and opinion leader, I have taken it upon myself to bring on board Asante queen mothers in the region to sensitize the public," she said.
Dr. Dwobeng Bismark of KATH explained that cancer of the breast may not be deadly if reported early.
He emphasized early detection, explaining that symptoms should not pass the lump stage.
"Unfortunately, in Africa, most cases reported are at the stage of transfusion into the blood. If early detections are made, breast cancer would not be as deadly as perceived or may reduce the fatality rate.
"If we delay, and the cancer virus is transfused into the blood, it may be hard to cure. We entreat that people hurriedly report cases of lumps in their breasts. Same as when they experience liquid discharges. These lumps may not cause pain, but may be dangerous," he said.
Founder and CEO of Embrace Society and Isabella HealthCare Services, Naana Akyaa Asante shared her experience as a cancer survivor.
She explained that she survived the disease due to early detection and motivation.
She encouraged women to make breast cancer screening a habit.
"In June 2014, I did the screening and everything was normal. I did it again in December 2014, and they noted the changes and told me to follow up. Unfortunately, I was diagnosed with breast cancer and it was a devastating diagnosis.
"Fortunately for me, the cancer was very early because of screening, being aware, events like this, and knowing that I had to go and get my mammogram. My doctor embraced me, sat me down, and explained to me all the things I needed to do to be better.
"I am here to encourage women that I was diagnosed 7 years ago, I was caught very early and went through an eleventh-hour surgery and here I am. Cancer-free and living my best life. Early detection truly saves a life," she narrated.
Patrons of the walk included staff of the Komfo Anokye Teaching Hospital, the Ghana Police Service, Global access to cancer care foundation, Mayo Clinic, TBA collective, Die-hard fans of Daddy Lumba and students of some selected senior high schools in Kumasi.
DISCLAIMER: The Views, Comments, Opinions, Contributions and Statements made by Readers and Contributors on this platform do not necessarily represent the views or policy of Multimedia Group Limited.