Over 90 percent of the cases of violation against journalists have not been redressed.
That's according to the Media Foundation for West Africa (MFWA) in its latest report on the safety and professionalism of journalists.
The Foundation is worried that this phenomenon is perpetuating the culture of impunity for crimes against journalists and the media.
A breakdown of the violation cases between 2019 and 2022 by the report indicates that from 2019 to June 2022, there were 65 cases of violations against journalists, media workers, and media houses, with 58 journalists or media workers being victims and 7 media houses being attacked.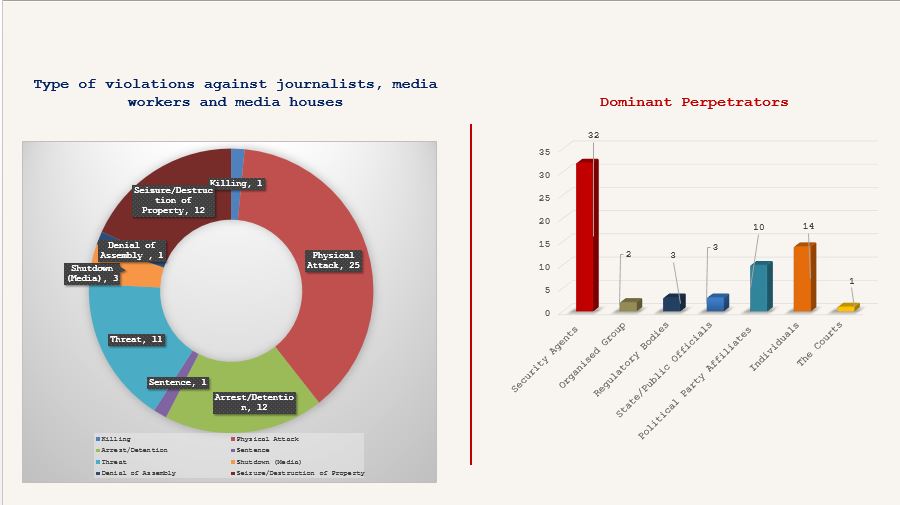 In terms of violations, the safety report indicated that physical attack occupied the biggest portion of the pie chart followed by seizures, arrest or detention and others.
It also highlighted that one life was lost as a result of these acts against journalists within the period under review while three media houses were shut down.
Even though the year has not ended, 2022 alone has accounted for about 23% of the entire violations against journalists and media houses.
Also, there were more violations against journalists and media houses in 2020 than in any other year.
Touching on the perpetrators of these violations, MFWA's Safety of Journalists report mentioned security agents.
This is keenly followed by the individuals, political party affiliates, regulatory bodies, public officials organized groups and the court at the bottom.
On safety mechanisms of journalists, the report showed that only 15 out of the 40 (37%) media houses had some semblance of safety policies for journalists.
It added that "only 15 out of the 40 (37%) media houses had some semblance of safety policies for journalists."
Again, "only 5 out of the 15 respondents whose media organizations had safety policies had an insurance package included."
Meanwhile, Deputy Information Minister, Fatima Abubakar has faulted journalists for failing to utilize the Office of the Coordinated Mechanism on the Safety of Journalists since it was opened.
According to her, the Office has been in operation for the past year however "journalists don't even visit the Office to find out the processes and what is happening here so that in the line of their work in case of any violation they will go there to seek redress."
On his part, Alexander Bannerman who works with the National Media Commission revealed that it is in collaboration with media practitioners, the Ministry of Information and UNESCO is developing guidelines for the safety of journalists in their line of work.