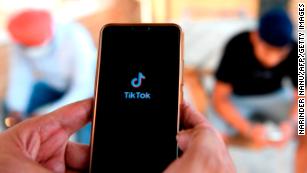 Pakistan is taking a cue from its close ally China on internet censorship by banning, of all things, a Chinese social media app.
The Pakistan Telecommunication Authority on Friday said it would block the short-form video app TikTok because of complaints "from different segments of the society against immoral/indecent content."
The authority said that TikTok, which is owned by Beijing-based ByteDance, has not created a satisfactory way to block offensive content following a warning to get its house in order in July.
TikTok says it has protections in place and hopes to settle the matter. The ban is notable because, unlike countries such as India and the United States that have already gone after TikTok, Pakistan doesn't have a tense political relationship with China.
The two share close economic, diplomatic and military ties and Pakistan is an integral part of China's ambitious Belt and Road infrastructure initiative.
Experts have long been concerned about China's ability to influence its allies to mirror its approach to the internet. China has worked for decades on its massive censorship mechanism, which shuts out content widely available elsewhere on the web.
So the decision to ban TikTok could be rooted in Pakistan's desire to emulate its neighbour, rather than act as an attack on China, according to Usama Khilji, director of the Pakistani digital rights group Bolo Bhi.
"This could be taking a page out of the Chinese playbook. We know how heavy censorship regimes are in China," said Khilji, who added that Pakistan has made use of the "Chinese model of media control.
"And compared with actions taken or threatened by New Delhi and Washington, Islamabad's move will be felt less at TikTok, likely lessening the risk that it upsets its big, powerful neighbor.
TikTok has been installed about 43 million times in Pakistan, making the country its 12th largest market, according to the research firm Sensor Tower.
In India, the app was downloaded close to 660 million times before its ban in June. (India blocked the app and dozens of other Chinese apps after violent clashes at the India-China border that left many dead.) In the United States, the app counts some 100 million users.
'Immoral' content
Pakistan began exercising control over its internet long before TikTok came along. Authorities blocked YouTube from 2012 until 2016 after an anti-Islam short film was posted, for example. In 2016, Pakistan enacted a controversial cyber security law to regulate internet content.
That gave authorities power to block a range of content for a variety of reasons —including in the "interest of the glory of Islam or the integrity, security or defence of Pakistan."
Activists say the law threatens the rights of privacy and freedom of expression. Between June 2018 and May 2019, the country blocked more than 800,000 websites, according to the human rights watchdog Freedom House.
The country has taken further steps to broaden its control over the internet. In January, the Pakistan Telecommunication Authority declared it was "committed to protecting the public from harmful and unlawful content present on the internet such as blasphemy, hate speech, violence & extremism, and pornography."
Earlier this year, the government unveiled sweeping rules on internet censorship that would give regulators the power to demand social media platforms to remove a range of content.
The restrictions were denounced by the Asia Internet Coalition, whose members include Facebook, Google and Twitter.
The group wrote to Prime Minister Imran Khan in February, saying the rules would make it "extremely difficult" to provide services to Pakistani users and businesses.
The US State Department also blasted the restrictions, warning on Twitter that they could represent a "setback to freedom of expression."Several apps have already fallen victim to bans this year.
In September, for example, the government said it blocked access to the dating apps Tinder, Tagged, Skout, Grindr and SayHi on the grounds of "immoral and indecent content."
Broad bans
One expert, though, finds the TikTok ban to be a unique situation. The app's growth within Pakistan's lower middle-class — especially during the Covid-19 pandemic — has caught the government by surprise, according to Habibullah Khan, the founder of Penumbra, a digital marketing agency based in Karachi.
Khan, who has been following TikTok's rise in Pakistan, said that the voices of poor Pakistanis who were not well-represented on other social media platforms like Facebook and Twitter flocked to TikTok.
"From May onwards you saw videos critical of rising food prices and critical of the government's related lack of governance showing up on the main feed," Khan said.
"This was the first time that a 'truth' that could not be managed on social media was making it out to the public unfiltered."Other critics of Pakistan's approach have suggested that the morality argument masks a desire to ban a broad array of speech.
The TikTok ban "comes against a backdrop where voices are muted on television, columns vanish from newspapers, websites are blocked and television ads are banned," Amnesty International South Asia tweeted on Friday.
In blocking TikTok, the Pakistan Telecommunication Authority did not specify which content triggered "a number of complaints from different segments of the society."
The authority said, though, that the decision could be revisited if TikTok regulates "unlawful" content. TikTok said on Monday, it has "robust protections in place to support a safe and welcoming platform for our community."
"TikTok is an inclusive platform built upon the foundation of creative expression, and we are hopeful to reach a conclusion that helps us serve the country's vibrant and creative online community," a TikTok spokesperson said in a statement.
DISCLAIMER: The Views, Comments, Opinions, Contributions and Statements made by Readers and Contributors on this platform do not necessarily represent the views or policy of Multimedia Group Limited.