Play Soccer Ghana has commemorated this year's Global Peace Games at Tamale in the Northern Region of Ghana.
The Global Peace Games were founded in 2001 by Play Soccer Non-Profit International in order to promote a global network of children and youth committed to a culture of friendship, understanding, and peace.
The Games are a worldwide initiative and have thus been organized across the world since 2001.
Every year since 2001, Play Soccer Ghana has been commemorating the day in Ghana, where program beneficiaries converge to take part in various outdoor games and football matches and make pledges to be ambassadors of peace and also to unite their voices and support through the universal language of sport.
The 2022 Global Peace Games celebration was organized with the global theme, "End racism, build peace."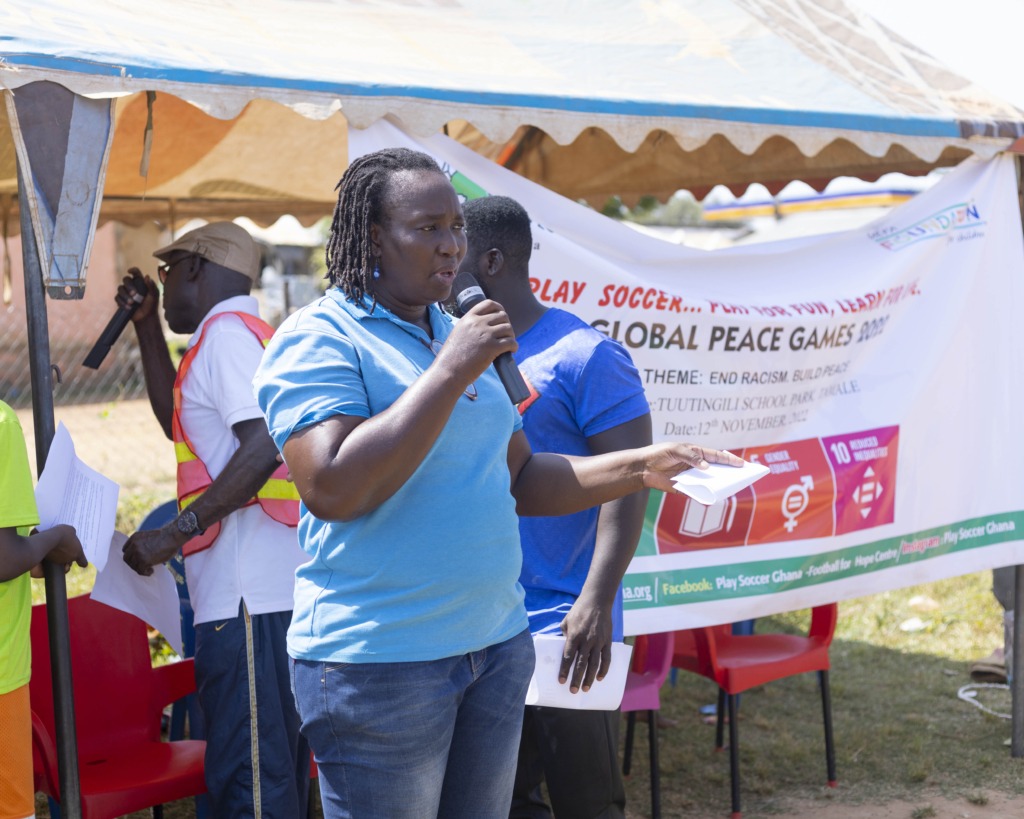 In all, about 150 young people, aged 5–15, were drawn from the Tuutingili site and SOS.
The event started with a peace walk from Tuutingili community school park for about 500 metres along the main street and ended at the Tuutingili Centre park where the event took place.
The coordinator of Play Soccer Ghana, Samuel Okyere Southern, mentioned that peace was something that ought to be carried everywhere. He said learning to tolerate the opinions and views of others was critical to ensuring peaceful coexistence.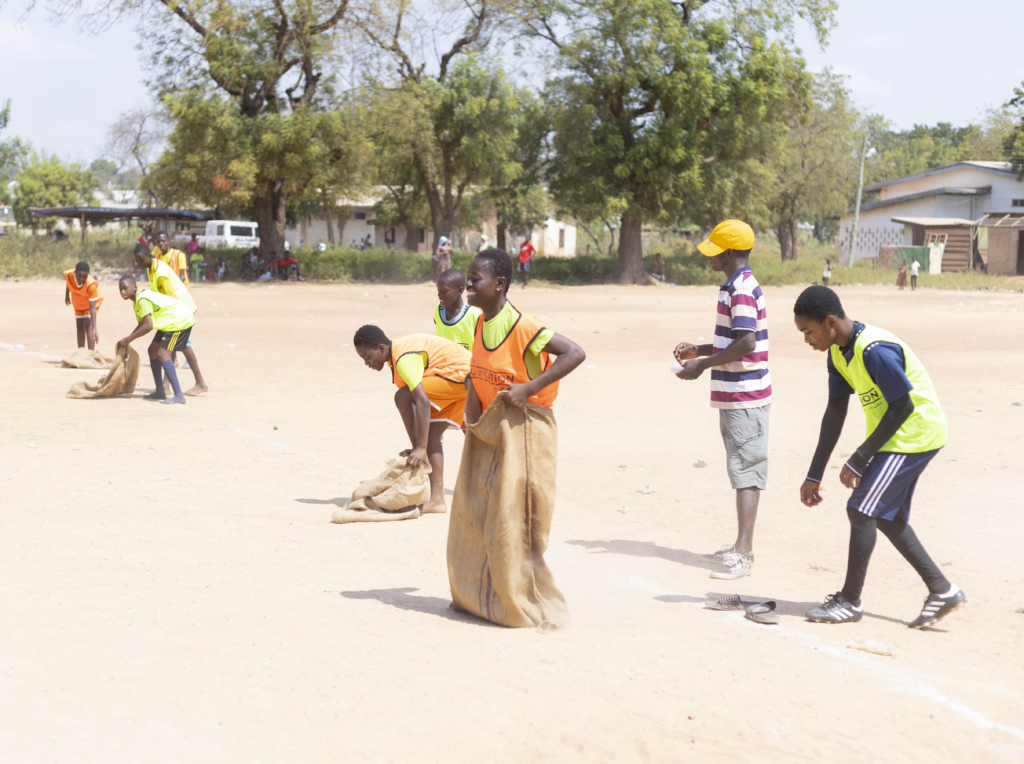 As it is done every year, one of the beneficiaries of the project read the 2022 UN peace message signed by UN Secretary General António Guterres.
Interacting with the participants, the Programs Manager for Play Soccer Ghana, Anthony Asante Addo, mentioned that all must endeavor to inculcate attitudes of peace so that they will always be known among their peers as people who always propagate peace wherever they are.
He stated: "Peace is life; therefore, we must always choose peace."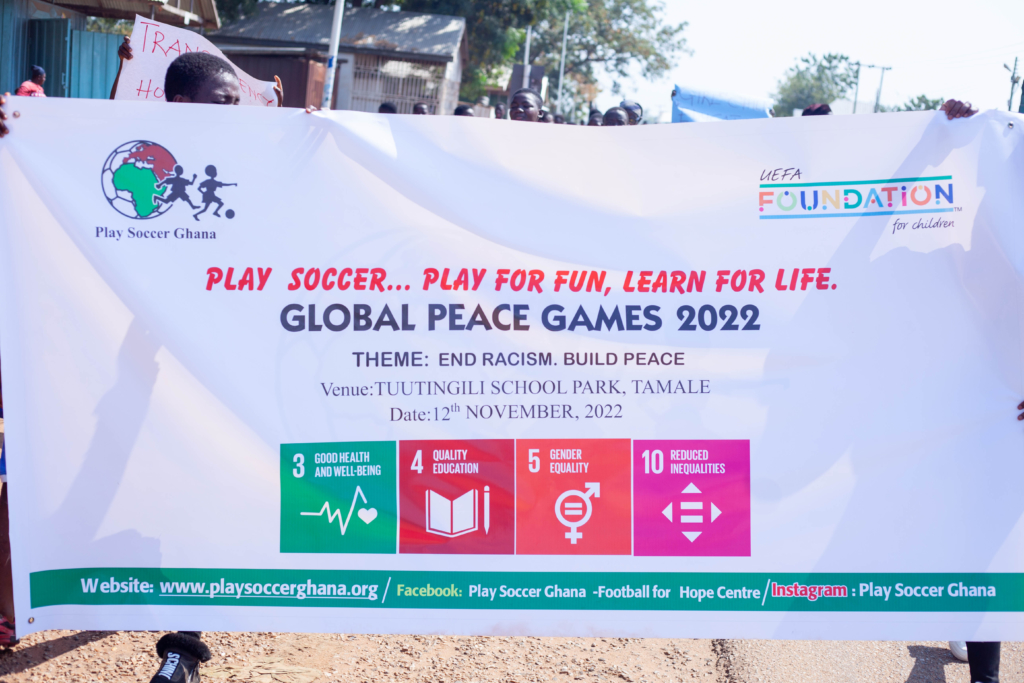 "We must always level the playing field, reduce inequalities, and always make peace with our friends."
The participants pledged their support to promote peace and be ambassadors of peace among their peers.
Games that were played during the event were soccer, lime and spoon, sack racing, blindfolding, and others. Also in attendance were Katherine Marwari (head of school for Tamale SoS), the various site managers and volunteers across the project sites, and some parents of the program beneficiaries.
The Southern Ghana Coordinator, Samuel Okyere, commended all participants for their active participation, sportsmanship, and exhibiting fair play in all the games held.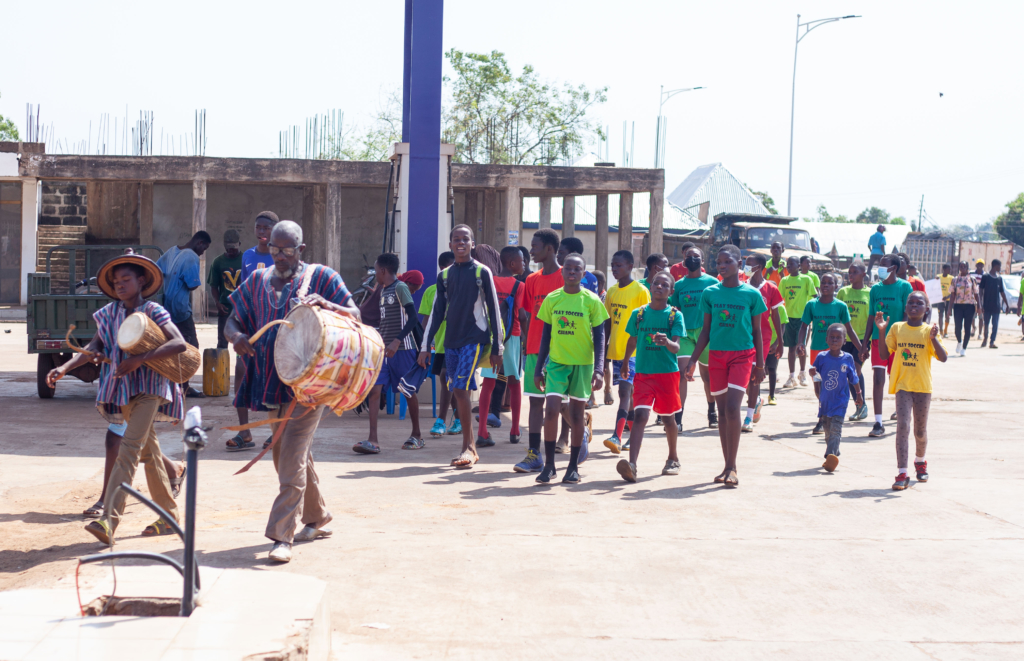 "Peace is the only pathway guiding us to a better future for humanity, and when we understand each other and live in harmony and cohesion, it will be the basis to ensure the well-being of every individual." He stated.
Play Soccer Ghana is a sport for a development organisation that uses sports and football as key tools for sustainable development.
It has been in existence since 2001, with its current headquarters in Cape Coast, in the Central Region.
Play Soccer Ghana as an NGO is Implementing various projects on promoting quality education, life skills development, TVET training, promoting peaceful communities, sanitation and hygiene.
The country director is Franklyn Asuo. Other members of the Play Soccer Ghana Board of Directors include Dr Jimmy Heymann, Ellis Quarshie, Georgina Quaisie, Andrew Simpson, and Ama Gyamfua Abrefa.
DISCLAIMER: The Views, Comments, Opinions, Contributions and Statements made by Readers and Contributors on this platform do not necessarily represent the views or policy of Multimedia Group Limited.