Play Soccer Ghana in partnership with the Manchester City Cityzens giving and Xylem Incorporated has marked the world water day celebration at an event at the Oguaa Football for Hope Centre in Cape Coast. The event also forms part of the ongoing Football for Hygiene project funded by Xylem Inc.
The event brought together over 100 school pupils from five selected schools in Cape Coast including St. Francis Primary school, Kwegyir Aggrey basic School, Jubilee Boys basic school, St. Monica's girl's primary school and St. Nicholas Primary school.
World Water Day is an annual United Nations (UN) observance day held on 22nd March that highlights the importance of fresh water and advocate the sustainable management of freshwater resources.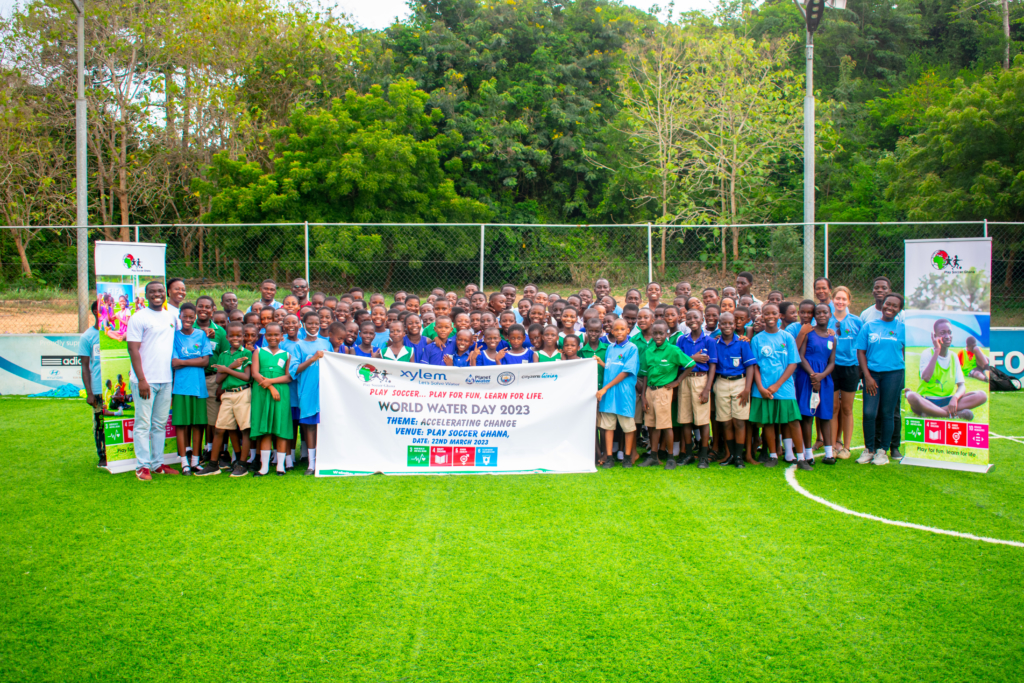 The theme for each year focuses on topics relevant to clean water, sanitation and hygiene (WASH) which is in line with the targets of the sustainable development goal six (6).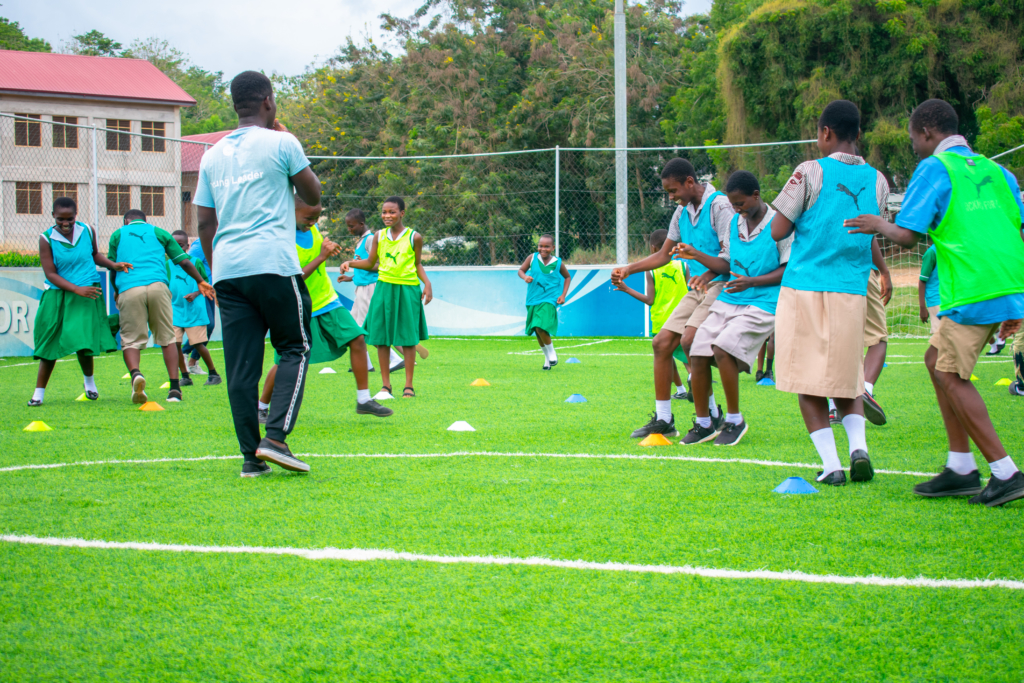 Welcoming the participants to the event, the Programmes Manager for Play Soccer Ghana, Anthony Asante Addo, sensitized the participants on the importance of accelerating change to solve water and sanitation crisis. He posited that because water affects all and sundry, everyone needs to play their part to do what is plausible to join the campaign on using water wisely.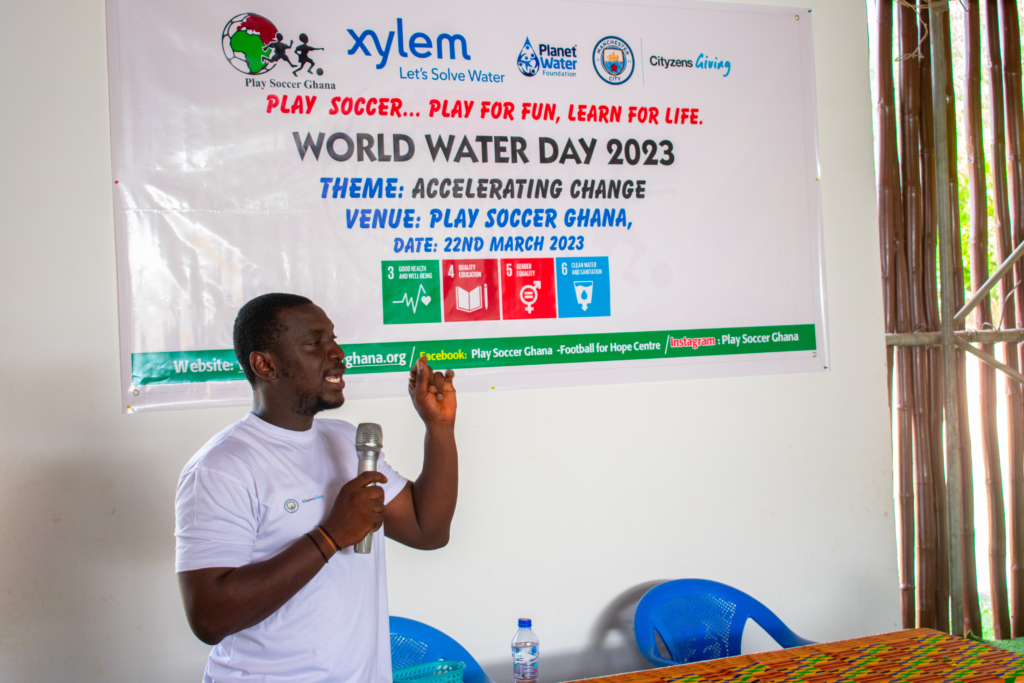 He further entreated the participants at their respective schools, communities and families to make a difference by changing the way they use, consume and manage water.
This ceremony was followed by a short quiz on basic knowledge and facts about water. Branded T-shirts were given to all who got correct answers to the questions.
Also, interacting with the participants was the Health Education Programme Coordinator of the Cape Coast Metropolitan Director of the Ghana Education Service, Betty Vanderpuye. Mrs. Vannderpuye entreated the pupils to ensure water is conserved and used properly. She mentioned that basic attitudes such as repairing and reporting leaking taps, taking shorter showers, turning off tap while brushing their teeth and closing the taps when not in use.
"You must be agents of change when you go back to your various schools and ensure you sensitize your friends and families more on conserving water."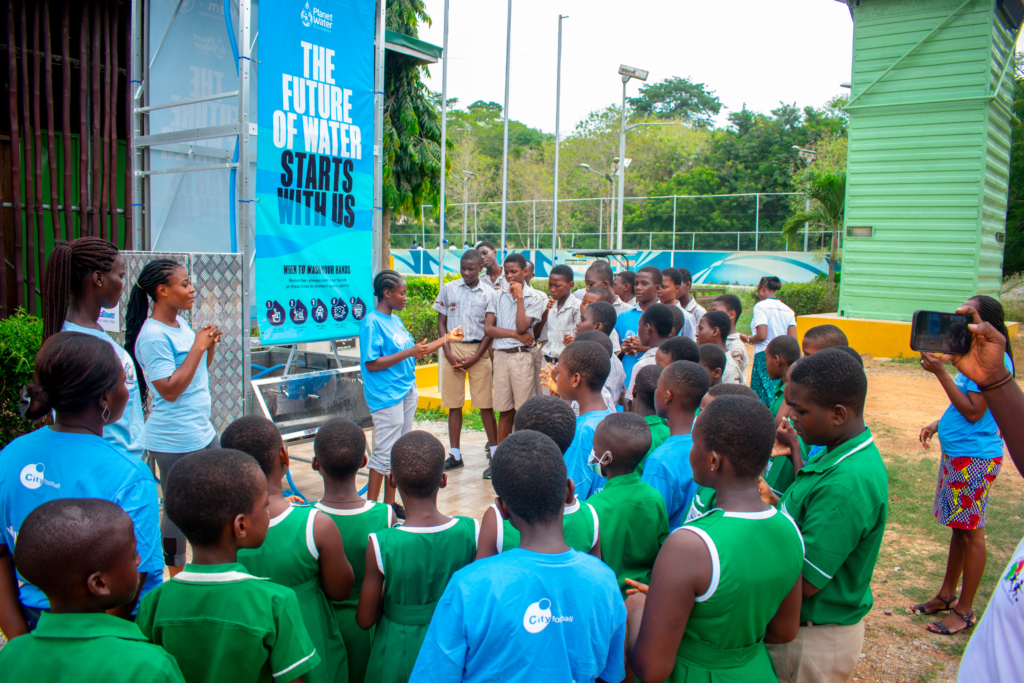 After her session was a practical session on handwashing.
Play Soccer Ghana Community Young Leaders were present to show them the steps in handwashing practically at the Aqua tower recently constructed in by Manchester City, Xylem Inc. and Planet water Foundation.
The handwashing was preceded by a "Play for Fun", "Learn for Life" activity session on how germs spread. The children also received education on how to prevent the spread of germs.
The participants mentioned a lesson learnt particularly on handwashing and new attitudes they will be putting up to ensure water is conserved.
Play Soccer Ghana is a sport for development Non- Governmental Organization that uses sports and football as key tools for sustainable development. It has been in existence since 2001 with its current Headquarters in Cape Coast in the Central Region. Play Soccer Ghana since its existence has been Implementing various projects on promoting quality education, life skills development, TVET, promoting peaceful communities, sanitation and hygiene.
DISCLAIMER: The Views, Comments, Opinions, Contributions and Statements made by Readers and Contributors on this platform do not necessarily represent the views or policy of Multimedia Group Limited.