The Ghana Police Service has praised the Arise Ghana demonstrators as well as its officers for the incident-free outcome of day two of the protest.
In a statement issued on Wednesday, the service commended the demonstrators for their comportment and hopes that "would provide lessons for future occasions to help deepen our democratic practices as a country."
While condemning the "riotous conduct of demonstrators on the first day," the Police wished all injured officers a speedy recovery.
"We would also like to commend personnel of the service for their professionalism exhibited throughout the two days, especially on the first day, in the face of unprovoked attacks by the demonstrators.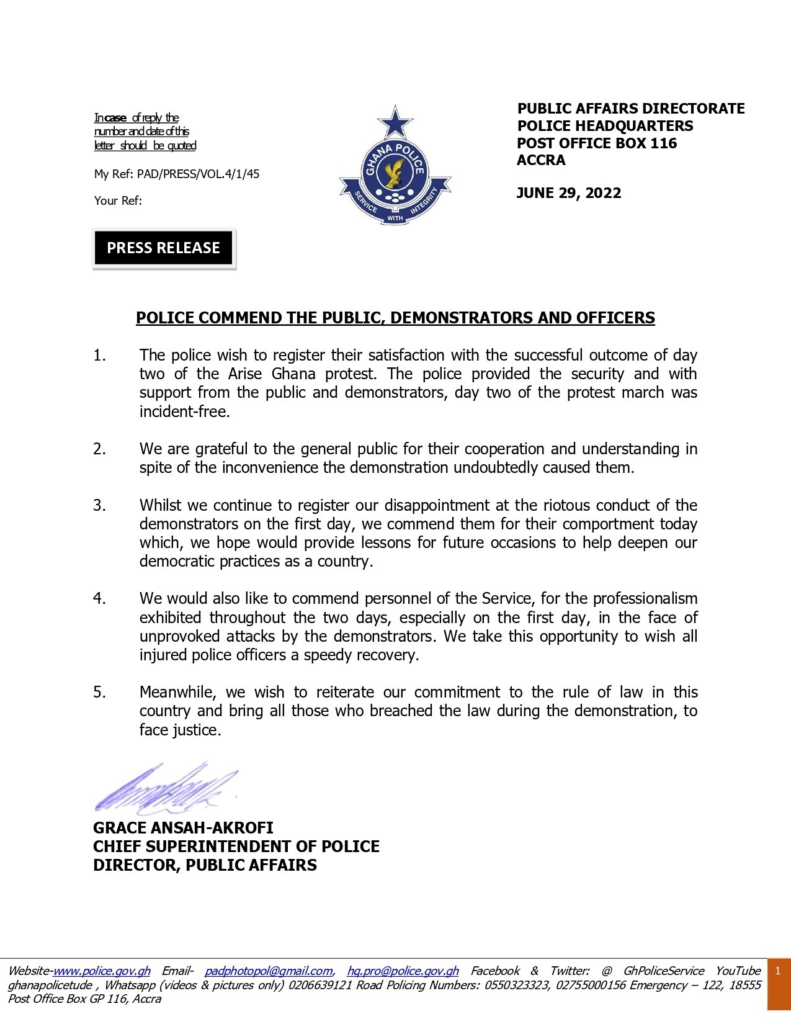 "We are grateful to the general public for their cooperation and understanding in spite of the inconvenience the demonstration undoubtedly caused them," the statement added.
A man was arrested on Wednesday after he was caught with a pistol at the El Wak Sports Stadium.
Although he surrendered, the police officers whisked him away for further interrogations.
In a related development, the National Organiser of the National Democratic Congress (NDC), Joshua Akamba, was also spotted with a sidearm.
According to a public notice by the Ghana Police Service, Mr Akamba was advised to put the weapon away after his attention was drawn to the illegality associated with such act.
"He was also urged to notify other demonstrators to desist from carrying offensive weapons during the demonstration," the police said.
Joshua Akamba later told protestors with firearm to surrender their weapons "because we need our people to be safe."
So far, 29 persons have been arrested in relation to the violence that erupted on the first day.
"Meanwhile, we wish to reiterate our commitment to the rule of law in this country and bring all those who breached the law during the demonstration, to face justice," the police statement added.