One of the many surprising elements of interviewing Rihanna is that when she is finally ready to meet she sends her driver across Los Angeles to pick me up. Divine, I think. So classy! Though I should perhaps mention that when the tank-sized Cadillac arrives, its luxurious blacked-out interior thrillingly haunted by the vestiges of her sweet, earthy perfume, it is… Now, let me check my texts to make sure I'm getting this right. Yes. That's it: 3:26am.
Classic Riri. It takes a certain sort of hutzpah, a certain level of shimmering enormity, to establish your own time zone. Yet the nine-time Grammy Award-winning, Super Bowl-slaying beauty billionaire and current Oscar nominee has done just that. As a charming driver called Myron waves hello and pulls us out on to the eerily empty streets of West Hollywood, gliding towards Beverly Hills in the dead of night, it is with an ease that suggests this is all very normal and time really is just a construct. In the run-up to a Riri rendezvous, minutes become hours, days become nights, Monday becomes Thursday, and soon reality loosens its grip and you sigh and think, Oh, well. Welcome to Planet Rihanna.
Also, let's be fair. She and her partner A$AP Rocky are now parents of a nine-month-old. Who knows how the sleep schedule is going? Well… great, it turns out. Later, relieved, Rihanna will announce: "Oh, he sleeps through the night now." Blessed news. And, I tease, are you sleeping through the night yet? She chuckles deliciously. "You know I don't. Look at us right now. No, I'm up. I'm like, 'OK, time to watch some Housewives.' These are my hours."
As befits a near-mythical creature, Rihanna lives atop a gleaming tower perched above Century City, ringed by guards, the queen of all she surveys, from the mountains to the ocean. At 4am, the apartment building's lobby is pin-drop deserted as I tip-tap across the marble and make my way down to a plushly decked-out communal sitting room in the basement, by the residents' screening room and a few dozen floors below where Fenty Jnr is sleeping soundly (and whom we mustn't wake). Among the tower's other notable residents at one time or another are Candy Spelling, chef Nobu Matsuhisa and former Friends star Matthew Perry, who are all presumably tucked up and unlikely to burst in on us. As the clock ticks, the ping of a distant elevator sounds and a few moments later she arrives.
"Rockstar hours!" she announces, laughing. I must say Rihanna is looking especially marvellous tonight. She's in the middle of intense rehearsals for 12 February's Super Bowl show, the latest round of which ran past midnight, hence the hour. But, oh, the fizzing star quality. Espresso in hand, wearing baggy dark denim Celine jeans, a black Stüssy hoodie beneath an oversized tiger-print fleece from Ashley Williams, there is not a hint of the baby bump she will have cooked to perfection for its internet-breaking reveal at her Super Bowl set in five weeks' time. Still, with not a squirt of make-up on, she exudes a kind of school-gates glamour. And this is Rihanna. "A few little leftover diamonds," she coos, seeing my eyes bug at the row of juicy sparklers she is wearing down each ear. "The ones that they didn't send the armed guards for," she adds, dryly. "Yo, clock strikes 12. Cinderella, the night is over."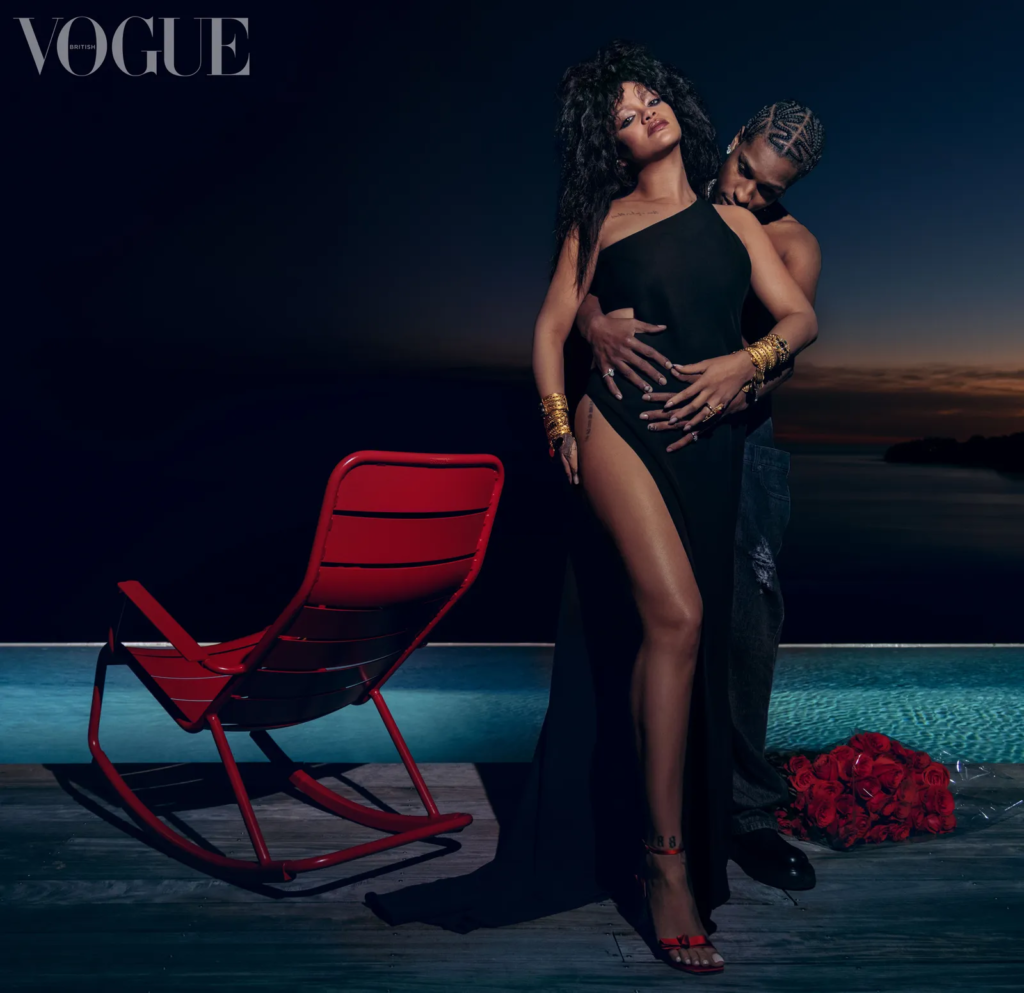 The "night" in question was 36 hours ago – the Golden Globes, where she was a nominee – but as someone whose dial setting is prone to "fabulous", she says she wasn't ready to part with the gems yet. Guards be damned. In fact, you would be hard-pressed to encounter a person so joyfully intoxicated by beauty. She has swapped out the dramatic, off-the-shoulder black velvet Schiaparelli couture gown she wore, but kept the intricate hairstyling from the Globes going too, her head haloed by a series of delicate rolls. "Right? I can't believe it," she says with near childlike delight as she gently touches a finger to her hair in the pre-dawn quiet. "It stayed."
It seems that, in the last few months, Rihanna's life has turned so fully on its head that a great hair moment now has the unique allure of forgotten pleasure. Since she gave birth to a baby boy last May, the 35-year-old Barbadian musician and entrepreneur has been about as off-grid as she gets – perhaps the most off-grid since she became a star in her mid-teens. Cocooned with Rocky, baby and their families, on vintage form she likened the postpartum emotional rewire to "tripping on acid" when interviewed at a Savage X Fenty lingerie show in New York last autumn. Aside from that appearance, a smattering of social media posts, the release of two new songs that bookended the Black Panther: Wakanda Forever soundtrack at the end of the year ("Lift Me Up" is up for best original song at the Oscars next month), Rihanna has been minding her beauty empire as well as readying herself for the Super Bowl LVII Halftime Show. As ever, rumours percolate about an eventual tour and, yes, a ninth studio album. Oh, and she quietly got pregnant again.
Yet for all this activity, in her first in-depth interview since becoming a parent, I would say her energy belongs more to the sofa than the spotlight. She's so cosy. "I just freshened up and ran down here," she says, smiling, effortlessly chatty, snuggling into her seat. For all her unconventional timekeeping, a lovely thing about Rihanna – the thing, in fact, that makes her schedule so hair-raisingly elastic – is that when she is with you, she is with you. The "world begone" intimacy of the wee hours? This is precisely how she likes it.
She has a sip of coffee and launches straight in. "Oh, my God, it's legendary," she says of her roller-coaster first months as a mother. "It's everything. You really don't remember life before, that's the craziest thing ever," she continues. "You literally try to remember it – and there are photos of my life before – but the feeling, the desires, the things that you enjoy, everything, you just don't identify with it because you don't even allow yourself mentally to get that far, because…" she thinks for a moment. "Because it doesn't matter."
So, take me back to the beginning. "OK, let's do it," she replies. Was the birth all right? "It was beautiful," she says, adding sagely that she felt "blessed" for that. But the "head-f**k" was real though. "I cannot believe it," she says, still floored by the experience. "Essentially, from one person I became two. You walk into the hospital as a couple and leave as a family of three. It's nuts. And oh, my gosh, those first days are insane. You don't sleep. At all. Not even if you wanted to. We came home, cold turkey, had no one. It was just us as parents and our baby. Man, you're a zombie for the most part."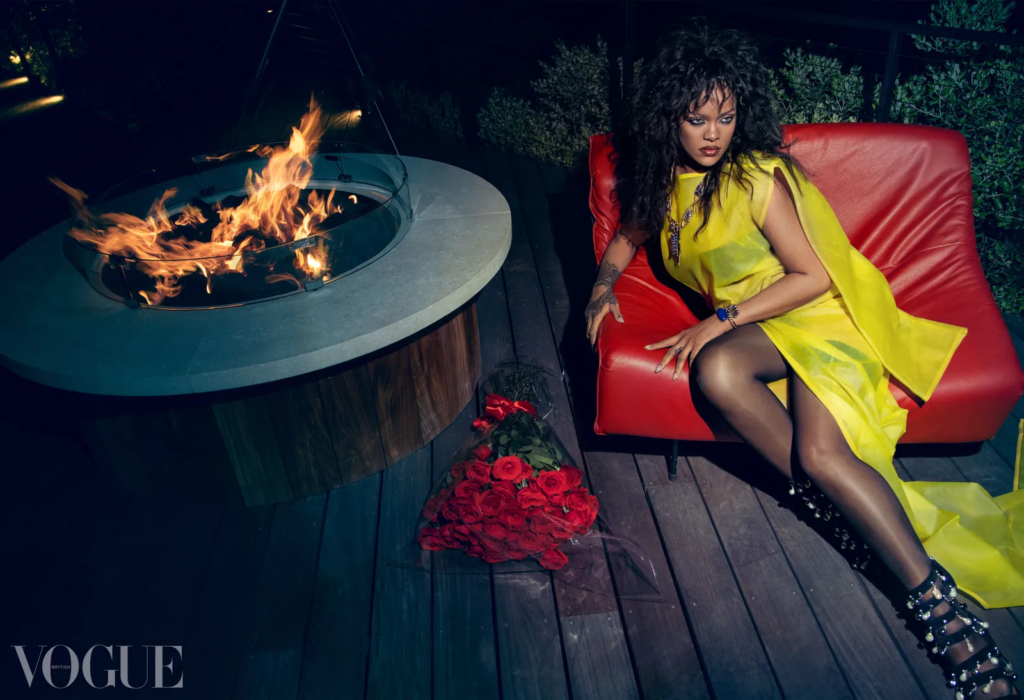 "You're just going through the motions," she continues, "and even then you're so paranoid. Because you're like: they trusted us to come home with this baby? This new life? With us?" She starts laughing. "No doctors, no nurses, we're just… going home?"
Ah, the levelling fate of new parents. They spent the post-birth weeks in California before Rocky had to fly out to Europe on tour, where Rihanna and son later joined him. (Incidentally, they are yet to publicly share their son's name. Rihanna, Rocky, their families and teams are so consistent in calling him "baby" in my presence I do half wonder if his name might actually be Baby.) "It changed a lot," she says of the family geography through summer, "but you're just at the same constant. You're of service. Literally that is it. You are joyful when you get the time to shower. You know," she says, with another laugh, "I remember in the beginning I used to roll his bassinet into the bathroom and be showering and like wiping the fog off [the glass] just to peep at him." She loved the mornings most. "Those were always my favourite, his little wake-up face, seeing his face change, seeing his colour come in, just all of these changes."
"Dressing for pregnancy was such a piece of cake," she says. Indeed, who can forget Rihanna's legendary antenatal wardrobe first time around? "But dressing in postpartum, what the f**k do you do? The week that I came home from the hospital – that was nothing but sweats and hoodies. But the weeks after that, you don't know what to put on. Everything is too small or too big." A true clothes addict, she looks genuinely peeved. "You kind of just gotta wait it out otherwise you end up buying so many clothes you're not going to use. Well, unless you get pregnant again." Indeed.
In the midst of it all, the NFL came knocking. "I was approached…" Every year for the last 10 years, I suggest. "Well," she twinkles, diplomatically. "But for this Super Bowl I was approached a few weeks before [the announcement] and I kind of kept putting off my answer." The deadline to accept came and went – again, classic Ri – but this was more than timekeeping. There was history here.
In 2018, she turned down the NFL's invitation to perform in solidarity with Colin Kaepernick, the former San Francisco 49ers quarterback who took the knee while The Star-Spangled Banner was sung at a game in 2016, a stance against the racial injustice and police brutality he saw the national anthem, and American flag, as having come to represent. Though Kaepernick became an international icon of protest, inspiring dozens of other sportspeople in the NFL and beyond to do the same, he brought about the mother of all meltdowns for many conservative Americans, whom the NFL duly indulged by seeking to squash the kneeling. And so: "I just couldn't be a sellout," Rihanna told US Vogue in 2019 when asked why she had refused to do the Halftime Show. "There's things within that organisation that I do not agree with at all, and I was not about to go and be of service to them in any way."
So what changed? "There's still a lot of mending to be done in my eyes," she says now, "but it's powerful to break those doors, and have representation at such a high, high level and a consistent level." This last point is key for her. "Two Super Bowls back-to-back," she says, referring to last year's headliners, Dr Dre, Snoop Dogg, Eminem, Mary J Blige and Kendrick Lamar, "you know, representing the urban community, globally. It is powerful. It sends a really strong message." There's another key difference this time as well. "Of course," she says, becoming visibly moved by this thought, "raising a young Black man is one of the scariest responsibilities in life." It's made her re-evaluate everything. "You're like, 'What am I leaving my kids to? This is the planet they're gonna be living on?'" She shakes her head. "All of those things really start to hit differently."
On top of the responsibility, she felt emboldened by motherhood too. "It's this knowing that you can do anything," she explains, "even things that seem the craziest, like, 'I'm going to say yes to the Super Bowl in the middle of postpartum?'" She still can't believe she agreed. "What the heck am I thinking? But you're geeked on a challenge like that because you know what your body just did. You feel this sense of 'Nothing is impossible.'" Not that the nerves aren't jangling; of course, she had no clue when she accepted that she would be pregnant again by the time of the performance. "It was almost like an out-of-body experience," she says of the day it was announced. "I have not been on stage in seven years," she says. "Seven years! From zero to Super Bowl? That's mental."
By now we'll have seen her performance so will know if the following came to pass. Here was Rihanna's intent: "I want to put on a show," she says. "I want to have fun. I haven't done this in a minute and I'm doing this for the people that love my music, the people that have supported me and gotten me to this place in my career. And who miss me as a musician in particular. It's me really just getting back onstage – a crazy stage to be back on – but I'm really doing this for my fans."
Wonderful, I say. And how many costume changes are you planning? "My goal is to do none. Seriously." She does indeed look serious. "You get 12 to 13 minutes. You just want to come out, rock out and be done. Costume changes aren't fun." There'll be dancers though, right? "You do get dancers," she reassures me. "Tonnes!" She starts laughing. "So. Many. Dancers."
With all eyes upon her once more, there is, of course, another factor to consider now. The "only factor" according to the star. A few weeks earlier, on an exquisite, sprawling estate straight out of Succession, overlooking a secluded run of beach in Malibu, Rihanna, Rocky and their son arrived to be photographed by Inez van Lamsweerde and Vinoodh Matadin for Vogue. It was a rare early outing for the family, and a coming-out party of sorts. Many weeks in the planning, the couple were finally ready to introduce their baby to the world.
It was quite the day. Rihanna was holding court in her trailer, changing nappies, fielding calls. Soon the couple were checking out the styling where, next to the usual dozen or so rails of sumptuous gowns, Chanel silk jacquard and Bottega Veneta leathers, table upon table of heart-swooningly tiny baby fashion had been laid out. Rocky, 34, went everywhere with his child in his arms, the effortless, magical bond between father and son a delight to see.
As the sun began to set, like a bijou travelling circus, the entire entourage headed down to the beach for the cover shot. Baby promptly stole the show. Among the most cheerful infants you could ever wish to encounter, assistants, runners and the entire Vogue team all jumped up and down behind the camera to help make him laugh as Inez & Vinoodh went to work. "You are giving poses," said Rihanna to her son, impressed.
But then a mood shift. A security guard's eyes narrowed. What was that? A telltale reflection down the beach? The shadow of a lens? Rihanna has been in the game too long to miss the signs and clocked on immediately. A pap. Taking photos of her child.
"It's the thing you never want to happen," she says, recalling the moment. She gets the interest in him is sky high, and hopes this piece is a way to introduce him on the family's terms. "We get to decide as parents when and how we do that. End of story." She's not wild on the paparazzi, of course, but is battle-worn and pragmatic. "Throw me to the wolves. Do what you want with me. But he doesn't have a say in any of this. We've been protecting him thus far and you don't have any consent to be posting photos or selling photos of my child, a minor. Get the hell out of here with that."
Watching it unfold in real time was sad and illuminating. "I just went straight into protective mode," remembers Rihanna. "Like there wasn't even time for rage. [Rocky and me] drove up to the trailer area and we sat in the car chatting and working out how we move forward. As parents it just feels so icky, like a violation." But they knew the clock was ticking. "As we were speaking, we knew they were making calls and deals." They couldn't bear the idea of the first public glimpse of their son being photos they hadn't consented to, sold to the highest bidder. So, she sent a couple of cute, candid snaps from her camera roll to a friendly blogger and then, in a typically boss move, she joined TikTok, posting an adorable video of her son gurgling away in his car that promptly racked up some 20 million views.
She's grateful for having Rocky by her side. "We're best friends with a baby," she says, laughing at their dynamic now. "We have to be on the same page, but we've always kind of had that in our relationship. Everything changes when you have a baby but I wouldn't say it's done anything but made us closer." She marvels at the connection he has with their son. "I'm just sitting on the sidelines when they're together," she says, moved and amused by their bond. "I'm literally the girl trying to get into the boys club, waiting for my turn. He is obsessed with his father. And I'm like: 'Didn't I give birth to you? What is going on?'" She laughs. "Their connection is undeniable. The second Rocky makes eye contact with him he is on fire. The whole thing they say about sons and moms, it's a myth. Sons and fathers is crazy. I realised that the validation that you really need as a boy is from your father."
Did you know you were having a son? "Before we gave birth? Yeah, we knew. Rocky wanted to know. He wanted a boy," she says. Sounds like it worked out for them. "You knowww?" she deadpans. "At first he was open, then he was like, 'Nah, I want a boy, I'm sure.' I was just like, 'Lord, please let this man get what he wants,'" she says, smiling.
Accordingly, the couple has gone full mini-me on the fashion front. "One of my favourite outfits he has is a miniature version of one of Rocky's," says Rihanna of a tartan kilt she had specially commissioned, worn over jeans she ripped a hole in herself. "I like to dress him in things that don't look like baby clothes. I like to push it. I put him in floral stuff. I put him in hot pink. I love that. I think that fluidity in fashion is best. I always shop in the men's department, you know."
Often she gets his clothes made. "When you come up with something in your head, half the time it is not available because kids' clothes are so" – she sighs deeply – "they're sooo boring. I'm like, 'This is what y'all been doing to these people's kids all along?'" She loved his cover look for Vogue though, "his little Chrome Hearts diaper cover – oooh that little gothic look". But by and large off-the-peg is a disappointment. So what I'm hearing is you might do a line of Fenty babywear in the future? Sounds like the world needs it. "I feel like the kids need it," she cuts back. "Let's get these kids cool," she shouts. "These kids deserve to be cool."
Not that she hasn't plenty to be getting on with already at Fenty Corp. The beauty and skincare brands alone are now valued at an estimated, and staggering, $2.8 billion (Rihanna owns a 50 per cent stake). In a little over five years, she has become the coveted blueprint for artist diversification, and her brand a household name, its concessions housed in stores from Boots to Bergdorfs. "Everything is full throttle right now," she says. "Make-up, skin, all of the expansions. Savage [her underwear line] is insane, because we are expanding not just categories, but there's the men's side of each category too. Sleepwear for women and men, loungewear for women and men, sports for women and men. So that's been lovely to see the evolution, and, as demanding as that is, I really enjoy it. I love seeing how this brand has grown so much."
She is evolving as a boss, too. "Having a kid honestly unlocks another side of life where you're now in the matrix with the people who've already had kids," she says. Her team is largely made up of women – "Lots of moms," she explains. Famed for her all-night workathons – product developing, marketing, brainstorming until dawn – now she panics for the double life of working parents. "'Were you doing this all along? Are you serious? When I had you guys in meetings all the way until 6am you didn't say how nuts that was?'" She looks a little sheepish. "You come to have a different respect for moms and dads." (The irony is not lost on her that she is making this point at 5am.)
With dawn still an hour away, now seems as good a time as any to face the moment all interviewers must face. The moment you ask Rihanna about her plans to release a new album. Anti, her last, came out in 2016, and in the years since she has fluctuated between blind optimism and borderline anger in the face of incessant fan and media questioning. But I've never seen her so up for it. "You can ask!" she says when I broach the subject.
She's been thinking a lot about her process lately. "When you come off of an album like Anti…" she begins cautiously, then visibly decides to just spit it out. "In hindsight, it really is my most brilliant album. I say that because in the moment, I didn't realise it. But it always felt like the most cohesive album I've ever made. When you break it down and you realise this album goes from 'Work' to 'Kiss It Better' to 'Needed Me' to 'Love on the Brain' to 'Sex with Me' to 'Desperado'." She beams. "And somehow it all fits and not for a second did you glitch?"
The variety is exquisite. "Right? It's like a DJ's worst nightmare," she says. "But there's this pressure that I put on myself. That if it's not better than that then it is not even worth it." That's such a toxic pressure. "It is toxic. You're right. It's not the right way to look at music because music is an outlet and a space to create, and you can create whatever. It doesn't have to even be on any scale. It just has to be something that feels good. It could just be a song that I like. It literally could be that simple."
She sits up tall. "So I realised that if I keep waiting until this feels right and perfect and better, maybe it's going to keep taking forever and maybe it'll never come out and no, I'm not down to that. So I want to play. And by play, I mean I have my ideas in my head, but I can't say them out loud yet."
Rihanna never stopped recording. The past years are littered with songs she's fallen in and out of love with. She says that listening back to an unreleased song is "almost like trying to dress like you used to dress. It's like, 'Ew, no. I would never wear those again.' Your taste changes, your vibe changes." But all being well, I venture, a new album this year?
"I want it to be this year," she says, at this stage very much unaware she is pregnant again. "Like, honestly, it'd be ridiculous if it's not this year. But I just want to have fun. I just want to make music and make videos." She misses the visuals almost more than music. "And I need the right background music with the visuals. I can't just go shoot a video to me talking," she says, laughing once again.
You seem very happy, I marvel, taking her in: cosy, comfortable, fully relaxed now. The night is still as inky black as when we sat down but we've both enjoyed being lit up by her diamonds. "I am very happy!" she says. Do you think you'll want more children? "Well…" she says. Well, indeed. In a few short weeks, pregnant and oh so powerful, her bump encased in cardinal red Loewe, a futuristic empress in a sweeping Alaïa cloak, she will float on a glass-effect platform high above State Farm Stadium in Arizona, letting close to 120 million live television viewers know in unison that baby number two is on the way. Only Rihanna.
And why stop at two? You told this magazine in 2020 that… "Wait, what did I say?" she squeals, faux panicking. That you wanted three or four. "Oh shit," she says, laughing. "You really gotta be careful with your mouth."
"Listen, I'm down for whatever. My wish would be I would like to have more kids but whatever God wants for me, I'm here." I guess now Rocky's got his son, you can have whatever you like next? "I'm open," she says. "Girl, boy. Whatever." And with that, she beams once more.
The March 2023 issue of British Vogue is on newsstands on Tuesday 21 February
DISCLAIMER: The Views, Comments, Opinions, Contributions and Statements made by Readers and Contributors on this platform do not necessarily represent the views or policy of Multimedia Group Limited.