The fourth edition of Royal Crown Packaging Limited's 'Annual Students Research and Innovation Challenge for tertiary institutions' took place from 20th June to 4th July 2022 with students from Academic City College, Kwame Nkrumah University of Science and Technology, Ashesi University and University of Ghana competing against each other.
This 4th edition took an international turn with the main facilitators of the annual program, the Institute of Packaging, Ghana partnering the World Packaging Organization to create an opportunity for the innovative packaging designs from the four Universities to be entered into the 2022 WPO WorldStar Student competition.
This will put the students and their schools as well as Ghana on the Global packaging platform.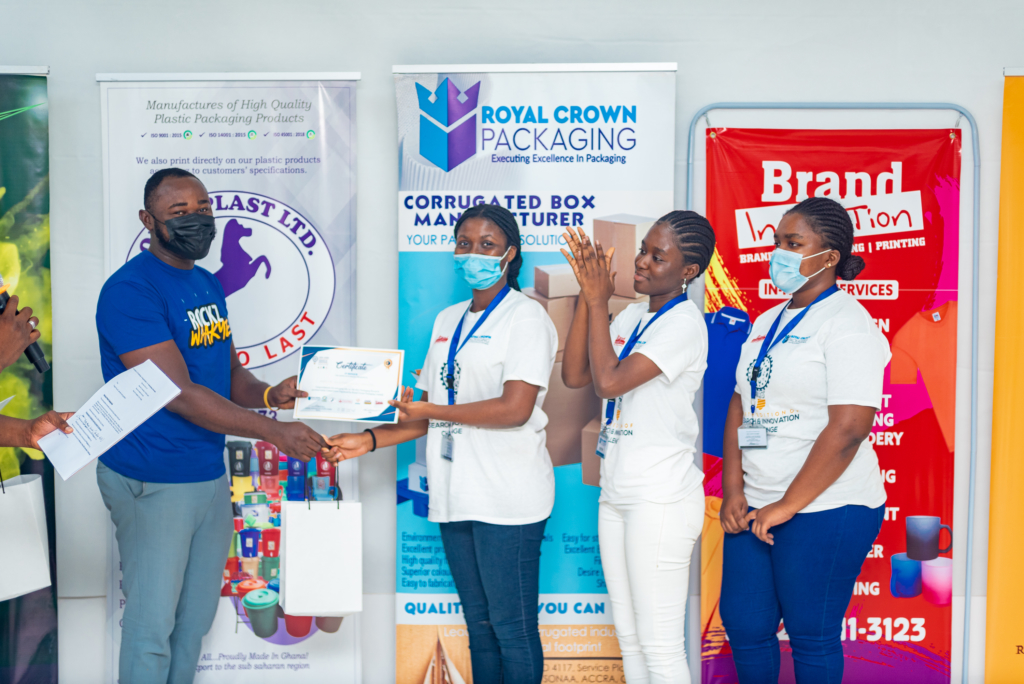 The students researched and came up with innovative packaging designs based on the following topics:
❖Academic City College – Post-consumer plastic packaging waste is a major issue in Ghana. Present a proposal on how to create value from plastic waste and design a consumer or distribution package using post-consumer waste or recycled plastic material.
❖ KNUST – Ghana loses huge quantities of fresh fruits and vegetables due to lack of or inadequate packaging. Present a proposal to minimize post-harvest loss of fresh fruit and vegetables using effective packaging systems and design one such packaging to reduce this loss
❖Ashesi University – The African Continental Free Trade Area (AfCFTA) offers an opportunity for Ghanaian products to be sold across the continent, but poor packaging can be a barrier. Present a proposal on how to improve local packaging and design a primary package (plastic) and secondary packaging (corrugated box) for selected Kasapreko products to achieve export competitiveness on the African market.
❖ University of Ghana – Paper waste can be harnessed for recycling to create value. Present a proposal for effective collection of all types of waste paper for recycling and provide a design of paper-based packaging from waste.
The 12 participating students from the four Universities had the opportunity to tour major factories in Ghana; Kasapreko Company Limited, Qualiplast Ghana Limited and the host Company Royal Crown Packaging Limited where they were taken through the various operational modules.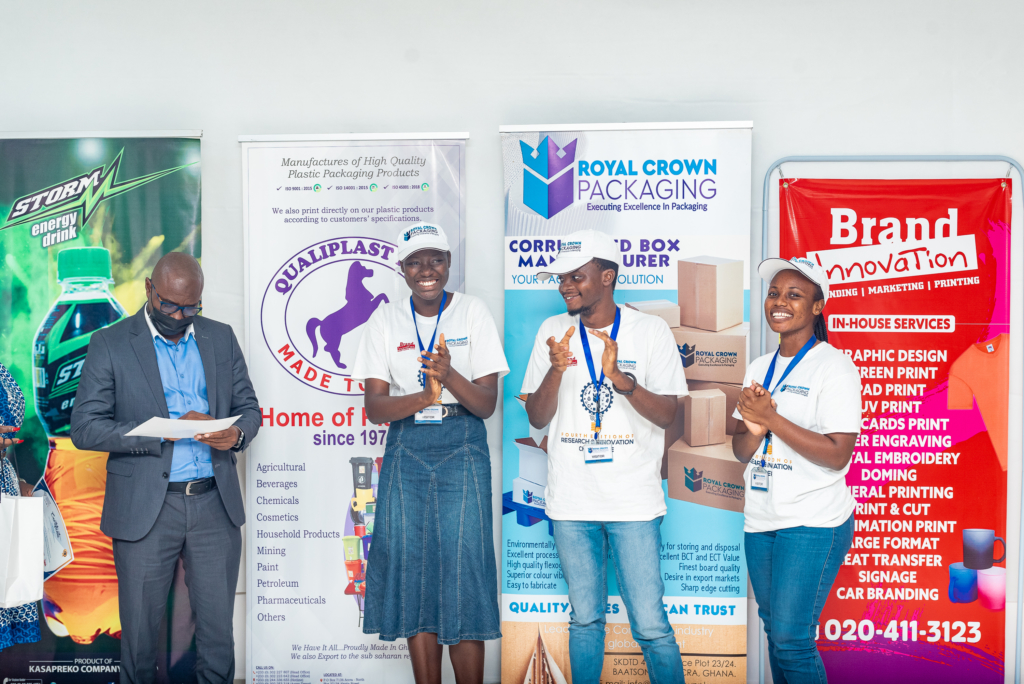 The students faced the Panel of judges on July 4, 2022 and presented their research findings to the admiration of their audience where eventually Kwame Nkrumah University of Science and Technology (KNUST) were adjudged the Winners of the 2022 Research and Innovation Challenge.
This was closely followed by Academic City University College, University of Ghana, and Ashesi University respectively.
To reward their hard work following weeks of brainstorming, the students were rewarded with cash prizes, Internship Opportunities, Souvenirs, sponsor products and Certificates of Participation amongst others.
This Year, prominent companies like Qualiplast Ghana Limited, Kasapreko Company Limited, Access Bank Ghana, Rockz Waakye by the legendary musician Reggie Rockstone and Brand Innovation signed on to support the great initiative.
The Deputy Managing Director of Royal Crown Packaging Limited Andrew Opuni Ampong opened the ceremony by thanking all sponsors, facilitators and students for giving this years event their uttermost best.
The President of the Institute of Packaging Thomas Abaidoo Congratulated all four Universities for their great efforts in coming up with such brilliant innovations within a short period and gave assurance the Institute will take up the mantle to guide them in ensuring their ideas are utilized to make industries better in Ghana and beyond.
Sharing some of the challenges faced in this year's event, the General Manager, HR and Corporate Communications at Royal Crown Packaging Limited, Sally Osei–Boateng, reiterated that funding was a major constrain and wish more Corporate bodies see the need to groom the younger ones in taking up such challenging task within the packaging sector and  join in the subsequent challenges.
She went ahead to thank the Board Chairman of Royal Crown Packaging Limited, Kofi Essuman, for his foresight and drive to making the Annual Research and Innovation Challenge a household name in Ghana.
Special thank you goes to all Partners, sponsors, facilitators and students of this year's challenge.
Congratulations to all participating Universities for a good job done.
To participate in this challenge next year please contact info@royalcrownpkg.com.
DISCLAIMER: The Views, Comments, Opinions, Contributions and Statements made by Readers and Contributors on this platform do not necessarily represent the views or policy of Multimedia Group Limited.