Ruby Aryeh, a young Digital Marketer based in Accra has emerged the proud winner of the Joy Jingle Challenge. This comes after weeks of hard work, soliciting for organic votes on social media after she was named as part of the finalists in the challenge.
The Joy Jingle Challenge, since its introduction, created a lot of fun on social media, with many throwing in their creativity. The challenge finally came to an end on Sunday, August 28, with Ruby, known on social media as Aan Eikeya, winning the ultimate prize.
"I'm still shaking. All those sleepless nights…you wake up and go like 'Lord who am I going to even go to today? Are we really going to pull it?'… And today we're here. I'm really grateful", an excited Ruby intimated. She shared her experience while thanking all who helped her on the journey to success.
"It wasn't easy, I did get campaign managers and it wasn't easy for them as well. I can't mention names because they are a lot. They got their own teams as well to also help", Ruby told host Kofi Hayford.
Ruby flies to Dubai in an all-expense paid round trip on September 11, sponsored by Adansi Travels. In addition to the 9-day trip to Dubai, Ruby also takes home a nice package from Labadi Beach Hotel.
Programs Manager of Joy FM, Edem Knight-Tay, who declared the winner live on radio, thanked all who submitted entries in the Joy Jingle Challenge, and announced that the 1st runner-up would also take home a beautiful package from the Labadi Beach Hotel.
Edem explained, "it's not just about the best video or entry, what we have learnt from especially last week and this week is determination; someone who is determined to get something and against all odds pushes for it and gets it". She also disclosed that the winner was selected based on the highest organic votes, while adding that there are other plans to engage Ruby positively, in the months ahead.
The climax of the challenge was exciting, albeit suspense for the finalists. Ruby polled a whopping 5498 votes, whiles the 1st runner-up, Nana Kwame, polled 2336 votes. Also contesting for the grand spot was Kumasi-based Akosua, who polled 1888 votes at the end of challenge.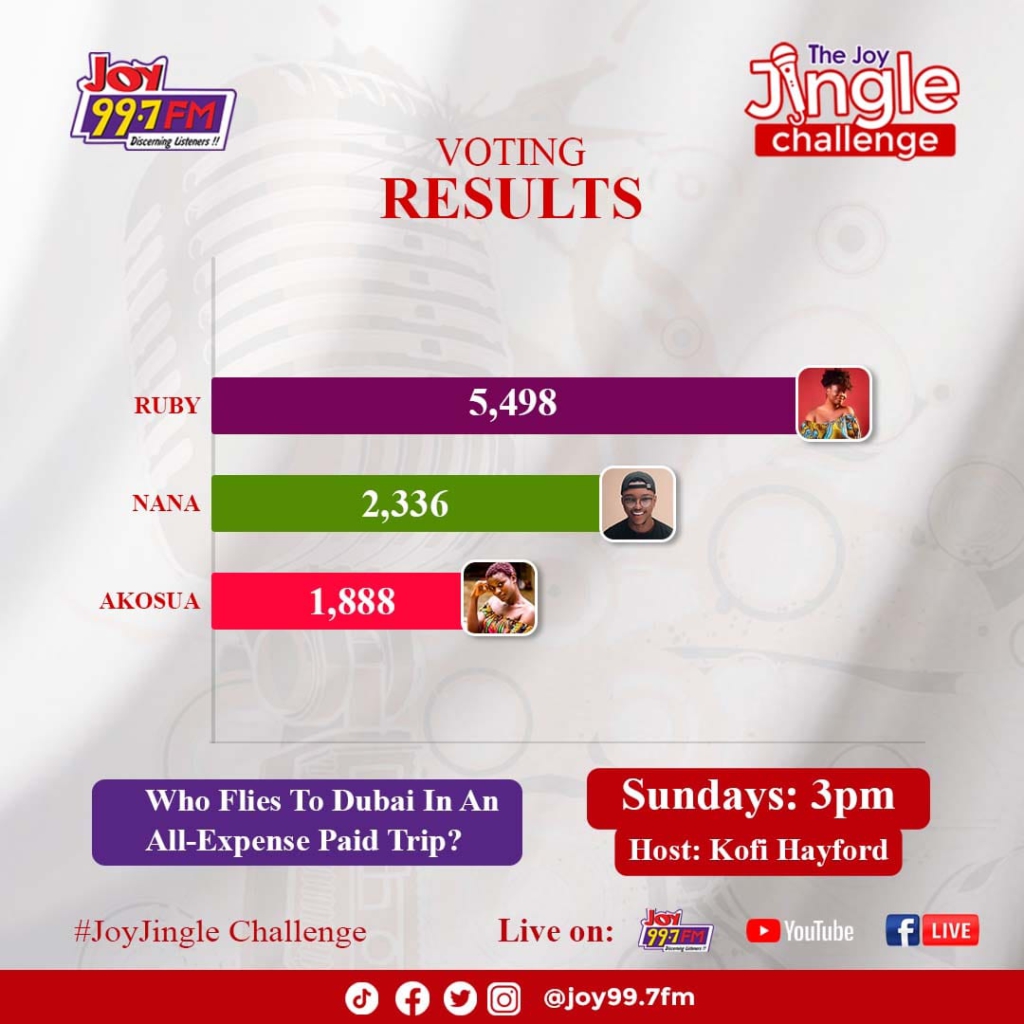 The Joy Jingle Challenge begun after Ghana's superstation, Joy 99.7 FM, announced its intentions to have its followers and the general public mimic a vintage jingle video of the station on social media. The fascinating 46-second uncut video was eventually posted across social media platforms, inviting many, especially the youth to get onboard with their creativity.
The challenge is a Joy FM initiative in partnership with Adansi Travels who are also celebrating 9 years of its existence. Congratulations to Ruby for emerging the winner of the Joy Jingle Challenge.
DISCLAIMER: The Views, Comments, Opinions, Contributions and Statements made by Readers and Contributors on this platform do not necessarily represent the views or policy of Multimedia Group Limited.