The services sector over a decade, has been the most dominant in terms of GDP contribution. On average, the sector contributes about 44.3 percent (US$34.4 billion) of Ghana's current GDP (US$77.59 billion).
The major driving sub sectors  in the services sector, according to the Ghana Statistical Service (GSS), are information and communication with a growth rate of 33.1% and a contribution of 1.2 percent to annual growth, and Public Administration & Defence; Social Security which contributed 0.9 percent to growth at a rate of 25.5%.
In 2021, the services sector contributed about 48.9 percent to GDP, compared to the previous 48.1 percent in 2020. 
This is about USD 37.94 billion in 2021 and USD 37.3 billion of GDP.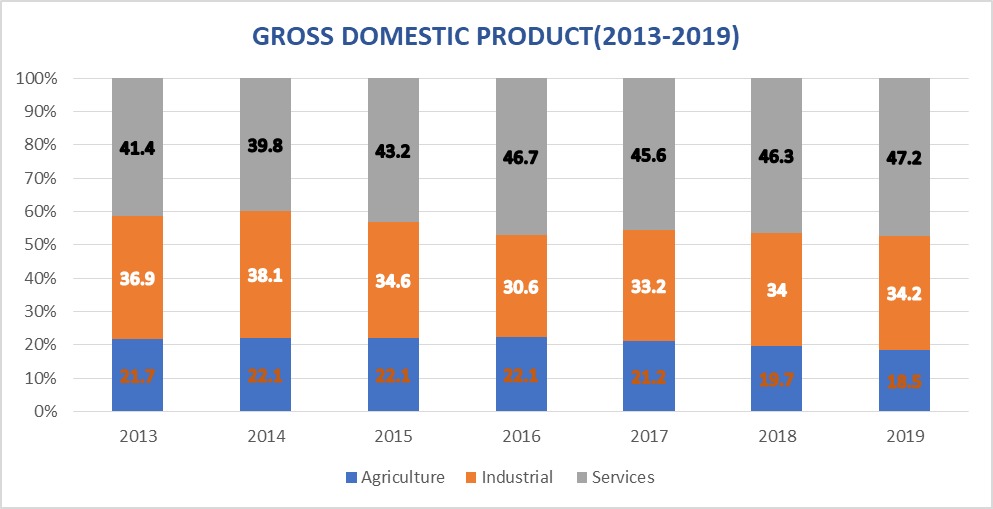 The Finance Minister, Ken Ofori Atta in the 2023 budget explained that in the first quarter of 2022, the services sector decreased in contribution from 48.0 to 46.2 percent on average in comparison to the 2021 first quarter(nominal growth). The sector though, has the highest percentage in terms of contribution to GDP.
The industrial sector, the second largest contributing sector to GDP has an average of 34.5% contribution to GDP. That is about USD 26.77 billion of GDP.
The industrial sector however, has seen a negative growth in the mining and quarrying sub-sector and is causing a contraction in the sector.
All other subsectors are positive in growth (GSS). The sector in the 2023 budget increased in its contribution to GDP from 30.4 to 32.05 percent in first quarters of 2021 and 2022.
The Agricultural sector was once the driving sector of the Ghanaian GDP. This is because a lot of people change their jobs into the services sector.
The agricultural sector is now the least contributor to the Ghanaian GDP with an average of 21.05 percent of GDP amounting to USD 16.33 billion. The share of agriculture to GDP increased from 20.1 percent in 2020 to 21.0 percent in 2021.
The agricultural sector in the 2023 budget saw an increase from 20.6 to 20.7 percent in contribution to GDP in comparing the first quarters of 2021 and 2022.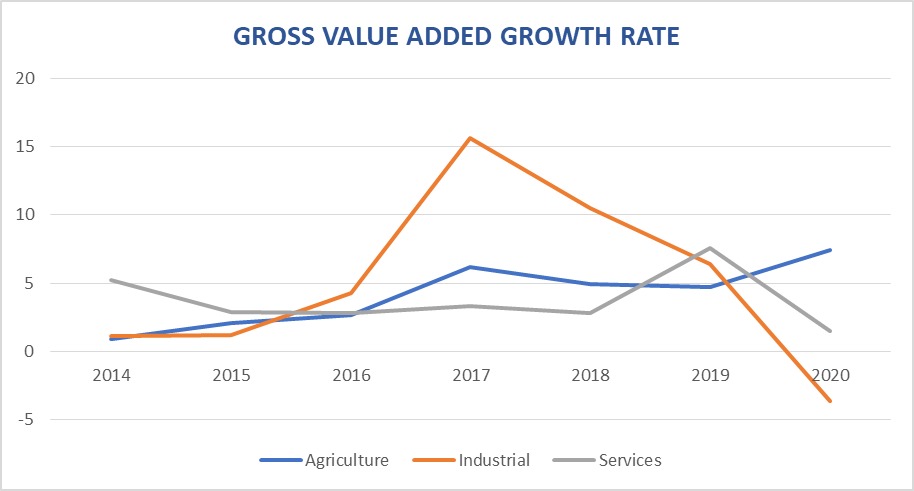 In terms of growth rate  the agricultural sector seem to be making progress among the other sectors as at 2020. In 2020 the agricultural sector grew by 7.4 percent followed by the services sector with  a growth rate of 1.5 percent.
The industrial sector recorded a negative growth  of 3.6 percent (GSS).
DISCLAIMER: The Views, Comments, Opinions, Contributions and Statements made by Readers and Contributors on this platform do not necessarily represent the views or policy of Multimedia Group Limited.