Some social media users took to their pages to react to an alleged fight that reportedly broke out between Davido and Burna Boy at a bar in Ghana.
Although it was unclear what started the fight, Davido was seen angrily exiting the club with his team.
"Immediately I saw Burna and his boys, I told a friend Burna is looking for trouble and it happened like a movie," one witness wrote on his Instagram handle.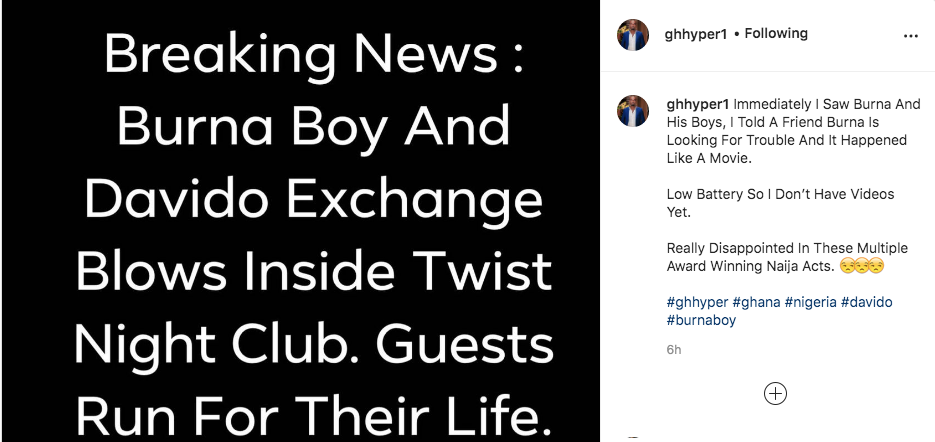 Some fans are shocked the two individuals who have not been on good terms for a while could not put their differences aside for a night.
Others are trolling Davido claiming he must have been beaten.
Omo davido fans are delusional….
Them beat your goat him come dey make noise …

Wizkid no post anything .
Wizkid no do anything.
He trend.

Burna wey beat am no post anything

But froggy come dey spit all over my body dey shout tule .

Sule 🤣🤣🤣🤣

— Palliative Prick (@kossie_dienigga) December 28, 2020
Davido later took to his Twitter handle threatening to leave the music industry.
After you chop beating last night! you gats leave bro 😂😂😂

— Kanye East🌍 (@wizkidayao) December 28, 2020
Burna boy davido I love you guys and your music but I don't know why legend like you people fighting disgracing Nigeria music industry which day 2baba idibia fight with wande coal… Or which day fela fight with lagbaja you guys should take things jeje

— Younggc official (@OfficialYounggc) December 28, 2020
While Davido & Burna had a fight at Twist club last night, Wizkid just dey chill. pic.twitter.com/TR4kYLxFYh

— HAPPY SAMKLEF (@SAMKLEF) December 28, 2020
I'm sincerely tired of seeing Wizkid, Burna Boy, Davido and Fight all over the TL…. Arrgghh!!! 😩😩

— Cameraman Austin (@AustinBernard_) December 28, 2020
Burna Boy and Davido fight people come dey drag wizkid 😄😄
I too love that guy @wizkidayo 👑
♥️♥️👑

— Kelvin Bernoulli (@KelvinBernoulli) December 28, 2020
Davido n wizkid matter din tire me
Can they please resolve their differences 🤦‍♀️ pic.twitter.com/A3rr9j76oz

— Barrister pepper (@pepperita2) December 28, 2020
Davido and burna dey fight tatibigi🐸 still bring wizkid matter enta table wetin na by force make wizkid talk😂😂😂… I know it so painful seeing wizkid win right😅

— DanVINCI💯 (@iamfavor_dan) December 28, 2020
Abeg make una help us settle @burnaboy and @davido beef make 3 of una come together as one @wizkidayo Y'all at the top already we upcoming Artist looking up to you all 💛+💡 pic.twitter.com/R1NBechant

— THUGLIFE (@JeezyBillionz) December 28, 2020
Please o!!! what should have been Wizkid's reaction? We all know they're not on good terms, so a reasonable person wouldn't expect anything more…. Or you expected Davido to go and stretch hand for a handshake….. 👎👎👎👎👎

— D'd (@Dd94887113) December 28, 2020
Davido,Burna boy and Wizkid in a club house in Ghana yesterday pic.twitter.com/chN2xIuGH9

— Bo⚡lam😓 (@Augustine67561) December 28, 2020
Wit the whole Davido Burna and Wizkid issue, it's funny how I did not see a single photo or video of Burna at the club in Ghana which is making me feel this issue is fake pic.twitter.com/0vVpPzSt8T

— Vickturr 🇳🇬 (@blakboivic) December 28, 2020
I still see Burna has Rema's mate, he is not ready to be among Wizkid and Davido, those two are goat

— Japan Daddy🤒 (@AyflexO) December 28, 2020
The fact is that Wizkid has always been clear. If only Wizkid can brag about 10% of his achievements. We don't give him enough accolades. https://t.co/R84FGghBPV

— Harry | #EndSARS❁ (@Donmarcel6) December 28, 2020
Wizkid davido and burna boy 🐐 let love ❤️ lead ❤️ 🦅 the young generation are watching ❤️🙏🏼🙏🏼🙏🏼 but why is #bella trending

— skyt ofafrica (@skytbaby1) December 28, 2020
This isn't fact

1. There's no proof burna slapped david
2. The guy david was pushing is not burna
3. The lighting on each video is different. Burna's lighting is white while david and wizkid is kinda cream something (I no no colour)
4. Is wizkid meant to join the fight?

— Blank 😈😈😈 (@EjohEsther3) December 28, 2020
I will keep saying it,I enjoy Burna boy music but he is a terrible person with a history of violence and poor understanding of neo African American emancipation.

— Yves (@Airmoha) December 28, 2020
@davido and @burnaboy please stop the fight we are all one. I thought this supposed to be someone from a foreign country but why the 1 Nigeria. You both are fighting for nothing please please please this not funny @davido is the biggest artist in the country same as @burnaboy

— Note$ (@iam_Notes) December 28, 2020
Please dont…I love you and i believe millions like me do…Leave that Burna of a boy…He only sabi scatter yarn

— Chinedu Progress (@AnyasodorChine2) December 28, 2020
There is absolutely nothing about BurnaBoy that shows he is suppose to be role model to anyone.

Absolutely nothing, his attitude from day1,his lyrics, what he is always in the news for etc.

So if you think say na that kind person you wan go thief from, sorry.

No be J.Cole

— PokerFace (@90Skills) December 28, 2020
If na truth say Davido fight Burna boy hmm🤔 that means Davido is the second David to fight giant 🙄 https://t.co/euBtC8X5c6

— GISTBEAT (@Gistbeatz1) December 28, 2020
You such a role model to young people…in music u build in economy u build in career u build people. You only get so much hate wen you're the 'BEST'. Burnaboy can never stand u in all areas of life

— KINGDAVID👑 (@olumideasagba) December 28, 2020
Scratch… I greet this lords ooo but una be big disgrace to #NBM cc
@davido @burnaboy pic.twitter.com/JJXRo8keYJ

— Legit (@Legit24942210) December 28, 2020
WHEN THE GOING WAS GOOD:

The story of Burna boy and Davido in Series of tweets from 2011 to date
👇🏾👇🏾👇🏾👇🏾👇🏾👇🏾👇🏾👇🏾👇🏾👇🏾👇🏾
A THREAT pic.twitter.com/Rrm6sdTc2w

— Hadiness (@hadiness) December 28, 2020
We keep saying it the hate on Davido in the industry is too much. If burna boy happens to have the privilege David has in the industry, he will go mad over night. Fighting David in Ghana is so shameful and must be condemn.

— Chibueze Austine (@AustineElectt) December 28, 2020
Lol!! At the end of the day, I love Wizkid, Burna and Davido. I no know why the three no just wan come together dominate the world. Imagine what happens when they'll unite and make music together? But I repeat!!! DON'T FUCK WITH DAVIDO.

— Ikenna (@99andclueless) December 28, 2020
#Davido#Wizkid #Burnaboy …this personality are making their cool cash through us..and we beefing each other and ranting because of them. Stop the comparism and hussle, coz it doesnt add to your bank Account.

— MistaLebsco (@caleb_bawi) December 28, 2020
–