A controversial plan to dig a £2.4bn road tunnel near Stonehenge has been approved by Transport Secretary Grant Shapps.
The A303, notorious for traffic jams, currently runs within a few hundred metres of the world heritage site.
The plan to build a two-mile (3.2km) tunnel out of sight of the monument was approved despite objections.
The Planning Inspectorate said the decision was made following "careful consideration".
Transport minister Andrew Stephenson announced the decision in a written statement to the commons.
Sarah Richards, the Planning Inspectorate's chief executive, said there had been a "great deal of public interest in this project".
She said: "A major priority for us over the course of the examination was to ensure that communities who might be affected by this proposal had the opportunity to put forward their views.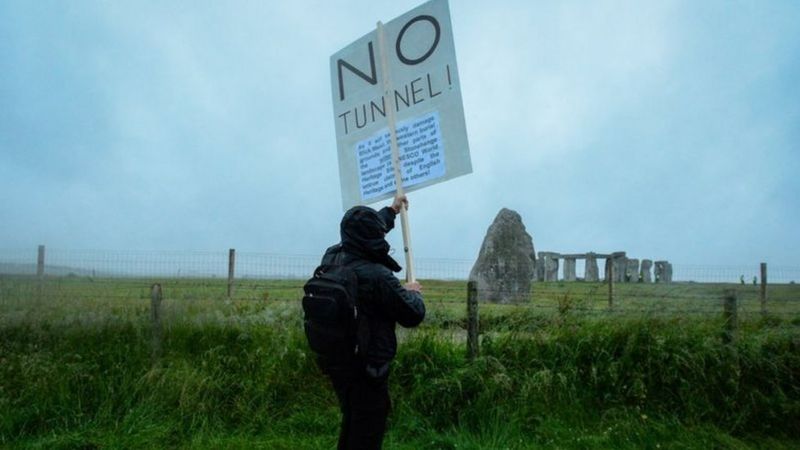 "As always, the examining authority gave careful consideration to these before reaching its conclusion."
Some environmentalists and archaeologists had voiced their opposition to the plan due to its potential impact on the area.
In June, it emerged that a team of archaeologists had discovered a ring of at least 20 large shafts within the ancient religious monument, a short distance from the stones.
But Highways England said the finds were "well outside the scheme boundary" and no closer than 500 metres from the planned road upgrade.
Chief executive Jim O'Sullivan welcomed the decision and said: "The A303 Stonehenge tunnel project is part of the biggest investment in our road network for a generation.
"This transformational scheme will return the Stonehenge landscape towards its original setting and will improve journey times for everyone who travels to and from the south west."
Construction is expected to take four to five years.