The Ghana Journalists Association (GJA) has urged the Communications Ministry to suspend a directive to the Ghana Broadcasting Corporation (GBC) and private broadcaster, Crystal Television demanding a reduction in their channels on the Digital Terrestrial Television platform.
According to the sector Minster, Ursula Owusu-Ekuful, the move which would see GBC and Crystal Television lose three and one channels respectively, is to ensure there is enough "redundancy on the national Digital Terrestrial Television platform which is currently at full capacity."
However, in a statement copied to JoyNews, the GJA expressed concern about the directive.
President, Affail Monney said the directive, if complied with will significantly impact on the operations of the GBC and amount to interference by government in the work of the state owned media.
Describing the directive as being against Chapter 12 of the 1992 Constitution, Mr Monney said it also has the practical effect of curtailing the broadcasts of GBC will lead to dome of its content or programmes going off the air.
"GJA demands that the directive by the Ministry of Communications to GBC and other media houses on their channels on the DTT platform be suspended immediately.
"The NMC as well as broadcasters, both in the public and private sectors, should be brought into any discussions on the arrangements on the use of the DTT platform. And these discussions should not just be in the form of a meeting for one stakeholder to give directives to the other," the statement said.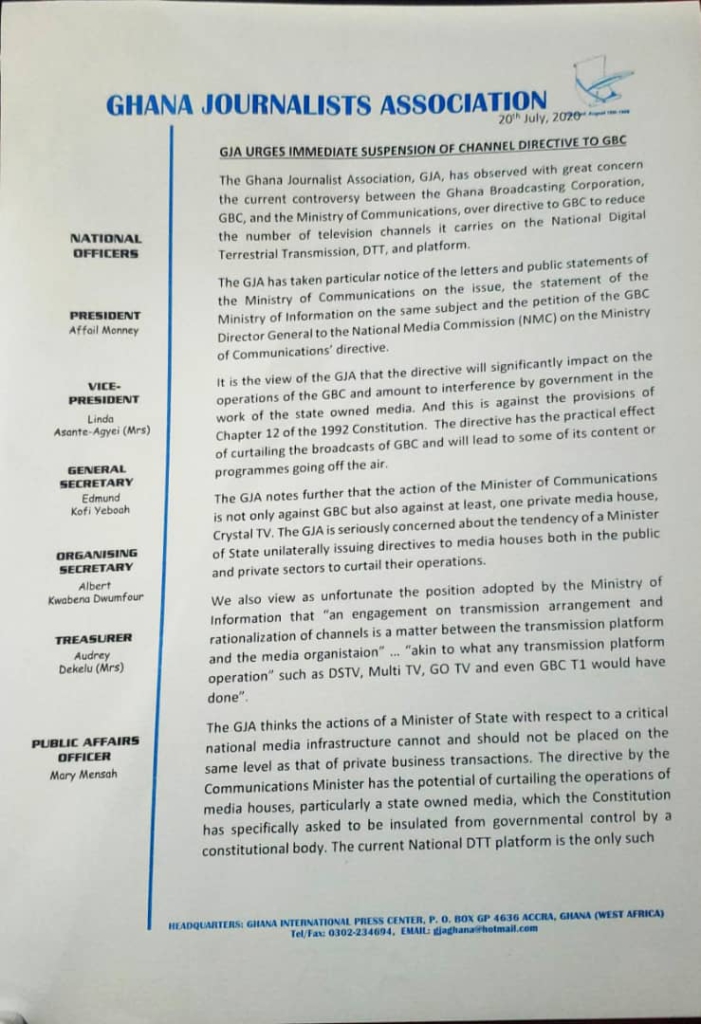 The GJA believes the actions thinks the actions of a Minister of State with respect to a critical national media infrastructure cannot and should not be placed on the same level as that of private business transactions.
It added that the directive by the Communications Minister has "the potential of curtailing the operations of media houses, particularly a state owned media, which the Constitution has specifically asked to be insulated from governmental control by a constitutional body."
The Association believes the long term solution to this and any other issues confronting the highly sensitive media industry is for Ghana to attach utmost urgency to the enactment of a broadcasting law.
Meanwhile, GBC has written to the National Media Commission (NMC) to intervene in the matter.
Director-General, Amin Alhassan said all six channels serve specific purposes, therefore, none can be taken off.