Some major teacher unions including Ghana National Association of Teachers (GNAT) and National Association of Graduate Teachers (NAGRAT) are demanding a complete overhaul of all textbooks in circulation.
The unions believe an audit of the education system remains the surest way to remove all unapproved textbooks from schools and the shelves of bookshops.
Speaking to Evans Mensah on JoyNews PM Express Tuesday, General Secretary of GNAT, Thomas Musah said the contents that pupils are exposed to must be carefully scrutinised to positively shape their growth and development.
"We are talking about behaviour that children must demonstrate and these behaviours have been put in books for them to demonstrate. So anything we put in the book, we are telling them that they should demonstrate that behaviour," Mr Musah said.
NAGRAT President, Angel Carbonu also supported the cleaning-up of the system and a review of the approval processes in a bid to ensure that the reading materials that get onto the market are wholesome.
"I think it is an eye opener that we have allowed the system to run its own course without periodic review and periodic check. A complete national audit of textbooks on the market will not be out place" he told Evans Mensah.
The teacher unions' call come at the back of a Badu Nkansah's publication, 'History of Ghana' textbook for Class 3 which has generated an uproar amongst Ghanaians for describing the Ewe ethnic group in an offensive and derogatory language.
Several individuals and organisations such as the Ghana Publishers Association, Volta MPs Caucus in Parliament, Volta Regional House of Chiefs and Volta Region Students Association (VORSA) have all condemned the publication and called for the withdrawal.
Badu Nkansah Publications has since apologised and has started recalling the controversial textbooks from the public domain.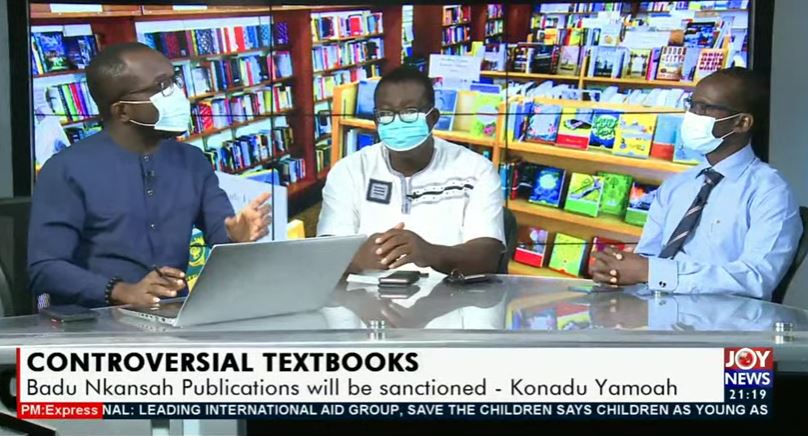 But Mr Carbonu fears there may be several other 'dangerous' contents in schools and on the open market.
He indicated that the controversial textbooks are an affront to national cohesion and must be checked as soon as possible.
GNAT General Secretary, Mr Musah proposed that the Ghana Education Service and the English Language teachers lead the charge in restoring sanity into the system.