The National Council for Curriculum and Assessment says it wants to see Ghanaian students move from the habit of learning for exams and has announced changes in the curriculum to reflect this goal.
Incoming Executive Secretary of the Council, Dr. Prince Armah, told Joy FM's Super Morning Show Monday, the new curriculum aims to have students learn for life.
"If the curriculum is designed in such a way that the emphasis is on assessment, then you get teachers preparing students to write exams."
"There is a complete shift from current thinking that learning means passing an exams," he said.
And this aim, is a damning verdict on the syllabus that has been in use since 2007. An Early Grade Reading Assessment showed that less than 2% of pupils can read with comprehension, he said.
A National Education Assessment for In Primary 2 and 4 shows less than 20% of students have proficiency in Mathematics which means they scored at least 54% in the assessment. Ghana was last in 2011, he churned out more findings.
In a global assessment, Trends In International Science and Maths Study for students within the Junior High School grade, Ghana placed last in 2011.
Referencing these research findings, Dr. Armah concluded, "clearly, our system is not working and we need to fix that."
That fix has come in the form of a new curriculum which prioritises making students digitally literate, demonstrate leadership, become critical thinkers and team players.
These skills and values, he said, are in vogue across the global and Ghanaian students risk being outcompeted if they are not prepared to fit into the new international society.
"We are looking at preparing young people to fit into our developmental priorities, Ghana Beyond Aid, self-reliance and you need a people with the mindset and values to be able to advance this trajectory," he explained.
Dr. Armah said students will now be assessed at Primary 2, 4 and 6 to find out how well the new values have been imbibed ahead of the Basic Education Certificate Exams (BECE).
At kindergarten, the number of learning areas is to be reduced from seven to four which are integrated into themes. However, these would be treated with more depth.
At Lower and Upper Primary, the number of subjects remains the same. However, there will be fewer concepts and more in-depth treatment of concept in each subject. Further, there is greater emphasis on literacy and numeracy.
Introduction of standards-based curriculum. This means that at every stage in school, a student is expected to demonstrate an understanding and mastery of knowledge and skills that they are expected to learn as they progress through their education.
Dr. Armah explained, students will be encouraged under the new syllabi to be more active in the learning process.
Throwing up scenarios, he said, teachers are encouraged to move from screaming "keep quiet, this class should be as quiet as the cemetery" and then run the show in class occasionally asking "do you understand?" to which the students respond in unison "Yes sir" and then are instructed to copy notes.
But the new syllabus in a Religious and Moral Education in Ghana, students would be required to discuss with their classmates the early life of the three major religious leaders. They will sit in groups and role-play some of the important aspects of the lives of these leaders.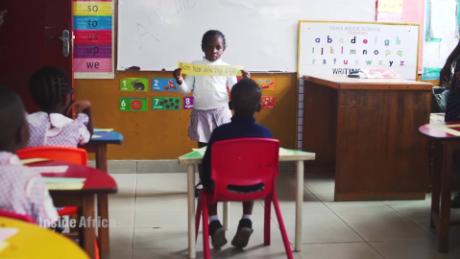 The students will eventually develop confidence through the discussions and this will improve their communications skills.
In another example, the Executive Secretary of National Council for Curriculum and Assessment explained making the effort to answer questions in class will be part of the assessment instead of summing up the student's termly effort in a written exams.
It is going to be a "learner-centred approach" not teacher-cantered and it will move teaching from "talk-to-chalk" to an atmosphere of "children doing a lot of talking".
But the education expert concedes, "Curriculum alone cannot fix all the problems."
There is the need for a different type of teacher and while training existing teachers, the National Council for Curriculum and Assessment has introduced a new syllabi for teacher trainees at the Colleges of Education, Dr. Armah said. First-year students are to be taught differently to prepare them to meet the new student.
"A lot of work would have to be done," he said.