What started as a mere petition to a mother has developed into a full-blown mobilisation point with many waiting patiently to see how it all unfolds at a school in Sakaman, Accra.
For many who had their basic education in Ghana, the concept of 'Our Day' may not be farfetched as some carried their favourite foods and beverages along to commemorate the end of an academic term.
In what is about to be one of the most sought-after celebrations of this conventional milestone, a Primary 3 pupil who sought to petition his mother about a list of items, is now the talk of the town.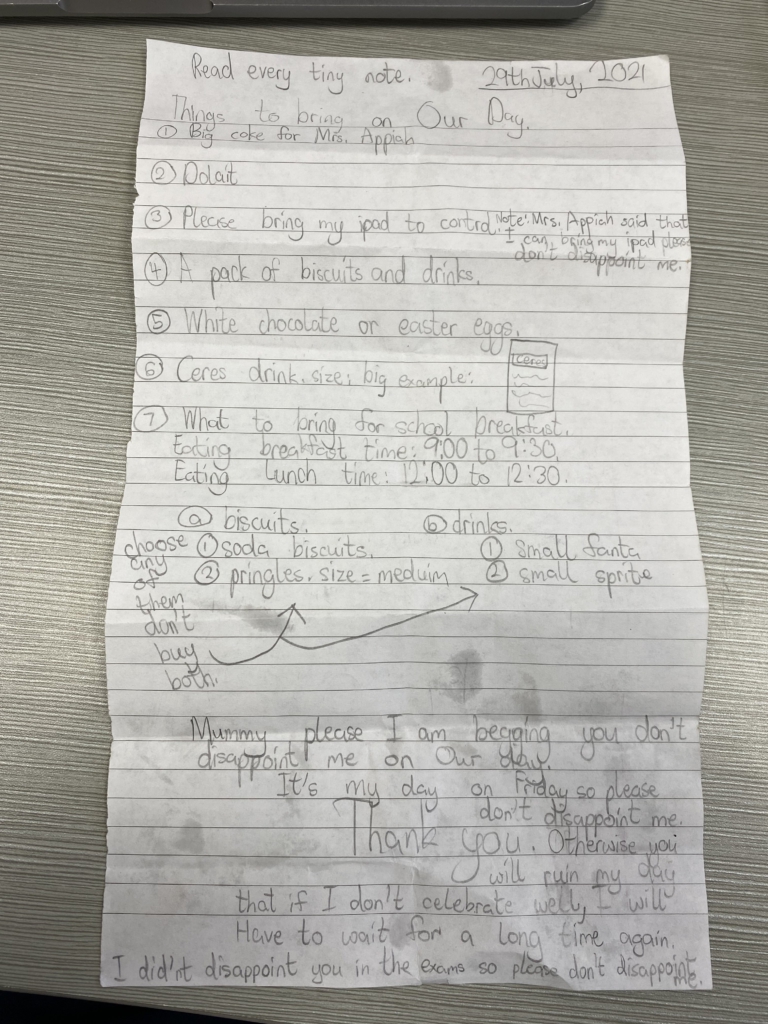 In what seems to be a passionate appeal to his mother in fulfilment of a commitment to pass his examinations, Oswald asked that she keeps her end of the bargain by providing his needs on the Friday beginning with a "big Coke for Mrs Appiah."
'Things to bring on Our Day,' was the title of the list written in pencil and dated July 29.
The items aptly detailed by the nine-year-old – with the aid of diagrams – included biscuits, drinks and a communication of a said waiver by his teacher to allow him to use his iPad device in class, just for the occasion.
The petition was first posted on Twitter by @SmylyThe3rd saying "Our Day instructions that my colleague's son gave to her. The emotional blackmail at the end."
Our Day instructions that my colleague's son gave to her. The emotional blackmail at the end 😂😂😂 pic.twitter.com/VrEuUeQYAW

— Gambit ♠️🐻 (@SmylyThe3rd) July 29, 2021
The post has since gone viral with 'Our Day' garnering nearly 200,000 tweets alongside 'Mrs Appiah' believed to be the (favourite) teacher of the pupil also in Ghana's Twitter trends.
Our distant nephew is about to have the greatest Our Day in the history of Our Day's. Little man is about to be made the School Prefect.

— Lexis (@niilexis) July 29, 2021
Where was the emotional blackmail? Wait for it.
"It's my day on Friday so please don't disappoint me. Otherwise, you will ruin my day that if I don't celebrate well, I will have to wait for a long time again. I didn't disappoint you in the exams so please don't disappoint me," he wrote.
My boy was done at 'thank you' and realized nahhh… this disappointment go come on fresh and said we all go manipulate for here. You choose exams, I choose Our Day

— yung jiggy (@effthedj) July 29, 2021
Eventually, this triggered an uproar on social media including reactions from a demography that nobody saw coming as far as the regular online banter is concerned.
This kid is actually going to be a living legend tomorrow because imagine being in primary school and having Fan Ice, KFC, Blue Band etc bring your entire class gifts on Our Day because of you.

— Weffrey Jellington (@jeffwellz) July 29, 2021
Our day boy to his mates during morning assembly: pic.twitter.com/unsevhNAW2

— dangerous. (@mennnsa_) July 29, 2021
when the PE teacher pulls up to the Our Day link up pic.twitter.com/DIuDyIOHpG

— nii (@niiokaijr) July 29, 2021
First off, award-winning musician KiDi pledged to light up the celebration with a performance for the children.
After we finish for Coco Vanilla tonight I go take the #LiveWithKiDi go the our day. I want to know his top 3 favourite KiDi songs . I go do for am 🔥

— KiDi (@KiDiMusic) July 29, 2021
Mrs Appiah to you when you try to perform "send me nudes" https://t.co/0AzmMpJmJh pic.twitter.com/dqadjWTbcX

— dangerous. (@mennnsa_) July 29, 2021
From nutrition lines, beverage brands to educational and financial packages among others, top companies across the country have expressed keen interest to ensure that the 'Our Day' goes beyond a day's event.
What to eat at lunch? Well.. 🤔 Will Streetwise 10 and Krushers be enough for him and his class? Lunch on us! 😊 #OurDayTreat https://t.co/c4qr4CEbzM

— KFC Ghana (@KFC_Ghana) July 29, 2021
He definitely deserves something nice 😂. How about we supply him with enough ice cream for his whole class? We go kee them with Enjoyment!🍨 https://t.co/NAfyzYJRSz

— FanIceGhana (@faniceghana) July 29, 2021
We didn't see pizza on the list🥺😢. But what's Our Day without Domino's anyway? Count us in😄 10 boxes for his class on us! 🍕#JusticeForOurDayBoy https://t.co/tIOr1WsXNt

— Domino's Pizza Ghana (@Dominos_GH) July 29, 2021
Did someone say Our Day? Nbs party tomorrow oo! Bel Beverages and Bel aqua water for the whole class including the legendary Mrs. Appiah. 😎 https://t.co/MiKKfD7b6Q

— Bel-Beverages (@BelBeverages) July 29, 2021
We have been informed about this very detailed "our day" petition, and we love it! When they are ready, we'll give him and his class a tour at Ashesi and do our best to convince @PatrickAwuahJr to meet with them! https://t.co/7QhWKAHc37

— Ashesi University (@Ashesi) July 29, 2021
What's "our day" without securing a bright future for this daring chap? We'll help his mother open an Early Saver's account for him so he can have a Perfect Start to life with GHS 1,000 in the account. We will get in contact with mummy https://t.co/Un3ktp2bsT

— Access Bank Ghana (@AccessBankGhana) July 29, 2021
You shouldn't leave good hygiene out of the fun.😉
Lifebuoy Ghana will be repping live to give out free samples to his class and two free Handwash Stations!!! https://t.co/B6hfiiGu0F

— Lifebuoy Ghana (@LifebuoyGhana) July 29, 2021
This boy has got some real inner strength and we will like to fuel it some more! 💪🏾
We're are giving out milk packages to everyone in his class 🥛😅 https://t.co/sDEdj3J7sp

— Arla Dano Milk (@DanoMilk_GH) July 29, 2021
And the list goes on. His teacher, however, was not left out of the fray as memes flew around Mrs Appiah's reaction once her 'Big Coke' is delivered as she was prioritised by the petition.
Mrs. Appiah in the staff common room: https://t.co/oDUuG6B6ZA pic.twitter.com/6ymHj9KXWR

— Koffee Lounge (@koffeeloungegh_) July 29, 2021
when Darius Lomotey hasnt finished his corrections and is coming for streetwise

Mrs Appiah: pic.twitter.com/FidESHv2hg

— tyrone biggums💀 (@calvinacquaye) July 29, 2021
As to whether she will still allow the boy to use his iPad in school after receiving the gesture remains a question to be answered on D-Day.
See you after the celebrations, because as tradition apparently demands, Joy FM also pledged its coverage of today's 'Our Day'.
This eventful celebration deserves the best coverage. Kindly give us a contact for the location of the school so we provide extensive coverage tomorrow. https://t.co/DKBUjsEsTD

— Joy 99.7 FM (@Joy997FM) July 29, 2021
Below are some more reactions.
we just got off the phone with mummy and yes, we're bringing Ekumfi Juice to everyone in the class, tomorrow is OUR DAY!!🎉🥳 https://t.co/xblFmwU7U5

— THE EKUMFI PLUG (@ekumfiplug) July 29, 2021
No celebration is complete without water, and there's none better than The Feel Good Water. Myst Water will like to celebrate this our day with our distant nephew and his class with enough Myst Water for the whole class. 💙🚀 https://t.co/SikcGY4K7E

— Myst Water (@myst_water) July 29, 2021
Mrs Appiah when Joseph Ofosu tries to go for a second Dominos slice https://t.co/lM7EeRyK1F pic.twitter.com/PTEumQ1Ovt

— mooncake (@cedricbans) July 29, 2021
This kid is actually going to be a living legend tomorrow because imagine being in primary school and having Fan Ice, KFC, Blue Band etc bring your entire class gifts on Our Day because of you.

— Weffrey Jellington (@jeffwellz) July 29, 2021