False and misleading social media videos about migrants from sub-Saharan Africa in Tunisia have been widely shared amid a wave of anti-migrant sentiment in that country.
President Kais Saied of Tunisia said migration was a "plot" to change the country's demographic profile, and Ivory Coast and Guinea have begun repatriating their nationals due to fears for their safety.
We've looked at several videos circulating online that claim to show African migrants in Tunisia, all of which are actually filmed elsewhere.
Migrant protests not in Tunisia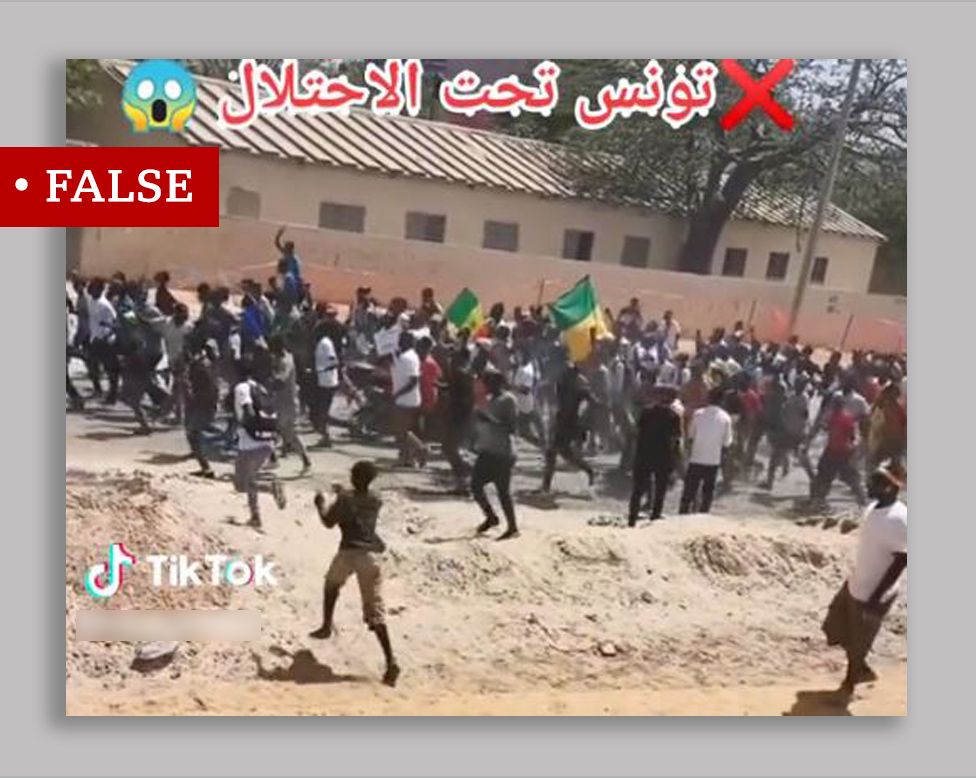 Several TikTok videos posted recently show large groups running along a street in what appears to be an angry protest.
One of the videos, with millions of views, is labelled in Arabic: "Tunisia under occupation". Another one says: "Tunisia has become the kingdom of Africans."
But the event shown happened in Dakar, the capital of Senegal.
This is clear from a distinctive obelisk, which can be seen at one point as the person filming moves around. It's in the Place de l'Obélisque in the Senegalese capital, visible on Google Maps.
In addition, the Senegalese flag can be seen, and we've confirmed that the language heard is Wolof, a Senegalese national language.
We traced the event back to an opposition protest held in Dakar in June 2022, video of which can be seen here.
Traffic chaos not caused by migrants
There are other TikTok videos falsely claiming that street protests involving African migrants are happening in Tunisia.
One widely shared example shows groups of people who appear to be from sub-Saharan Africa confronting drivers and bystanders on a busy road with cars at a standstill.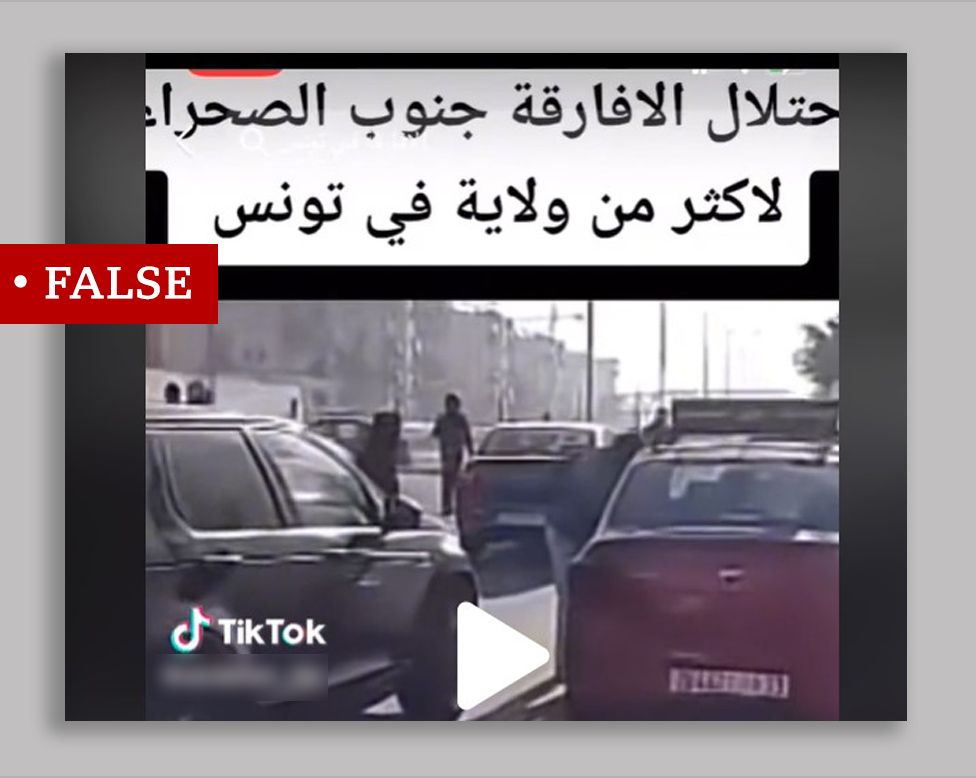 It's labelled in Arabic: "Occupation by sub-Saharan Africans of more than one Tunisian province."
Some of the comments on this post point out that it's not Tunisia, but Morocco, and we've confirmed that from clues in the video.
A red car seen at one point has a sign on the roof which reads "small size" in Arabic, which is a feature of red-coloured taxis in the Moroccan city of Casablanca.
Although the rear number plate can't be seen clearly, it does have an initial five digits, which is what you would expect on Moroccan plates.
We also checked the dialogue heard at one point, and some of the Arabic spoken has an accent unique to Morocco.
These migrants not heading for Tunisia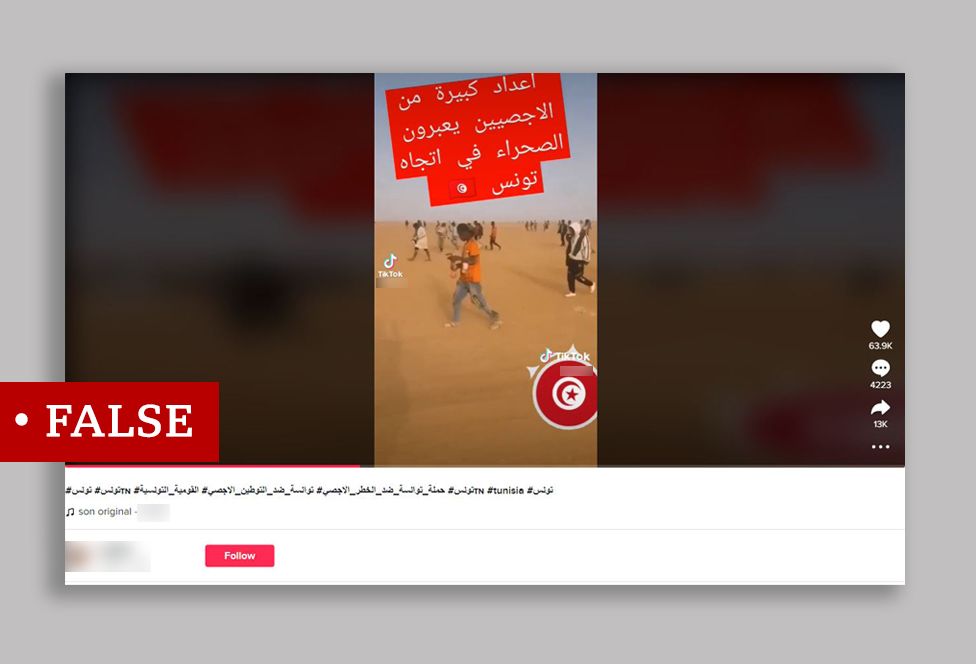 Another recent video shared on TikTok shows groups of men walking across open desert with the caption: "A large number of sub-Saharans crossing the desert towards Tunisia."
However, we've found an earlier TikTok post featuring a longer version of the same video. It was posted in September 2022 by a man recording his journey travelling away from Algeria, after he was forced to leave.
The later video has been zoomed in slightly and has writing obscuring parts of the image, but all the same characters appear in the same groups wearing the same clothes, including a man with a striped pink and white bag balanced on his head.
Thousands of migrants from sub-Saharan Africa were expelled from Algeria last year, according to aid agencies.
In another video posted by the same man, he says he's arrived in Bamako, the capital of Mali, which would have involved an arduous journey south across the Sahara desert.
Migrants not arriving in armoured vehicles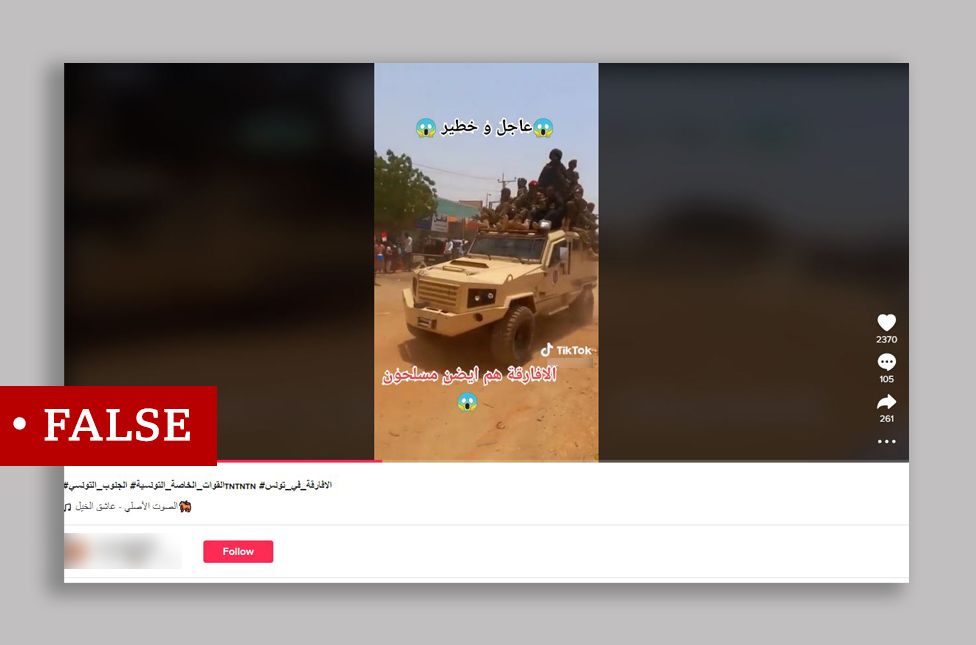 Another video with tens of thousands of views shows vehicles full of armed men driving along watched by bystanders.
It is captioned in Arabic: "The Africans are also armed." One of the Arabic hashtags below says: "Africans in Tunisia".
However, we've identified an earlier posting of this same video, saying it's filmed in Sudan, and there are elements in the video that back this up.
There's a shop along the roadside with the sign "Tappco", an oil and lubricant company based in Sudan.
We can also see a white, red and green emblem on the door of one of the passing vehicles, which are the colours of the flag of Sudan.
We have managed to match this to the insignia on uniforms worn by special forces in the Sudanese military. The red berets and white belts worn by the soldiers are also known to be worn by some units of the Sudanese military.
And a final clue – one of the shop fronts in the video has the word "rakshat" in Arabic, a distinctively Sudanese description for rickshaw taxis.
Old footage of airport incident
In some cases, video has been taken out of context to garner sympathy for the plight of sub-Saharan Africans in Tunisia.
One example is a Twitter post of an incident at a Tunisian airport, in which a man is involved in a fracas and is being restrained by airport staff and security personnel.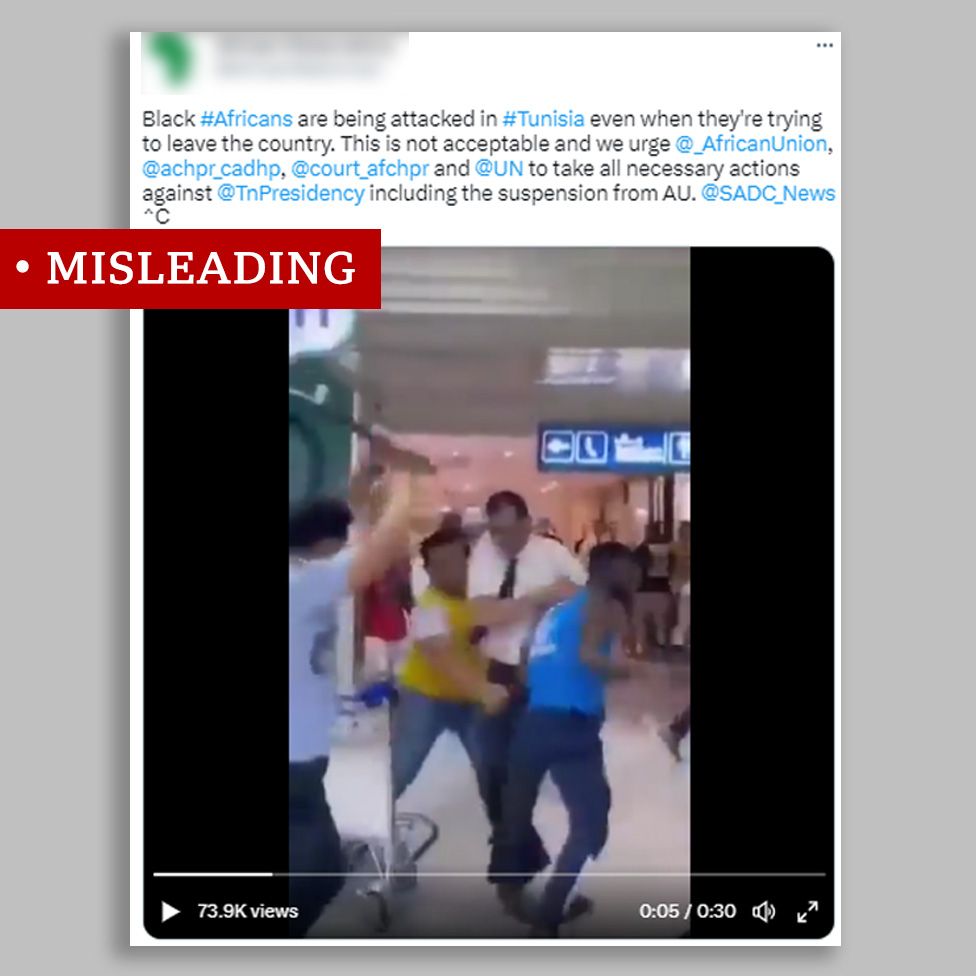 "Black Africans are being attacked in Tunisia even when they are trying to leave…", the post says.
This incident did happen in Tunisia, but as some of the comments on the post point out, it's from July 2022.
It was reported on by several news outlets at the time, including in the UK. So it's not from the current wave of anti-migrant feeling.
But the broader context is that there have been cases of harassment and assault against migrants from sub-Saharan Africa in Tunisia, leaving many fearing for their safety.
DISCLAIMER: The Views, Comments, Opinions, Contributions and Statements made by Readers and Contributors on this platform do not necessarily represent the views or policy of Multimedia Group Limited.