The University of Health and Allied Sciences (UHAS) has inducted Prof. Lydia Aziato into office as its third Vice-Chancellor to steer the affairs of the University. 
Prof. Aziato who is the second nurse to be appointed Vice-Chancellor said her administration would pursue the growth and expansion of the University by relying on technology-driven innovation.
She is also the first nurse to attain the position of Professor in Ghana, and the first nurse to be appointed Vice-Chancellor in Ghana and West Africa.
She started her career by serving as a bedside nurse in 1997 and later joined the University of Ghana in 2001.
She rose through the ranks from Senior Nurse Technician to Professor in 2020, with 70 publications to her credit.
Prof Aziato served as Dean of the School of Nursing and Midwifery, UG, before being appointed Vice-Chancellor of the UHAS.
She took over from Prof. John Owusu Gyapong, under whose tenure the University chalked several successes and became a household name in Ghana.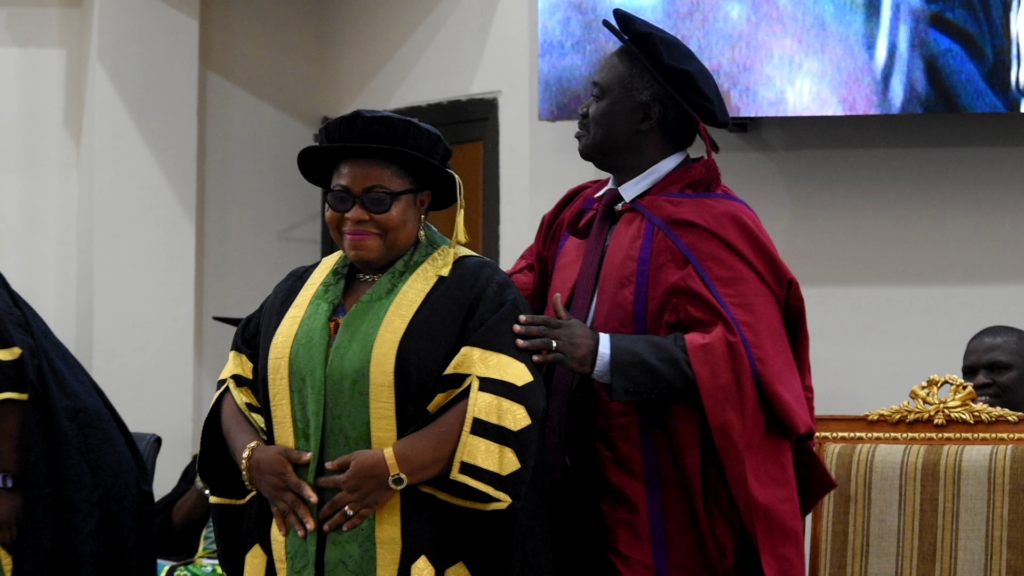 Prof. Aziato hopes to build on the strides of her predecessors to ensure the Great Giant UHAS continues to rise in ranking during her four-year tenure.
She detailed that her vision for the University "is to create a dynamic and responsive environment that promotes credible research, quality teaching and learning, vibrant internal processes and active stakeholders engagement grounded by the principles of Growth, Integrity, Fairness, Technology and Innovation and Service (GIFTS)".
She outlined 8 thematic areas to focus on to help her administration achieve its visions; this includes promoting personnel innovation, commitment and expansion, expanding cutting-edge research, and research income with a multidisciplinary team approach and high-impact publications, create an environment that promotes a high standard teaching and learning systems for knowledge and skills development and create an environment that promotes high standard skills through community-based service and technology-driven systems.
The rest four thematic areas are to increase internal and external funding with judicious financial usage and risk management, create a proactive, collaborative and technology-driven leadership and governance processes, create an enabling environment active for internal and external stakeholder engagement and decision making, and finally, to increase diversity and internationalization in terms of students, staff, and partners.
She implored the university community to support her in delivering her mandate and developing UHAS, which is said to have entered adolescence.
Prof Aziato also called for stakeholders and private sector partnerships in providing the University with the requisite logistics.
She appealed for financial clearance from the government to increase faculty and staff strengths to enable the University to roll out programs to warrant quality training for students.
She pleaded with President Akufo-Addo to ensure the Central Lab Complex on the Sokode campus, the School of Public Health in Hohoe and access roads are completed in earnest.
"My administration is obliged to build on the foundations laid by our predecessors with due diligence; we, therefore, canon of fail", Prof Aziato concluded.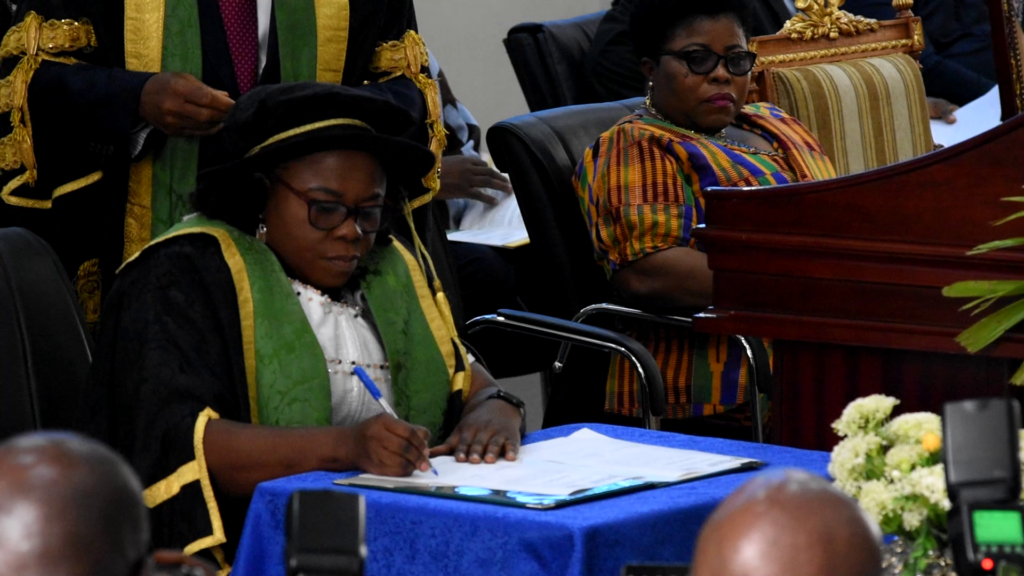 Miss Yaa Amankwaa Opuni who was part of the team that ensured a smooth take-off of UHAS in 2012 was also inducted as the new registrar.
She was assigned Assistant Registrar in 2012, promoted to Senior Assitant Registrat in 2017, and worked in the Human Resource Directorate, and School of Public Health.
Until she was appointed Registrar, she was the officer of the School Pharmacy.
President Akufo-Addo in his address lauded the progress of UHAS, which is only ten years old, but had won international recognitions and has become one of the best tertiary institutions in Ghana.
"I am delighted to learn that UHAS is aggressively pursuing its agenda to be a pre-eminent health teaching institution dedicated to research and community service", he said.
He expressed optimism the new Vice Chancellor, Prof. Lydia Aziato, would lead the University to "greater heights", adding that the government would provide the needed support and funding to enable her administration to pursue the "progressive, transformation agenda."
"Vice-Chancellor, I want to let you know that indeed, I will be your advocate with the Minister for Finance to get you your financial clearance to strengthen your capacity to deliver", he further detailed.
UHAS was ranked among the top 3 universities in Ghana and ranked first in Ghana by the 'Times Higher Education (THE) Impact Ranking' 2020 in the Sustainable Development Goal Three (SDG-3) category.
DISCLAIMER: The Views, Comments, Opinions, Contributions and Statements made by Readers and Contributors on this platform do not necessarily represent the views or policy of Multimedia Group Limited.