The United States Agency for International Development (USAID) is promoting justice delivery in the deployment of technology-based tracking system for criminal cases.
The Case Tracking System allows civil society organizations and the citizenry to monitor the progress of cases from beginning to end.
The system has been signed up by at least six key justice institutions such as the police, prisons, Attorney-General's Department and the Judiciary.
Ghana's Case Tracking System promotes the involvement of civil society organizations in advocacy for justice delivery.
The software, designed to digitally track criminal cases from inception to end, was introduced in 2018.
It initially targeted 40 districts in 7 regions of Ghana.
But three years on, key justice sector institutions such as the police, prisons and the Attorney-General's Department are yet to use them.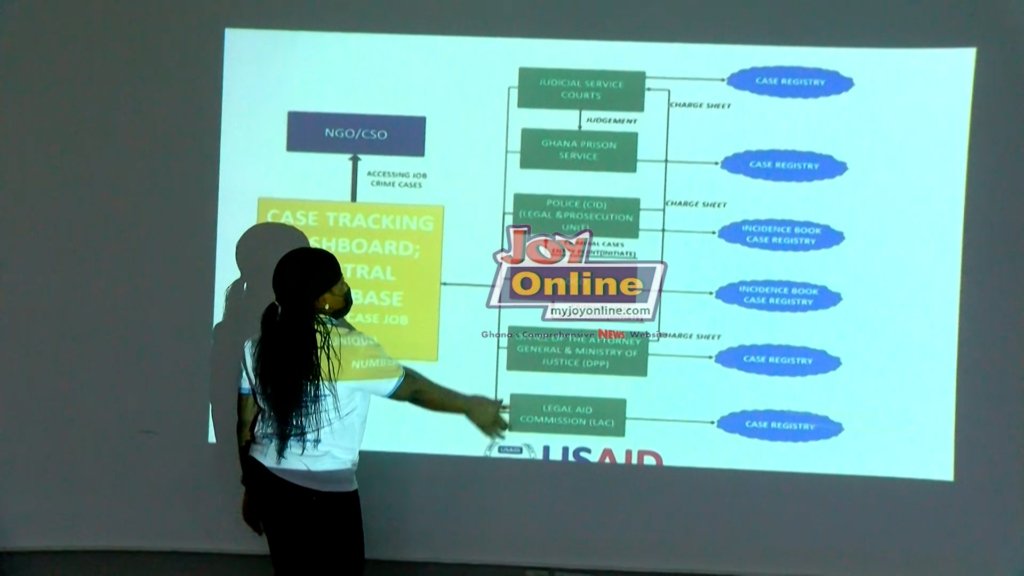 Esther Ahulu is Programme Manager at the Commonwealth Human Rights Initiative.
" When it comes to justice delivery per sey, the CDD Afrobarometer Research Report it shows a lot of challenges with the justice system in Ghana. Be it barrier to access to justice , high cost and then delay of cases; be it lack of lawyers and all that and then the fact that people have been on remand for so many years.
So it's not that these key institutions are not working. What we are saying is that there is the need to hold them accountable. I mean there's the need to involve citizenry as well because they are working in favour of we the citizenry," she explained.
" I talked about remand prisoners. It means that the person has not been convicted yet but the person has been remanded for so many years.
This CTS when it's functional; when it is working as expected would actually work in such a way that all the key justice sector institutions would be alerted on the platform when for instance when somebody is due for court and the person is not being taken to court, the CTS system will show. So i means that at every point in time, the CTS system would be showing where we are at a particular case and therefore the right institution would be hold accountable to what they are expected to do," she added.
Selected community-based organizations from seven regions, including Ashanti, Volta and Western, have been trained to increase advocacy in case processing with oversight and monitoring responsibilities.
The training forms part of USAID's justice sector support activity being implemented in Ghana. It is being organized by Legal Resource Center, Commonwealth Human Rights Initiative and the Crime Check Foundation.
Ashanti Regional Deputy Police Commander, DCOP David Agyemang Adjem has endorsed the system as one of the positive means to promote the rights of all suspects.
" As the CTS is, it's to ensure that every person who comes into the ambit of the criminal justice system has his or her fundamental rights protected."
The CTS aims at mobilizing marginalized communities through the introduction of innovative public education programmes.
DISCLAIMER: The Views, Comments, Opinions, Contributions and Statements made by Readers and Contributors on this platform do not necessarily represent the views or policy of Multimedia Group Limited.