Students have been urged to utilise the knowledge acquired during school time to solve society's problems.
The CEO of the Chamber of Telecommunications, Kenneth Ashigbey, said the country is saddled with many challenges that would lead to job creation when solved.
He urged the students to be aware of the competitive job market, stay abreast with the current developments in their area of study and constantly update their knowledge to solve problems.
Mr Ashigbey made the remarks as the guest speaker at the 6th congregation of the University of Energy and Natural Resources (UENR) in Sunyani.
"It is important for you as graduands to know that university education is a universal education that offers you the ability and skills to be analytical, critical in your thinking, and also to be creative and innovative", he said.
"For us in Ghana, a middle-income country, we are saddled with several challenges, but all of these are opportunities for creating jobs through the solutions that you have to craft", he stated.
He, therefore, urged the graduands to apply the knowledge acquired to solve problems for people and package it in such a way that others would want to pay for that solution.
"That is job creation", he noted.
The Telecoms Chamber CEO noted the importance of young professionals joining what he called "efficient professional associations" for the chance to participate in continuous professional development programs to imbue efficient ways of doing things in them.
He also admonished them to hold on to their integrity and honesty and be mindful of bad influences for long-lasting success in their endeavours.
Ken Ashigbey also charged on the craze for titles without a direct link to solving society's challenges.
"We like the big names, but it is not enough to be book longed. Academia would do well for themselves and earn a lot more respect if there is a more linkage between these big academic titles and the solutions to the problems that we face as Ghanaians and Africans".
He said it is critical for industry players to offer their challenges to academia to research and partner with them to commercialise the output.
John Dadzie-Mensah, Director, Accreditation and Quality Assurance Directorate of the Ghana Tertiary Education Commission, speaking on behalf of the Education Minister, Yaw Osei Adutwum, said tertiary academic freedom must be guided by the mandates specified in the establishment Acts of the institution.
He noted that most public universities are involved in introducing and over-concentration of auxiliary programs.
"Institutions' choice of programs must always be mandate driven to support the balanced development the country needs".
He, therefore, called on the Governing Councils of all public institutions to provide the needed guidance to keep their respective institutions within their mandates for the desired concentration towards scholarship and global competitiveness in the various disciplines.
UENR, he said, provides hope for the country in its quest for energy sufficiency in the medium to long term and encourages them to remain focused on their mandate.
In his speech, the Vice-Chancellor of UENR, Prof. Elvis Asare-Bediako, said the young and growing University continues to battle with teething challenges, including insufficient lecture halls, offices, staff and students accommodation, laboratories, and its equipment, transportation, and health facilities, and financial constraints.
Despite the challenges, Prof. Asare-Bediako noted that the University chalked some successes.
From their Internally generated funds, two pavilions with 200 seating capacity have been erected as lecture rooms, renovations and conversion of old staff bungalows to offices and classrooms for nursery and crèche, a 100kw stand by the generator as a backup for the university clinic, Internet services, and the finances directorate.
He said the University, in partnership with 28 other universities and municipalities from seven countries in Africa and Europe, has secured €7m funding from the EU to implement a project dubbed 'REFFECT Africa', to demonstrate innovative sustainable energy solutions based on the valorisation of agricultural and agro-processing residues through biomass gasification in Ghana, Morocco, and South Africa.
The University is also collaborating with TABCON Energy to provide a 10mw hybrid power at the Tain River in the Bono region, partnered with Bochum University and Solar taxi for the e-micro mobility in Ghana project, among many other achievements.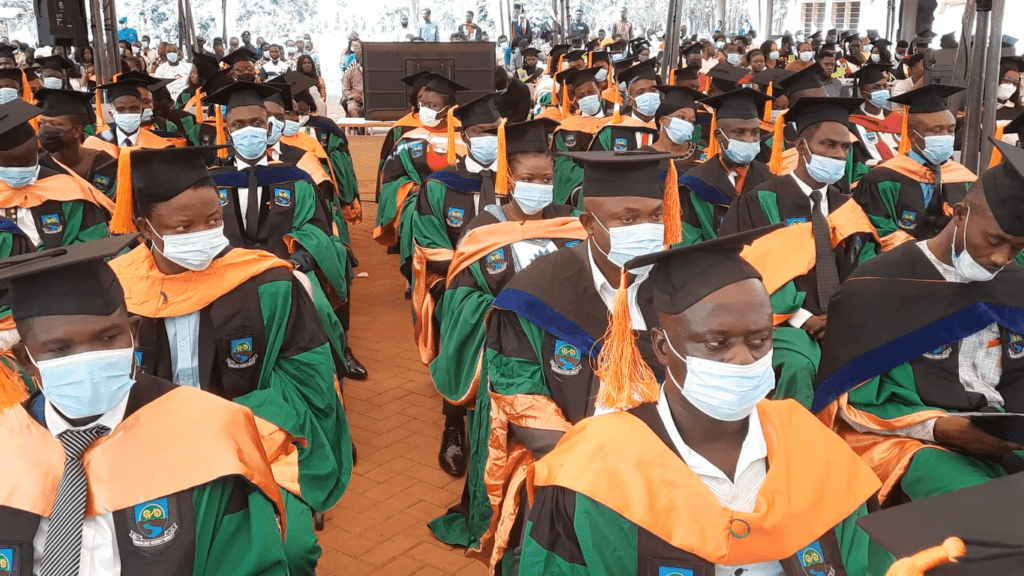 Some 1,753 students graduated, 506 being females, from the School of Sciences, Engineering, Natural Resources, Arts and Social Sciences, Agriculture and Technology, and Geosciences. There were also 119 postgraduate students, which included 3 PhD students.
Awards were given to the best deserving students from all departments, with the VC's award for the overall best student, sponsored by Enterprise Life Assurance, going to Rhoda Kwakyewaa Antwi, who studied Biological Science.
DISCLAIMER: The Views, Comments, Opinions, Contributions and Statements made by Readers and Contributors on this platform do not necessarily represent the views or policy of Multimedia Group Limited.