Co-Director for the 73rd Annual New Year School and Conference, Dr. Ama Adu Marfo, has called for the creation of an academic environment that propels students, especially those in the basic and secondary schools, to develop entrepreneurial mindsets.
Speaking on the Super Morning Show, on Monday, she stated that this will significantly bridge the huge unemployment gap in the country.
"I think that there's a need for us to begin to develop an awareness for students at the basic level. As they take up these different courses within the curricula and for them to understand that there's a lot more to coming out of school than just going to look for jobs," she said.
She bemoaned the fact that often, people wait till late until they start looking for job avenues, instead of having a mindset of creating or owning their jobs.
"I always say that we leave things until when we graduate out of university, but I hold the view that for these things not to become rhetoric, we begin to look at our foundation. Critically, we need to look at our educational system and see how we can conscientise the young ones such that they have an entrepreneurial mindset," she said.
She made the comment ahead of the 73rd Annual New Year School and Conference, which will be coming off from Monday, January 24, 2022, to Friday, January 28, 2022, at the University of Ghana, Legon.
She indicated that the event will provide a platform for young ones to express themselves on National issues. They will also be equipped with knowledge and skills on national development, in the form of training and mentorship.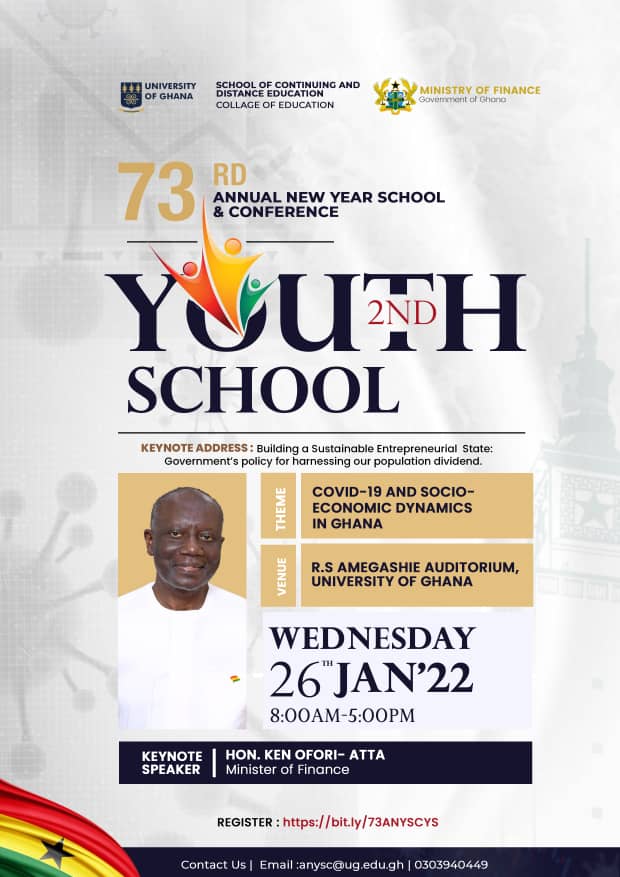 Speaking on the purpose of the event, she explained that "the Annual New Year School has always provided a national platform for consensus building, for deliberating, discussing, brainstorming and trying to understand what the challenge has been on matters and topical issues of national interest."
"The whole idea is to bring together divergent views from participants from all walks of life – the varied sectors of the economy- across the country to deliberate and discuss, come up with ideas and solutions, present some propositions, forward them to the ministries and to guide government on policymaking," she added.
The event is open to the general public.