A Former Auditor-General, Daniel Yaw Domelevo is worried about the non-verification of assets declared by public office holders.
He said although some public office holders declare their assets on paper, in most cases the Audit Service officials fail to authenticate the existence of the assets declared.
"What is missing in the Ghanaian situation is verifying the asset to be sure that it is in conformity with what has been declared on paper," he said.
Speaking on Upfront on Wednesday, the former Auditor-General explained that the only verification that is done is authenticating the individual who declared the asset.
"You bring the completed form together with an ID with your signature so that we can verify and be sure you are the one who authenticates the document and it is only when we have verified that, before it is taken over from you and maybe sealed in your presence, so at least we see what has been written on the paper," he stated.
Mr. Domelevo stressed that the Public Office Holders (Declaration of Assets and Disqualification) Act, 1998 (Act 550) mandates every public office holder whose remuneration is equal to that of a Director in the Civil Service, to declare his assets.
He decried the notion that officials of EOCO and other crime prevention bodies are exempt from asset declaration.
"If you look at the Constitution, under Article 287, it lists the President, the Vice-President, the Members of Parliament, the Ministers, the Judges of the Superior Courts, all public servants. In fact, I heard a discussion in Parliament two or three days ago where the Majority Leader was saying that EOCO is exempted, etc. I said no.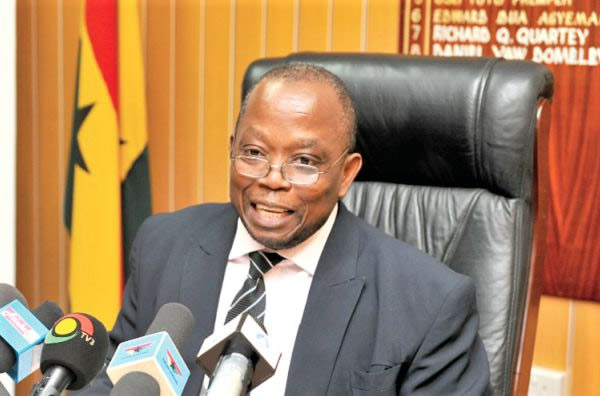 "If you look at Act 550, the last provision is that any public servant whose remuneration is equal to that of a Director in Civil Service, so once you are in a public institution and your remuneration is equal to or higher than that of a Director of Civil service, you are equally covered," he explained.
He recounted that while in office, his administration began the process for an automated declaration of assets system. According to him, unfortunately, the process could not be operationalised before he left office.
"Before leaving office, we had started the process of automating the declaration process whereby we develop software by which people would just go online and do the declaration and we receive it in our database. I actually called on a team from the World Bank to come and do quality assurance of what we have delivered and they actually marked it clean, but we were not able to operationalise that before I left office and the rest is history," he said.
DISCLAIMER: The Views, Comments, Opinions, Contributions and Statements made by Readers and Contributors on this platform do not necessarily represent the views or policy of Multimedia Group Limited.