The Anloga Junction in the Ashanti regional capital of Kumasi has recorded many fatalities in recent years.
The latest was the collision between a truck and a tricycle, which left three persons dead.
Emmanuel Kwasi Debrah goes back to the intersection to assess how the road network is contributing to accident cases and explores the way forward.
"Accidents occurring at Anloga junction are serious,"a bus conductor, Abdul Latif Salu evokes the general view on one of the famous intersections in Ghana.
The demise of the pregnant woman, her son and driver, follows an earlier death of a bus conductor at the same spot.
A year ago, an Ahodwo-bound articulated truck loaded with cement lost control and skidded off as it tried to negotiate a curve. That was the fourth of such incidents in a space of 3 months.
Though pedestrians have largely been unscathed, billboards are continuously walloped by these long trucks.
In their attempts to push their frame around the curves, their center of gravity is nudged and a fall is inevitable.
"If you see the lanes they're small and the big cars from Burkina and Niger find it very hard plying on it," Richard Antwi observes.
Nana Yaw adds: "The big cars suffer a lot and they're not able to negotiate the curve to get to Aboabo."
The lane is too small and they're too steep so when the long vehicles reach the curve, they're not able to negotiate the curve," Solomon Oti observes.
But is there some truth to the drivers' claims? What's amiss with the nature of the road?
Outdated Road design guide
The Ghana Highway Authority Road Design Guide (GHA RDG) is about 3 decades old.
The document which was published as draft in 1991 was expected to be revised intermittently based on stakeholders' observations and criticisms.
As of October 2021, however, no update has been executed.
According to reports, increasingly, designers undertaking projects for the Ministry of Roads and Highways, in-house design engineers in the Ghana Highway Authority among others in Ghana are using other manuals for highway designs.
As a result of this highway design in Ghana has become more difficult as it is tough to ensure design uniformity and design consistency across the trunk road network.
According to the 2015 New York State Highway Design, a Road Design Guide fulfils the following purposes:
First, it offers design criteria, requirements, and guidance on highway design methods and policies which are up to date. This assures uniformity in the application of design practices. Secondly, it ensures minimum levels of safety and comfort of road users and last, it offers major benefits of the coordination of professional practice and the ensuring of appropriate levels of safety.
GHA Road Design Guide was compiled through Ghanaian knowledge and standards based on practice.
Some of its components were adapted from standards in countries such as Malawi, Japan, Britain and USA.
A Civil engineer, Paul Yaw Adanse-Pippim Duah, as part of his appraisal of the Road design guide concluded the guide does not meet several of the requirements for the geometric design of modern trunk and urban roads.
"Because of its deficiencies, highway designers in Ghana are resorting to other standards including the Green Book, AASHTO's A Policy on Geometric Design of Highways and Streets, and the Ugandan Geometric Design Manual, to mention a few, as references for geometric design," he stated.
High road volumes
According to a 2012 report on the Stages of Development of Ghana's Trunk and Urban Road Network, an urban area in Ghana is defined as any settlement inhabited by 5,000 or more people.
The research established that between the years 1948 and 2000 the number of urban areas in Ghana has increased from 41 to 364.
Rising rural-urban migration, growth of towns and cities and increasing life expectancy have been implicated.
According to the Ministry of Roads and Highways the vehicle population in Ghana increased from 511,755 in 2000 to 1,952,564 in 2020.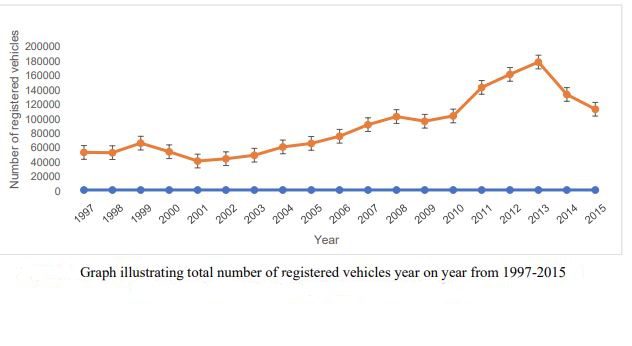 Increased settlements along trunk roads means huge traffic volume resulting in an increased need for designs to handle higher levels of traffic and traffic conflicts with a view to safety and economy.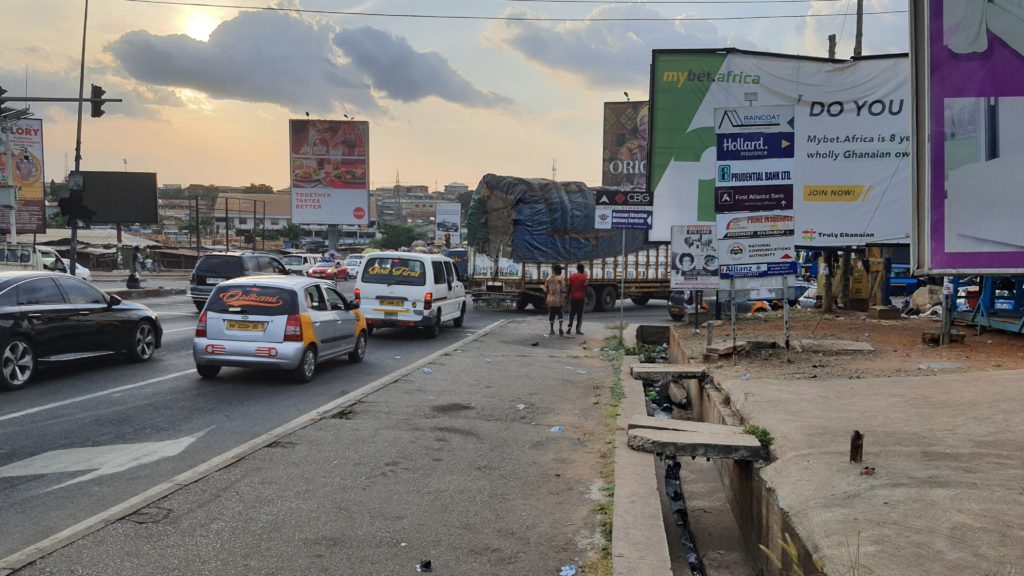 Let's first, take a look at the road leading to the Anloga intersection.
The road has three lanes: the exclusive left lane which leads to a new road to Ahodwo.
The right lane which goes to Airport roundabout and the middle lane or through which goes to Afful Nkwanta to Adum.
Engineer Edmund Kwasi Debrah is with the Building and Road Research Institute.
He observes long trucks in their bid to use the exclusive right lane would have to shift to the middle lane or the throughput to successfully turn to Airport lane.
"Because the trucks need a lot of space before negotiating the curve, they have to use the middle lane to navigate freely to the airport lane.
"These long articulated trucks, if it's approaching the Anloga junction to the Airport lane, it'll not be able to use the exclusive right lane for negotiating," he noted.
A quantity surveyor, for road construction firm, MMANEB Company limited, Anthony Kwarteng would not agree less with Ing. Debrah.
"In negotiating a curve, you need a wide space. If not, the cars will fall down," he said.
Ing. Duah observes the Road Design Guide is quiet on the issue of curves per kilometre thus omitting an important road safety consideration.
The researcher finds it necessary to include the number of curves per kilometre and widening the lanes among others.
"The GHA RDG considers traffic characteristics in determining climbing lanes, exclusive turning lanes, storage lane lengths, intersection turning radii, lane widening in curve sections. For example, one warrant for the inclusion of a climbing lane is for the proportion of large vehicles to be in excess of 20%.
"The GHA RDG also shows how various sizes of design vehicles should be used as controls for width composition, widening of curve section, vertical gradient, sight distance, clearance, and design of intersection.
"Again, the Guide recommends curve section widening for roads with a high proportion of large vehicles, although what constitutes 'high proportion of large vehicles' is not stated," he noted.
The long-awaited overpass
Mr. Kwarteng believes an interchange is an efficient and safe way of minimizing conflicts generated by crossing roads with high speeds and volumes.
"I think it's about time to construct the interchange," he recommended.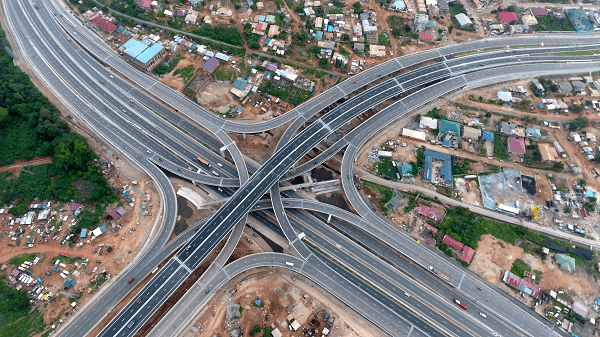 An overpass at Anloga junction has been on the drawing board for some time now.
The Urban Roads has hinted the project will take off in the coming months.
Until then, the Ashanti Regional Director of National Road Safety Commission, Simbiat Wiredu has been advising commuters and motorists "would have to exercise the greatest care in plying the Anloga junction" which has become a death trap.
In 2019, the Ministry of Roads and Highways launched the document for low volume roads but a high volume road has also become crucial.
It has become important for a cogent revision of many parts of the Guide to ensure its suitability for modern highway designs in Ghana.
This is very important for the safety of motorists and pedestrians in the country.
DISCLAIMER: The Views, Comments, Opinions, Contributions and Statements made by Readers and Contributors on this platform do not necessarily represent the views or policy of Multimedia Group Limited.