Veteran road warriors know that the best way to beat jetlag and energy-zapping meetings is by working up a serious sweat.
That schedule of constantly changing time zones, back-to-back meetings and intense pressure can wreak havoc on your mind and body.
But studies show that exercising regularly can help to regulate your circadian rhythm — also known as your internal clock — which is affected every time you travel.
"Frequent travelers are prone to headaches, joint pain, muscle soreness and general fatigue — not to mention the disrupted and inconsistent sleep patterns that come with changing time zones when jetlagged," Liam Gallaher, sports manager at Kerry Hotel in Hong Kong, tells CNN Travel.
"Exercising promotes blood flow and increases your metabolic rate, which serves to minimize the effects of flying."
If you need a little inspiration to hit the treadmill or swim some laps, these amazing hotel gyms have awe-inspiring views, top-notch equipment, and unique classes to help you to go that extra mile.
Kerry Hotel, Hong Kong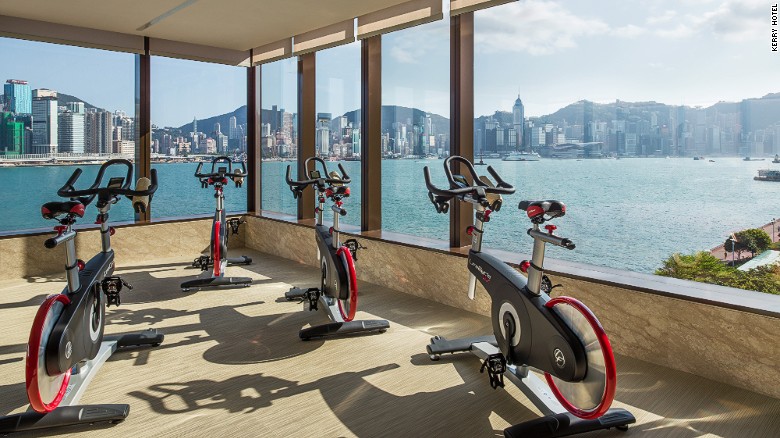 Located on the banks of iconic Victoria Harbor, Kerry Hotel opened in April.
On the hotel's fourth floor, a tech-savvy health club, Base Camp Kerry Sports, overlooks the water and the neon-lit Hong Kong skyline.
Inside, guests will find one of the city's most comprehensive fitness centers with all the usual weight-training and cardio machines, plus a harbor-view corner room for spinning, yoga and pilates.
But the jewel in the crown is the 25-meter (82 feet) heated pool that seems to hover above Victoria Harbor.
More of a runner? There's also an outdoor jogging track along the promenade of Tsim Sha Tsui and running clubs organized by the hotel.
Park Hyatt Chicago
A fixture on the Chicago skyline, the Park Hyatt Chicago has focused on making its gym a superlative experience.
From the seventh-floor location inside the Nomi Spa, gym rats can soak up city views of the Magnificent Mile while they run or cross-train on Life Fitness equipment.
Swimmers will appreciate a three-lane, 22-meter (75 feet) indoor lap pool. For everyone else, there's a convenient bike rental program, GPS watch rentals, and all kinds of fitness gear.
But the coolest service is the Shred in the Park program. The hotel has paired up with local trainers from the Shred415 workout program, who lead guests on a calorie-blasting interval training session atop the spa's garden terrace.
And if that doesn't do it for you, the jogging paths along the Lake Michigan shore reward travelers with beautiful architecture, green parks and views of the Chicago skyline.
Shangri-La Dubai
The recently renovated Shangri-La Dubai is not only conveniently located in the business district along Dubai's Sheikh Zayed Road, but it also has one of the most diverse gym facilities in the city.
There are squash and tennis courts, jacuzzis, steam rooms, a dedicated "movement" studio to work on mobility and a rooftop swimming pool where you can swim laps in the shadow of the iconic Burj Khalifa — the highest tower in the world.
A comprehensive group fitness schedule covers everything from spinning to yoga to belly dancing, while personal trainers can maximize your workout.
At CHI, The Spa on the 4th floor a tome of a menu covers Arabic coffee scrubs, vegan treatments and de-stressing massages to target tight muscles and release tension.
In addition, the hotel has also introduced a new Rooted in Nature dining menu to help travelers stick to healthy habits.
Anantara Al Jabal Akhdar Resort, Oman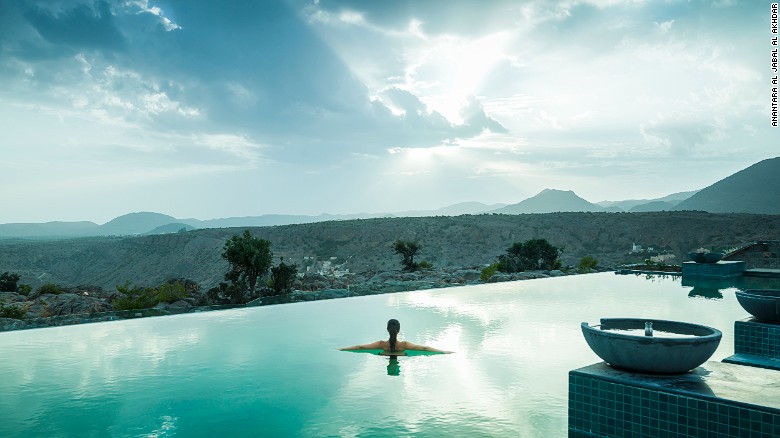 Opened last year in the mountains of Oman — about two hours south of Muscat — the Anantara Al Jabal Akhdar Resort has a pretty impressive set-up.
At 2,000 meters (6,561 feet) above sea level, the hotel is built on the edge of Oman's Green Mountain where travelers can limber up with some sunrise yoga atop the highest platform in the Middle East.
The rocky terrain makes for a challenging place to go biking or jogging, but if the views don't motivate you, there's always a personal trainer.
There's also ping pong, bikes to rent, hiking nearby, mountain-climbing courses and one of the highest tennis courts in the world.
For swimmers, one of the highlights of the property is the cliffside infinity pool. Wake up early enough, and it will be just you and Oman's Grand Canyon.
Park Hyatt Tokyo
The Park Hyatt Tokyo isn't just home to the famous "Lost in Translation" cocktail bar — officially known as New York Bar.
The hotel also houses an impressive gym on the 47th floor, where skyline views will distract while travelers break a sweat on one of the dozens of Life Fitness machines.
In addition, the gym offers a packed schedule of aerobics, dancercise, pilates, tai chi and yoga, as well as a sky-high lap pool, whirlpools and saunas.
And did we mention the dramatic views? An exercise routine at the Park Hyatt rewards you with views of the expansive Tokyo cityscape and Mount Fuji.
Four Seasons Seoul
In the heart of Seoul's business district, Four Seasons Seoul is a sleek urban address with a modern fitness center.
Inside the 8,772-square-foot space, rows of Technogym equipment face a wall of windows — as does a yoga and pilates studio.
There's also a cross-training area, free weights, lifting racks and a stretch center.
Throughout the week, instructors hold group classes, including everything from aerobics to TRX, zumba, spinning and pilates.
On the same floor, travelers can take a dip in one of three different pools — a three-lane lap pool, and two smaller pools with different temperatures to soothe tired muscles.
Looking for an unconventional meeting spot? A golf putting room on the 10th floor comes complete with 3D screens that display top courses around the world and a simulator to analyze your technique.
The Siam Hotel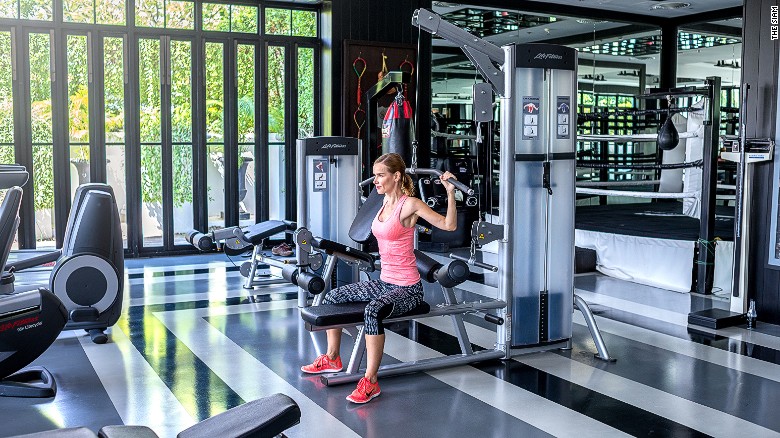 A short walk from Bangkok's Chao Phraya River, The Siam Hotel feels more like a relaxing Thai-style resort than a city hotel, despite its downtown location.
At the gym, there's a little bit of everything. Not only does the Life Fitness and Octane equipment overlook a nearby monastery, but the hotel also offers a professionally equipped muay Thai boxing ring.
The boxing program also includes a visit to a local muay Thai ring, for those who'd like to see the pros in action.
If punching bags aren't enough of a stress-reliever, there's rooftop yoga and tai chi available, as well as private training sessions and guided meditation.
Outside, the 22-meter (72 feet) infinity pool traces the neighboring river, so you can literally swim with the fishes.
And after the workout? A Japanese Reiki or Indian Marma massage are available to reduce stress and relieve muscle tension.
Bulgari Hotel London
The Workshop Gymnasium at the Bulgari Hotel London is not the kind of place you can just putz around.
The small-group exercise sessions promise to make travelers sweat, harnessing training techniques such as pushing, pulling, jumping and more.
Inside the ultra-modern gym, there's also a range of classes, from reformer pilates to boxing and yoga.
The centerpiece, however, is the 25-meter (82 feet) swimming pool. Surrounded by Italian columns, the gorgeous urban oasis offers private swim coaches should you need a little help with your flip turn.
Feeling stiff? Travelers can book a private fascial stretch session, which focuses on connective tissue to increase flexibility and improve range of motion.
Marriott Hotel Al Forsan, Abu Dhabi
The first dedicated sports hotel in the United Arab Emirates, Marriott Hotel Al Forsan opened in March as part of the Al Forsan International Sports Resort complex.
The hotel's location, just south of downtown Abu Dhabi, enables the hotel to stretch out with a massive spacious fitness center overlooking a 50-meter-long (164 feet) Olympic-sized swimming pool, connected to a separate leisure pool and bar.
Not only does the hotel provide personal training and cardio classes, but guests will also enjoy easy access to the massive sports club next door.
The Al Forsan complex is a far cry from your stationary bike.
The facility offers a comprehensive lineup of thrills, including an outdoor wakeboarding lake, polo, go-karting, paintballing, archery, horseback riding and more.
The James New York Soho
Located in the heart of New York City's Soho District, The James has turned up the fitness focus with specially curated wellness programs throughout the hotel.
On the rooftop, spectacular skyline views and a lap pool await, while the deck doubles as an outdoor yoga and meditation studio during summer months.
Likewise, the 17th-floor gym looks out over Manhattan with floor-to-ceiling windows and rows of Life Fitness machines.
Guests can hop onto ProForm stationary bikes that simulate routes in the Tour de France.
It's all part of The James' Urban Wellness program, which also includes running clubs, bike rental, cycling routes and personal training from Oscar Smith — known to tone up A-list celebrities.
But if you'd rather work out on your own terms, the hotel provides complimentary resistance bands and a series of 20-minute video workouts to tackle in the comfort of your room.
Hotel Jen Beijing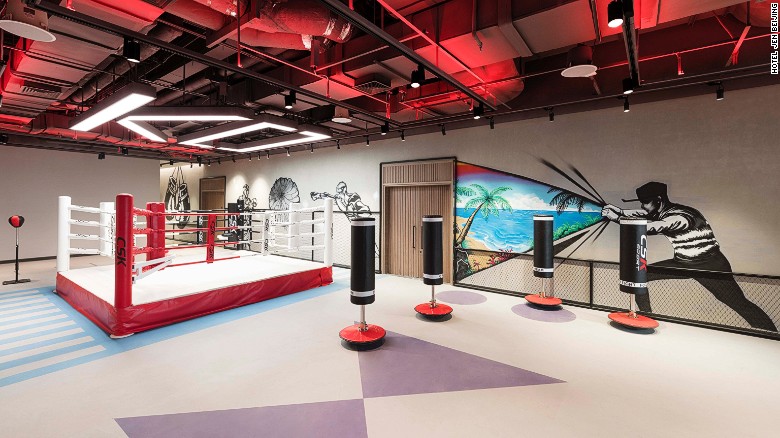 A newcomer in China's capital, Hotel Beijing opened in May in the Central Business District.
The hotel comes complete with the vast Trainyard Gym health club that stretches across two floors.
Covered in graffiti murals, the industrial-chic gym provides excellent city views — not to mention a boxing ring, new cardio equipment, and several studios for group classes.
Elsewhere in the space, there's a heated 25-meter (82 feet) indoor pool, spa, saunas and a snack bar that whips up healthy bites and juices.
After their workout? Business travelers can knuckle down in the hotel's dedicated co-working space and later cap off the day with a local brew at Beersmith gastropub.
DISCLAIMER: The Views, Comments, Opinions, Contributions and Statements made by Readers and Contributors on this platform do not necessarily represent the views or policy of Multimedia Group Limited.