A female alumnus of the University of Cape Coast, Mmabila Deborah Azika, has been crowned the overall best graduating candidate at the first 2021 Graduation and Admission ceremony of the Institute of Chartered Accountants, Ghana (ICAG) and the 36th since its inception, held at the University of Professional Studies, Accra.
Apart from being declared the overall best candidate for Level 3, Mmabila Deborah, won the Overall Best Candidate (First Attempt, Level 3), Best Student in Advanced Taxation (Level 3), and Best Female Candidate.
The latest recognition puts to two, the number of times Mmabila has been awarded overall best student at ICAG Graduation Ceremony. She was the overall best graduating candidate in 2020 (Level 2).
Prior to her joining ICAG, she read Bachelor of Commerce (Accounting) at the University of Cape Coast.
In an interview with JOYBUSINESS at the ceremony, Mmabila said she was inspired by a banker to pursue a career in accounting.
"From childhood, I've known this man and he happened to be a banker; the way he carried himself around wearing his suit and everything was something I wished to do in future so growing up I decided to read business and at SHS I realized I loved accounting." She said.
The overall best graduating student also said she is working hard to become a chartered accountant as the next big thing for her.
Mmabila Deborah thus admonished accountants to "hold integrity in high esteem."
Other award winners
Ernest Agyeman and Michael Darko emerged the Overall Best Candidates for Levels one and two in the November 2020 CA professional examinations respectively.
Ernest Agyeman was also the Best student in Financial Accounting (Level 1).
Bridget Osei-Yeboah was however the best candidate in Business Management and Information Systems (Level 1), whereas Antonio Cephas and Abdul Wahab Owusu emerged best candidates in Business and Corporate Law and Introduction to Management Accounting (Level 1) respectively.
For Level 2, Prince Manu emerged best student in Financial Reporting; Stanley Agbenya Alifoe – best student in Management Accounting; Muntaka Laminu – best student in Audit and Assurance; Michael Darko – best student in Financial Management; Elsie Lois Adwoa Sampson – best student in Public sector accounting and finance and Stephanie Agyei Henneh as best student in principles of taxation.
For Level 3, Emmanuella A. Yeboah was best student in advance audit and assurance and Abdul-Mannan Yahaya as best student in strategic case study.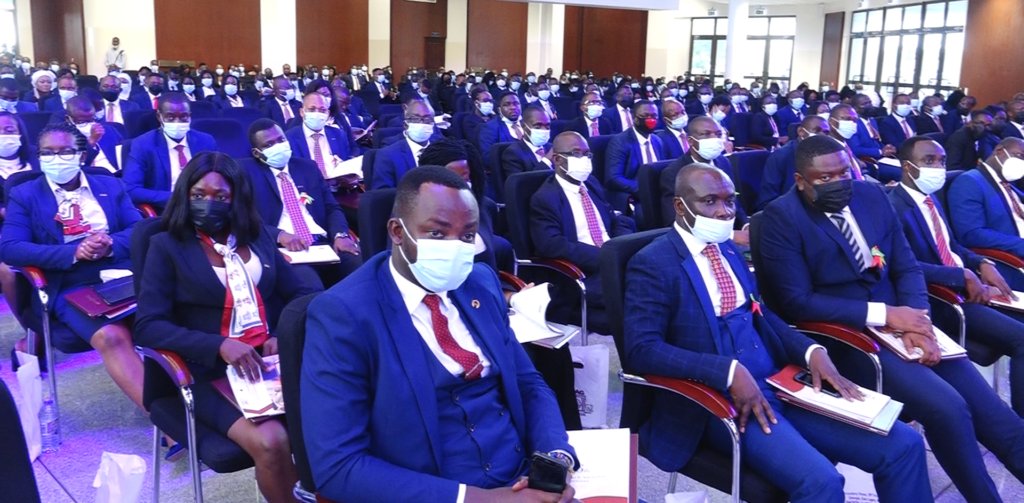 About ceremony
The ceremony formalized the admission of new members into the fold of the Institute's existing membership and provided the platform to award certificates to those who have qualified after successfully passing all three levels of the Chartered Accountants (CA) Professional Examinations ,whilst others have met the requirements via an assessment of training they had received at equivalent professional accountancy bodies.
In all, 425 qualified Accountants and 105 Chartered Diplomats were awarded certificates whereas 421 new members were admitted into the institute, after satisfying specific qualification criteria.
President of ICAG, Professor Williams Atuilik who addressed the gathering, reminded the newly-admitted members as well as those who received certificates that at the core of the accounting profession was integrity.
"There is no way you can succeed as an accountant if you do not apply integrity because it's so fundamental and critical." he said in an interview with Joy Business.
He said continuing education was critical to career development and pledged the commitment of ICAG to providing opportunities for the development of professional and leadership skills.
"We expect that having qualified as special accountants, they will expand their horizon by looking at other incidental disciplines that are necessary in helping them become very competent accountants like marketing, law, procurement, supply chain, IT,among others." Prof. Atuilik said.
He urged the new ICAG members to participate in the Institute's activities, volunteer and contribute to causes, and support the development of the Institute's programmes.