Looking for what to get a pregnant friend — but specifically looking for a present for a pregnant friend — not for the baby? You've come to the right place.
We've rounded up 50 of the best gifts for a pregnant friend — everything from luxurious robes to calming shower bombs to pregnancy congratulations gifts, there's something here for every taste, budget, and practicality.
Even if you can't make it to her baby shower, almost all these gifts for pregnant women are available to be shipped, so whether your pregnant friend is close by or across the country, you can show her through these gift ideas how thrilled and excited you are/
From pregnancy gift ideas for friends (see #3) to gifts to give someone newly pregnant (#20), you're sure to find exactly what you're looking for.
Happy scrolling through these gifts for pregnant friends!
1. Euka Wellness Shower Bombs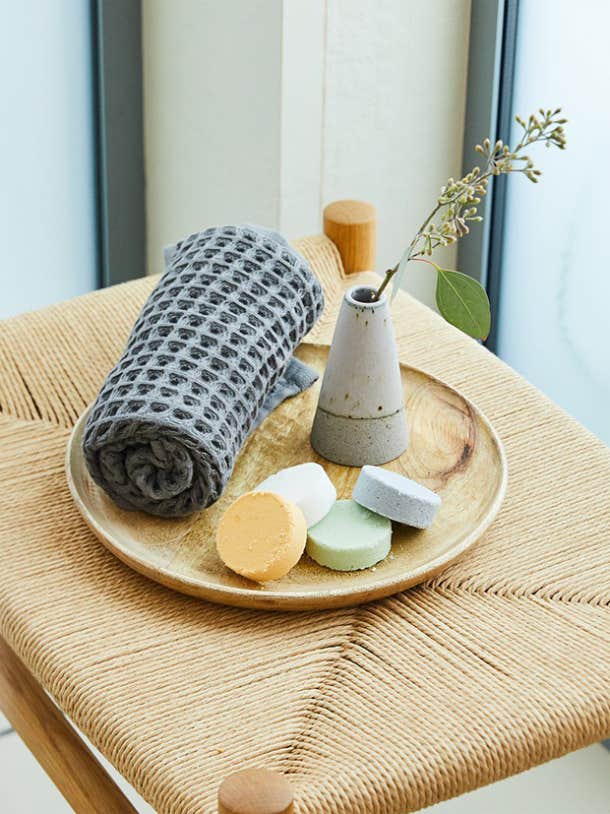 Where to buy Euka Wellness Shower Bombs: Nordstrom
An effervescent shower bomb made with a proprietary blend of essential oils to help relax your body and open your airways. What's a pregnant mama-to-be not to love?
2. All-Natural Deodorants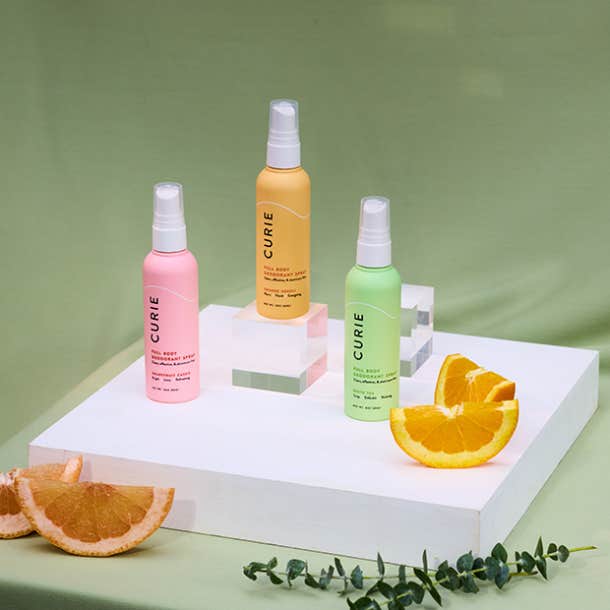 Where to buy Curie All-Natural Deodorant: Amazon
Clean, natural, aluminum-free ingredients are so important when you're pregnant and carefully monitoring what's going into your body. A practical gift for sure — but she'll appreciate it.
Another great natural deodorant option with hints of cypress and coriander is Freedom Natural Aluminum-Free Deodorant and for moms who prefer a more unisex scent, try the Attitude Plastic-Free Natural Deodorant, which comes in a biodegradable cardboard tube.
3. Lenox Kate Spade Silver Wavy Frame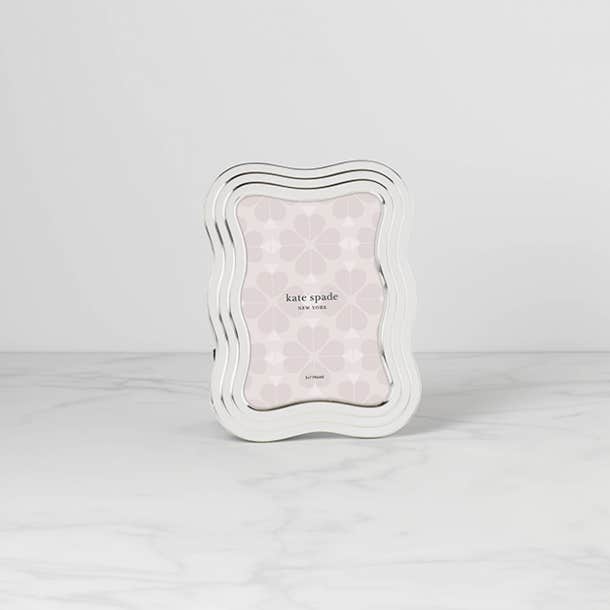 Where to buy Lenox Kate Spade Silver Wavy Frame: Lenox
Showcase her most cherished future creation — her baby! — with this shiny silver-tone wavy frame by Kate Spade New York. It's chic, classic, and not at all cheesy.
4. Tubby Todd Nipple Balm
Where to buy Tubby Todd Nipple Balm: Tubbytodd
The gift that keeps on giving — she just doesn't know it yet — this lanolin-free balm will help prevent and restore cracked, dry nipples while she's nursing or pumping her little one.
5. Lip Balms
Where to buy Lanoplis 101 Ointment Fruities Trio: Amazon 
A great gift to pack in her hospital bag, these hydrating fruity balms are infused with Vitamin E and natural fruit extracts. Buy one, buy a ton — pregnancy brain means she'll likely lose or two.
For those who prefer an unscented, shiny gloss, try Gentle Beauty Gorgonia Gloss and for an organic bamboo option, in a recycled tube, no less, try Noyah Lip Balm in one of their four flavors. Goop Genes Nourishing Lip Balm is also a rich alternative that comes in sheer or subtly-tinted shades.
6. Bubble Bath/Salts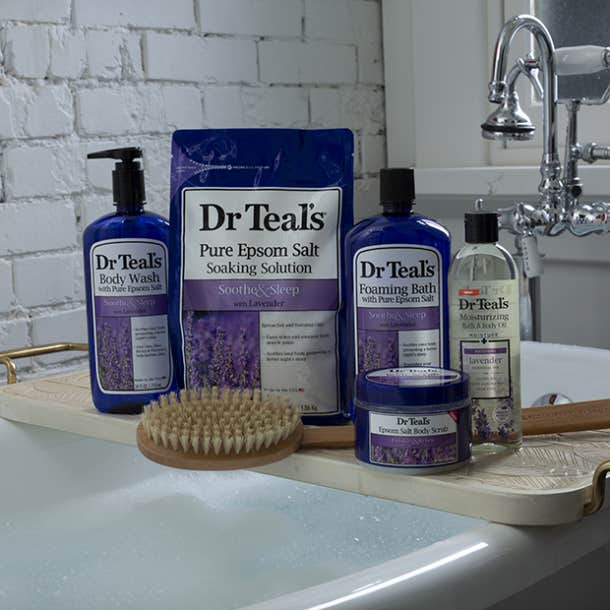 Where to buy Dr. Teal's Epsom Salt Lavender Bath Gift Basket For Aches And Pains: Amazon
Pregnancy comes with myriad strange aches and pains — it's the cost of carrying a human! Tend to them and soak away stress with this lavender-scented bath set from Dr. Teal's. 
For a yummy bath bomb that's practically edible, try So Sweet Bath And Body Lavender Champagne Bubble Scoop or Odacité Soul Soothing Relaxing Bath Soak for moms who prefer their soaks infused with with detoxifying Himalayan crystal salt and hydrating oils.
7. Statement Peace Badass Necklace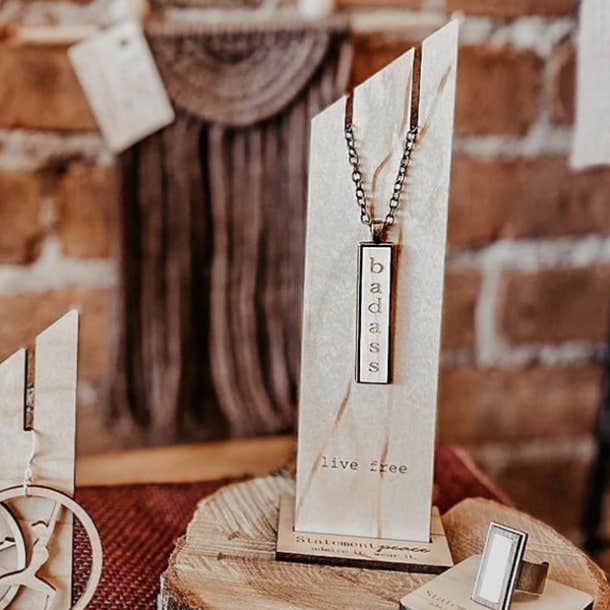 Where To Buy Statement Peace Badass Necklace: Statementpeace
Instead of a 'Mama' necklace, gift her some hardware that says exactly what every woman who has delivered a baby really is: a badass. 
8. Pregnancy Support Band / Maternity Belt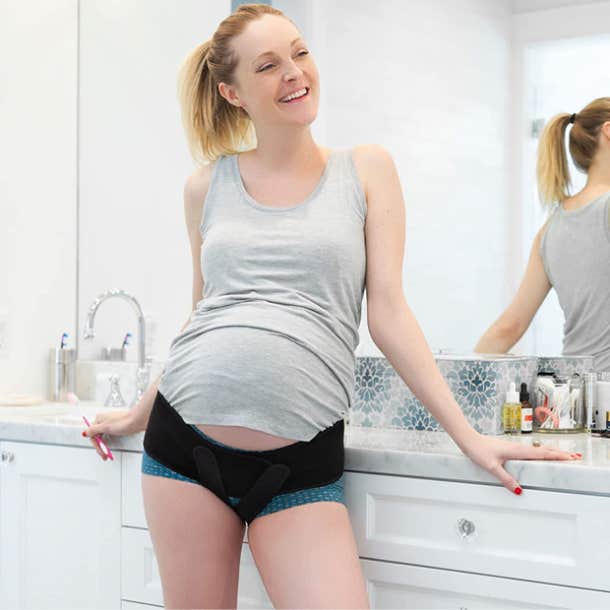 Where to buy Belly Bandit Belly Belt: Amazon
Say goodbye to pregnancy waddle, pain, and discomfort with an innovative support belt that can be worn day or night for extra belly support. If your friend is experiencing back or sciatic pain, try the BABYGO 4-in-1 Pregnancy Support Belt Maternity & Postpartum Band, which has a strap that supports the belly from above.
Or for a more budget-conscious band, this Knowza Maternity Belt and Adjustable Abdominal Binder does the trick for under $15. 
9. Sono Health Portable EKG Fetal Heart Rate Monitor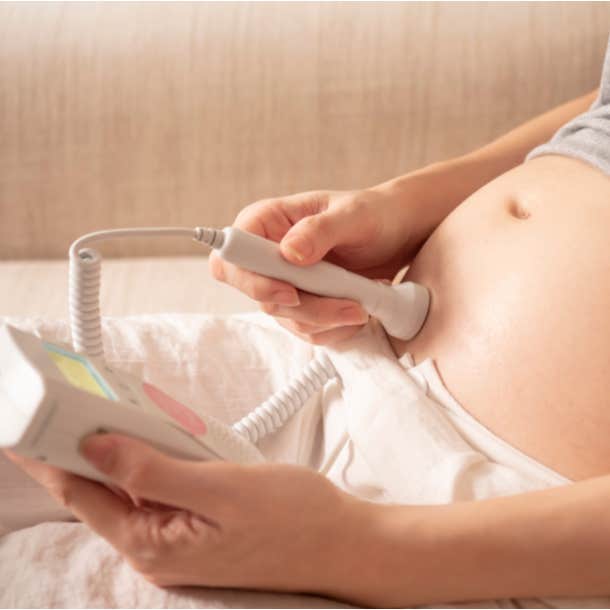 Photo: Purd77 / Shutterstock
Where To Buy Sono Health Portable EKG Fetal Heart Rate Monitor: Amazon
For the mom who loves to hear her baby's heartbeat outside of her prenatal appointments, the EKGraph Portable EKG is equipped with multiple sensors and its monitor provides accurate measurements and precise readings. Just make sure your OB-GYN knows you're using a fetal heart rate monitor outside of your appointments. 
10. Shinesty Backcountry Bomber Retro Onesie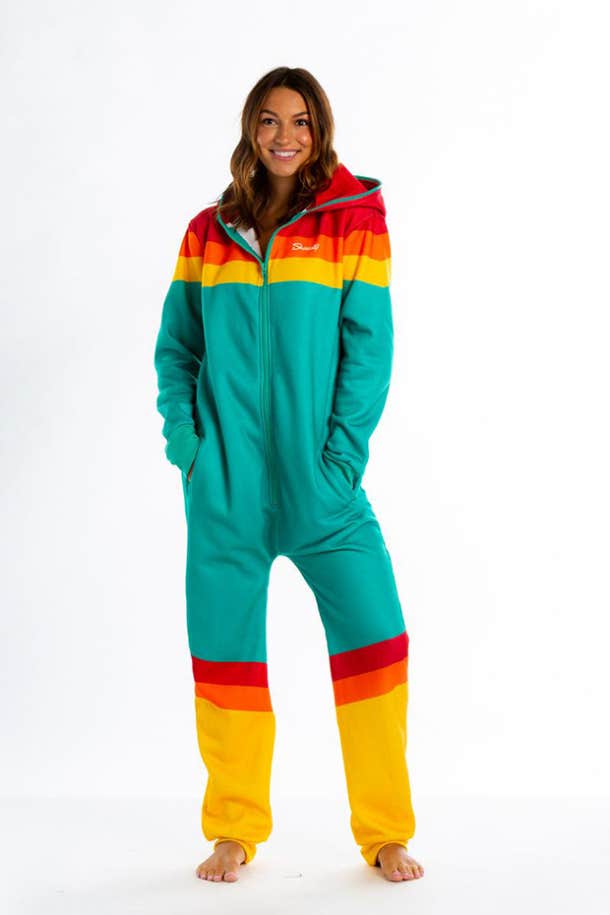 Where to buy Shinesty Backcounty Bomber Retro Onesie: Shinesty
This super-fun retro onesie comes oversized anyway — but buy a size up so she can chill on the couch in comfort throughout her entire nine months. 
11. America's Test Kitchen Plant-Based Cookbook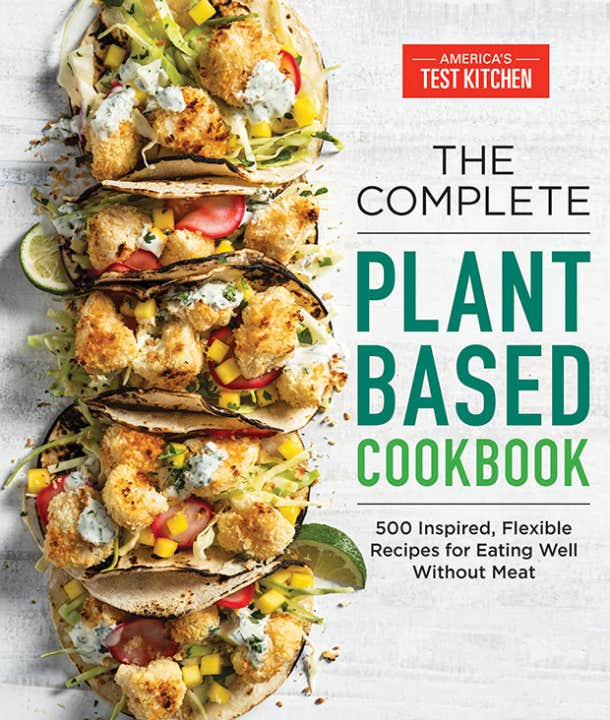 Where to buy America's Test Kitchen Plant-Based Book: Amazon
For those moms-to-be looking to better their pregnancy diet, this modern guide comes with 500+ recipes that are budget-friendly, inclusive, and most importantly, easy. Make sure to let your OB-GYN know any changes to your diet and be sure to avoid foods that are unsafe in pregnancy. 
12. Honey Mama Cocoa Truffles Variety Pack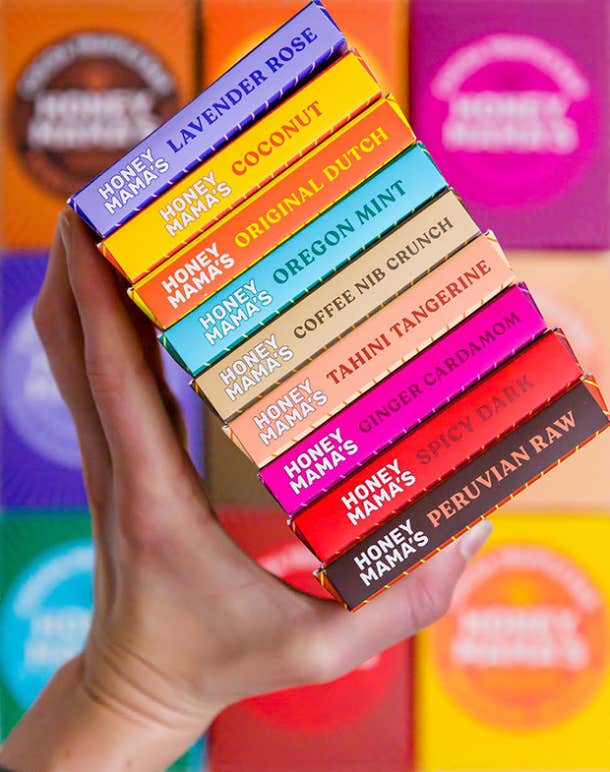 Where to buy Honey Mama Cocoa Truffles Variety Pack: Honeymamas
If honey and cocoa had a baby, this would be it. For the pregnant mom with a chocolate craving, this is just the thing. 
13. Goop Pure Mulberry Silk Eye Mask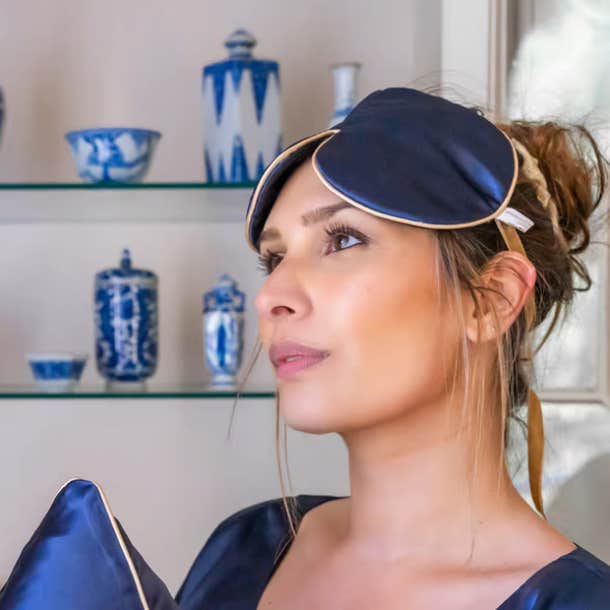 Where to buy Goop Pure Mulberry Silk Eye Mask: Goop
This luxe, hypoallergenic silk eye mask will feel so good on a pregnant mama's skin — and it's so pretty, too! It's bigger than most eye masks, so it gently rests over your cheekbones and forehead, rather than weighing on the delicate eye area.
14. Body Oil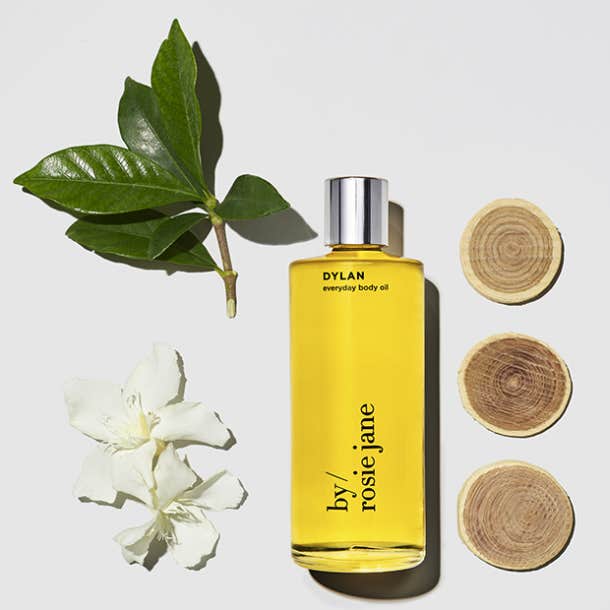 Where to buy by Rosie Jane Dylan Body Oil: byrosiejane
If belly butter isn't cutting it, try this ultra-hydrating, natural, everyday Dylan body oil to soften dry skin and prevent stretch marks. Another option is this Nature's Brand Facial And Body Oil, which does double-duty as face oil, and for moms who prefer a bit of shimmer with their shine, consider Truly Beauty Moonlit Shimmer Oil for an extra glow.
15. Bath Salts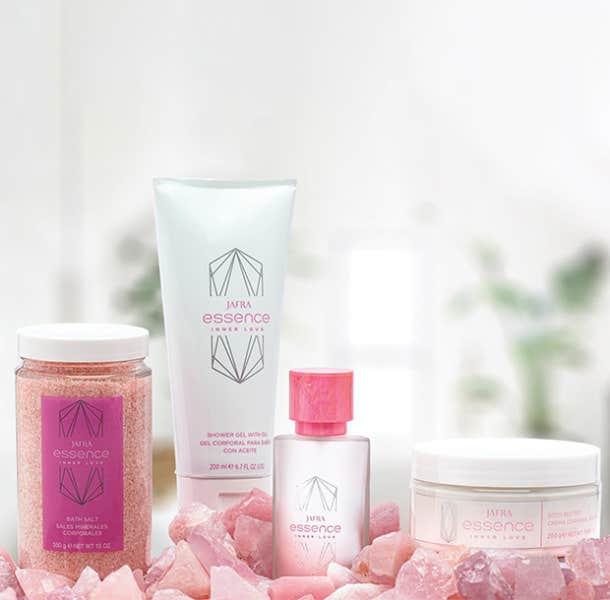 Where to buy Jafra Essense Inner Love Bath Salts: Jafra
Notes of comforting cardamom, fresh white flowers, and sensual musk soothe the senses and evoke calming energy — exactly the type of energy every pregnant woman strives for.
If she's the type who prefers bubbles over salts, try Mario Badescu Seaweed Bubble Bath for a soothing soak, while Butter & Me Skin Milk pulls double and triple duty as a facial cleanser and mask, and also works wonderfully as a milk bath. 
16. Sandals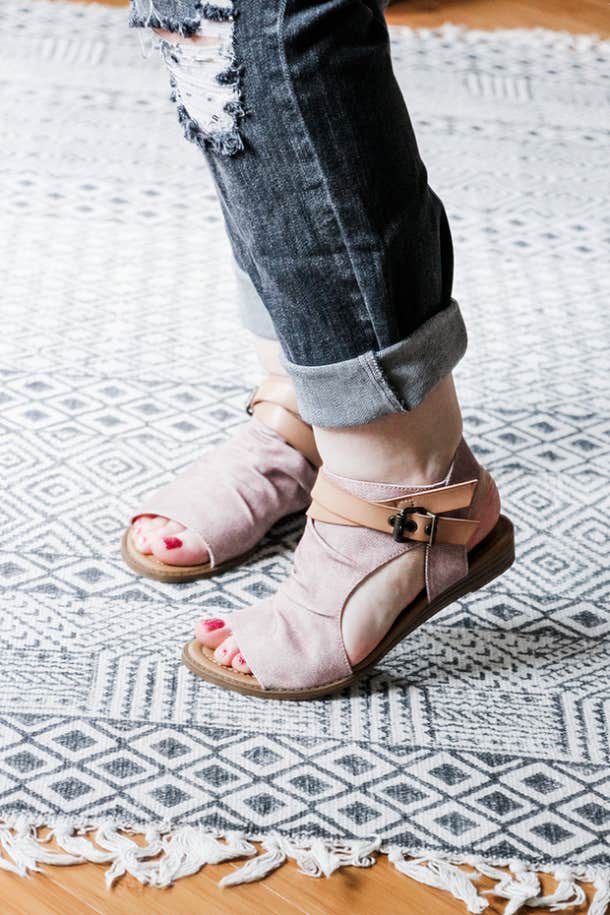 Where to buy Blowfish Malibu Women's Bella4earth Sandal: Amazon
Heels are often kicked to the curb when you're pregnant, but expecting moms still want to look put together. These Blowfish Malibu micro-wedge heels are a perfect solution: chic enough to dress up any outfit with adjustable straps for expanding, pregnant ankles.
Another option is these Naot Kayla sandals — also a wedge — which form to your feet and are the ultimate in comfort, and these bright and funky Empty Provisions sandals offer a pop of color for those who prefer flats.
17. Petunia Picklebottom Boxy Backpack Diaper Bag For Expectant Mother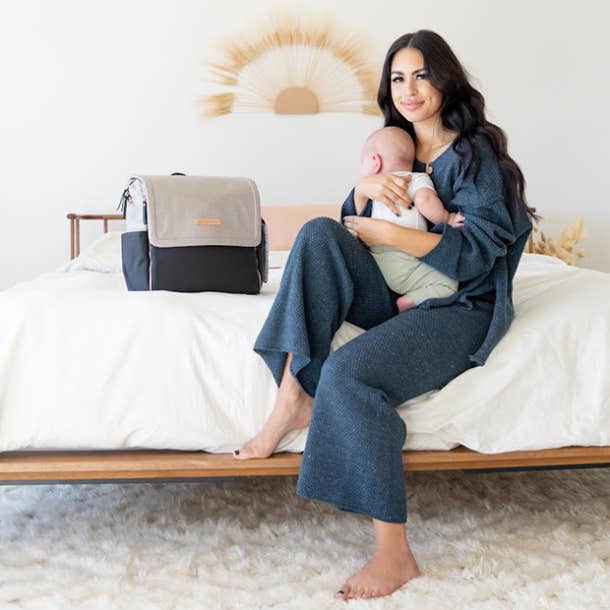 Where to buy Petunia Picklebottom Boxy Backpack Diaper Bag For Expectant Mother: Amazon
Buy her a diaper bag that works as a backpack so she can have both hands free to take care of the baby. This Petunia Picklebottom one is sophisticated, classic, and comes complete with a built-in changing station, stroller straps, and two carrying options.
18. Junobie Breast Milk Bags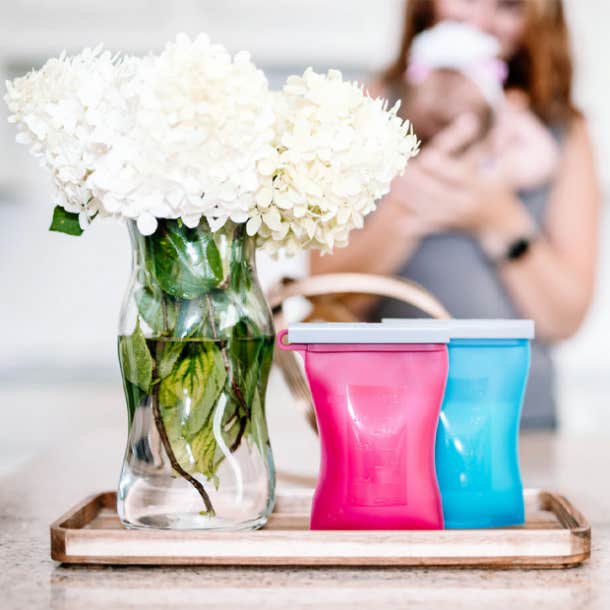 Where to buy Junobie Breast Milk Bags: Junobie
Breast milk storage bags are a great gift because it's highly unlikely anyone else will buy them for her. These Junobie ones are a good-looking option that are eco-friendly and reusable with a wide opening for easy pouring and standing.
19. Tineco Floor One S3 Wet Dry Vacuum Cleaner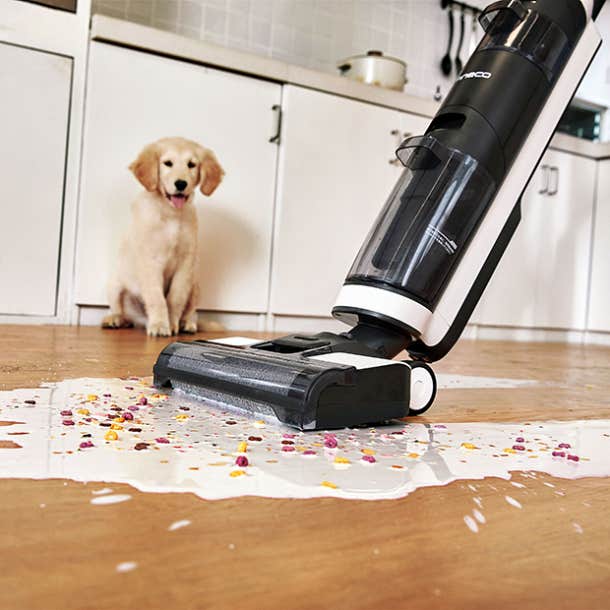 Where to buy Tineco Floor One S3 Wet dry Vacuum Cleaner: Tineco 
Pregnant moms tend to get into a crazy "nesting" phase before they deliver: gifting her a high-tech wet and dry vacuum that works brilliantly on both hardwood and carpets is a gift that'll be welcome before the baby as well as once she starts introducing solids.
20. Pregnancy Box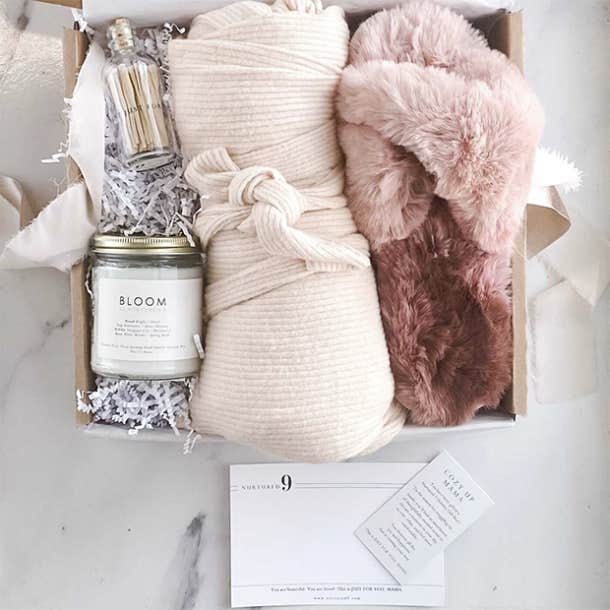 Where to buy Nurtured 9 Cozy Up Mama Pregnancy Box: Nurtured 9 
While everyone else is focused on the baby, give mom something that's just for her: this one-of-a-kind gift box comes with a maternity robe, cozy blush pink slippers, and a non-toxic candle.
For the pregnant mama who loves to be spoiled, this Natural Succulents Pregnancy Box from Etsy comes with fuzzy socks, a soy candle, a bath bomb, lip balm, and scrunchie. And how's this for a fun idea? A pregnancy gift box that caters specifically to each trimester — they're called Bump Boxes.
21. Non-Alcoholic Flavored Drinks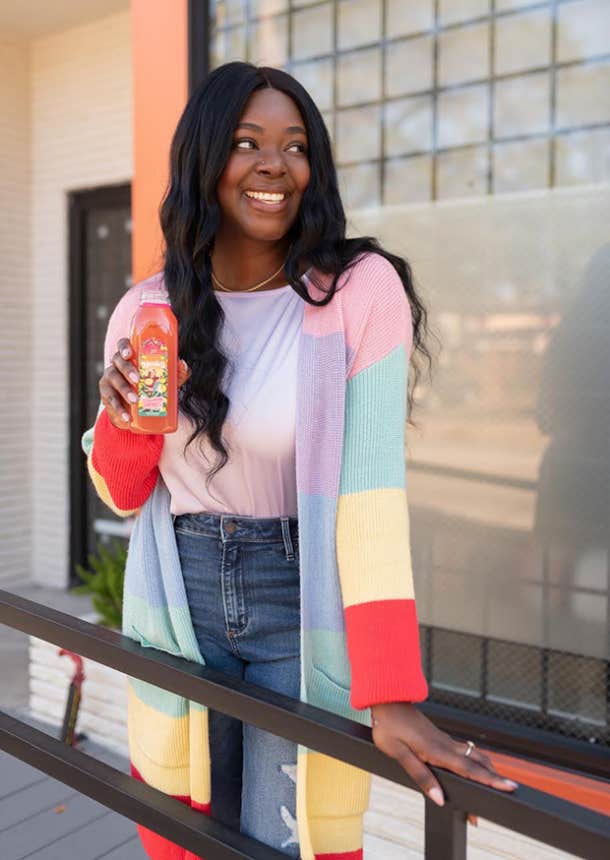 Where to buy Natalie's Strawberry Lemonade: Instacart
Since wine is off the table, gift her a tasty non-alcoholic option, instead. Natalie's Strawberry Lemonade is freshly handcrafted with no preservatives or artificial ingredients. Pour it in a champagne flute to feel fancy! 
Another great option is Pricklee Water, a light and refreshing cactus water that uses premium, sustainably sourced Prickly Pear Cactus or Lemon Perfect, which is basically like having water with lemon on hand 24/7.
22. Belly Butter/Creams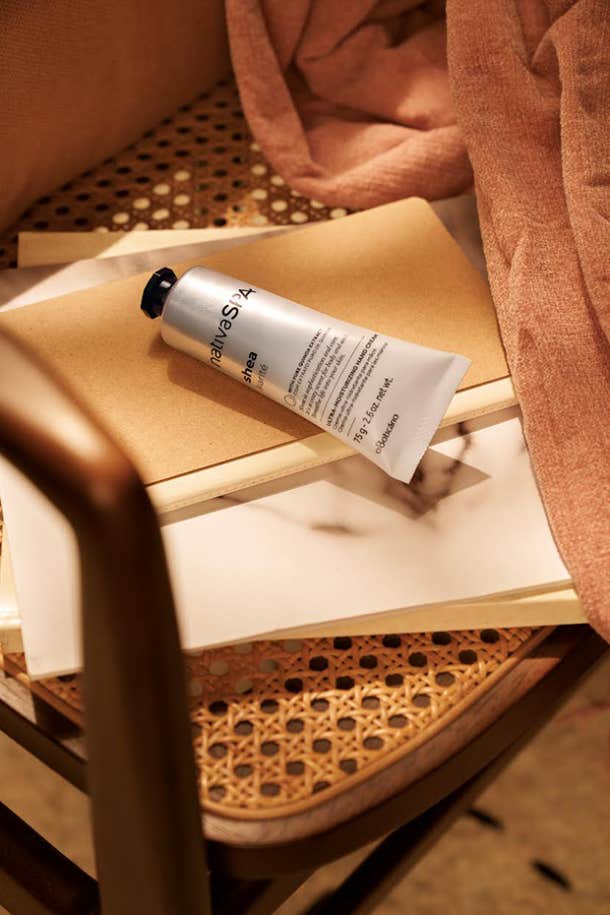 Where to buy NativaSPA Ultra-Moisturizing Shea Butter + Belly Butter + Hand Cream: nativaSPA
Perfect as a post-shower nighttime ritual, shea butter is ideal for body areas in need of a serious moisturization boost. It's great for slathering all over a pregnant belly, too. 
For any pregnant woman braving the elements in colder weather conditions, Free + True Body Prophet All Over Creamy Serum is a great fortifying shield. And for a light, whipped option that's seriously fun to apply, you can't beat Fizz Whizz Rainforest Body Butter.
23. Pregnancy Journal And Pregnancy Book For Expecting Mom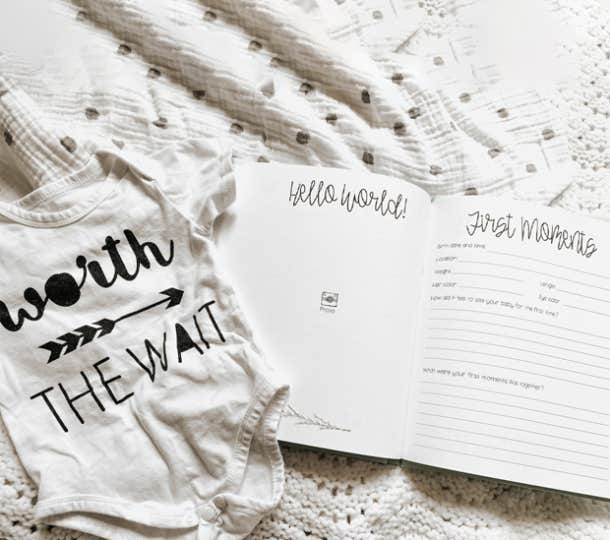 Where to buy Pregnancy Journal And Pregnancy Book For Expecting Mom: Etsy
A beautiful way to document her pregnancy, this gender-neutral memory book is filled with thought-provoking prompts, note areas for her to journal about whatever feels important, and plenty of space for bump and ultrasound photos.
24. Aveeno Baby & Mommy Essential Daily Care Gift Set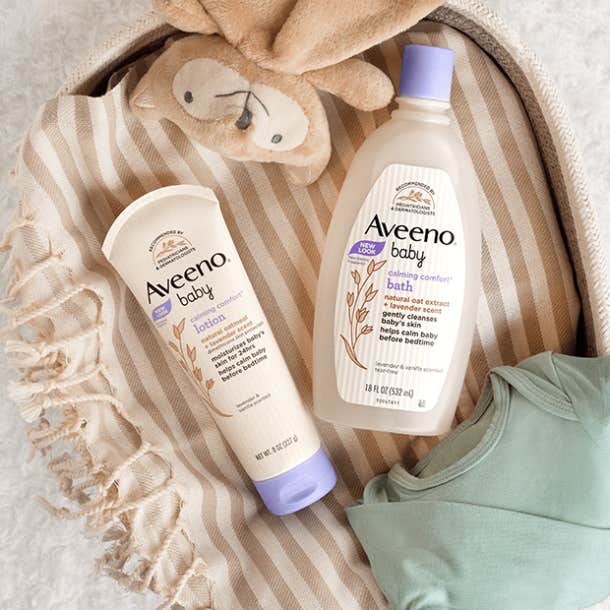 Where to buy Aveeno Baby & Mommy Essential Daily Care Gift Set: Amazon
Aveeno is such a classic go-to pregnancy and baby brand. These 7 gift bundle items are designed to nourish babies and pamper moms-to-be with lotions and bath products containing soothing natural colloidal oatmeal.
25. Maria Victoria Multicolor Tote Bag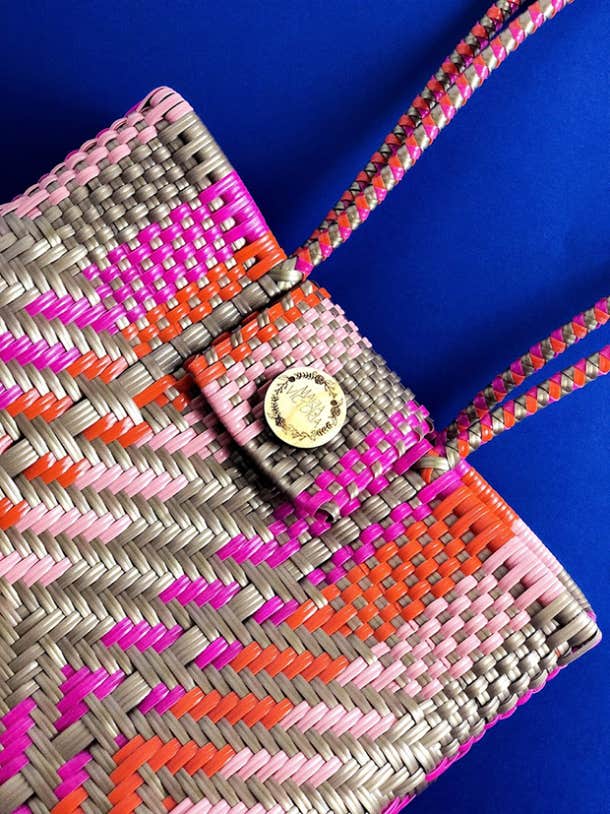 Where to buy Maria Victoria Multicolor Tote Bag: Maria Victoria
Your pregnant friend will get a ton of baby-related gifts, so treat her to something that's just for her. How fun and funky is this handwoven, upcycled braided tote made by Mexican artisans? It can even double as a diaper bag!
26. Brooklyn Brewery Special Effects Non-Alcoholic Brew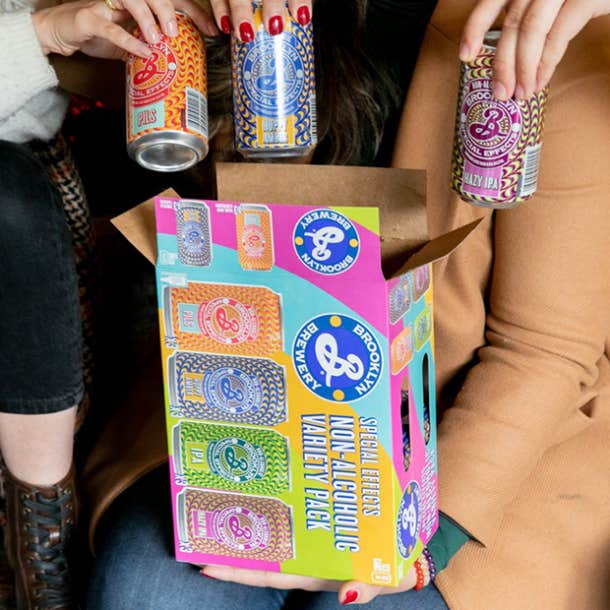 Where to buy Brooklyn Brewery Special Effects, Non-Alcoholic Brew: Drizly
For the pregnant mama who misses sippin' brews (we feel you!), give her the next best thing: this Brooklyn Special Effects IPA brings bright hop aromas and citrus flavors of her favorite IPAs to the non-alcoholic world.
27. Oui The People Bath Set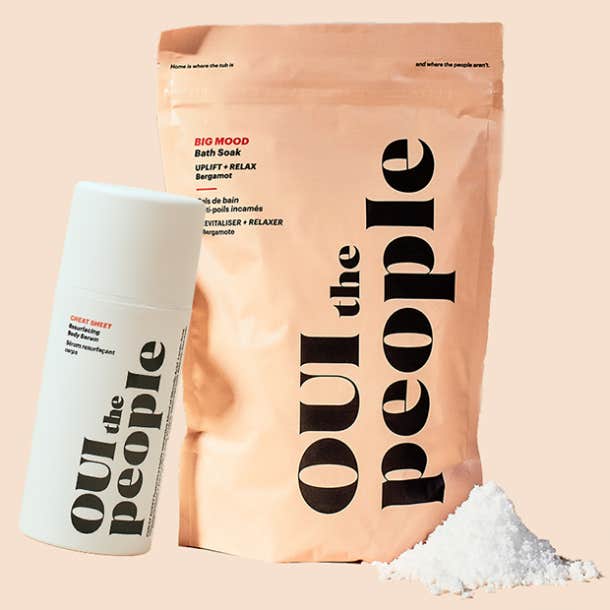 Where to buy Oui The People Bath Set: Oui The People $28
Take the (pregnancy) edge off with a handful of this detoxifying mix of magnesium, potassium, and calcium to send any tension down the drain. 
28. Wooden Baby Name Props/Letterboard For When Baby Arrives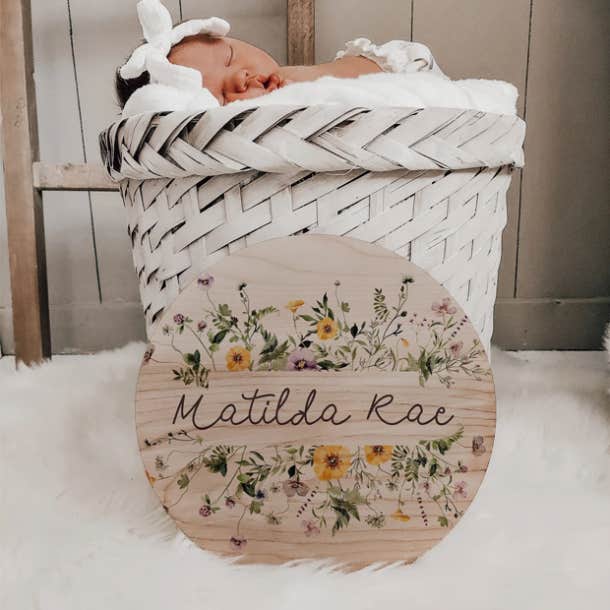 Where to buy Wooden Baby Name Props/Letterboard For When Baby Arrives: Etsy
New moms can't help but take a million photos of their new baby, and these darling wooden baby props put the "ooooh" in cute! 
29. Veer Double Cruiser Stroller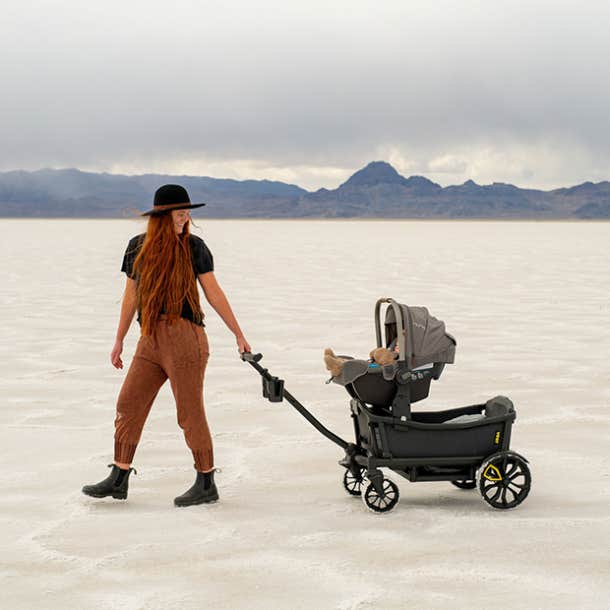 Where to buy Veer Double Cruiser Stroller: Buybuybaby
This Veer Cruiser is a truly luxurious gift for pregnant moms: it combines the safety of a premium stroller with the fun of a rugged wagon. With a collapsible foot-well for ergonomic seating, the cruiser can be pushed, pulled, or pulled alongside.
30. Safe Travels Kit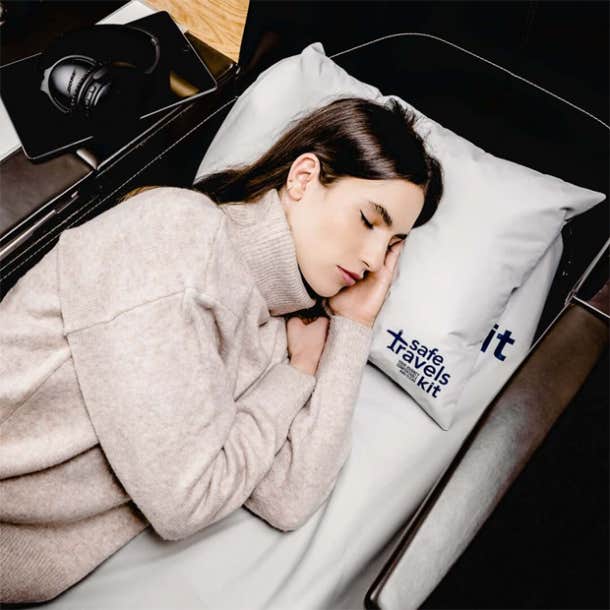 Where to buy Safe Travels Kit: Amazon
Pregnant women don't often travel a ton but when they do, you want them to feel safe — which is why this Safe Travels Kit makes such an ideal gift. Each package contains 1 reusable and washable seat protector, 1 pillowcase, 10 cleaning cloths, 1 protective piece, and 1 lightweight travel pouch.
31. Hand Soap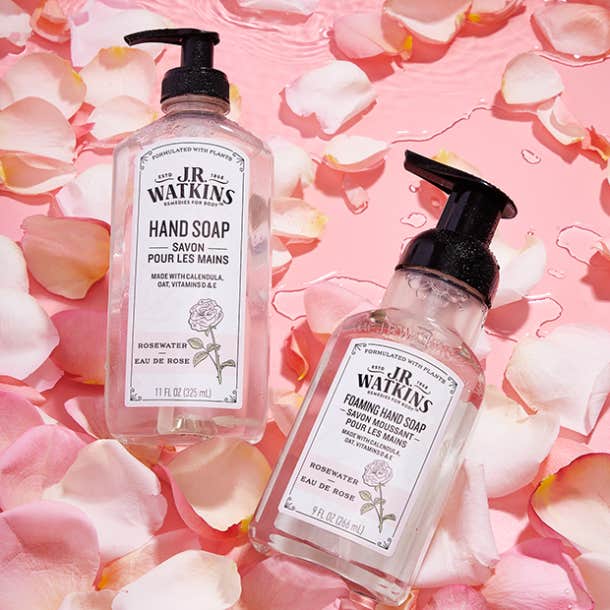 Where to buy J.R. Watkins Foaming Hand Soap: Amazon $12.99
Avoiding germs is practically a hobby when you're pregnant, so you may as well have a high-quality soap for handwashing. This J.R. Watkins one is free from harmful chemicals and dyes and its blissful scent is inspired by the desert.
If you're more of a bar soap person, Nature Inspired Works Tulle & Veil Handcrafted Bar Soap is infused with Manuka Honey and Colloidal Oats. If you want to stick with a classic brand, Mrs. Meyer's Liquid Hand Soap never disappoints.
32. Underwear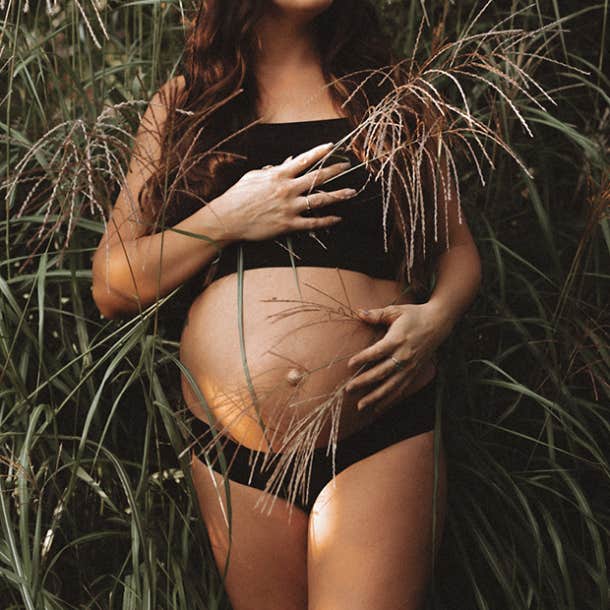 Where to buy Huha Mineral Undies: Hu-ha
Comfortable panties are hard things to come by when you're pregnant because your body is constantly evolving — but these Huha mineral briefs are as close to perfection as it gets.
Pepper Seamless Briefs are another buttery-soft option that'll hug you in all the right places and for moms who prefer a higher-cut, the OnGossamer Mesh Hi-Cut Brief Panty offers full coverage in a mesh, lightweight fabric.
33. Yumi Baby Food Delivery Service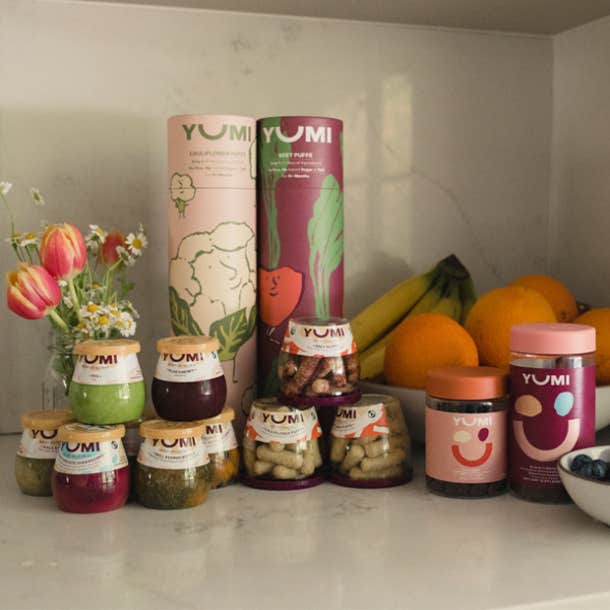 Where to buy Yumi Baby Food Delivery Service: Helloyumi
This is a great gift for a pregnant mom because practically nobody else will think to buy it for them! Yumi is a prepared meal delivery service for babies and their busy moms that offers new seasonal weekly recipes as well as your choice of a pre-made assortment or your own handpicked menu of meals.
34. Fragrance/Perfume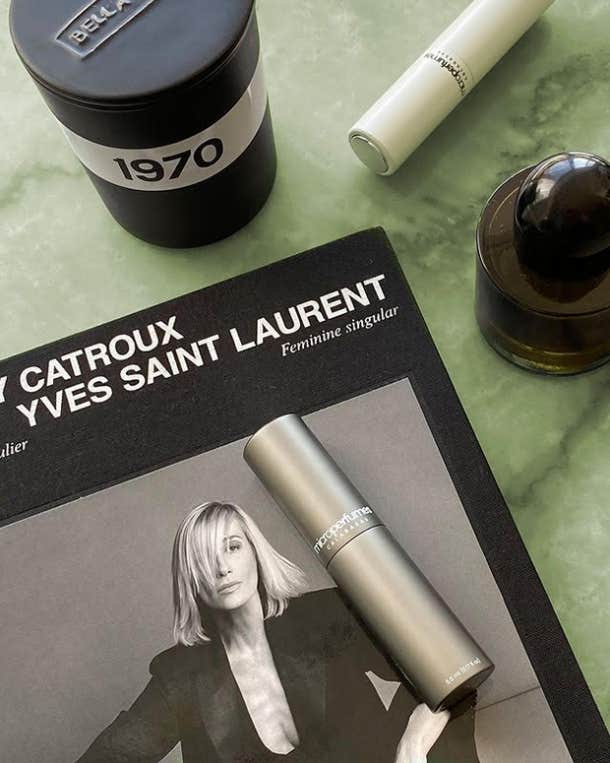 Where to buy Microperfume Gift Set: Microperfumes
Pregnant moms still want to smell nice — who doesn't? — and Microperfumes is a genius gift that allows her to have all the most expensive, luxury fragrances at a fraction of a cost. For a vegan fragrance option, try Good Chemistry Solar Jasmine Perfume — which contains essential oils and smells of pineapple peach blossom, and sandalwood.
And for something more luxurious at a higher price point, consider Nuud by Jafra, a unisex scent with notes of sheer bergamot, dark vanilla bean, and velvety woods.
35. Candle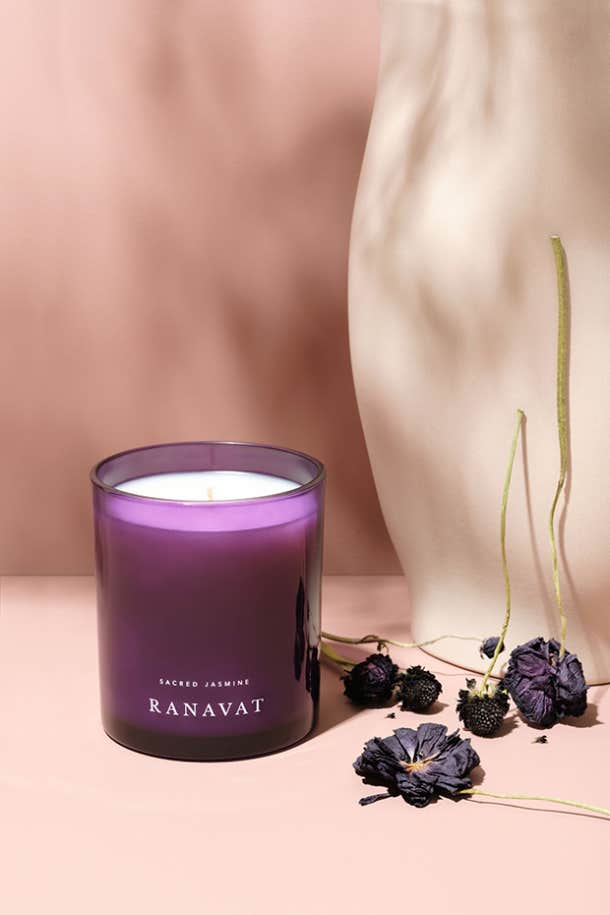 Where to buy Ranavat Sacred Jasmine Candle: Ranavat
Formulated with a fragrance of freshly harvested jasmine, the Sacred Jasmine Candle invites the pregnant mama in your life to unwind, relax, and recharge. Broken Top is another stellar candle brand because its soy wax is all-natural and won't leave ashy residue around the rim. 
We also love this Rare Lumiere Aspen Candle for moms who like scents that are piny and smokier. 
36. Sugar-Free Candy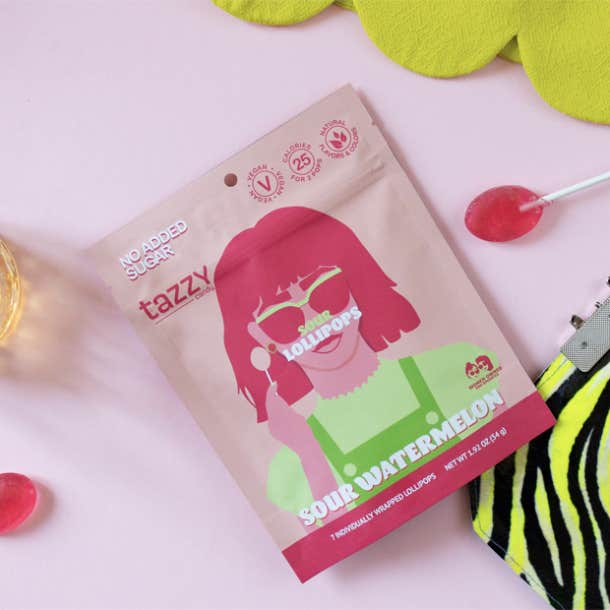 Where to buy Tazzy Candy Sour Watermelon Lollipops: Foxtrot
For the pregnant mom with a sweet tooth (but who doesn't want to go too crazy on the sugar), Tazzy Candy makes better-for-you lollipops that have no added sugar and use only natural flavors and coloring.
Other still-as-delicious sugar-free options include Dylan's Sugar-Free Gummi Bears from iconic Dylan's Candy Bar in New York City or a childhood classic like Red Vine Sugar-Free Licorice.
37. Cleaning Kits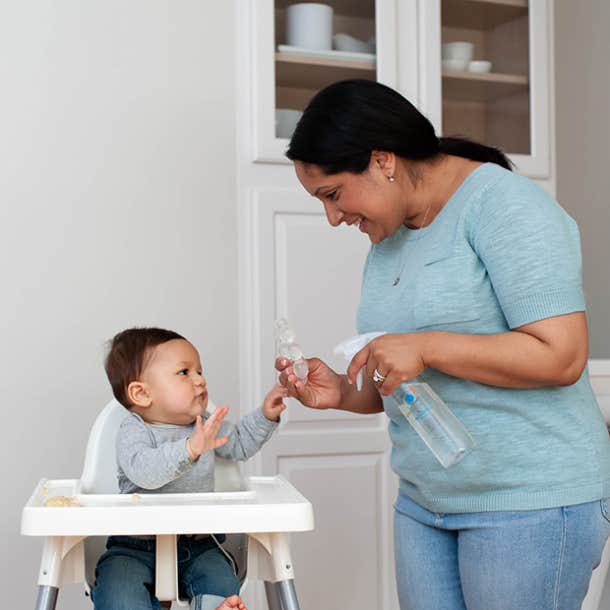 Where to buy Force Of Nature Starter Kit: Force Of Nature
The myth about pregnant women getting into obsessive nesting mode before the baby comes, well, isn't a myth. So when those psycho-cleaning urges start to hit, this Force Of Nature Starter gift has everything you need to achieve squeaky-clean results.
Another deluxe option is the Cleancult Complete Home Bundle, which includes the brand's entire suite of refillable glass bottles in her choice of color. 
For an all-natural cleaning bundle from a company founded by a mom of three, this Cloth & Bristle Deluxe Bundle will have any pregnant mom's home sparkling in minutes. 
38. Clausthaler Grapefruit Non-Alcoholic Beer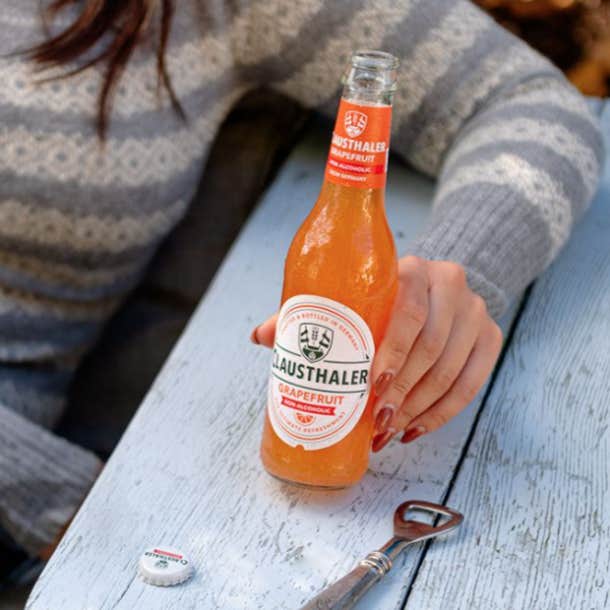 Where to buy Clausthaler Grapefruit Non-Alcoholic Beer: Amazon
A fruity non-alcoholic option for the pregnant mama who wants a change from sparkling water.
39. Socks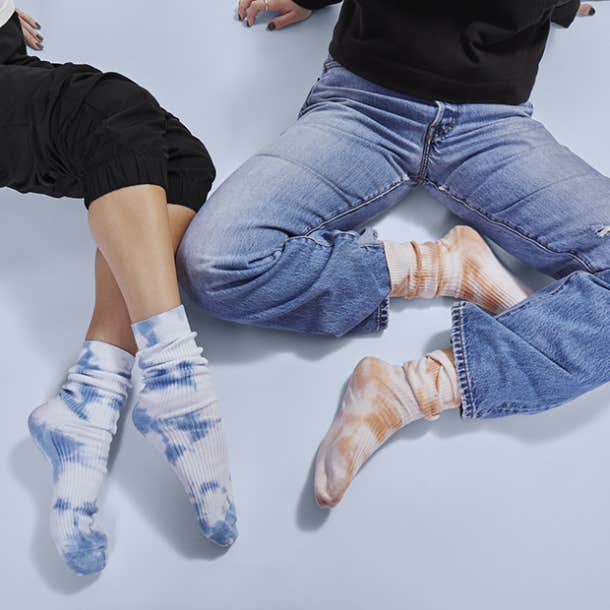 Where to buy Thousand Fell Philip Huang Tie Dye Socks: Thousandfell
Pregnant moms love comfy socks and these Thousand Fell Philip Huang tie-dye pairs are just that. For a sophisticated, no-stink option, these Silver Spun Plush Footie Socks dress up a pair of cuffed pants or go casual with a pair of sneakers while moms who prefer low-cut, no-show socks will absolutely adore wearing these Cariloha Footie Socks.
40. Frida Mom Hospital Packing Kit For Labor, Delivery & Postpartum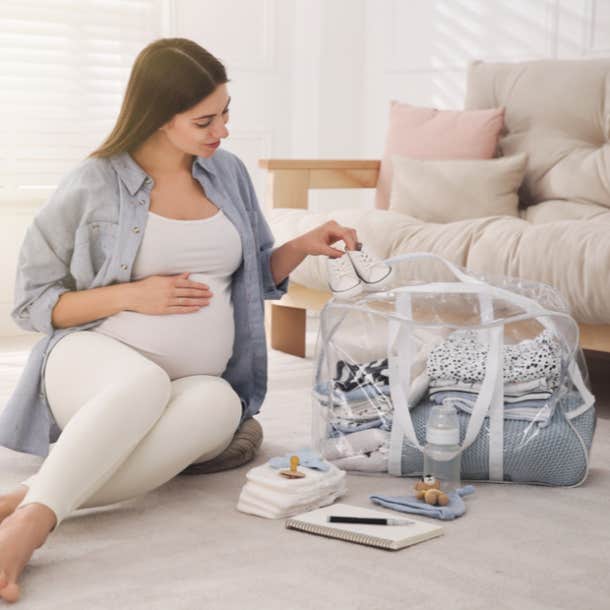 Photo: New Africa / Shutterstock
Where to buy Frida Mom Hospital Packing Kit For Labor, Delivery & Postpartum: Amazon 
For the pregnant mom who's stressed about giving birth and all of what that entails, this is a genius gift. This Frida Mom packing kit alleviates any worries about what to pack for the hospital because it has everything you need, ready to go.
41. Kyte Women's Lounge Robe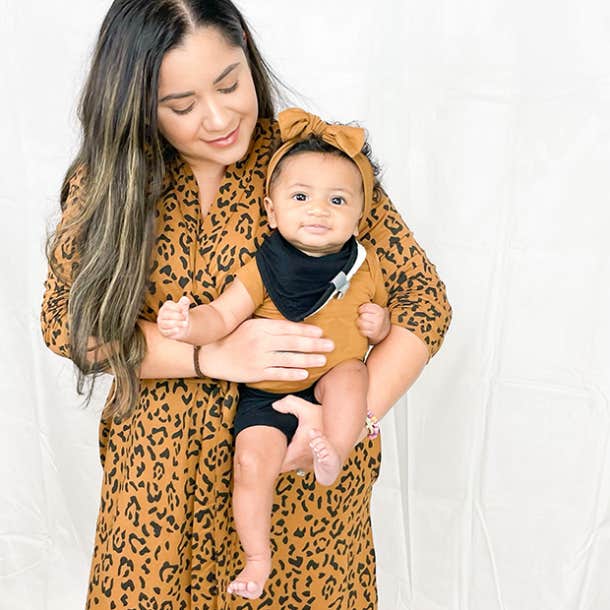 Where to buy Kyte Women's Lounge Robe: Kytebaby
As your belly expands, robes become a wardrobe staple — so make sure the pregnant mom in your life has a good one! The soft, buttery fabric is light and breathable enough to wear as an outer layer or alone, and as her baby transitions from the womb to her arms, it'll carry her through pregnancy, birth, and postpartum.
42. Adidas Originals Sunglasses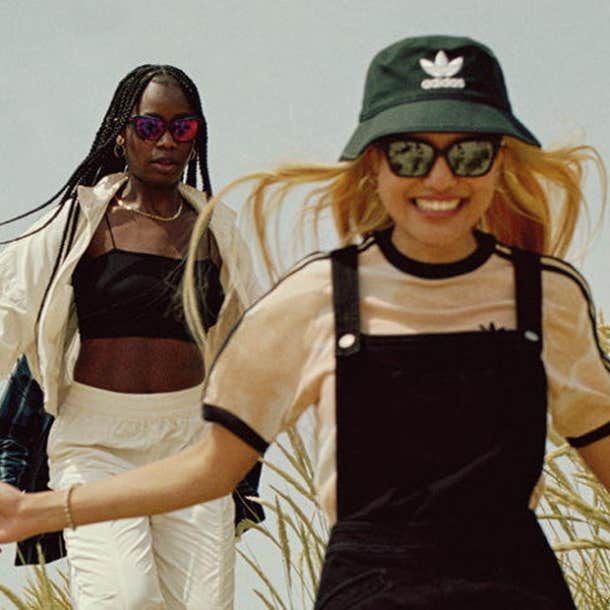 Where to buy Adidas Original Sunglasses: Adidas
Honestly, these stylish cat-shaped sunnies don't have anything to do with pregnancy; they're just a chic gift that any woman, pregnant or not, would be elated to have. 
43. Evereden Nourishing Stretch Mark Cream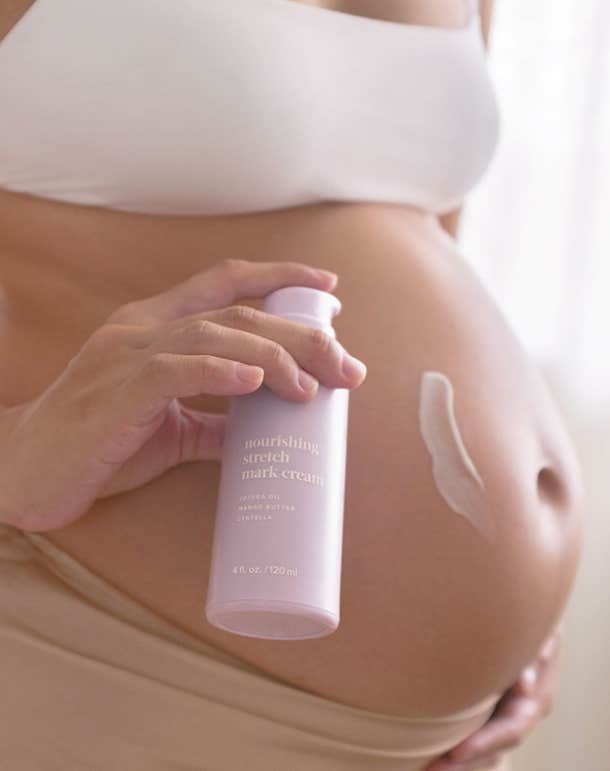 Where to buy Evereden Nourishing Stretch Mark Cream: Amazon
There are a ton of stretch mark creams on the market — but this Evereden one is one of our favorites because it's formulated with natural plant-derived cold-pressed oils and nutrients to improve skin health. 
44. Skechers On-The-Go Plush Dreams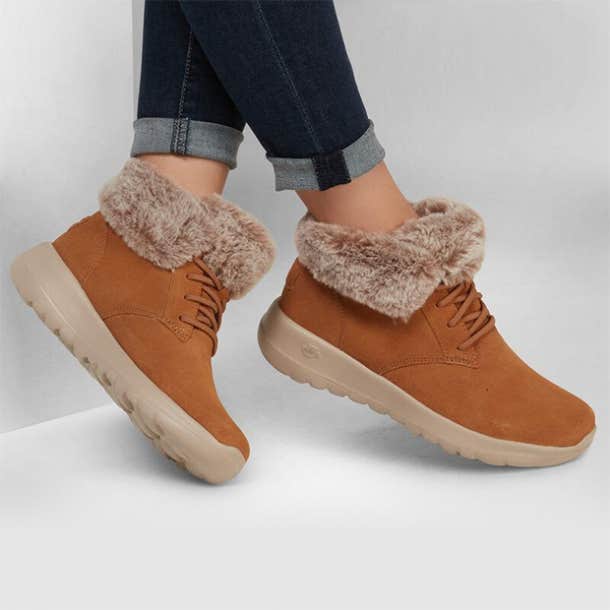 Where to buy Skechers On-The-Go Plush Dreams: Skechers
How cozy are these? Gift the pregnant mama in your life a slip-on cold-weather boot that features a Scotchgard-treated suede with a faux-fur collar, an air-cooled insole, and a lightweight-cushioned midsole for the ultimate in comfort.
45. Pink Stork Morning Sickness Sweets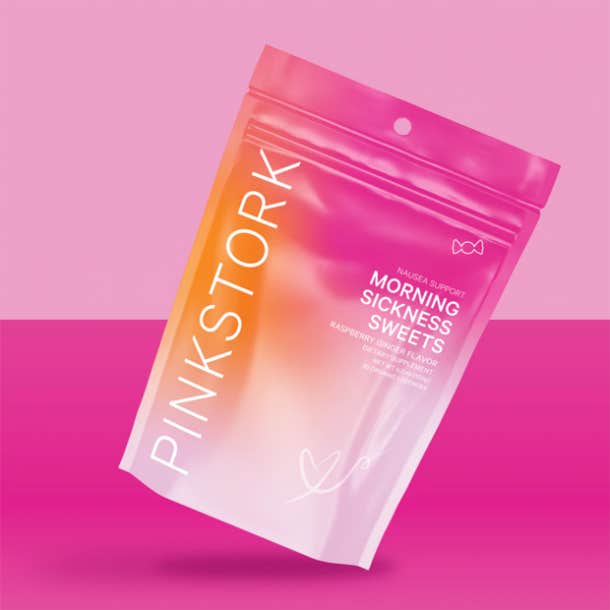 Where to buy Pink Stork Morning Sickness Sweets: Amazon
Morning sickness sucks. Make the unwelcome experience a little bit better with these Morning Sickness Sweets that combat nausea, morning sickness, and digestive discomfort.
46. Zip Top Reusable Baby Snack Containers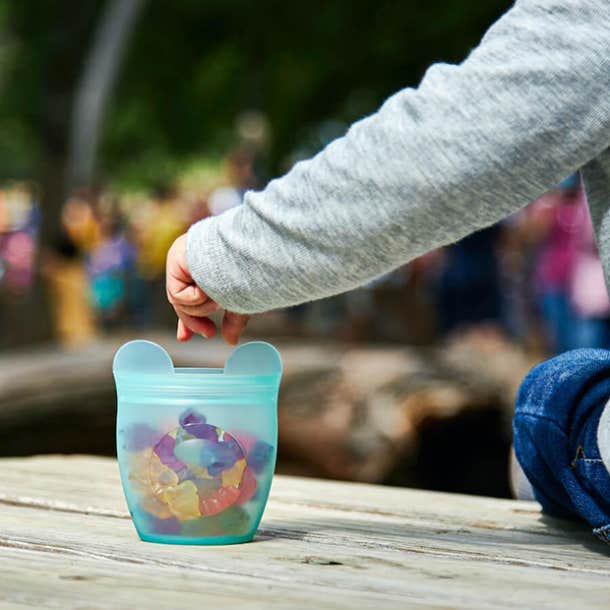 Where to buy Zip Top Reusable Baby Snack Containers: Amazon
Your pregnant mom will receive so many newborn gifts — why not think outside the box and gift her something she can use in the toddler years? These Zip Top reusable bags are a mom must-have for toting snacks and they're dishwasher-friendly.
47. Life Vac Choking Rescue Device Home Kit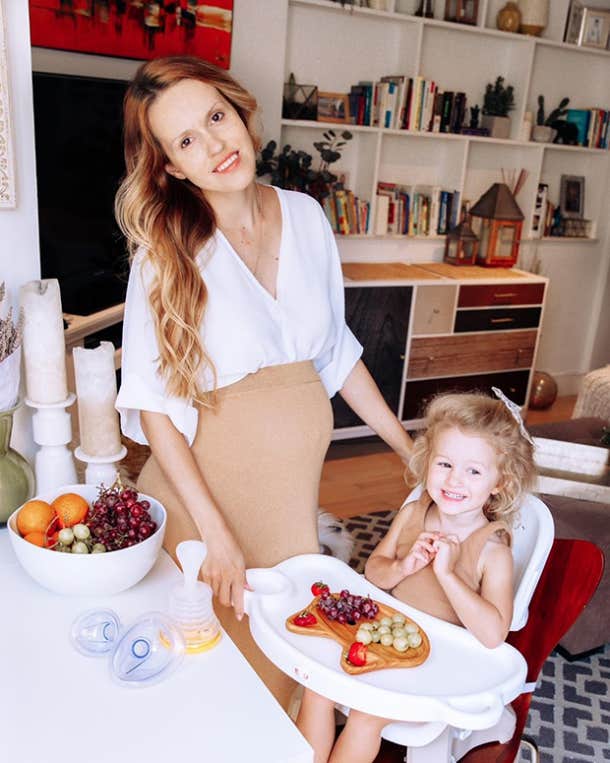 Where to buy Life Vac Choking Rescue Device Home Kit: Amazon
The LifeVac is a non-invasive suction rescue device that can save a life in an air obstruction emergency. This is a gift we hope every mom never, ever has to use — but in case of a choking emergency, having one on hand is critical.
48. Overland Sheepskin Sheep Baby Rug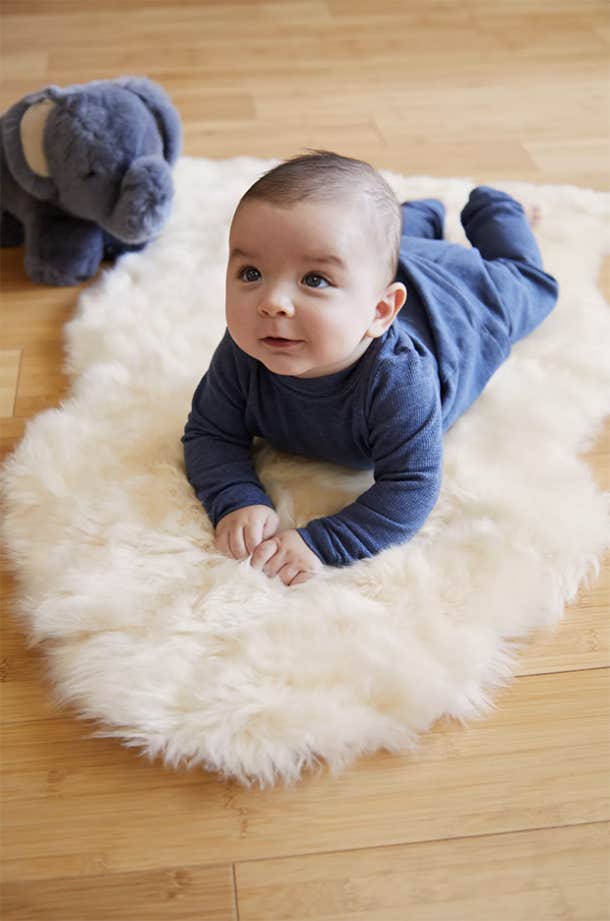 Where to buy Overland Sheepskin Sheep Baby Rug: Overland
Made from 100% soft genuine sheepskin, this rug adds comfort and delight to your little one's nursery or playroom. It also makes a great newborn photoshoot backdrop! 
49. Chaser Lady Peace Mask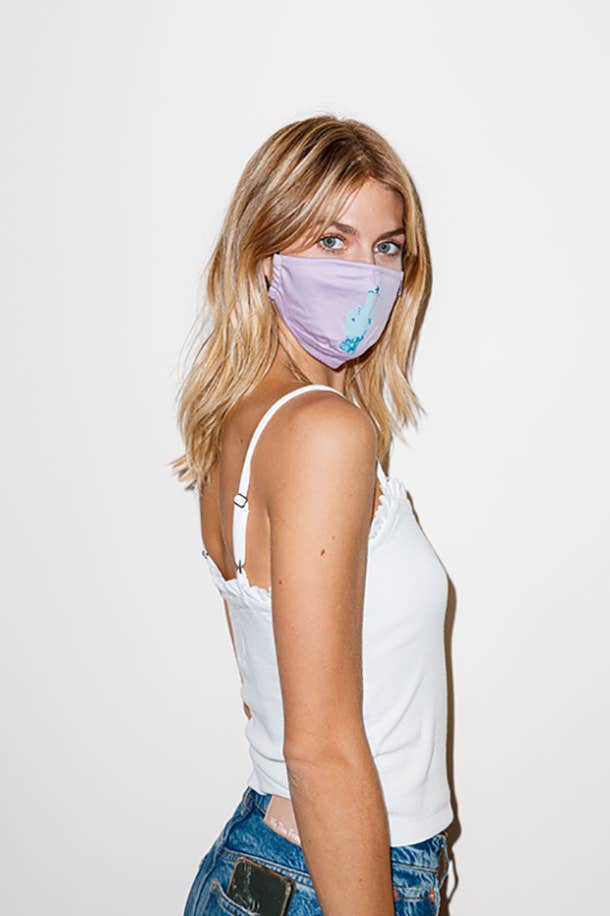 Where to buy Chaser Lady Peace Mask: Chaserbrand $20
Masks are optional in some states now, but pregnant women may want to take extra precaution — and they may as well look chic while doing so! 
50. Le Mystère Sexy Mama Nursing Bra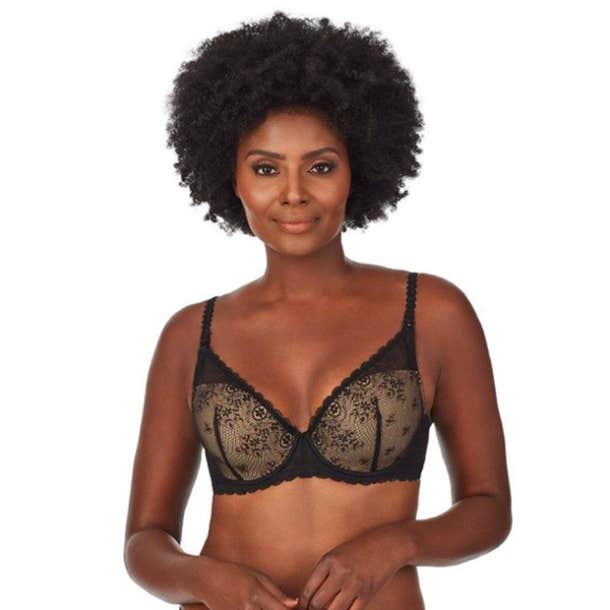 Where to buy Le Mystere Sexy Mama Nursing Bra: Amazon
Most nursing bras are fairly frumpy-looking. Not this one from Le Mystere, which is both functional and stylish. When folded in half, the cups comfortably rest against your body at an angle ideal for feedings and provide much-needed support.