The scare of side effects has been a major deterrent against COVID-19 vaccination nationwide.
With the introduction of the Oxford/AstraZaneca vaccine in Ghana, a section of the populace and some healthcare workers have expressed this fear.

Luv News therefore carried out a survey among 20 health care professionals from private and public health facilities who have been vaccinated against COVID-19 to find out more about side effects, hesitancies and recoveries.
Interactions revealed a high prevalence of non-life threatening side effects which, though varied, lasted for only about 2 days in half of the health professionals.
According to US biotech giant, Pfizer, and German partner BioNTech, the COVID-19 Vaccine AstraZeneca was evaluated in clinical trials involving more than 23,000 participants. Side effects in these trials ranged from injection-site pain to fever, and were reported in more than 1 in 10 people.
The majority of side effects were mild to moderate and usually resolved within a few days after vaccination.

Prioritized as high risk, healthcare professionals were counted as part of the initial group to be administered with AstraZeneca vaccine procured by the Government of Ghana.
This survey sampled 20 clinicians, nurses, midwives, pharmacists and laboratory scientists from KATH, 37 Military Hospital and other public and private healthcare facilities who have been vaccinated against COVID-19.

Findings revealed as high as 90% of the participants experienced side effects after being vaccinated.

The side effects included pain at the site of injection, headache, fever, general body weakness, general malaise and chill.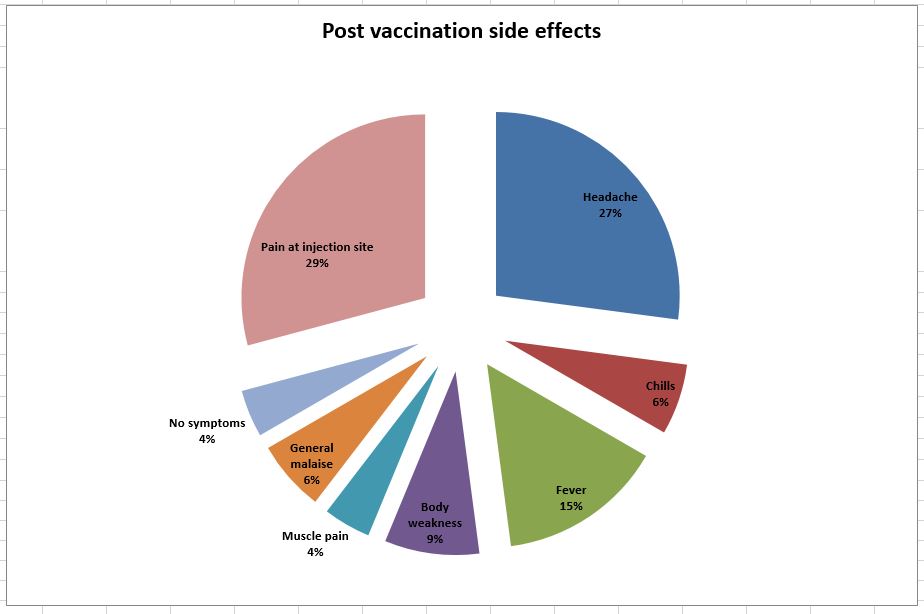 The most common side effects were pain at the site of injection (29%).
Notwithstanding the spectrum of symptoms, most were mild, and lasted an average of 2 days in half of the health professionals (50%).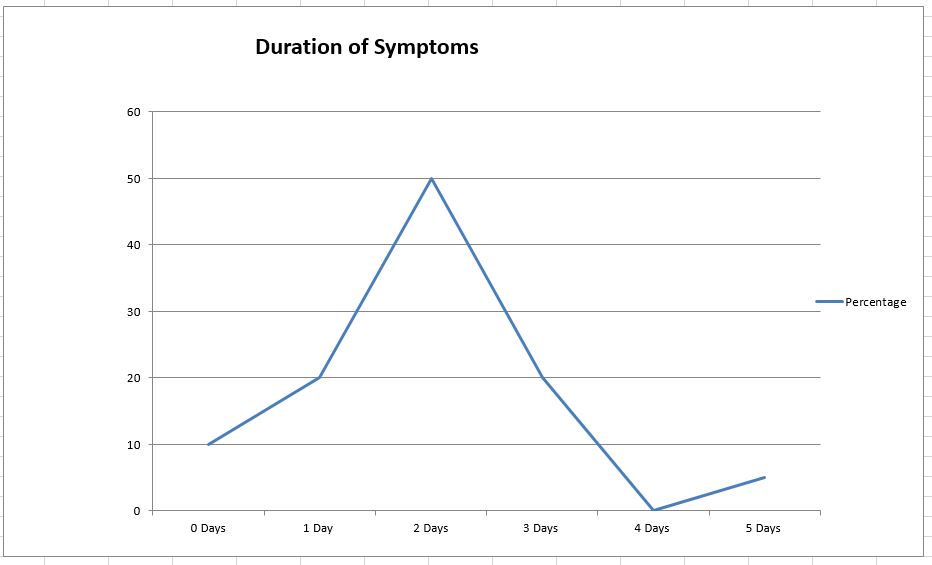 "I had a slight headache and fever after the shot which subsided in less than 24 hours," Aba, a midwife at KATH shared.

"There was pain at the injection site, a bit of general body weakness and headache. The pain started immediately after the injection. After 2 days I was fine," said John, a medical laboratory scientist.
Hesitation
This survey revealed that 65% of the respondents were not hesitant to take the vaccine.
"I understood the science behind the vaccine so there was no hesitation when getting it," Dr. Quaye explained.

Dr. Agbettor, a Pharmacist also added, "I wasn't hesitant at all, I was very willing to take the vaccine."
Ashanti Regional Chairman of the Ghana Medical Association, Dr. Paa Kwesi Baidoo, explained that leadership initially had a few concerns about the Covid-19 vaccines.
"Though several trials had been done, Ghana did not partake, so some were skeptical at first.
"However, having seen the devastating effect of the virus and losing colleague doctors, nurses and other healthcare professionals, there was not so much hesitancy," he explained.
According to Dr. Baidoo, much education in the form of discussions, leaflets and pamphlet, circulars as well as zoom seminars were organized to ensure healthcare professionals were adequately prepared for vaccination and the possible side effects.
Dr. Baidoo believes intensified education on vaccination benefits and possible side effects helped to assuage vaccine hesitancy.
Despite these efforts, 35% of the respondents had some reservations.
Dr. Penu voiced her concern: "I was hesitant to take the vaccine. You never know what side effects it may come with. Also, AstraZeneca was one of the cheap vaccines on the market. I was concerned because cheap things can be dangerous."

Dr. Woanyah also responded: "I felt it was too early and we had not seen the extent or severity of side effects one could experience."

Fortunately, after about 10 months following vaccination, no additional side effects have been noticed by the health professionals interviewed during the survey.

Pain medications on side effects
A study published in Human Vaccines and Immunotherapeutics, an International Journal of Vaccinology and Immunotherapy, explored side effects of the AstraZeneca vaccine among health professionals in Ghana.
The study stated that taking analgesics or pain medications before vaccination was noticed to decrease the likelihood of adverse reactions.

It was also found that health workers aged 35–44 years had lower risk of adverse reactions compared with those aged 25–29 years.
This was partly attributed to the refusal of pain medication by younger health workers prior to the vaccination.

This was similar to findings in the Luv News' survey, in which 80% of health care professionals between ages 24 and 30 did not take pain medications before the shot though they were advised to do so.

"I didn't take any analgesics before the shot. I was told it would help but I did not take anything," Dr. Donkor, a second year House Officer disclosed.

This survey showed that whether taken before or after vaccination, analgesics generally played a role in dampening the intensity of side effects.

"After the vaccination I took paracetamol for the pain. It helped a lot," said Dr. Osei.
"After taking the vaccine I had a very severe headache with fever. I took paracetamol and after 48 hours, I was well," Dr. Arthur shared.

Dr. Baidoo clarified on the pain medications: "You don't have to take analgesics before the shot, if you get side effects such as fever and headache, taking paracetamol would help relieve the symptoms."

Towards a vaccinated Ghana

From Dr. Baidoo's discourse, it is crucial that intensified campaigns on COVID-19 vaccines and their associated side effects would provide many with knowledge on what to expect after the shot.
He cautioned the public, "Know that being vaccinated does not mean you won't get COVID-19 but, the effects, should you get it, and is far less than in someone who has not been vaccinated."
Recent data from Ghana and abroad shows that over 95% of individuals who were severely ill from Covid-19 were not vaccinated as compared to about 3% who had been vaccinated.
To avoid the negative implication on uptake among the healthcare workers and the general public, Dr. Baidoo also encouraged everyone to get vaccinated.
"Taking the vaccine is safe. I took the Johnson and Johnson vaccine," he revealed.
"People should get vaccinated and those who require booster shots do well to go for them," he added.