Araba Opoku's Whispers Down The Lane is an immersive art exhibition that drowns visitors in a sensory orgy of bright hues, sounds and visuals that focus on the midnight hour of gathering water.
According to curator and art historian, Katherine Finerty, "Opoku's paintings of aquatic blues and vegetative greens subtly evoke her ritualistic experience of collecting water, which began when she moved to Dansoman with her mother and sister a decade ago."
Her paintings at first glance evoke the imagery of forest foliage reflecting on the surface of a pool, at a closer look, an opening in a forest canopy to reveal the pitch black midnight sky, but most often, a cosmos with twin black stars shimmering.
Her dreamscape is built on thin spider webs that cover the expanse of her canvas, undulating and holding her vision together.
Like the African Traditional belief that spider webs are the highways for spirits between worlds, she links her dreams and memories to real life socio-economic issues that face the average Ghanaian.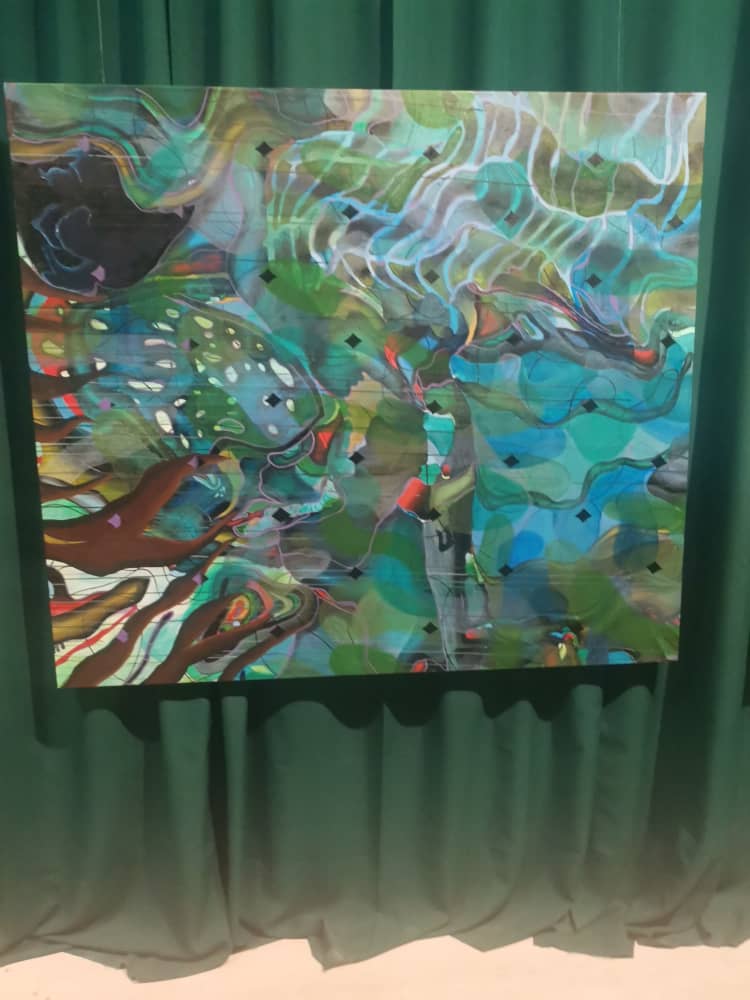 Her video documentary directed by Christine Boateng, captures the sounds and sight of her midnight water-fetching adventures with her sister – twin black stars shimmering – as they lose sleep to save water.
The plink of water droplets into the waiting plastic bucket till the water finally rushes out in a rumble and fills it for it to be carried away and a new one brought to replace creates a somewhat calming, hypnotic effect for visitors as they experience the exhibition.
Her work, for this author, is very timeous as recent developments in the country have pushed the issue of water and the threat of water scarcity to the front burner.
Activities of illegal miners popularly known as galamsey threaten Ghana's water security, with several of our rivers heavily polluted with mud and mercury. A situation if not checked soon enough will make Araba's midnight water-fetching journeys a mainstay for most homes in Ghana's urban centres.
As put by Finerty, "Opoku's watery worlds conjure hope, beauty, and even satisfaction from struggle."
Araba Opoku is a multidisciplinary artist, creative director and collaborator. She is currently studying Psychology at the University of Ghana, Legon. Her expansive and autobiographical practice presently explores water scarcity in Accra alongside ideas of the supernatural and world-building.
Opoku's works have been exhibited at the ADA/Contemporary Art Gallery, Gallery 1957, Nubuke Foundation etc. She was awarded the first edition of the Yaa Asantewaa Art Prize from Gallery 1957 in 2021, an initiative aimed at promoting female artists in Africa and the diaspora.
She's inspired by artists including Adebayo Bolaji, Hilma af Klint, and Yayoi Kusama, among others.
Her exhibition, Whispers Down The Lane, will be on display at Gallery 1957, Kempinski Gold Coast Hotel, till October 22, 2022. Admission is free.
DISCLAIMER: The Views, Comments, Opinions, Contributions and Statements made by Readers and Contributors on this platform do not necessarily represent the views or policy of Multimedia Group Limited.