Critics have hailed Wes Anderson's star-studded new film Asteroid City as "stylish" but lacking in substance.
The sci-fi homage sees a junior stargazer convention disrupted by world-changing events.
A bus-load of its stars, including Tom Hanks and Scarlett Johansson, were in orbit around the film's premiere at the Cannes Film Festival on Tuesday
Oscar-winner actor Hanks walked the red carpet with his wife, actress and producer Rita Wilson.
Writing on Instagram later, Wilson defended Hanks after fans questioned whether he had become angry on the red carpet, clarifying that her actor husband had only been asking for directions and had struggled to hear the Cannes staff member's answer.
Black Widow star Johansson, meanwhile, was there with her husband – Saturday Night Live comedian Colin Jost.
'Visually dazzling'
Asteroid City sees Johansson lead an ensemble cast of Hollywood royalty, including Hanks and Margot Robbie – both newcomers to Anderson's celluloid world – Jason Schwartzman and Tilda Swinton.
The film also features Jeffrey Wright, Edward Norton, Adrien Brody and Steve Carell, who stepped in for Anderson-favourite Bill Murray after he caught Covid days before they started filming.
Johansson plays a 1950s movie icon – think Bette Davis – in the story set in a fictional American desert town, where a group of child geniuses are gathered for a science competition that is interrupted by an alien visitor which leaves them locked up in quarantine.
Anderson is best-known for directing films such as The Grand Budapest Hotel and Moonrise Kingdom.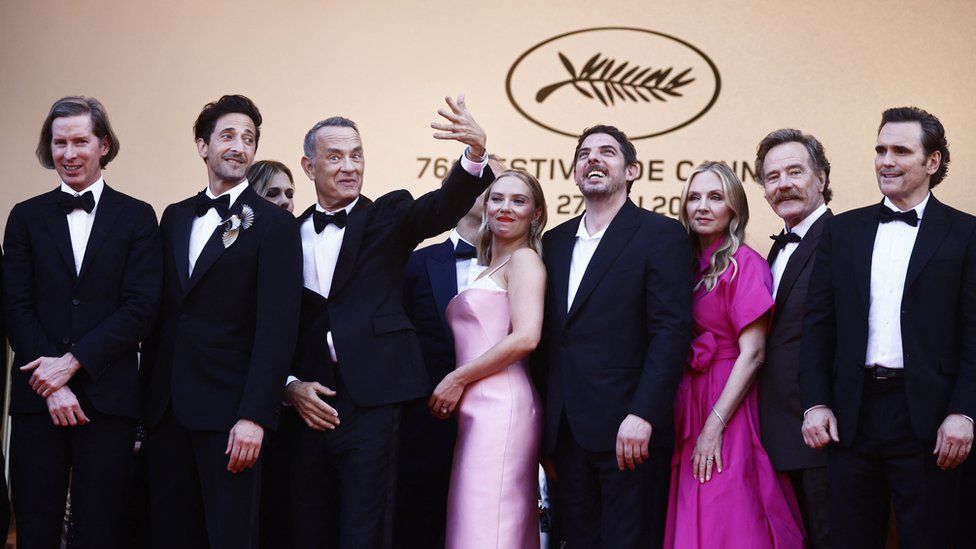 The Guardian's Peter Bradshaw awarded the film four stars, describing it as an "exhilarating triumph of pure style" which "leans nicely into its own artificiality, and every delicious, microscopic detail is a delight".
"Asteroid City's eccentricity, its elegance, its gaiety, and its sheer profusion of detail within the tableau frame make it such a pleasure," he wrote.
"So, too, does its dapper styling of classic American pop culture. With every new shot, your eyes dart around the screen, grabbing at all the painterly little jokes and embellishments, each getting a micro-laugh."
He continued: "As ever, there is little or no emotional content, despite the ostensible subject of grief. The movie rattles cleverly and exhilaratingly along, adroitly absorbing the implications of pathos and loneliness without allowing itself to slow down.
"It is tempting to consider this savant blankness as some kind of symptom, but I really don't think so: it is the expression of style. And what style it is."
The Times' Ed Potton was similarly impressed, also awarding four stars while comparing Anderson's latest work to that of another respected US filmmaker.
"It looks ravishing, as usual: blue Cadillacs against orange desert, swivelling satellite dishes, mushroom clouds from nuclear tests rising silently on the horizon," he wrote.
"There are subtle departures, though: fantastical encounters (I'll say no more) and an air of confounding surreality that feels new. This is Anderson filtered through the lens of David Lynch minus the horror, or Charlie Kaufman with better tailoring."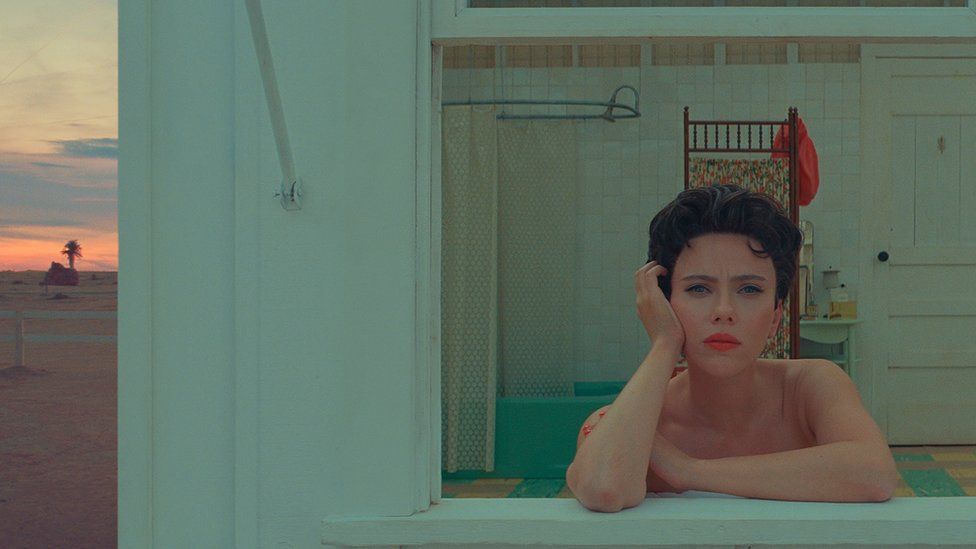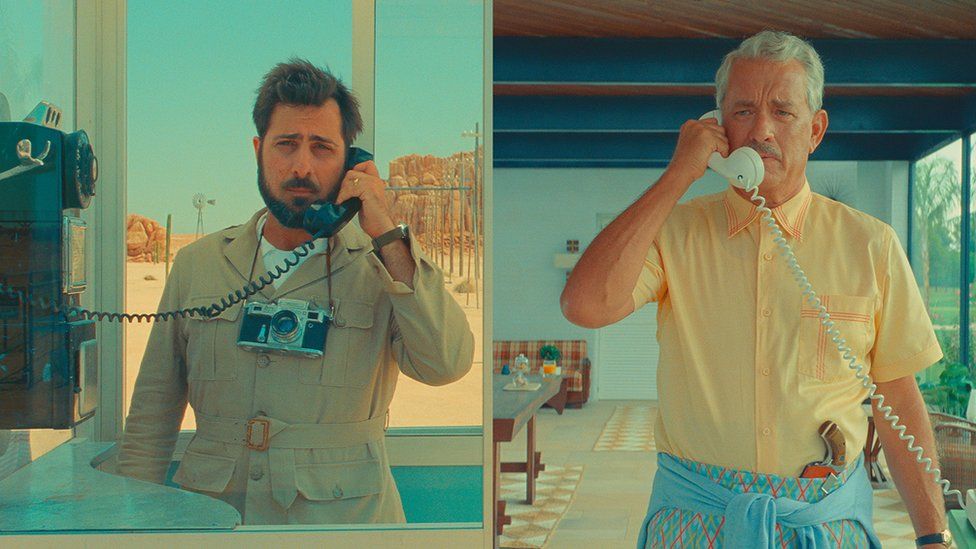 Variety's Owen Gleiberman agreed the film was indeed "visually dazzling" but felt it was also "dramatically inert".
He said it "presents itself as a stylized meditation on grief, though it's not the kind that anyone's going to shed a tear over".
"Asteroid City looks smashing, but as a movie it's for Anderson die-hards only, and maybe not even too many of them," he concluded.
There were similar reservations from from the Hollywood Reporter's David Rooney. He noted how, as always with Anderson movies, "the craft elements are impeccable" and that "every actor commits 100% to the director's vision, like oddball figurines in a miniature toy world".
"The trouble is there's just not enough here to fully engage the viewer beyond the trademark aesthetics – no emotional pull or lingering feeling and too few genuine laughs," he added.
"For a movie so curiously weightless it seems awfully pleased with itself, its moments of magic evaporating almost instantaneously."
Last month, Anderson began trending, with social media awash with parodies of his previous films using his quirky, deadpan style and pastel-coloured aesthetic.
On Tuesday, the director told the AFP news agency he wrote Asteroid City during the Covid-19 lockdown, saying it was about "reckoning with forces beyond your control".
"This movie is certainly informed by the most bizarre viral moment in recent history," he said.
"Writing it during this pandemic, in the middle of the most locked-down lockdown, we were not sure we would ever go out again – so I think that's sort of in it."
His leading actor, Johansson, compared the director's approach to being more like theatre than film. "You're in it, the whole environment is created," she said at Wednesday's Cannes press conference. "It's a physical, tangible, usable space."
Her performance was praised by the Independent's Geoffery Mcnab, who wrote: "Johansson is brilliant… embuing her character with both sex appeal and pathos."
The critic welcomed the "enrapturing cosmic comedy", saying it was reminiscent of an "offbeat" version of the 1977 US sci-fi drama film, Close Encounters of the Third Kind.
"Anderson has put together one of his huge, familiar ensemble casts," he noted. "Much of the pleasure here comes from the perfectly calibrated and very deadpan performances from his actors, even those in the minor parts."
"In its own offbeat way, Asteroid City is an Anderson patchwork of Cold War paranoia and American family values in all their often hypocritical glory," he said. "It is every bit as arch as his best work, while still managing to tug hard on the heartstrings."
Screen Daily's Tim Grierson offered that at this stage of Anderson's career, "it's simply a given that Asteroid City will look and sound impeccable".
"Delightful, occasionally quite moving and always exquisitely crafted, this is a modest charmer about trying to make sense of the world either through art or other pursuits."
DISCLAIMER: The Views, Comments, Opinions, Contributions and Statements made by Readers and Contributors on this platform do not necessarily represent the views or policy of Multimedia Group Limited.