Authorities of the Cape Coast School for the Deaf and Blind are appealing to government to support them with infrastructure and other educational materials in order to train the students with special abilities.
Headmaster of the School, Abraham Annan Yemoson, said the inadequate infrastructure has culminated in overcrowding in their classrooms – a situation that makes it difficult for serious academic work.
Mr Annan Yemoson made the appeal when an NGO, Chrissy Foundation, handed over a refurbished classroom block and other educational items to the school.
The Cape Coast School for the Deaf and Blind is one of the many schools in the country that train people with special abilities. This school for instance, educates people with hearing and visual challenges.
But apart from the inadequate infrastructure, the road network in the school, authorities say, is undulating and this causes many visually impaired students in the school to fall when they want to move around campus.
The headmaster indicated that the school needs support in order to deal with many of the challenges the grapple with on a daily basis.
"Some of our blind students come with injuries because of the nature road – they easily fall. Many of our blocks have not seen renovations for years. Our students are crammed in the classrooms and this has adverse effect on our academic activities," he stated.
He appealed to government and other organisations to come to the aid of the school.
Executive Director for Chrissy Foundation, Christiana Asieduaa Asiedu, in handing over the refurbished classroom block and the educational items, called for support for the school.
She indicated, such forms of support from government and other institutions will give meaning to the inclusive education the country preaches.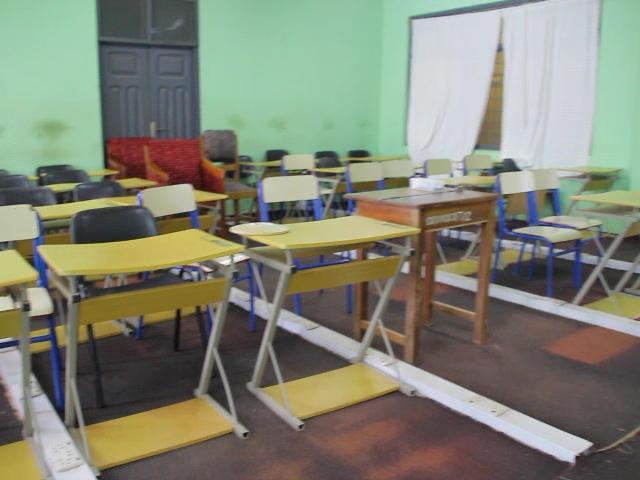 "It is about time we paid attention to such institutions that train people with special abilities. This school for instance needs a lot of support.
"As we have been doing over the years, we came to support them with the block and the food and educational items. We saw that their classrooms were in deplorable states," she said.
She further stated, "to see that 60 students are crammed in one classroom gave us cause for worry and so we decided to show them love by helping them. We want more attention paid to the training of these children.
Every year, the foundation, apart from supporting educational institutions, equip women with skills to sustain them economically.
Our next project would be in Domeabra. We would get potable water and have vocational training for the women. We train them on the making of yoghurts, soap making and give them startups, he added.