Asante Kotoko head coach, Seydou Zerbo, who has overseen only four games since taking over at the club, already seems to be feeling let down by the quality of his strikers.
The Porcupines won their first league game of the season in their midweek encounter with Nsoatremann – goals from Stephen Amankona and Isaac Oppong, saw Kotoko jump to 9th on the table after two games.
The season's maiden Super Clash saw the country's two biggest clubs share the spoils after Hearts snatched a late equaliser through Caleb Amankwah. Kotoko, subsequently filed a complaint against referee, Selorm Yao Bless, for waving off what the club believes were clear penalty calls.
However, there will have been no reason for a complaint had Steven Mukwala buried the chances presented to him. Prior to that, despite countless minutes of ascendency, Kotoko, in the first leg of the CAF Champions League qualifiers, only managed a 1-0 away win to RC Kadiogo via a stoppage time goal from Isaac Oppong.
The story repeated itself one week after, as the Porcupines were dumped into the Confederation Cup, and after yet another wasteful performance, Zerbo cannot seem to understand.
"We've had many chances and been unable to score, we have worked on them. Unfortunately, these [misses] are individual mistakes not a team or collective. You can see it was individuals who had the chances and failed to score," Zerbo said through his interpreter.
Departing gold
Kotoko is a club which has always boasted of housing some of the brightest strikers the Ghana Premier League has seen. Defenders in the Premier League's older days will not have fond memories of Opoku Nti and Opoku Afriyie – names which have lived past their answerers.
And defenders of the Premier League's more modern years, will not relish games versus Edwin Bekoe and Ahmed Toure – Kotoko, has been a club of big goal-getters. However, following Toure's exit after his second coming, it can be said the club experienced a short drought of the quality bequest of it.
When Kotoko lost the 2020/21 title race to rivals, Hearts, it spark Porcupine ridicule, as the club thought they were running away with the title. Led by Kwame Poku, who made turning up for them almost a prerequisite, Kotoko looked the team to beat.
However, midway through the season, Poku departed the club to USM Algiers for a reported $400,000, in a move many described as unbeneficial to Kotoko. But apparently, the club needed the money, so in time, he left, and it cued a run which saw the club eventually concede the title to Hearts with a game to spare.
Seven goals in 16 appearances was Poku's record at the time of his departure, and he was leading Kotoko's and the league's scoring charts.
Fast forward, a new season was ushered in with Hearts of Oak as defending champions, and Kotoko – wounded and envious, came with renewed desire for the Premier League title. And accompanying that desire was a gunman many were unaware of. But they eventually got well accustomed with the name and celebration of Etouga Mbella, as the Cameroonian scored 21 of Kotoko's 47 league goals.
Though unthinkable, if there's ever a time it is impossible to find a way to describe his importance to the Porcupines, then this: 40% of his league goals being game winners, will do just fine.
But once again, the North African plague hit the Porcupines and he was swooped away by Al Masry, leaving Kotoko with yet another gap to fill.
Steven Mukwala
There was intent to ensure the club does not miss the services of Fabio Gama and Etouga Mbella. Serge Eric Zeze and Steven Mukwala were the headline recruitments, and definitely Mukwala shoulders more expectations as compared to the Ivorian.
Replicating Mbella's single season heroics is nearly impossible, and it is being proven. While cheers greeted almost every effort of Mbella at goal, shrieks of disappointment currently greets that of Mukwala. He's still barren this season and though the season is still young, by missing 'easy' scoring opportunities, he's not made a goal-scoring case for himself.
It looks gloomy with how he's started the season, but 13 goals from the 2021/22 season of the Ugandan Premier League, offers suggestions of hope for fans and the club. But is there any of it?
Is there any hope?
In his Premier League games, the best part of Mukwala's game has been his ability to bring teammates into the game. His linkup play versus Nsoatremann was telling, as it was through that he received his biggest chance of the game. But he let himself down with a disappointing finish.
Mukwala picked up the ball in midfield, and after a half turn, one touch and a pass to Zeze, dashed into the space created by Nsoatremann's ridiculously high defensive line. He was played through for a one-on-one but somehow managed to miss.
The technique was alright – opening himself up in an attempt to wrap his foot around the ball, and locate the goalkeeper's far post, but it failed.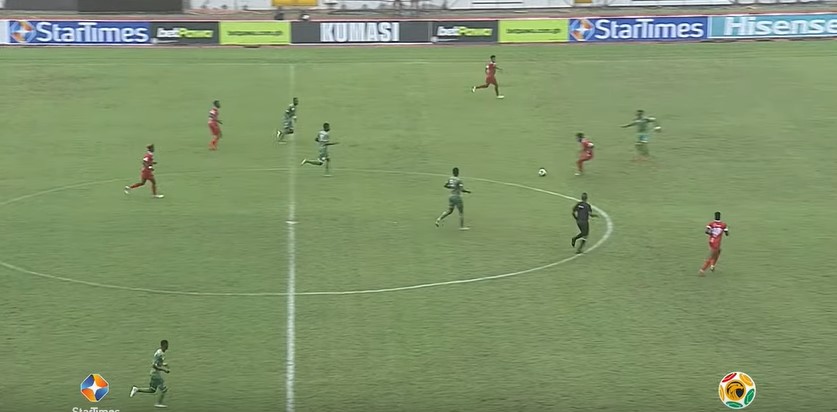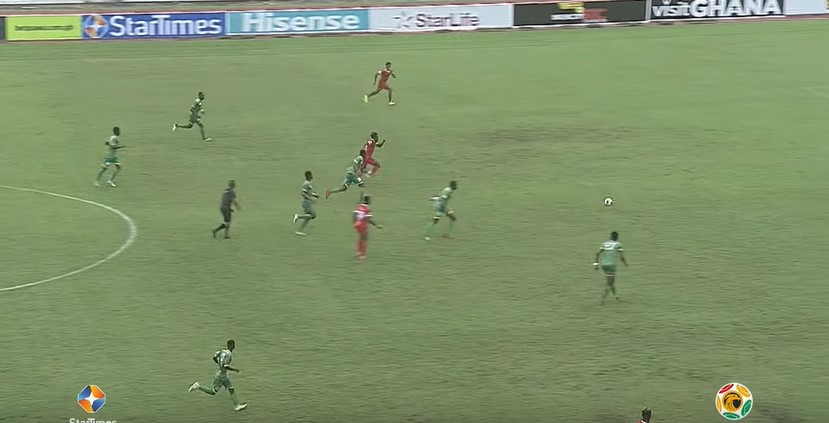 He's not only managed to carve out chances for himself, but other players like Oppong have benefitted from his tidy linkup, with a vivid example being his assist for Oppong's goal versus Nsoatremann.
Mukwala has also shown glimpses of good movement with in-to-out runs from which he's been found behind the defensive line of opposition teams so far. He has been doing right, some basic requirements of a striker and also showcased he has appreciable levels of understanding space.
Should he not lose confidence and continue doing the basic things right, and with just a bit of luck, Mukwala is going to be just fine.
DISCLAIMER: The Views, Comments, Opinions, Contributions and Statements made by Readers and Contributors on this platform do not necessarily represent the views or policy of Multimedia Group Limited.