A draw away to AshGold confirmed Kotoko as champions of the 2021/22 Ghana Premier League, sparking excitement for fans especially as it meant the Porcupines had destooled Hearts of Oak as defending champions.
Perhaps the manner in which the season started provided hints on the sort of season which was in store for the Porcupines. A comeback win inspired by Isaac Oppong versus Dreams in the opening game of the season, suggested that Oppong will go on to become Kotoko's leading man.
Instead, it was Cameroonian forward, Frank Etouga Mbella, who almost single-handedly carried the Porcupines back to the summit of Ghana's football. So far, Kotoko have scored 47 goals in the league and Mbella's 21 goals represent 44.68% of their tally.
Despite missing the season's first four games, the forward was an ever-present for the Porcupines, popping up with crucial goals alongside. 40% of his goals were game-winners while three of his goals earned the premier league champions crucial points.
He was stealing the Premier League golden boot in daylight, till Yaw Annor came rushing through. But the AshGold forward was unable to sustain the challenge and with just one final game for the season to end, Mbella is one short of the all-time record held by Hearts of Oak's Ishmael Addo.
The sight of the striker has been a scare for defenders and has failed to score in only a handful of games. It has been very rare to prevent him from scoring – as his numbers suggest, and here's why.
Movement
Of all qualities, movement is perhaps the most important for strikers since it provides them with the capacity to make the most of spaces. And this is a quality which has been typical of Mbella for the entirety of the season. His ability to read how a play will develop and move into space has proven to be a torrid sight for defenders.
Mbella has proven to possess the most elite movement of all strikers in the Ghana Premier League, allowing him to create chances for himself out of almost nothing.
Case in point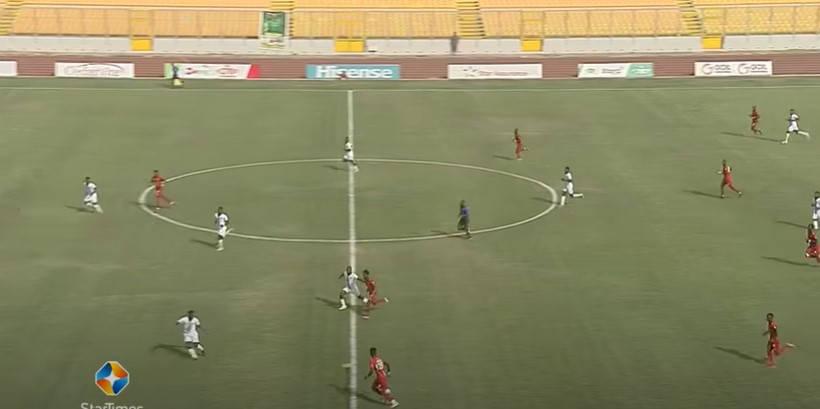 In the season's 1st Asante derby, Stephen Amankona leads a counterattack for the porcupines and is in search of runners. Etouga, trotting from the center circle and closely marked by Osei Agyemang, makes an initial move infield before peeling away from the defender.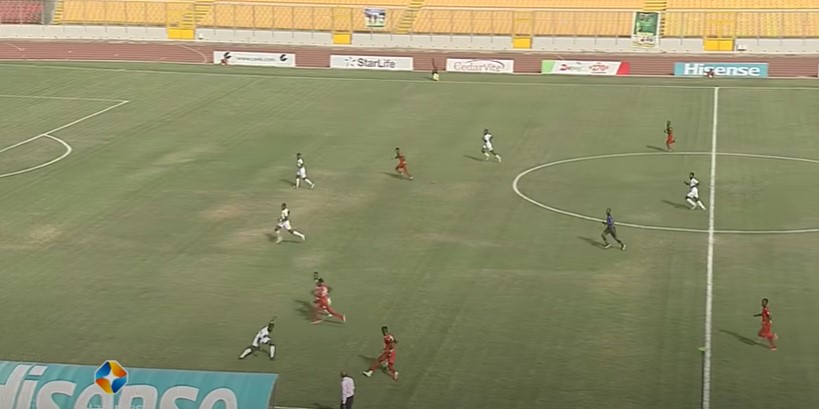 Peeling away leaves him in acres of space, and as goalkeeper Avotri and Agyemang make a mess of Amankona's pass, the Cameroonian has the ball at his feet but fails to convert.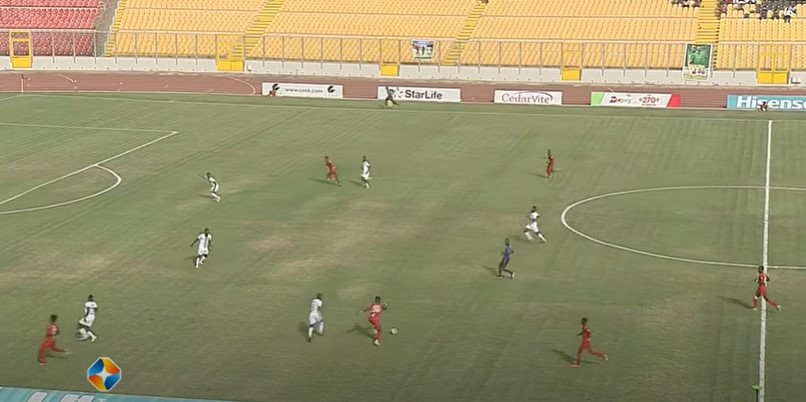 The 20-year-old replicated similar versus Accra Lions, with his dart into space opening him up for a 1-on-1 but his effort is cleared off the line.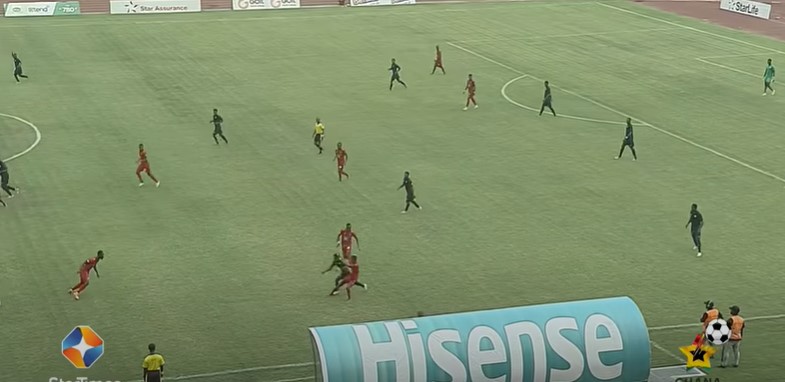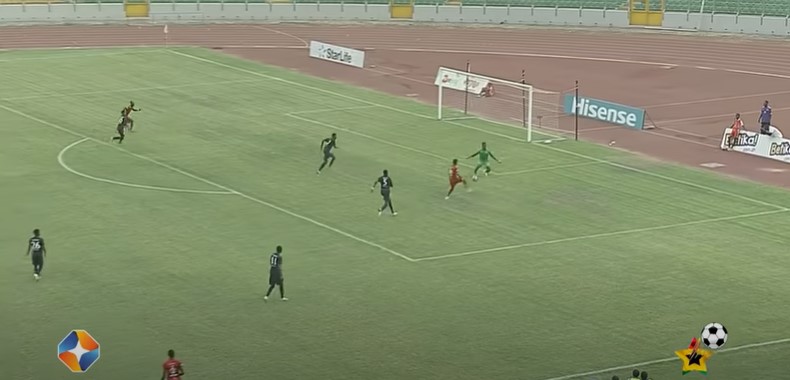 Dynamism
21 goals in his first season is very much no mean feat, and topping it off by becoming the first overseas player to win the premier league's golden boot is a testament to his quality. However, what has consequently gone under the radar due to his prowess, is his tendency to vary his approach.
Poachers, target men and mobile strikers are some of the strikers in football and Mbella's characteristics reveal he has aspects of all. Unlike other forwards in the top division, his burst of pace and good technical ability mean he is able to float around the field and contribute to play, besides just scoring.
A striker with this style screams trouble for defenders as they are often caught between following him into deep positions or holding their line.
Case in point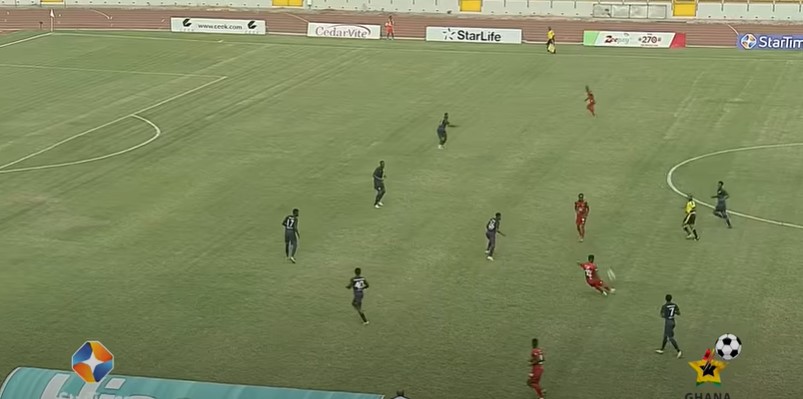 Kotoko versus Accra Lions. Etouga drops beyond Lions' midfield line to receive, spreads play to Dickson Afoakwa before attacking the box with a late run. He nearly profits from a rebound of Afoakwa's effort.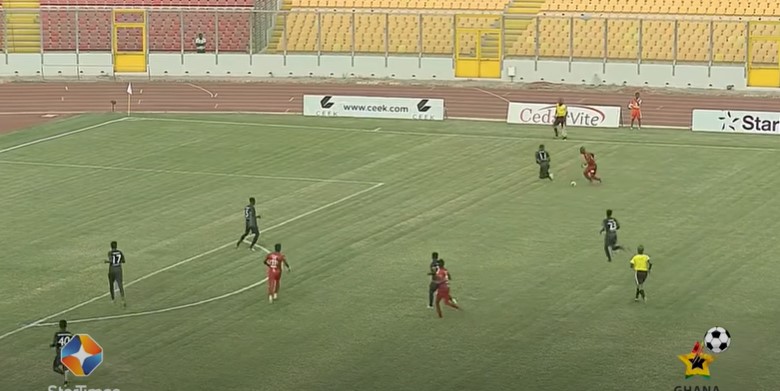 In Kotoko's away win to WAFA where the he scored the game's only goal, the striker continuously popped up in different areas of Kotoko's forward lines to link play and contribute. He set up Mfegue in one of those instances.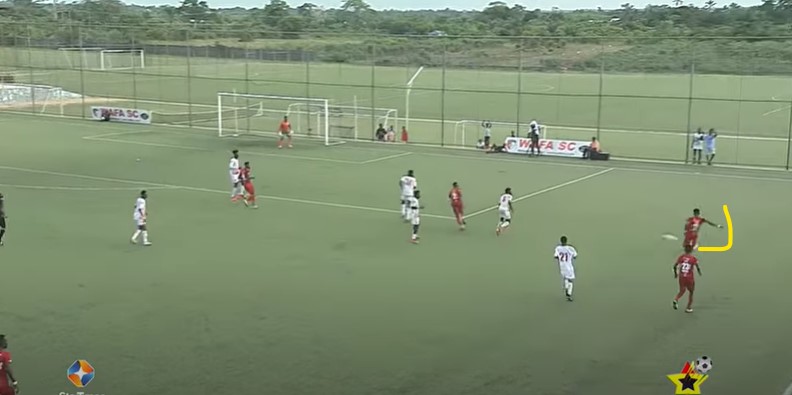 There is more room for Etouga to improve this aspect of his craft though.
Composure
Elite movement and getting into good positions are only half of the requirements to score goals and perhaps also high up the list of requirements is composure. The Ghana Premier League is littered week in, week out with strikers missing from point-blank ranges, but rarely is Etouga caught in such moments.
Case in point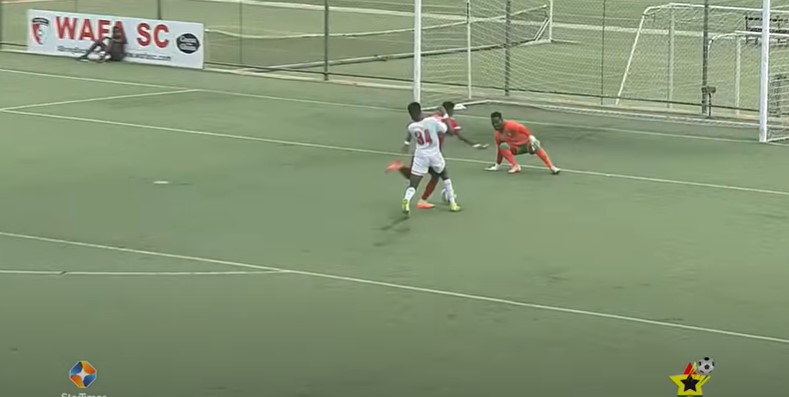 WAFA have held Kotoko and prevented the Porcupines from scoring till Andrews Appau picks up a lose WAFA pass in midfield. With a single pass, Mbella is through on goal, closely followed by a desperate WAFA defender but the Cameroonian keeps his cool and maintains his balance before sitting down the goalkeeper and slotting into an empty net.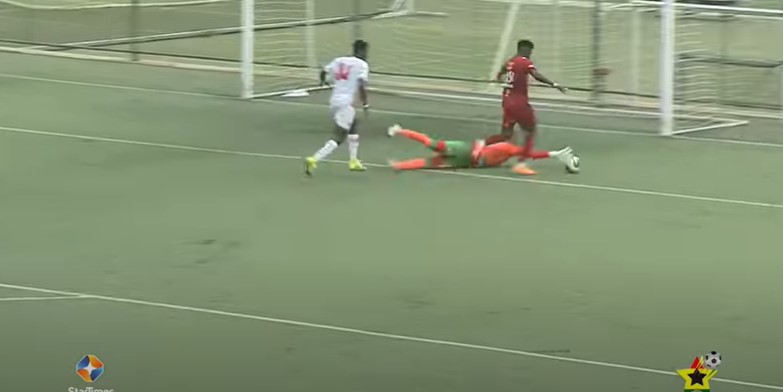 Deadeye marksmanship
Very few strikers in the Ghana Premier League are able to make the most of low-scoring chances, and though advanced data metrics are non-existent for the premiership, Etouga's goal reel makes exhibition of a couple of goals from improbable situations.
His ability to hit unexpected and score from almost out of nothing, has gone on to win Kotoko crucial points as well as simply contributing to his goal tally.
Case in point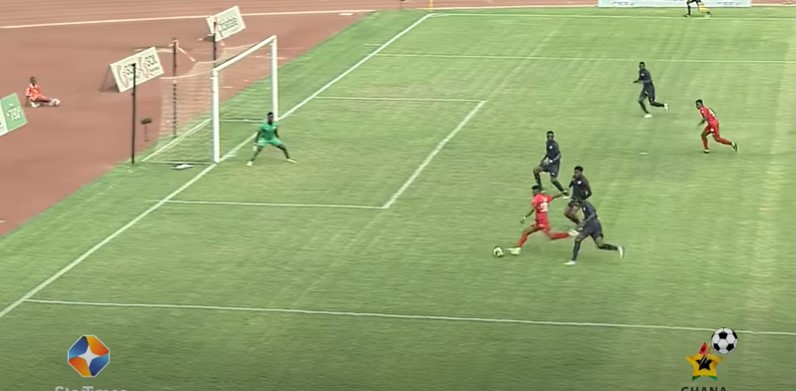 Baba Yara versus Accra Lions, and Kotoko's Mohammed Sheriff has fluffed a Porcupine corner routine. The ball falls kindly to Mbella though, who has a Lions' defender on his tail. However, the Cameroonian's second touch takes out the defender, buying himself some space before firing low at the first post.
The goalkeeper should do better as he is beaten, but Mbella deserves credit for making the most out of a non-scoring situation.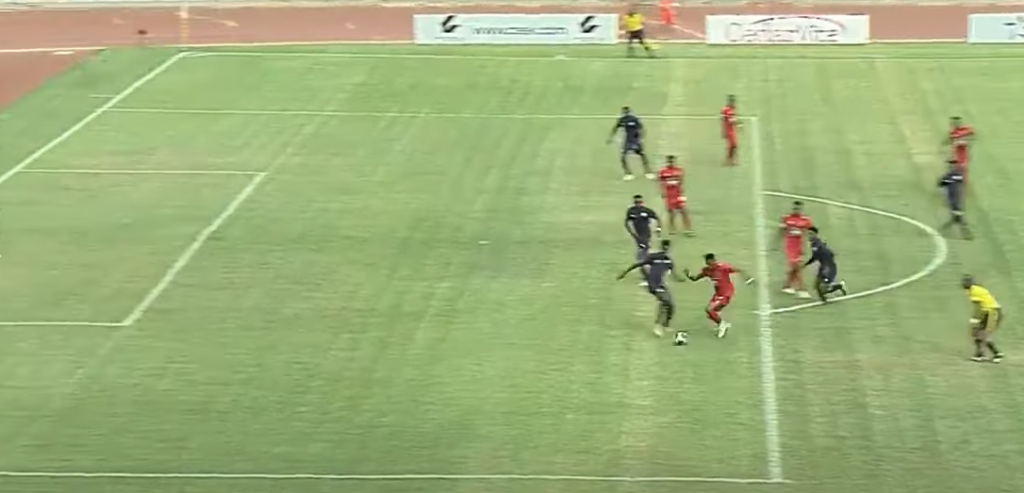 There are about six games for the season to end and Kotoko are closing in on the title, but a stubborn Aduana Stars have traveled to Baba Yara and are looking to put extra time on a certain party. Six minutes away from the first half ending and Kotoko are on a break.
Mfegue holds up the play expertly before playing a reverse pass to Mbella. The ball is being contested by two Aduana Stars defenders, Etouga is unperturbed nonetheless and rifles a first time shot from some 20 yards, sending Kotoko into the break with the lead.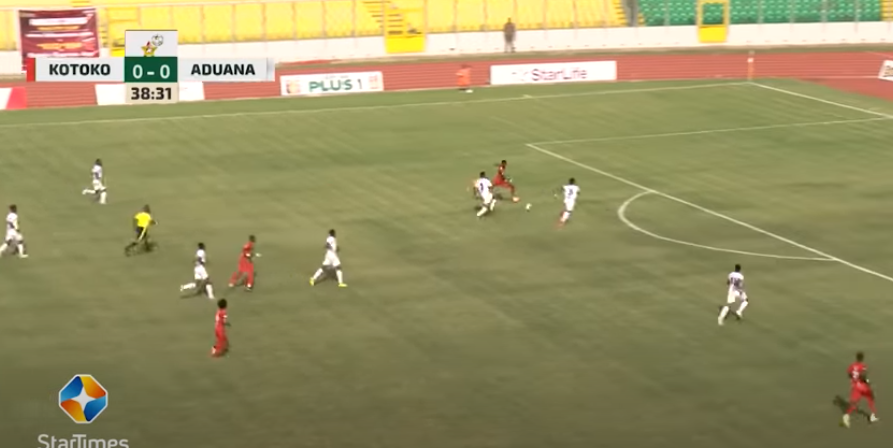 Penalties
En route to winning the golden boot, the Kotoko forward has made mincemeat from the penalty spot, converting seven times, and though he twice missed from the spot in Kotoko's draw to Aduana, the forward has been clinical.
More impressively is not his conversion rate though, but the manner in which he converts. In all but one of his six penalties, the 20-year-old has sent the goalkeeper the wrong way in four of them, while leaving goalkeepers locked on two separate occasions.
He's feasted off penalties this season and been Kotoko's go-to man from the 18-yard spot.
Room for growth?
Kotoko have been imperious and definitely will not have won this season's title without the Cameroonian. In just a season, he has gone on to become possibly one of the biggest names to ever wear the red shirt and despite his qualities there's more in his locker he is unaware of.
Due to his blistering pace, the striker rarely plays with his back to goal and as he continues to develop and gets exposed, teams can develop systems to limit the space he needs to play. As a result, Etouga will need to buff up slightly and develop the art of playing with his back to goal.
In Kotoko's coronation match victory at home to Elmina Sharks, the forward failed to score but set up Mfegue to do damage, teeing up his countryman after good holdup play and as he develops, it is an area he will need to improve on.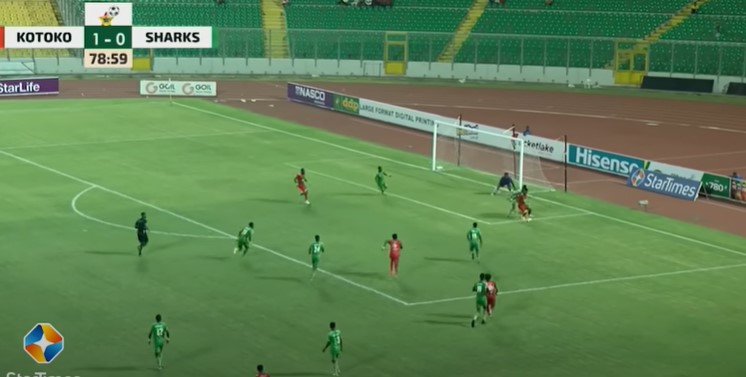 DISCLAIMER: The Views, Comments, Opinions, Contributions and Statements made by Readers and Contributors on this platform do not necessarily represent the views or policy of Multimedia Group Limited.