The Black Stars go into the 2022 World Cup with a heap of talented names and players who could make a name in Qatar. Yet still, the technical team approach the opening game versus Portugal with a mini 'crisis' – probably sweating over the roles and positions of names in a stacked midfield.
If there are any names assured of a starting berth in Qatar, then definitely, Arsenal midfielder, Thomas Partey will be one of them. And with the Black Stars handed a tough draw – facing off with Portugal and Uruguay, Partey's importance to the team cannot be overstated.
However, how can Ghana ensure Partey performs at his best of levels in Qatar?
Partey, Ghana and Arsenal in the last year and 2021/22 season
From March 28 2021 till now (excluding the Switzerland game), the Black Stars have played 22 games across friendly games, World Cup and AFCON qualifiers, as well as the 2021 AFCON. However, due to injuries, the midfielder has only featured in 10 of the games.
In those 10 games, the 29-year-old has played 7 times as a defensive midfielder and with only three games – against Comoros and Nigeria, having him play as a central midfielder.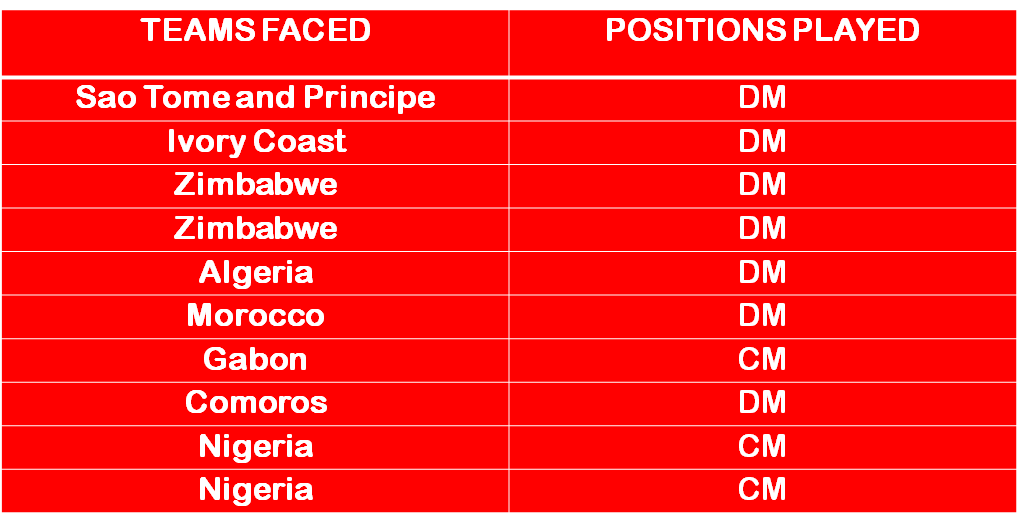 Meanwhile, for Arsenal this season, Partey has featured in 11 of the Gunners' 16 Premier League games, playing as a defensive midfielder in all.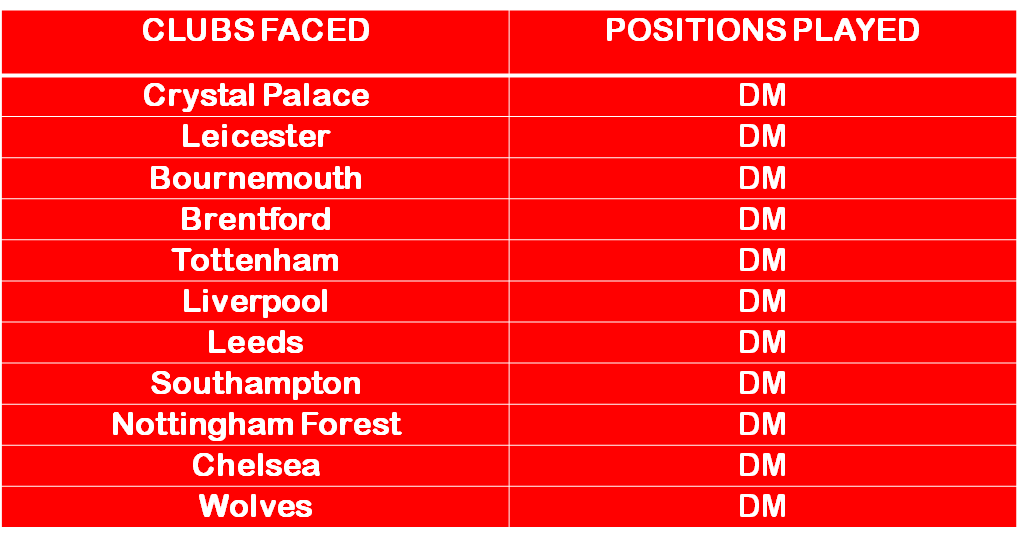 In the same period, scores of Ghanaians have accused the player of poor performances in a Black Stars jersey whilst he has balled for Arsenal – especially in the ongoing season.
But the Black Stars assistant captain has only scored 4 goals and grabbed one assist for the club since the start of last season. Therefore the steaming ridicule he has received is not about his goal contribution but instead other aspects of his game.
A lot more of the accusations have come this season, as the midfielder has garnered inspirational form which has helped Arsenal gain a 5-point lead in the Premier League going into the World Cup break. But is the ridicule deserved?
Interestingly, Arsenal and the Black Stars setup in similar fashion, despite differences in operational structure. While both mostly start games in a 4-3-3, Arsenal's offensive shape sees the team transform to a 2-3-5, and the Black Stars have mostly assumed a 3-1-4-2.
These shapes are important to understand because they are significant to how well both teams retain possession, consequently influencing the efficiency of defensive midfielders.
Arsenal's 2-3-5 leaves them with a safety net should they lose possession. Two inverted fullbacks alongside a DM – instead of them high and wide – and the two central defenders behind, lowers the risk of conceding from a counter attack.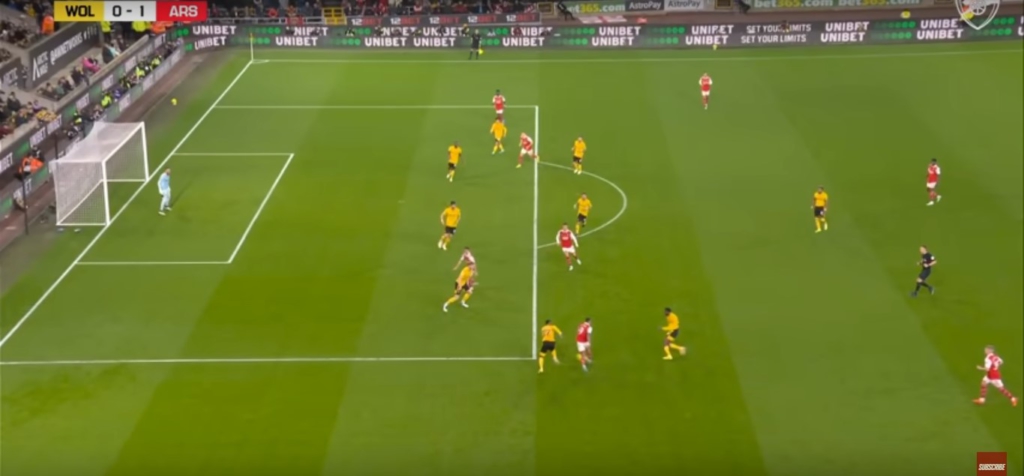 The three can serve as an immediate line of resistance against a fast break. However at the Black Stars, there's very little of that first line of pressure in the 3-1-4-2. During transitions, there has always been acres of space in the middle of the park for opponents to exploit, unless one of the 3 in behind step up – but that rarely happens during a counter.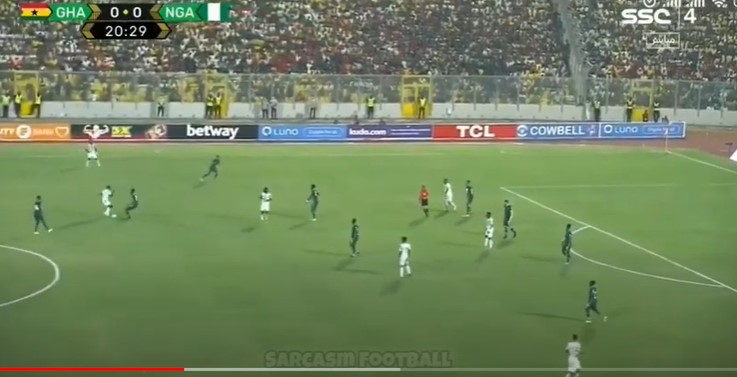 Ghana's goal-scoring problems
In the run to the World Cup, the Black Stars averaged one goal in 8 games – a poor scoring record when compared to Africa's top 5 as ranked by FIFA. Apart from Nigeria (10) and Tunisia (12), Senegal, Morocco and Algeria scored over 15 goals in the qualifying period.
Even for Nigeria and Tunisia who failed to cross the 15-goal mark, they both scored five goals at the 2021 Africa Cup of Nations while the Black Stars managed three.
They are also the lowest scorers in Group H of the World Cup, with 12 in their last 10 competitive games, as Portugal lead the scoring charts in the period.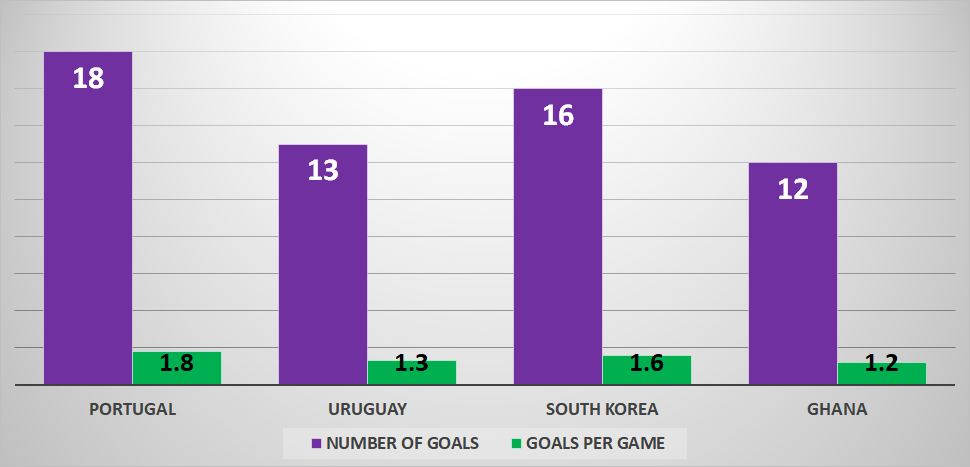 But the Black Stars have some of Africa's entertaining forwards heading into the World Cup, with Mohammed Kudus, Kamaldeen Sulemana, Kamal Sowah and also Inaki Williams all in the running to feature in Qatar.
But Ghana's top scorer from club level heading into the World Cup is Mohammed Kudus with 10 goals in 21 games. Meanwhile Inaki, Sowah and Kamaldeen have a combined 8 goals in 52 appearances. Meanwhile, Ghana's top scorer in the current squad heading to the World Cup is Dede Ayew, and this season, he has only two goals in seven league games with Al Saad.
So while the team struggles to score, it also does not approach the tournament with individual goal-scoring quality and it is for this reason it is important to relieve Partey from the defensive midfield role.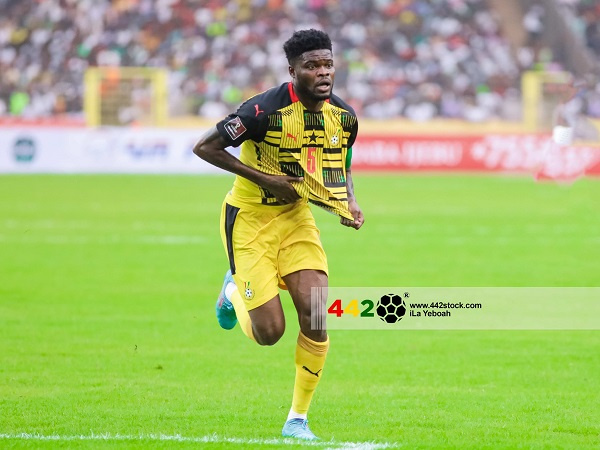 No other midfielder in Ghana's World Cup squad has more international goals than the Partey, since scoring his debut goal for the Black Stars. Consequently, it was he who scored to hand Ghana a World Cup ticket.
Ghana's inability to score is not only highlighted by their poor scoring record in the World Cup Qualifiers and the individual attacking talents, headed into the World Cup. More critically, the Black Stars have attempted 106 shots in their last 10 competitive games, but had only 30 hitting the target.
As a result of this lack of cutting edge, it is important the Black Stars approach games with Portugal and perhaps Uruguay, conservatively, in a back 3 in order to reduce the risk of turnovers.
Abdul Salis Samed and Daniel-Kofi Kyereh
The availability of RC Lens midfielder, Abdul Salis Samed means the Black Stars can afford having Partey slightly higher up the field. In all of Otto Addo's games in charge, the Black Stars have looked to be more ball-dominant, averaging 57.5% of ball possession in the competitive games under the 'new' Black Stars boss.
In the period, Baba Iddrisu has been first-choice for the national team alongside Partey, and while he provides bags of defensive merit to the Black Stars, he has also showcased some levels of deficiency on the ball.
Reports indicate he was bound to be in Qatar but for injury, and now, his spot has been snapped up by Salis, who presents a very favourable option to Addo and how he wants the Black Stars to play. This season in Ligue 1, he has averaged 55.3 accurate passes in 15 games, while Iddrisu has recorded 15.2 in 11 games for Mallorca.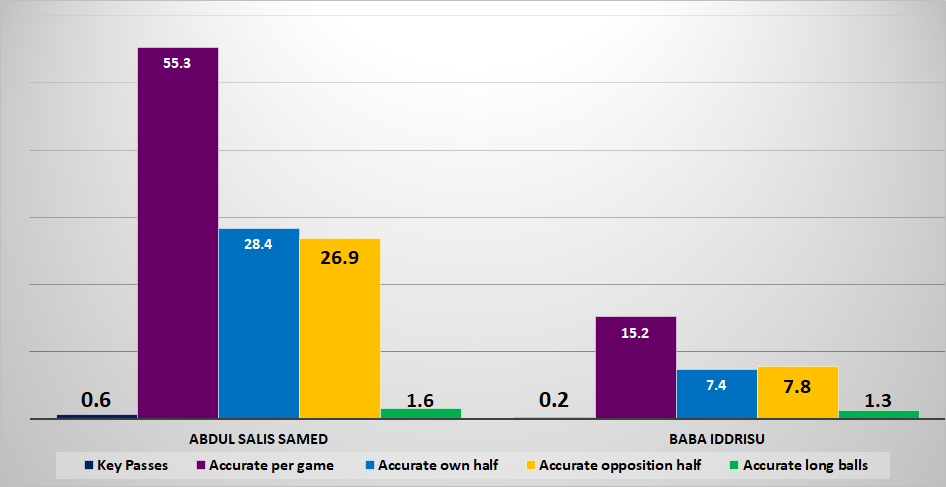 And despite the very highlighted scoring deficiencies Ghana possesses, with a secure defensive platform, Ghana can still approach games with more than a decent attacking threat. Mohammed Kudus playing off a striker in a back 3, with a midfield of Partey-Salis-Kyereh will provide Ghana a balance between defense and attack.
And though Kyereh has not yet scored for the Black Stars, he has more goal contributions than any of Ghana's World Cup-bound midfielders since his debut.
Compliment?
Arguments for an unbalanced midfield of Partey-Salis-Kyereh will not suffice as Kyereh and Partey can compliment each other very well simply for variance in their movements, as well as playing style.
Kyereh as one of two number 8s playing in a back 3, can flourish well as a box-to-box midfielder, since he strikes a fine balance between attacking and defensive output even for his profile as an attacking midfielder.
This season, he has two goals in nine Bundesliga games for Freiburg. Both goals have come from him making third-man and late runs into the box. He does not seem to have prolificacy from outside the box – a trait Partey is becoming known for. Partey has also scored two goals for Arsenal this season – but in different fashion.
While Kyereh's goals have come from late runs in the box, Partey's goals have come from outside the box and this is where the compliment between the two comes in. Kyereh's danger stems from his ability to find space in the box via box-to-box runs. Meanwhile, Partey's goals have been due to his ability to find space outside the 18-yard-box, latching onto loose balls from his lateral movements.
DISCLAIMER: The Views, Comments, Opinions, Contributions and Statements made by Readers and Contributors on this platform do not necessarily represent the views or policy of Multimedia Group Limited.