Willie Walsh, chief executive of International Airlines Group (IAG), the owner of British Airways, has announced he is to step down.
He is set to retire as chief executive and from the board of IAG on 30 June.
Mr Walsh said it had been a privilege to have worked on the creation of IAG after British Airways (BA) and Iberia were merged.
Antonio Vázquez, IAG's chairman, described Mr Walsh as one of the "main drivers" of the project.
Mr Walsh became the British Airways boss in 2005 and is ending a 15-year career with the IAG group, which also controls Aer Lingus and Vueling.
He will step down from the role in March before retiring in June this year.
Mr Walsh said: "It has been a privilege to have been instrumental in the creation and development of IAG. I have had the pleasure of working with many exceptional people over the past 15 years at British Airways and at IAG."
Willie Walsh is a long-standing figure in the aviation industry. He joined Aer Lingus in the late 1970s as a cadet pilot.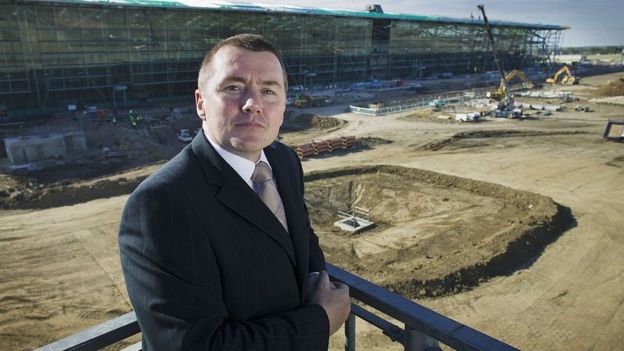 Willie Walsh, then head of British Airways, at the construction site of Heathrow's Terminal 5 in 2005
He gradually worked his way up through the ranks to work in flight operations and was appointed as chief executive of Aer Lingus in 2001.
Luis Gallego, head of the group's Spanish division, Iberia, since 2014, will succeed Mr Walsh.
He said: "It is a huge honour to lead this great company. It is an exciting time at IAG and I am confident that we can build on the strong foundations created by Willie."
Major disruption
Mr Gallego will take over as head of the holding company of British Airways after the airline saw major disruption last year.
For the first time in its 100-year history, BA pilots went on strike in a long-running pay dispute.
In November, dozens of British Airways flights were also delayed or cancelled because of a "technical issue". The airline also faced a £183m fine in July for a customer data breach.
Challenges to consider
Mr Walsh was boss at British Airways and then IAG for 15 years, more than triple the normal lifespan of a FTSE-100 chief executive. Arguably, though, he achieved more than all of his predecessors put together since the airline was privatised in 1987.
Previous leaders at BA had tried to do deals with rivals to reduce the company's reliance on a single market – the UK – and a single airport – Heathrow. They had tried to reduce the power of unions at the company, to tackle its potentially ruinous pension deficit and to restore it to steady profitability.
Mr Walsh managed to do all four. But his critics will counter that in doing so, he hurt the airline's status and turned British Airways from the "world's favourite", as its marketing claimed, to a run-of-the mill carrier.
He arrived at BA from Aer Lingus in 2005, an unfancied choice to replace the cerebral Australian Rod Eddington.
Mr Eddington had been hired, in the words of one board member at the time, "to put a smile on people's faces".
Mr Walsh never showed any sign of being interested in popularity contests and had a distinctly down-to-earth approach to management. BA had tried to do deals with Air France, KLM of the Netherlands and various other potential partners – to no avail.
Mr Walsh quickly tied up a deal with Iberia and followed on with Aer Lingus, turning BA into the largest player in a multi-airline group, IAG.
Generous terms and conditions for flight crew were gradually whittled down, and he was able to put enough money into BA's two big pension schemes that big chunks of the remaining liabilities could be hived off to insurance companies.
In the process, though, BA has gradually slipped down consumer rankings. Last month, Which? put it alongside Ryanair as one of the UK's least-favourite airlines, while it has suffered from embarrassing IT glitches.
Mr Walsh's successor, the current boss of Iberia, Luis Gallego, will have to consider how to address this challenge when he takes over at the end of June.
Long-running feud
Mr Gallego is unlikely to continue one of the aviation industry's best-known feuds.
Both Willie Walsh and Sir Richard Branson claimed to have won a previous bet over the survival of Virgin Atlantic.
Mr Walsh suggested that Branson's brand could disappear after Delta Airlines purchased a 49% stake.
In a blog post, Sir Richard said the stakes were high – "a knee in the groin" if the company folded within five years.
Other spats have taken place between Virgin Atlantic and BA.
Virgin launched a campaign against BA's proposed merger with American Airlines in the 1990s, with some planes painted "No Way BA/AA".
Sir Richard Branson also won damages and an apology from BA at the High Court in 1993 after BA allegedly gave negative stories about the Virgin founder to the media.
DISCLAIMER: The Views, Comments, Opinions, Contributions and Statements made by Readers and Contributors on this platform do not necessarily represent the views or policy of Multimedia Group Limited.