Hundreds of British Airways workers at Heathrow Airport have voted to go on strike over pay.
Unite and GMB union members who are mostly check-in staff backed industrial action on Thursday.
A total of 700 workers are set to strike during the summer holidays, when demand from travellers is expected to be near pre-pandemic levels.
The unions said the action was due to a 10% pay cut imposed during the peak of the pandemic not being reinstated.
Some 500 Unite members recorded a 94.7% vote in favour of industrial action, while 95% of GMB members backed the walkouts.
The strike dates will be confirmed in the coming days.
The proposed action relates to fewer than 50% of British Airways staff based at Heathrow in customer-facing roles only, and there are other customer service workers who have not been balloted.
It is understood that if strikes go ahead, BA, which operates from terminals three and five at Heathrow, has plans to cover staff, including managers potentially dealing with check-ins.
However, there would still be disruption for passengers, especially at terminal five, leading to cancellations, which would be focused on routes with several daily flights.
The GMB claimed that while other British Airways workers have been given a 10% bonus, "the check-in staff have had nothing".
BA said it was "extremely disappointed" with the result of the ballot.
"Despite the extremely challenging environment and losses of more than £4bn, we made an offer of a 10% payment which was accepted by the majority of other colleagues," a statement said.
The airline said it was committed to talks to "find a solution" with unions.
The BBC understands a 10% pay rise has been accepted by other parts of BA's business, including by ground operations, engineering and cabin crew workers, who are also represented by Unite and GMB.
Unite officer Russ Ball accused BA of having "insulted this workforce, slashing pay by 10% to restore it to managers but not to our members".
Mr Ball said the airline had a "short window of opportunity" to up workers' pay to pre-pandemic levels or face walkouts that would "inevitably cause severe disruption".
Meanwhile, Nadine Houghton, GMB national officer, said BA had "tried to offer our members crumbs from the table in the form of a 10% one-off bonus payment, but this doesn't cut the mustard".
"It's not too late to save the summer holidays – other BA workers have had their pay cuts reversed, do the same for ground and check in staff and this industrial action can be nipped in the bud," she added.
Downing Street urged both sides "to come together to find a settlement", adding that strike action "would only add to the misery being faced by passengers at airports".
A No 10 spokesman said the government expects BA "to put in place contingency measures to ensure that as little disruption is caused, and that where there is disruption that passengers can be refunded".
This is going to be a difficult summer for British Airways.
IT problems and staff shortages have already hit its operations this year. Now you can add industrial action to the mix.
Check-in staff at Heathrow are set to walk out during the summer peak. The airline will have contingency plans in place, but with systems already under strain, disruption seems inevitable.
The airline insists it wants to work with staff, and that its 10% one-off bonus offer was a prelude to meaningful pay talks. It is still under pressure too – the industry has not fully recovered.
But the problem it's facing is that when the cuts were first imposed, many staff were deeply upset by what they saw as the heavy-handed approach of the airline's management.
And now, it's pretty clear that many workers simply don't trust the word of their managers.
Jeff Payne worked as a BA supervisor at terminal five at Heathrow, but took voluntary redundancy in August 2020 and is now a postman in Surrey.
Mr Payne, who worked for the airline for 24 years, said he had the option to return to BA when international travel restarted, but decided against it when he was offered his old job for less money.
"It was £3,000 a year less than what I was being paid when I left," he said.
"When I left the pay was £23,000 plus shift pay, which is an extra amount you get for starting at irregular hours like 4am. When they offered me my job back it was £20,000 plus shift pay and no guarantee over what shifts we would be put on.
"To be honest it's not worth getting out of bed for. I loved working there and I do miss it."
Mr Payne said he believed BA was a "great company" and its staff cared for passengers, but added its bosses "need to manage it better".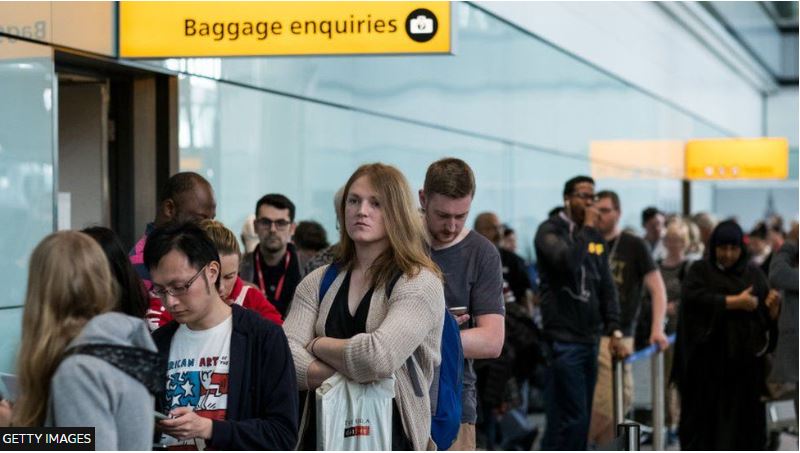 Tens of thousands of passengers have been hit by airport disruption and flight cancellations in recent weeks.
Hundreds of flights across the UK were cancelled during the week of the Platinum Jubilee and school half-term holidays, and concerns have been raised of further travel woes during the summer.
The disruption has been caused by several factors, but staff shortages have left the aviation industry struggling to cope with resurgent demand for overseas travel.
Heathrow Airport has increased its annual passenger forecast once again.
The UK's largest airport says it expects 54.4 million passengers to travel through its terminals, up by nearly nine million on the guidance it gave in December.
DISCLAIMER: The Views, Comments, Opinions, Contributions and Statements made by Readers and Contributors on this platform do not necessarily represent the views or policy of Multimedia Group Limited.