British Airways is to launch a voluntary Covid-19 test for passengers travelling to the UK from three US airports.
The airline wants to persuade governments that testing travellers will make quarantining unnecessary.
American Airlines is also taking part in the trial, which follows a similar effort by United Airlines.
British Airways to launch Covid testing trial for arrivals https://t.co/iFuTSGRa4k

— BBC Business (@BBCBusiness) November 17, 2020
The government is looking at how testing can reduce the time travellers to the UK need to self-isolate.
British Airways owner IAG has long criticised the 14-day quarantine imposed on arrivals, saying it deters people from flying and damages airlines.
It is also trying to convince the US government to open its borders to UK nationals, who have been barred since March.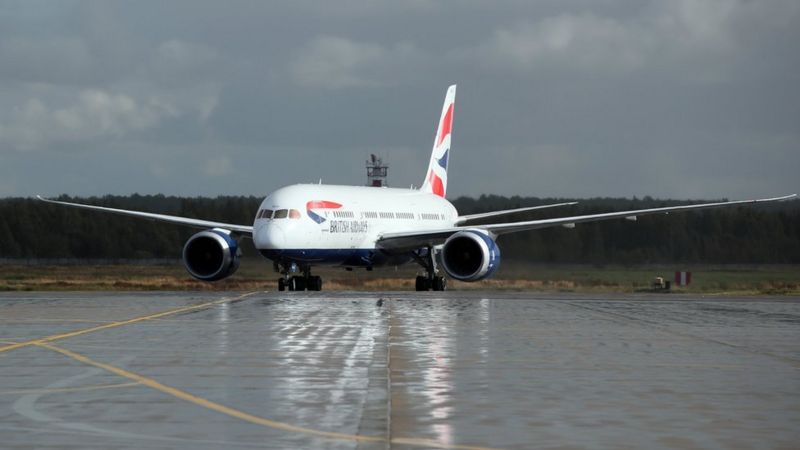 Customers will be tested 72 hours before their trip, as well as during and after travelling.
If they test positive before travelling, they will have to reschedule or cancel their flight, but will be able to rebook at a later date without a fee.
The trial will run to mid-December, and British Airways would like to test 500 passengers.
Boss chief executive Sean Doyle, who was parachuted into the role in October, said: "If we have a testing formula it gives people certainty from which they can plan."
He added that he was "confident" the airline would demonstrate that a test three days before flying would make quarantining unnecessary.
Heathrow is already offering rapid coronavirus tests for people travelling to destinations where proof of a negative result is required on arrival.
It comes as airlines struggle with a massive slump in demand that has cost the industry $84.3bn (£64bn) in lost sales globally this year.
The UK government has set up a taskforce to look at how tests could reduce the quarantine period for people flying to the UK, but it says travellers would still need to isolate for a number of days.
A Department for Transport spokesperson said: "The government's Global Travel Taskforce is working at pace, with clinicians, devolved administrations and the travel industry to develop measures as quickly as possible to protect air connectivity and consider how testing could be used to reduce the self-isolation period."