The General Secretary of the Ghana Journalists Association (GJA), has disagreed with the assertion of the Association's President, Affail Monney, that Citi FM Journalist Caleb Kudah broke its Code of Ethics by filming at the premises of the National Security Ministry.
Taking to Facebook, Kofi Yeboah stated that Article 13 of the GJA Code of Ethics enjoins members to use straightforward and honest means when seeking information unless tampered by the national interest.
The caveat in the article, which Mr Monney cited to defend his point, Mr Yeboah explained, protects the actions of Mr Kudah, who per his narration, was working in the public interest. Mr. Kudah was gathering information for broadcast.
"Caleb Kudah did not violate any journalism ethics in filming at a national security facility. Insofar as the public/national interest was at stake (as evidenced in his narrative), he was firmly within the bounds of journalism ethics, including Article 13 of the GJA Code of Ethics."
"Caleb was absolutely covered by the caveat in this provision because he was working in the public/national interest," he wrote.
Mr Yeboah stated that national security cannot be allowed to strip the media of its cardinal constitutional mandate under Article 162(5).
He urged Ghanaians to "encourage civility and the rule of law, which are trademarks and honorifics of constitutional governance rather than brute and barbarism, which are hallmarks and horrific of military juntas."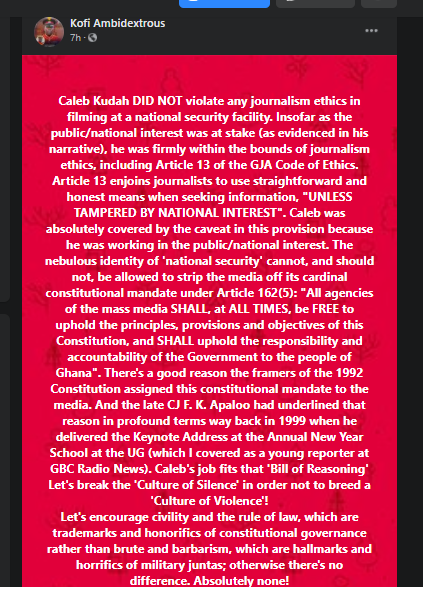 His comment comes after GJA President Mr Affail Monney said filming at the National Security premises by Citi FM journalist, Caleb Kudah, without permission, was in breach of the Association's Code of Ethics.
Speaking on Joy FM Wednesday, Roland Affail Monney indicated that although reports say Caleb Kudah's action was in the public interest, he was of the opinion that his efforts were unclear.
"Caleb erred, as far as our ethics is concerned. He clearly breached the ethics relative to Article 13 of our own Code of Ethics which specifies that journalists should take pictures through fair, straight forward and honest means unless tampered by national interest.
Meanwhile, Legal Practitioner Samson Lardy Anyenini has said that the National Security Ministry has failed to give details of the crime they claim Caleb Kudah committed.
Mr Anyenini said that claims that Caleb Kudah took videos on their premises even after seeing a no-photography sign, does not equal a crime.
"The law says nothing is an offence unless it is defined by law and the penalty is prescribed in a written law. It doesn't say that the thing is written on a wall or that there's a signage that says this place, do not trespass," he told Evans Mensah.