A campus tour on Sexual and Gender-Based Violence (SGBV) has reached the University of Health and Allied Sciences (UHAS).
The tour, organised by the Department of Gender in collaboration with the Gender Centre for Empowering Development (GenCED), a women-focused non-Governmental Organisation (NGO), seeks to sensitise the school community on SGBV.
Programmes Director of GenCED, Madam Elorm Akukli, said the NGO monitored sexual awareness in schools and was committed to helping to deepen sensitisation.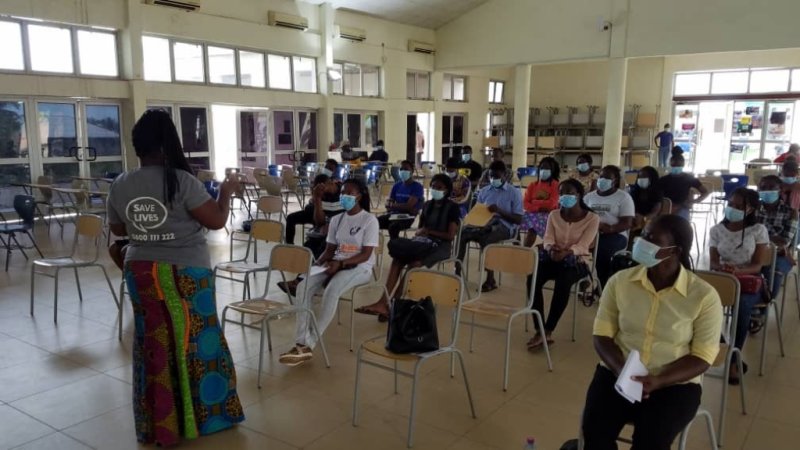 She said a BBC expose' on sexual harassment in schools within the country brought the challenges to the fore, and informed the need to rekindle awareness, as there existed no national conversation on SGBV.
Mrs Thywill Kpe, Volta Regional Director of the Department of Gender said at a forum for students, which highlighted the tour that lots of gender-related issues persisted on campuses as the focus always remained on academics and not on personal safety and development.
She called on stakeholders to promote laws on SGBV to create a safe environment for learning.
The Director, while guiding students on the numerous forms of sexual violence, asked students to be assertive, confident and stand up for their rights.
She said low knowledge of personal and collective rights, low education, and poverty remained major causes of SGBV, producing a myriad of psychological, and economic, in addition to physical consequences, which included maiming, physical injuries, disabilities, and even death.
Mrs Kpe said stakeholders must continue to consider advocacy and sensitization on the implications of SGBV as key routes to prevention, and encouraged the school community to promptly report perpetrators.
She also appealed to victims to support the prosecutorial processes and said potential victims must seek a protection order from the police, and stay away from abusive relationships.
"SGBV is a crime and you must report such crimes to protect evidence. We all have a stake in preventing such crimes and must play our parts," the Director stated.
Ms Gloria Avor, a member of the Women's Committee of the Student Representative Council (SRC) of UHAS, said the school maintained an Anti-Sexual Harassment Committee that doled out various sanctions for persons found guilty and the University did not encourage relationships between students and faculty and upheld a confidential process to protect victims.
Ms Avor, therefore, urged students to report any such incidents to the committee and said the SRC would endeavour to sensitize students on the processes and encourage them to seek help when victimised.
The Programmes Director for GenCED commended the formation of the anti-sexual harassment committee and said the NGO was working with the Ministry of Employment to ratify the ILO 190, which would address SGBV at the workplace.
She underscored the importance of NGOs and CSOs in supporting stakeholders to continue efforts at minimizing SGBV, and also said entities including the police and relevant outfits required more resources to work effectively.
The campus tour visited schools in the Bono, Western North, Greater Accra, Volta and Central Regions.