Bayern Munich and Lyon face off in the Champions League semi-final on Wednesday night.
Head to Head:
Lyon: W2 D2 L 4 GF 9 GA 11
Bayern: W4 D2 L2 GF 11 GA 9
Recent Form (Recent Game First)
Lyon: WLDLL
Bayern: WWWWW
Route to Semi Final
Lyon: Group G runners-up, 2-2 Juventus (away goals, R16), 3-1 Manchester City (QF)
Bayern: Group B winners, 7-1 Chelsea (R16), 8-2 Barcelona (QF)
UEFA Competitions Last Season
Lyon: Round of 16
Bayern: Quarter Finals
Predicted Line Up
Lyon: Lopes; Denayer, Marcelo, Marçal; Dubois, Caqueret, Guimarães, Aouar, Cornet; Depay, Dembélé
Bayern: Neuer; Kimmich, Boateng, Alaba, Davies; Goretzka, Thiago; Perišić, Müller, Gnabry; Lewandowski
TACTICAL PREVIEW
LYON
Set Up : 3-5-2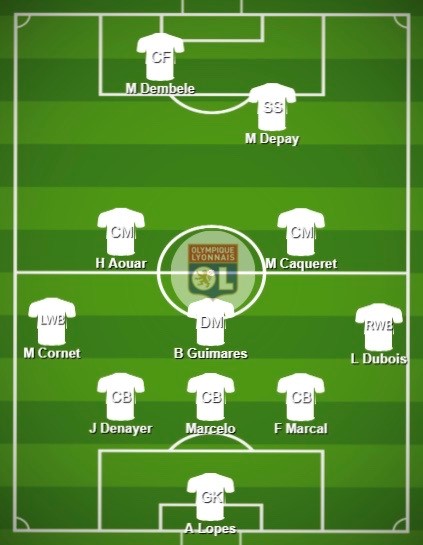 Rudi Garcia and his players have been a match made in heaven since the return of European football after COVID-19 enforced break. The main attribute of this team is one of discipline, focus, bite and tactical prowess.
The main system employed is a 3-5-2 with focus on zonal specific pressing. The Lyon set up has the wide players dropping in to support the defence when out of possession and springing forward as soon as the ball is won back.
The counter-attack is old fashioned and direct. With 3 or 4 passes, they move from defence to attack and Bayern would have to be wary of this. The 3-5-2 easily transforms into a 5-3-2 in defending and a 3-4-1-2 in attack.
Outnumbering their opponents in the middle has given them the urge to force opponents to opt for wing play and crosses which are ably dealt with by Denayer, Marcelo and Marcal.
Attacking Phase: 3-2-3-2/3-4-1-2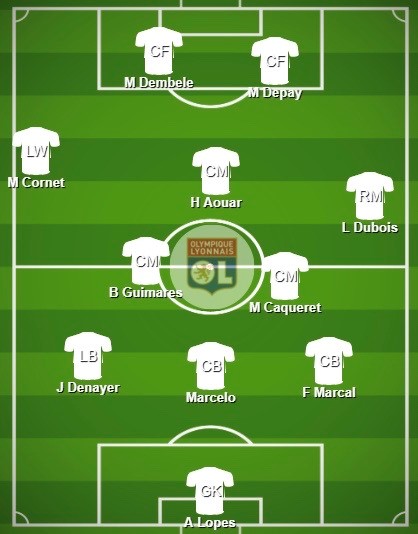 In the attacking phase, Lyon look to create 2 v 2s as much as possible as Dembele and Depay have the pace and trickery. The Lyon forwards would spend most of their time either in offside positions or just on the shoulder of the last man to make the most of the half-spaces that could open up.
As the forwards move up, it would be the job of Aouar and Caqueret to move in to support attacking phases centrally or play the ball into the pockets of space to be chased by either the forwards or their wide players.
By staying narrow as much as possible, Bayern defenders could easily get sucked into staying tight to their opponent and that could create space for the middlemen arriving late.
The pace and direct play seen against Juventus and Man City will serve Lyon well again. They need this directness as elaborating on the ball will see Bayern set up and counter-press as quickly as possible to prevent counter-attack opportunities.

Defensive Phase: 5-3-2 / 5-4-1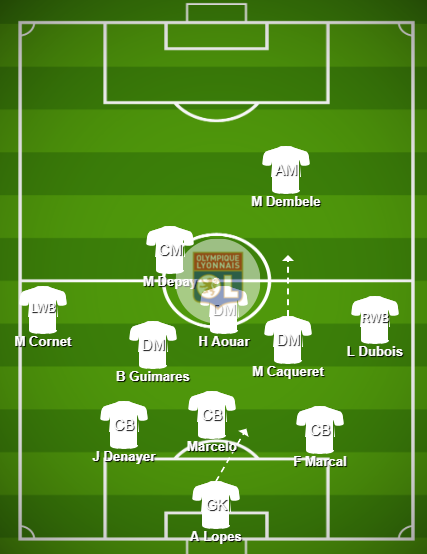 Lyon need to keep their defensive shape as seen in the image here. Staying narrow and compact may force Bayern to also try going through the wing route and cross balls in. Those could be better dealt with by their towering defenders.
Choosing to engage Bayern high up the pitch or in a counter-press in their defensive third could serve them well as they can start their counter attacks. The key to this Lyon set up would be for one of their strikers to act as a man on Thiago whenever they lose possession. This could, in effect, reduce the potency of any passing game Bayern want to play.
Bayern forward, Lewandowski would drop into the Lyon middle to try and create space in behind the Lyon defence for Perisic and Muller. Lyon would have to work to ensure players are switched on to these diversionary tactics to prevent Bayern capitalizing on that.
Trump Card: Moussa Dembele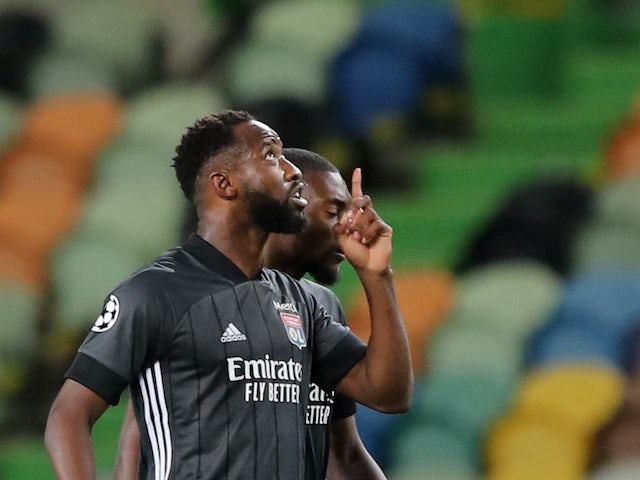 The attacking talent to be paraded in Estadio Jose Alvalade will be immense. Moussa Dembele will have it all to do to show why he has been tipped with a move to Manchester United and Chelsea.
After his cameo against Man City gave him 2 goals, he would be sure to look to add to his tally in the knock out stages against Jerome Boateng and David Alaba. His pace and strength will be an asset to see Lyon reach the final.

TACTICAL PREVIEW
BAYERN
Set Up : 4-2-3-1 or 4-1-4-1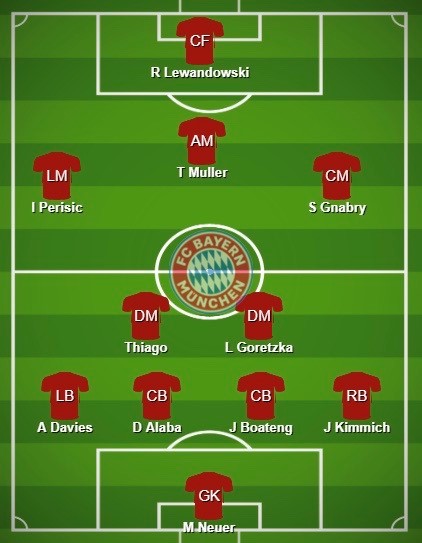 Under Flick, Bayern have mostly lineup in a 4-2-3-1 formation. The key elements of this set up are to offer protection to the ageing and somewhat slow central defensive set up whilst offering the edge of a fast forward line.
A key highlight of this play is the Gegenpress and high press used by Hansi Flick to ensure Bayern dominate the game as much as possible.
Furthermore, the set up allows their wingers to tuck into the forwards positions to allow their fullbacks (mostly Alphonso Davies) to push up an occupy the winger's position.
Muller will look to take advantage of any spaces ahead of Lewandowski and force opponents out of position to enable Bayern's striker play as a playmaker or in some cases take shots from outside the box.
Attacking Phase: 3-2-5/2-3-5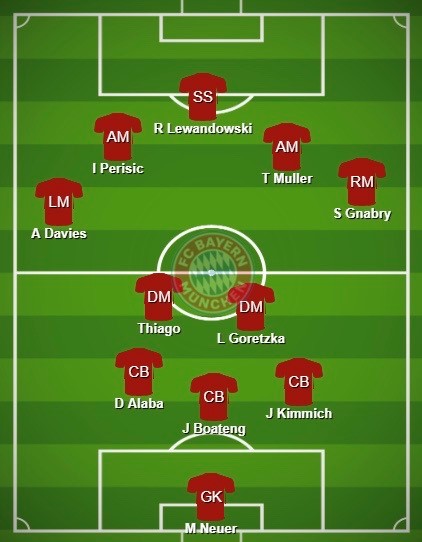 In the attacking phase, Bayern full backs will look to push up and isolate the Lyon defenders in a 1v1 situation. It is likely Kimmich will stay back to offer an extra body in defence and pace to break up any possible counter attack from Lyon. Kimmich will only join the attack in cases where the ball is being moved up from his side of the field. The latter one only moves up the pitch when the ball is being progressed up the pitch on his side.
As Thiago has the technical ability and eye for the pass, Bayern will look to have him involved as much as possible to move the ball into the opposite third. Balls over the top of the opponents' defence into central spaces, for Muller, Perisic and Gnabry, will be likely through Thiago.
Hansi Flick has shown his team can vary their approach play but the level of intensity will not drop. The passes will be swift and any opportunity for a counter-attack will be taken with the amount of pace on showcase in the squad.
The 3-2-5 set will allow Bayern to take advantage of the potential box overload and create more scoring opportunities.

Defensive Phase: 4-1-4-1; 4-5-1; 4-3-3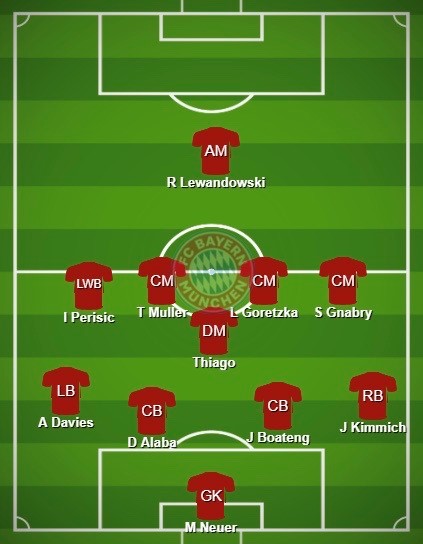 In view of Gegenpress feature in the Bayern defence game, Bayern tend to keep their passes short. As a result, any instance where balls are lost, the distances between the opponents is also reduced and allows Bayern to immediately force the press to enable an error.
These normally force the opponent's ball-handler to lose the ball or give it away with inaccurate passes as constantly seen against Barcelona.
Furthermore, there is the ability to cover more space with the Bayern player's cover shadow as normally the press cuts off a sideways and midfield passing options and forces the opponent to go long.
Bayern will look to stay compact and narrow when out of possession so Lyon would be forced to go wide and it could play into Bayern's hands as they would most likely outnumber the Lyon men out wide.
The pace of Alphonso Davies will also benefit Bayern's defensive phase as he can easily make up ground on anyone.
Trump Card: Thiago
The renaissance of Thiago under Hansi Flick would be a concern for Lyon. His ability to make something out of nothing and the accuracy with which he does it will be something Rudi Garcia and his men would be wary of.
Fresh off a 96% pass completion performance against Barcelona, Thiago would be raring to go again in what would be his last season with the Bavarians. His ability to create space for himself and find the right pass in typical Jogo Bonito fashion will be a joy to watch when these two sides face off.
DISCLAIMER: The Views, Comments, Opinions, Contributions and Statements made by Readers and Contributors on this platform do not necessarily represent the views or policy of Multimedia Group Limited.