The Ghana Cocoa Board has with immediate effect reviewed the implementation of the cocoa sustainability programme to prevent abuse of the scheme.
This follows a JOY NEWS' investigations revealing how one could rent a cocoa certificate for as high as one million cedis.
The hotline documentary robbing the poor also detailed a blatant abuse of the system giving rise to a situation where some LBCs do not pay the appropriate premium and also pass regular cocoa as certified.
In a leaked memo sighted by JOY NEWS indicates COCOBOD will not allow any LBC without a foundation to operate the sustainability programme during the 2020/2021 main crop season.
Per the circular to the licensed buying companies, under no condition will a buyer be permitted to undertake sustainable project outside the foundation.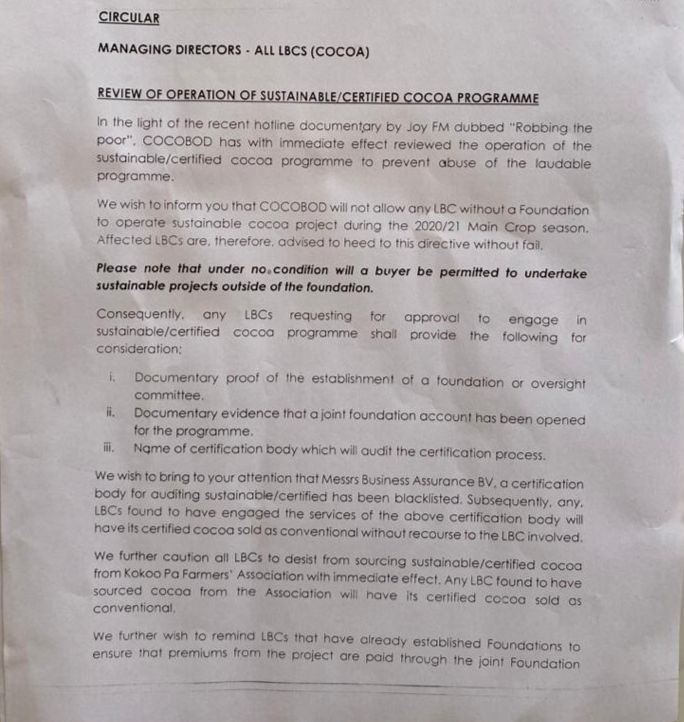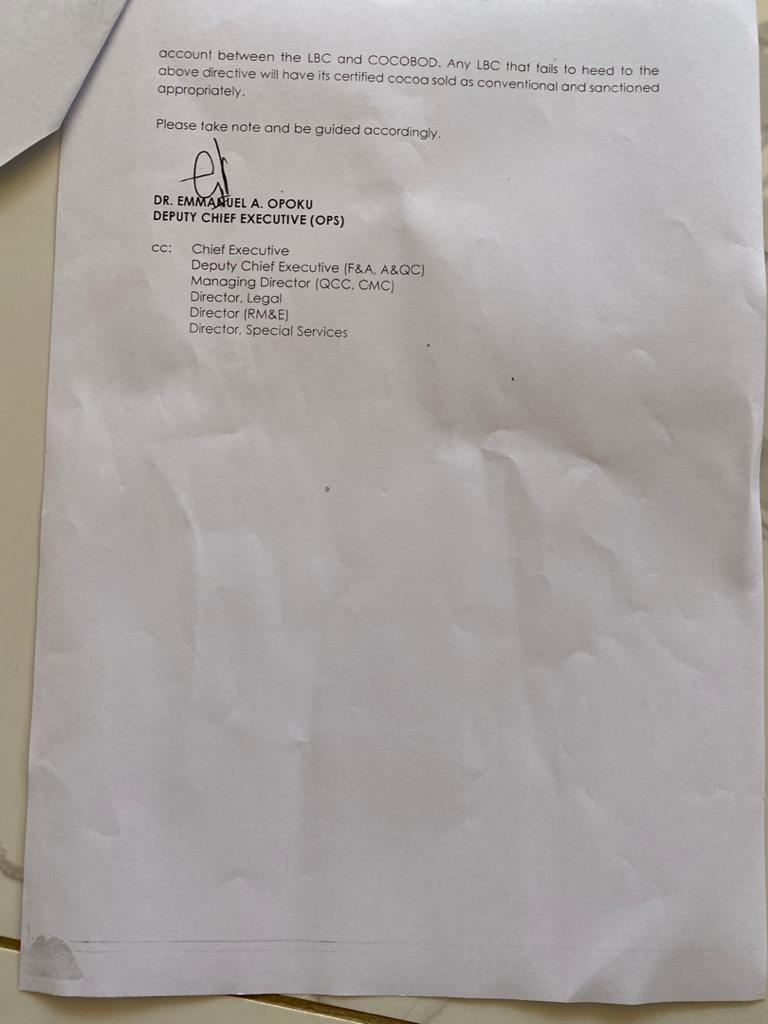 It adds that consequently, any LBCs requesting for approval to engage in sustainable/certified cocoa programme shall provide the following for consideration.
First, documentary proof of the establishment at a foundation or oversight committee.
Second, documentary evidence that a joint foundation account has been opened for the programme.
Thirdly, the LBCs must provide the name of the certification body which will audit the certification process.
According to the circular, Messrs Business Assurance BV, a certification body for auditing sustainable/certified has been blacklisted.
Subsequently, any LBCs found to have engaged the services of the above certification will have its certified cocoa sold as convention without recourse to the LBC involved.
They further cautioned all LBCs to desist from sourcing sustainable/certified cocoa from Kokoo Pa Farmers' Association with immediate effect.
Any LBC found to have sourced cocoa from the association will have its certified cocoa sold as conventional.
They further reminded the LBCs that have already established foundations to ensure that premiums from the project are paid through the joint foundation account between the LBC and Cocobod.
It adds that any LBC that fails to heed to the above directive will have its certified cocoa sold as conventional and sanctioned appropriately.
Meanwhile, the Board Chairman of COCOBOD has bemoaned the illegal adjustment of weighing scales by state-owned produce buying companies to fleece cocoa farmers.
Mr. Hackman Owusu-Agyeman says these activities continue to be a disincentive to cocoa farmers while making them poorer.
His comments come at the back of a JOYNEWS expose which revealed illegal activities of some Licensed Buying Companies and farmer society groups who engage in the age-old canker with purchasing clerks and licensing buying companies by altering weighing scales to rob cocoa growers.